Update Sun 1/08 9:58 PM — Tonight's models. No change. No accumulating snow for the Philadelphia area.
---
Trending Warmer
Update Sun 01/08 @ 3:43 PM — This morning's model's trends show only a coating at most north of Quakertown. (The only exception is the Canadian GEM model.)
The NBM and HRRR show virtually no snow accumulation in our area, although a mix may fall in northwest suburbs.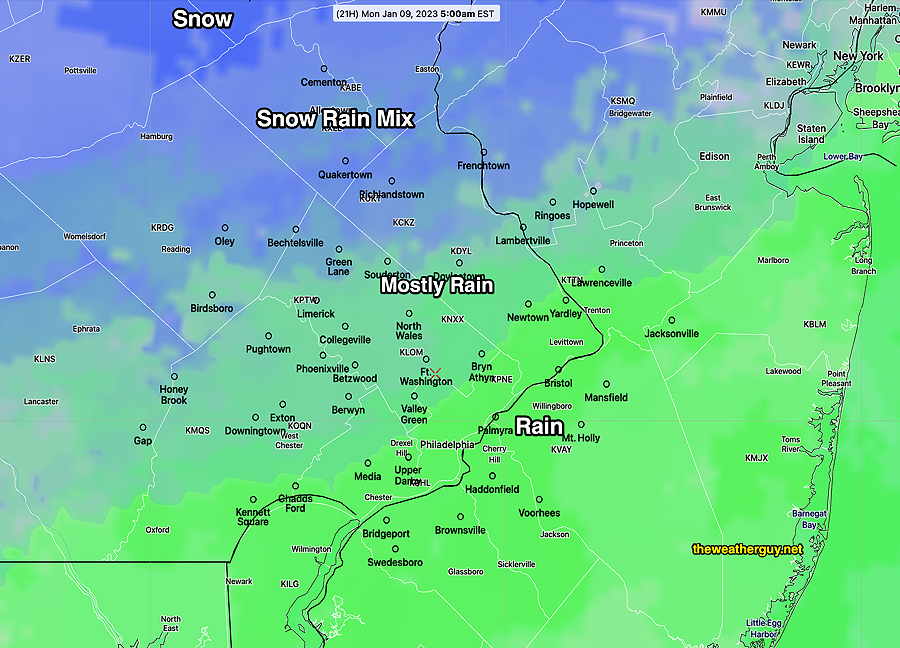 Precipitation ends between 7 and 9 AM.
---
Snow Update
Update Sun 01/08 @ 9:06 AM — Not much change in the snow forecast. The latest GFS and NAM are remarkably similar with snow only accumulating northwest of Quakertown to less than 1 inch.
This morning's 12z HRRR captures the general picture of most of the models—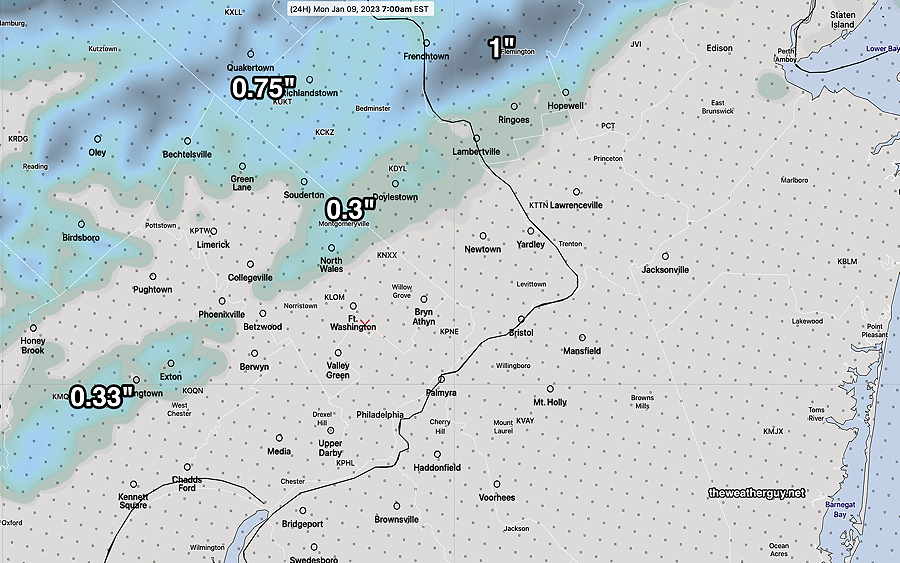 The latest NBM is even less enthusiastic about accumulating snow in the areas above with its totals 0 – 0.3 inches in the same areas above.
---
Trending Warmer
Update Sat 01/07 @ 10:48 PM — This evening's models have trended warmer, in an already marginally cold event for snow.
The latest NAM captures several other models in now predicting little or no snow in Philadelphia and its immediate suburbs to the north and west Sunday night.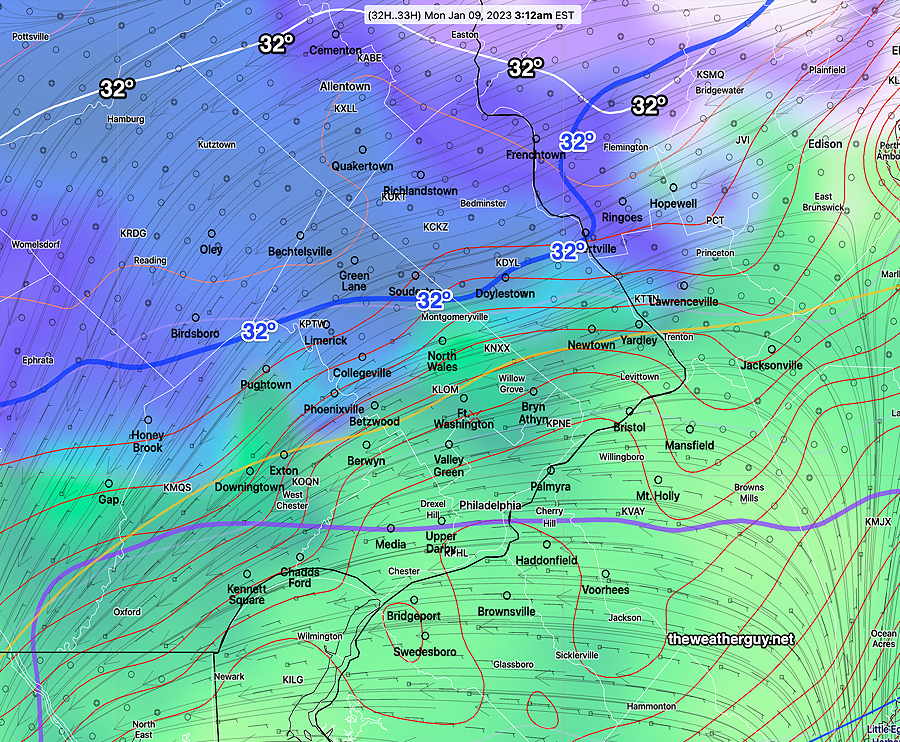 ---
Update Sat 01/07 @ 6:15 PM — The latest ECMWF along with the earlier CMC-GEM and NAM show an increasing possibility of a small snowfall on mostly grassy surfaces after midnight Sunday into predawn Monday.
Ordinarily this would a be a clear-cut small snowfall of about 1-2 inches— all upper air temperatures support snow. However, the models are all consistently forecasting surface temperatures to be above freezing (33º-34º)
So while, it's fairly certain that the precipitation will fall as snow north of Philadelphia, it's more uncertain how much, if any, will accumulate.
I'll try to clarify in future updates.
Update Sat 01/07 @ 11:01 AM —
Saturday: The cloudiness forecast for today has moved in from the northwest. This morning's models (with the exception of the NAM-NEST) continues to forecast considerable cloudiness for much of the afternoon hours.
Sunday: Here are the current trends for the precipitation late Sunday—
Precipitation moves in later, now closer to and after midnight into the predawn morning hours Monday.
Temperatures aloft support snow but temperatures in the lower levels (1000mb-850 mb or near ground level to 4500 feet) are just a bit too warm in the immediate PHL area.
Somewhat more coastal development is forecast and somewhat more precip.
The latest GFS (12z) and the CMC-GEM (12z) have very different forecasts with the GEM having a narrow band 1-2″ of snow just northwest of the city while the GFS has zero to a coating. The GEM is currently the outlier in this morning's models.
---
Previously Posted Fri 4:39 PM —
Colder surface high pressure will build in for Saturday and we'll be under an upper air cyclonic flow.
Low pressure developing in the Midwest will move in later Sunday and Sunday night.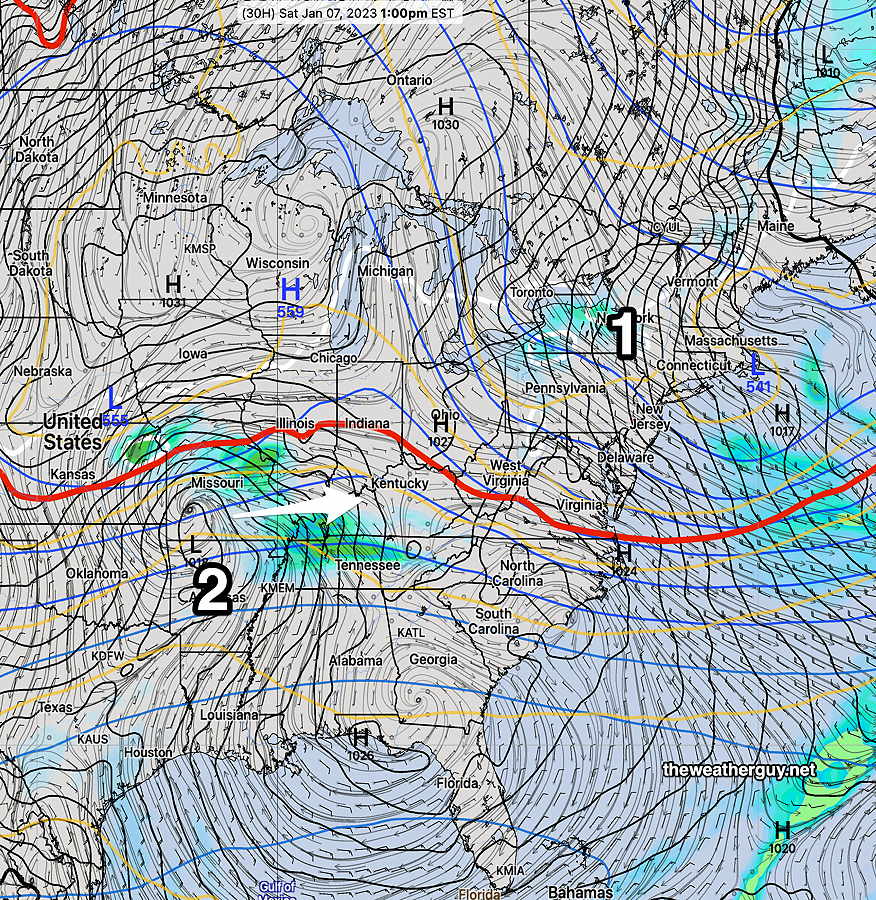 Saturday
Partly sunny in the morning, but considerable cloudiness moves in from the northwest early afternoon, then more sunshine late afternoon.
High temperature 43.8º sd 0.6º NBM model – for location Blue Bell, PA
Sunday
Sunny in the morning, increasingly cloudiness during the early afternoon. Mostly cloudy by 3 PM. Light snow develops during the evening hours. Temperatures are expected to be just above freezing in and around the city. Accumulations are currently expected to be zero to a very light coating on grassy surfaces near the city, but 1/2 inch far northwestern suburbs (near Allentown). Temperatures are expected to rise slightly at night.
High temperature 41.3º sd 1.3º NBM model – for location Blue Bell, PA
Slight changes in temperature will greatly affect the snow totals. But currently, there is high model agreement regarding this 'storm'. Check back for updates over the weekend.
Of interest for snow lovers is the time period next Friday into Saturday. A more potent coastal storm is possible in that time frame and it has been consistently forecast by the long range models. Temperatures may be borderline again for this storm.