Friday
Update Fri 01/13 @ 9:34 AM — The rain has lingered longer than I had forecast. (The latest NBM and HRRR show no showers here at this time. Go figure.) The residual showers should be tapering off and moving off shortly to our northwest by about 11:30 AM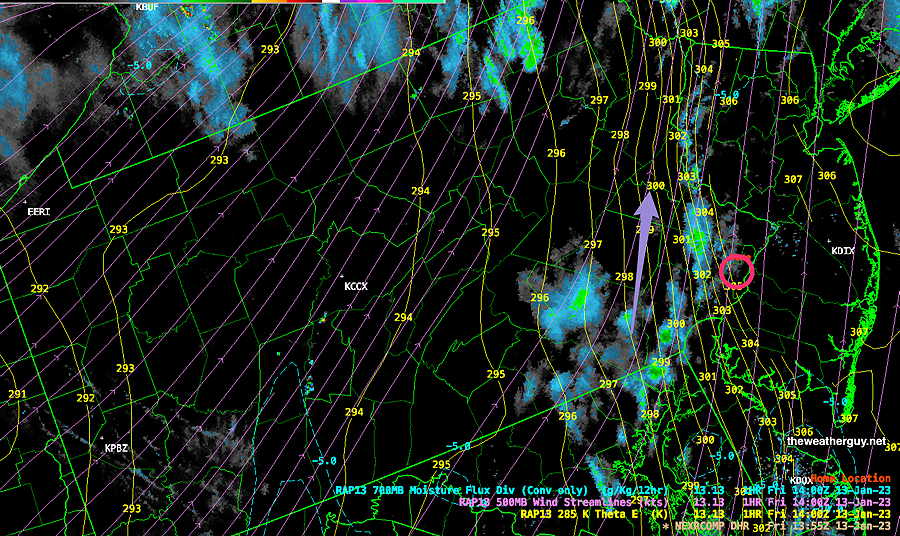 ---
Friday and the Weekend
Update Thu 01/12 @ 5:19 PM — The showers and rain have moved in with a warm front, and additional rain will precede a cold front passage early on Friday morning.
The rain ends about 7-8 AM Friday morning.
The models aren't predicting all that much rain (0.30-0.40 inches) in our area. The big story will be the WIND which is already picking up as I write this.
Gusts 30 to possibly 40 mph towards midnight tonight and windy conditions through the weekend. Here's the NBM wind meteogram for Blue Bell—

Temperatures will drop from the 50s Friday morning to the mid 40s in the afternoon, but the wind chill will make it feel colder. A mix of considerable cloudiness with some sun expected on Friday,
A secondary cold front moves through Friday evening and temperatures will drop below freezing by early Saturday morning. The weekend will be sunny, cold and dry.
One more thing — considerably colder air is finally pooling in Canada and in Greenland. In another 7-10 days, we will likely see some snowstorm activity as the cold air sinks south. (Just conjecture at this time. )
---
Thursday Through Friday
Update Wed 01/11 @ 5:10 PM — Moisture aloft moving in from the southwest over colder air at the surface will result in light showers or drizzle early Thursday morning. The rest of the day looks to be cloudy with additional showers later in the afternoon.
Thursday night: Rain develops during the evening hours Thursday and becomes heavier around midnight. Look for WINDY conditions to develop as the evening progresses. Thursday into Friday as a warm front approaches.
Friday: The warm front moves through before daybreak and then a cold front moves through Friday morning. Skies begin to clear late morning on Friday. It will be windy and temperatures will slowly drop. Friday will still be relatively mild.
A stronger cold front moves through early Friday evening.
Much colder for the weekend!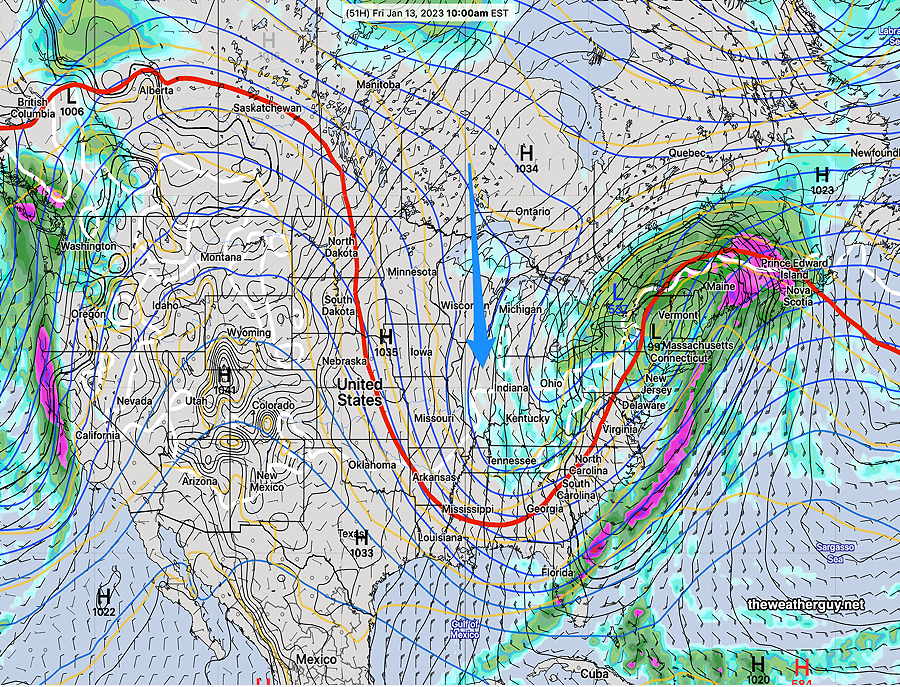 ---
---
---
Wednesday
Update Tue 01/10 @ 8:15 PM — Not much happening weather-wise, so let's see if tomorrow's cloud forecast does better. Thickening high cirrus clouds in the morning. Cloudiness increases about 10:30 to noon. Cloudy most of the afternoon. (Based on tonight's 00z NBM and HRRR, just available.) Easterly winds will keep it colder to about 43º for a high.
---
Tue 5:36 PM Forecast Review — We had less cloudiness than any of the model forecasts had predicted. Cloud forecasts can be challenging.
Forecast Update
Update Tue 01/10 @ 9:25 AM — The cloudiness forecast below for today, Tuesday, has begun moving in. These clouds are the result of an upper air disturbance and trough moving through. High 42-44º
For Wednesday, a similar forecast with partly cloudy conditions giving way to mostly cloudy in the afternoon. High 43-45º
The storm for late Thursday into early Friday will be a rain event. Cold air arrives after the storm has departed. High ~55º
The weekend looks cold, but a moderating trend is expected next week with temperatures again above average. I don't see any potential snowfall for us in the next week or so.
Previously Posted Mon 4:38 PM —
Overview
A benign weather pattern for us this week through early Thursday as a somewhat flat to ridge-like pattern will prevent any storms from forming.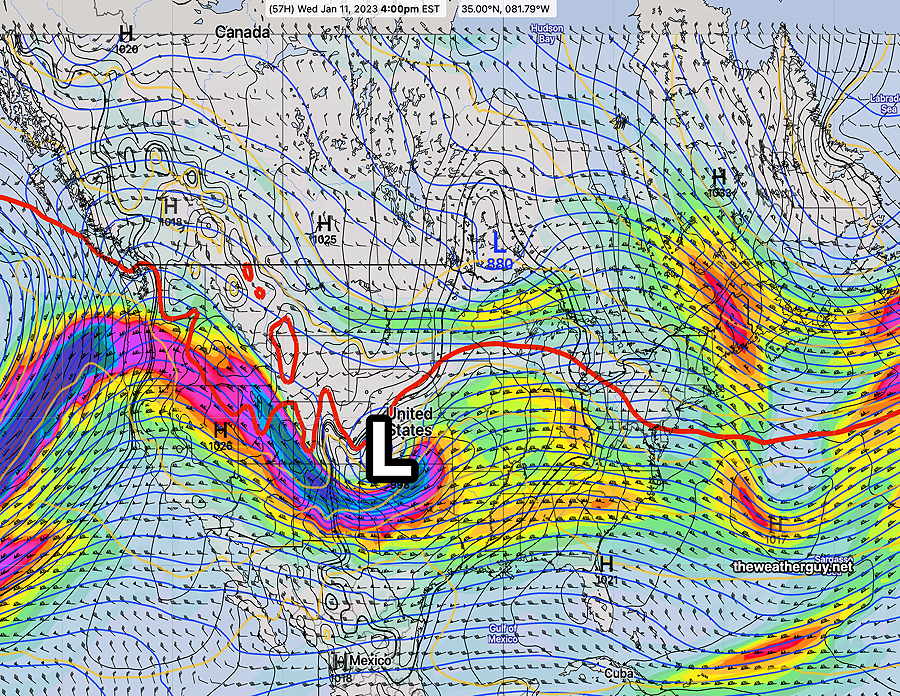 Temperatures warm up a bit on Wednesday and especially on Thursday with the ridge moving eastward.
By late Thursday into Friday, a sharp upper air trough will develop and spawn a surface low off the coast—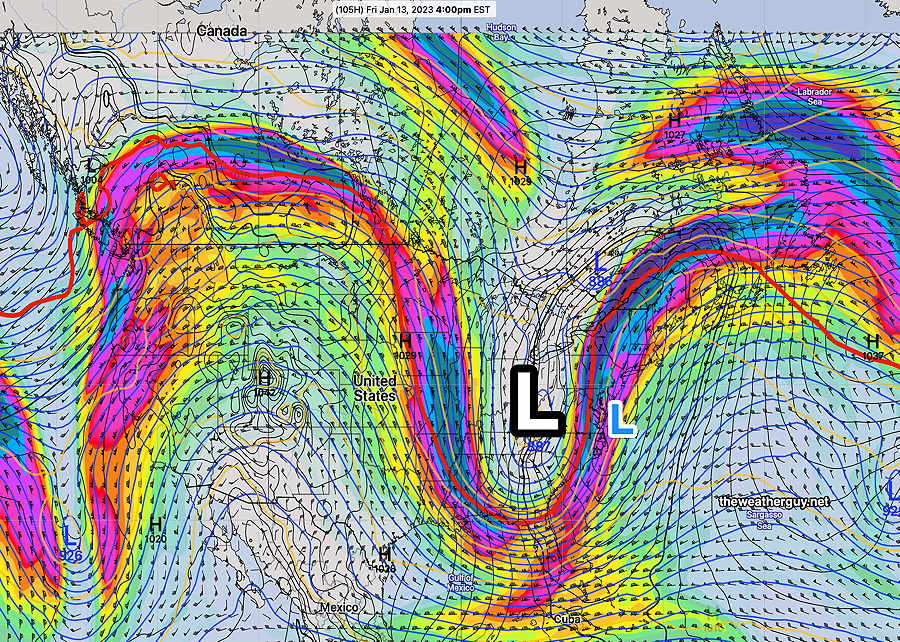 Currently there isn't much cold air that will move in before the storm departs late Friday afternoon, so all the precipitation will be rain for us late Thursday into Friday. While this could change, there hasn't been any model suggestion of early deepening of the coastal low.
Tuesday
For Tuesday, an upper level trough with some disturbances will approach with partly cloudy skies becoming cloudy during the afternoon. No precip expected.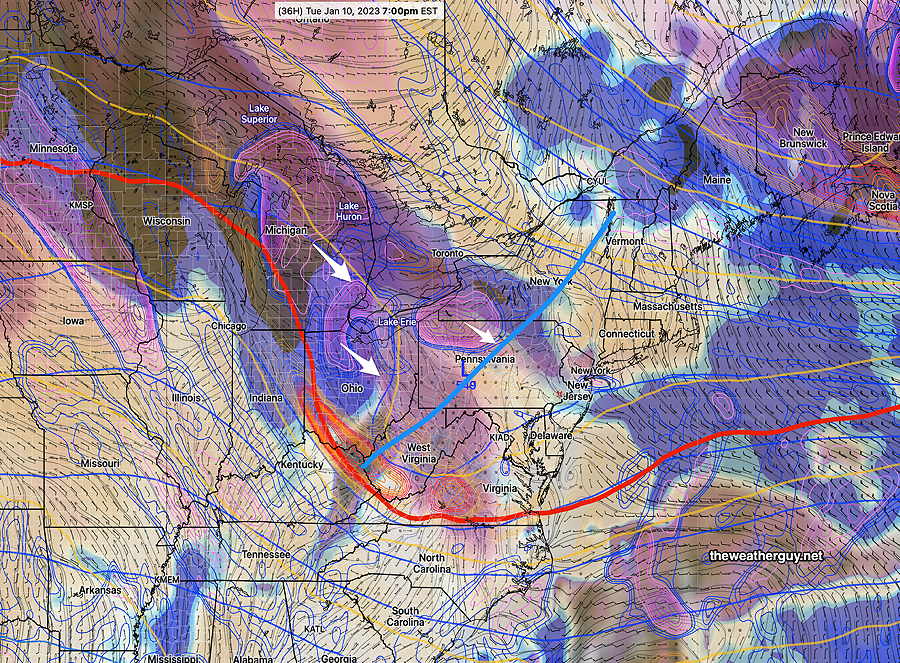 By Wednesday, temperatures begin to moderate a bit.
---
---