Forecast Updated Sat 5:29 PM —  There had been uncertainty with the high temperatures today (NBM standard deviation was very large at 4.4º) and we ended up far from the 57º predicted last night, although the timing of the clearing and sunshine were on target.
For Sunday, the models continue to forecast cloudy skies with rain, beginning about 9 AM.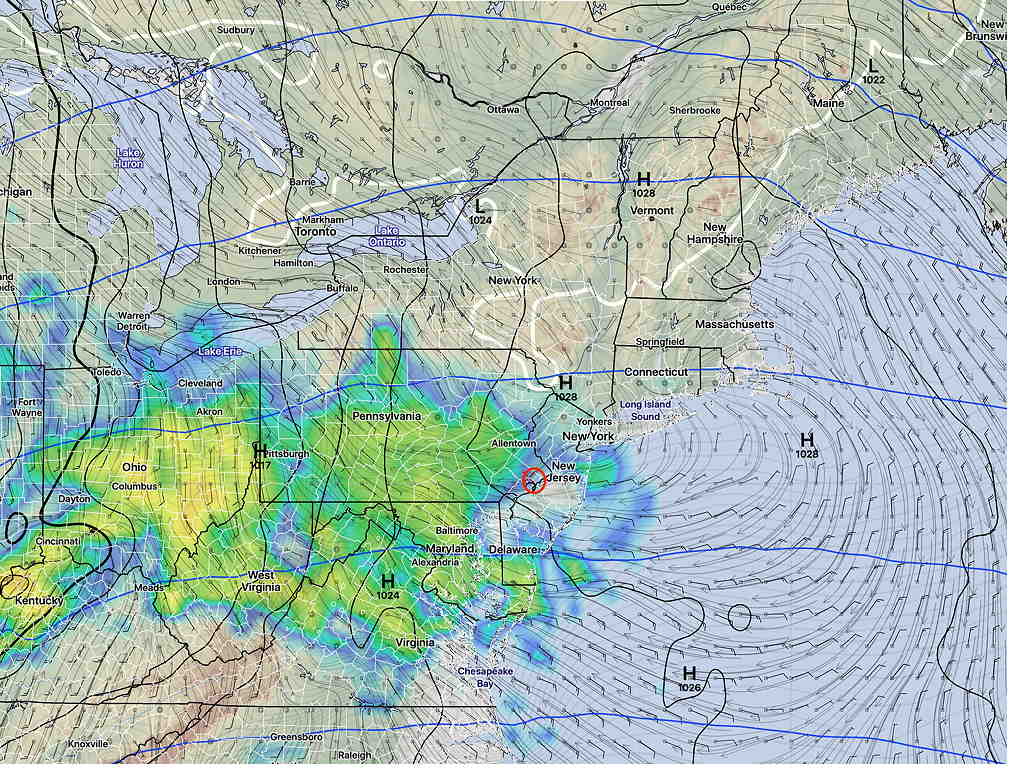 It will become windy on Sunday afternoon and will be chillier with a high temp of 46º ± 3.0º 
Rain will taper off a bit early Sunday evening before another round of rain moves through later Sunday night ahead of a cold front passage Monday.
---
from Friday evening…
A warm front will move through Friday night and will bring rain to our area, although several models have the rain starting as snow around 1AM tonight in northern Montgomery and Bucks counties.   It all changes to rain before daybreak.  
The rain tapers off during the morning on Saturday.  Models earlier this week had the rain ending early, but right now, it looks like the rain ends about 10-11 AM Saturday.
Additionally there should be gradual clearing during the afternoon with some sun by 2- 4PM.  
Temperatures following the warm front will be mild Saturday.  There is a bit of uncertainty with the timing of the clearing and cloud cover; as a result,  the high temperature of 57º (Blue Bell,  NBM-adjusted) may turn out to be lower if clouds linger. 
It will be breezy on Saturday with occasional gusts mid afternoon.
For Sunday, the warm front is expected to be followed by a weak cold front Saturday night.  The cold front will stall just to our south as a wave of low pressure moves up along the front for Sunday. 
One of these waves of low pressure will bring rain for us on Sunday.
Sunday will be cloudy with rain, starting early morning and lasting through the day.  It will be cooler with high temperature 49º (Blue Bell,  NBM-adjusted).