Update Mon @ 8:18 PM — Comparing today's 18z GFS, GEFS, Canadian GEPS, and ICON model's s forecast at 7AM Saturday—
The above graphic shows that the latest version (18z) of the GFS is forecast to be further away from us than either the 18z statistical version (GEFS) or the the latest ICON. The Canadian 12z GEPS (not run at 18z) is very different with speed and position. Click on the above graphic to animate.
---
Update Mon @ 5:24 PM — I was just about to consider a separate web page for this possible upcoming weekend storm. But the very latest GFS 18z just became available and it has the storm taking an eastern track, mostly missing us.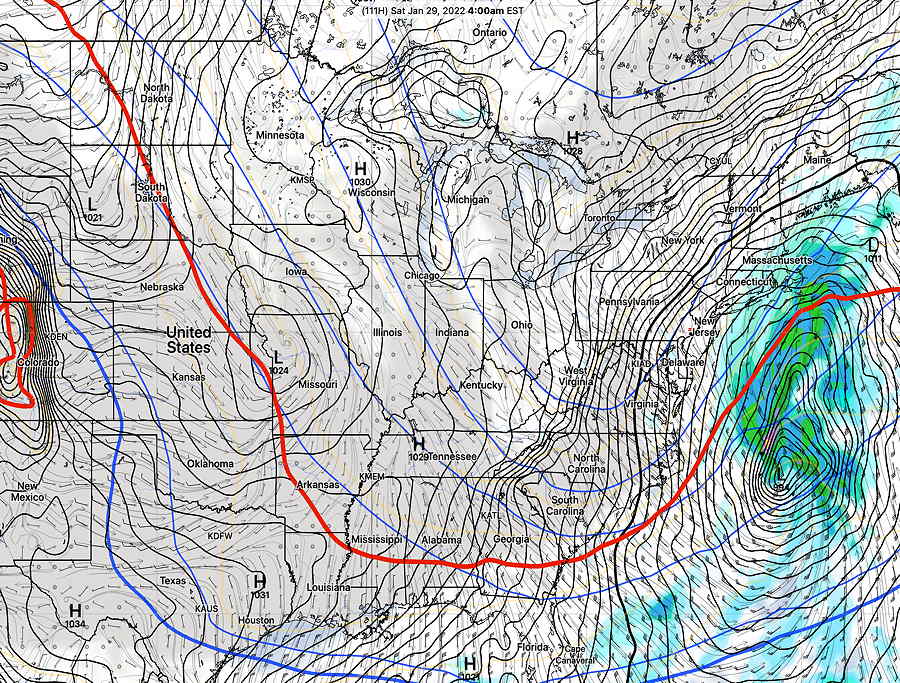 In this time frame, the statistical ensemble models are generally used, to try to minimize the "model of the hour" or "model of the day" effect. But it is interesting that there's been this shift eastward again. Stay tuned.
---
Update Mon @ 11:45 AM —Here's the latest on the potential Nor'easter for the Philadelphia area late Friday into Saturday.
While previously looking like it would miss us, the latest trend is for the storm to be closer to the coast. The GFS as well as the GEFS mean and GEFS mode have all trended westward. The potential for several inches of snow by Saturday morning is there. The Canadian models have different speeds but somewhat similar westward trends.
Here's the very latest GFS forecast for 7 AM Saturday—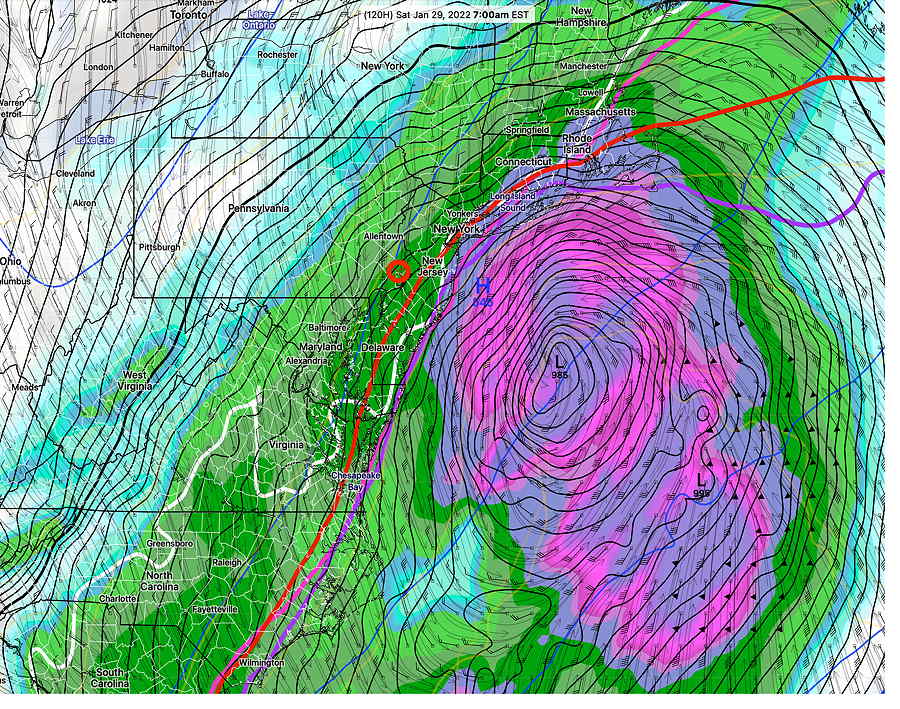 This is an evolving situation with plenty of time for things to change in a multitude of ways before Friday. Stay tuned.
---
A relatively quiet seasonably cold flow will change to a highly amplified flow by Friday. Energy in the northern jet is expected to dive south Friday and phase with the southern jet stream, creating an intense coastal storm. Multiple models are forecasting this storm and multiple models have the storm somewhat missing us.
GEFS statistical mode forecast with bias-corrected precipitation—
Right now, we would be on the very western fringe of the precipitation (snow), with the main storm missing us. As is always the case with a forecast 5 days ahead, things are likely to change. Stay tuned.