Clearing New Year's Day
Update Sat 12/31 @ 4:36 PM — Happy New Year, everyone!
The steadier rain has begun to move in on schedule. (I wish I had included the fog in today's forecast today; it was in my earlier "weekend outlook", but only morning fog. The very light drizzle should have been apparent from the models, but it was overlooked. )
The rain tapers off about 1 AM.
Sunday
Clearing early Sunday morning becoming mostly sunny. Winds are less than previously forecast, gusts to about 20 mph but decreasing during the afternoon.
High temperature 52.3º sd 2.8º NBM model – for location Blue Bell, PA

I'm keeping my eye on a potential coastal storm early Friday morning. We may get some light snow on grassy surfaces. There simply isn't enough cold air in Canada now to give us a snow storm. The mother-lode of cold air descended last weekend and it hasn't been replaced yet.
---
A Change in the forecast
Update Fri 12/30 7:16 PM — Based on the NBM and Canadian HRDPS, I've updated the rainfall for New Year's Eve to 0.40 inches.
Fri 12/30 @ 5:50 PM — There's a change in the forecast that has followed a trend that started with yesterday's models.
Saturday
Saturday: The main swath of rain on Saturday will be east of us, into NJ and off the coast.
This afternoon's 18z GFS captures the trend with only light rain (0.01-0.02″) in the immediate Philadelphia area before 4 PM—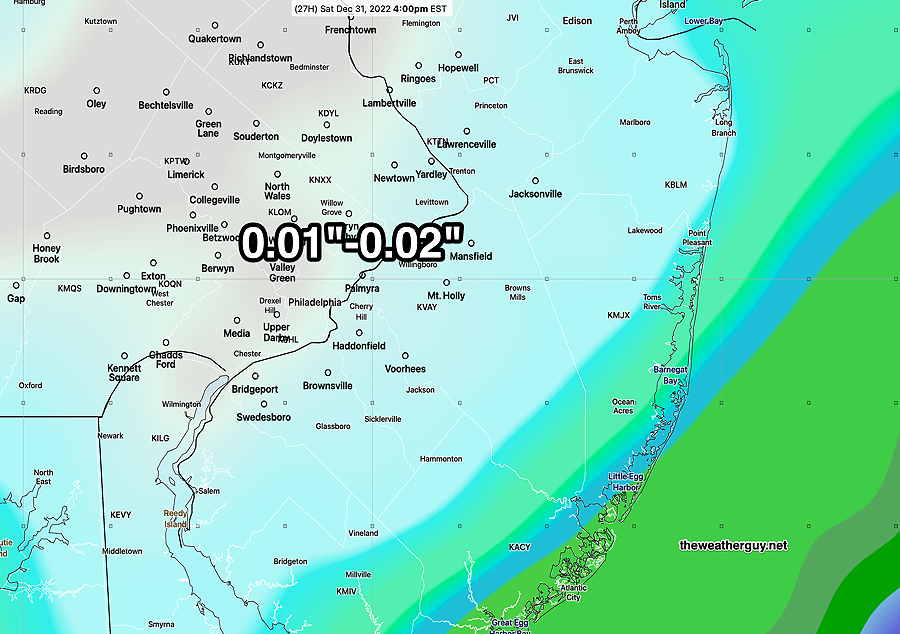 Steadier light rain moves in during Saturday evening but the total rainfall will be light to moderate ( 0.40″) New Year's Eve. The light rain starts tapering off about 1 AM Sunday. Mean high temperatures (NBM) have trended cooler with the same high spread of uncertainty.
High temperature 51.7º sd 3.3º NBM model – for location Blue Bell, PA
Sunday
Sunday will be mostly sunny, with a few short periods of cloudiness from upper air disturbances. It will be windy and gusty at times, especially during the morning hours.
High temperature 52.7º sd 3.4º NBM model – for location Blue Bell, PA