#weather #paweather #wx #pawx #philadelphia
Update Sun 01/29 @ 9:26 PM — Just an update on the snow potential, or lack thereof. As mentioned over the past week, the period between Feb 2 and Feb 6th might hold promise for snow lovers.
Alas, not the case. Our best bet was Sunday night into next Monday (the 6th) and it's going to be too warm for snow
Here's the latest NAEFS showing coastal low pressure brushing us, but temperatures are too warm here for snow —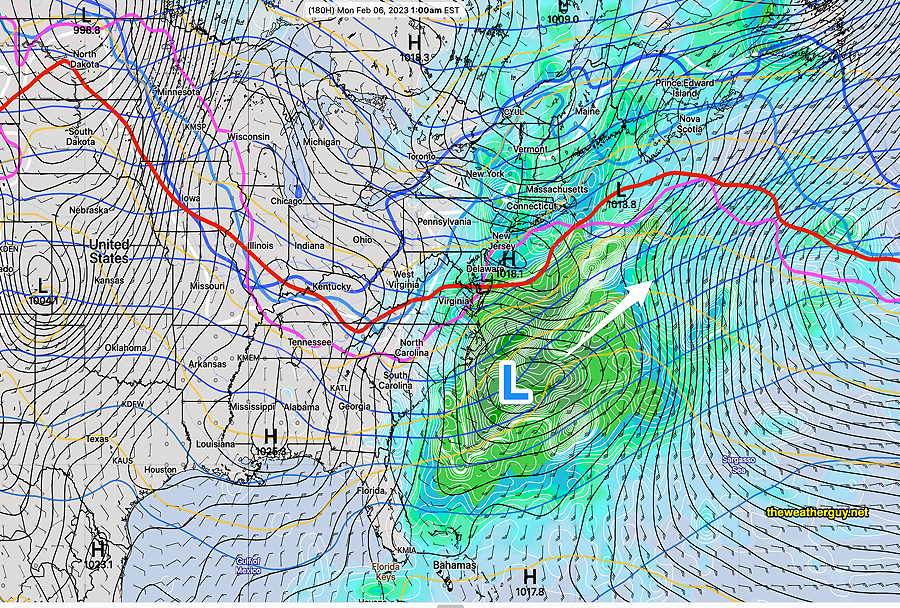 Go Eagles!
---
Update Sat 01/28 @ 9:51 AM —Despite the current sunshine, the models continue to forecast cloudiness to develop late morning as a warm front-like scenario develops over us.
For Sunday, more models have joined the forecast for light showers to develop in Philadelphia about 3 PM Sunday as the cold front approaches and dissipates.
---
Previously Posted Fri 5:17 PM —
Warm air aloft moving in from the southwest (a pseudo warm front) will cause an increase in cloudiness on Saturday afternoon.
The warm front continues north of us on Sunday as a cold front tries to move through during the afternoon hours. The cold front's movement is impeded by high pressure in the Atlantic and it dissipates, but not before causing a few very light showers in the western suburbs into Philadelphia.
Very light amounts are forecast for Philadelphia, on the order of 0.02 inches about 3 PM or so, having minimum impact on the Eagles game.
Sunday
The cold front dissipates as it approaches Philadelphia but very light shower activity makes it through about 3 PM or so. Not all models are on board with these light showers. The ECMWF has been consistent. Cloudy and windy.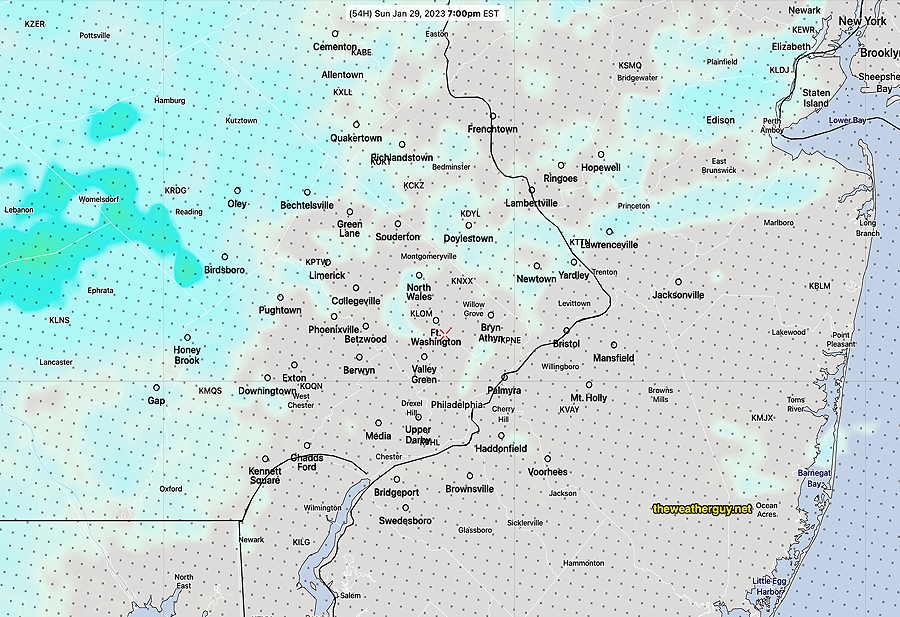 High temperature 52.2º sd 1.2º ( NBM model – location Lincoln Financial Field, PA)
Winds at the Linc

Regarding Potential Snow here in Philadelphia:
Update Sat 1/28 6:26 PM — Cancel these chances of snow; the latest models have trended warmer with precipitation moving mostly to our south.
There's a chance of an "over-running" event with moisture moving over a stalled frontal boundary late Tuesday night into next Wednesday, Feb 1st.
There's another chance of a similar event next Sunday night into next Monday, Feb 6th.
Snow lovers- don't get too excited… we're talking about 1/2″ or so each 'event' with possible changeover to rain or freezing rain. No major storms showing in the models.