Wednesday into Thursday Storm
#weather #paweather #wx #pawx
Wed 9:24 PM
Forecast Review
— It was interesting that the new
GFS
v 16.3 was (1) too fast with the onset of the precipitation (2) too cold with the vertical profiles and precipitation type. Something to keep in mind if we ever get the possibility of a real snowstorm this season.
The storm followed the NAM quite well. The NAM was the first model to call this storm properly. The Canadian HRDPS also deserves recognition for timing and precipitation type.
About 1.7-2″ of rain expected before it ends. The winds have already picked up.
The front passes through about midnight and rain tapers off about 4 AM Thursday. A partly sunny Thursday morning will become fairly cloudy in the afternoon. It will be very windy.
As for snow, the next interesting period will be the end of next week into next weekend. About Feb 2nd through Feb 6th. No large storm showing on the weather maps, but several potential "over-running" events could give us some snow during this colder period. And it wouldn't take much for a storm to develop with the current forecast setup.
Update Wed 01/25 @ 8:14 AM — No change in the forecast. Current models, with the exception of the GFS and GEFS, show virtually no snow accumulation in Philadelphia and surrounding counties. Lehigh, Berks and Lancaster counties have a fraction of an inch.
On the otherhand, the GFS and GEFS consistently show some snow accumulation in northern Bucks, Montco and Chester counties—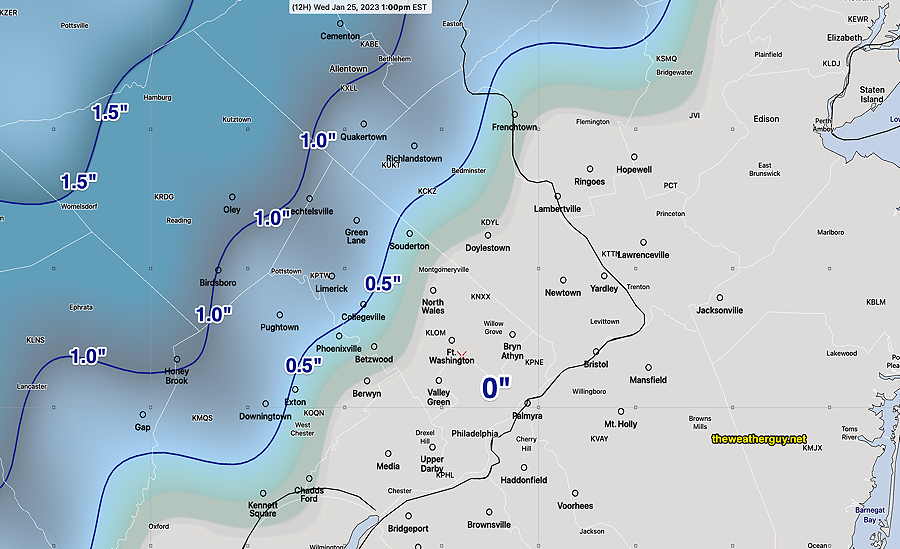 Becomes heavy rain. 1.5-2.0 inches. Very WINDY towards evening and after the frontal passage which occurs about 10 PM to midnight.
---
Update Tue 1/24 11:01 PM — Latest GFS, just available, maintains its snow forecast, very similar to its afternoon run and very different than the most of the other models. The GEFS posted earlier is similar to tonight's GFS.—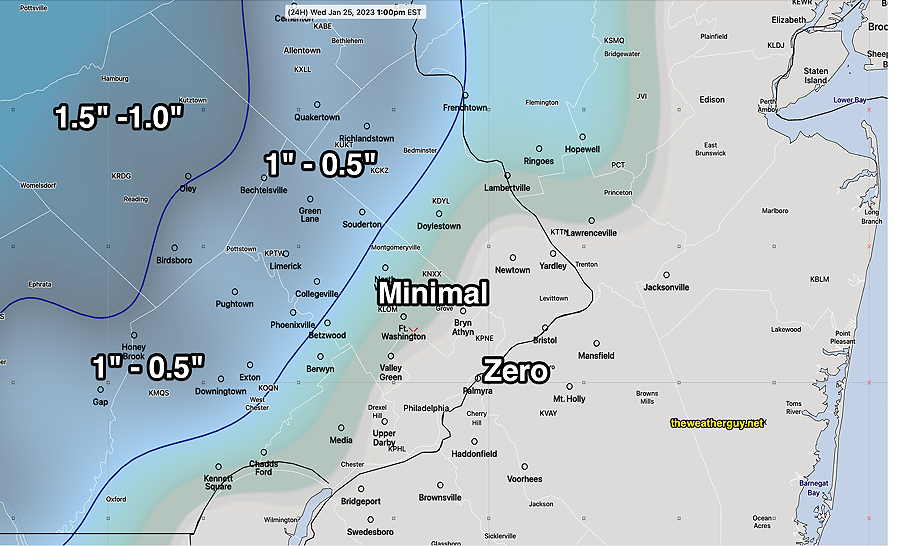 GFS has the precip moving in earlier, about 10 -11 AM. Everything turns to rain as described just below by 2 PM.
---
Update Tue 1/24 9:51 PM — Tonight's models make the GFS and GEFS outliers. I just presented them as food for thought.
Precipitation starts as mostly rain, except far northwest where some snow will fall. It begins here about 11 AM to noon.

As for accumulating snow, I'm staying with the NBM model—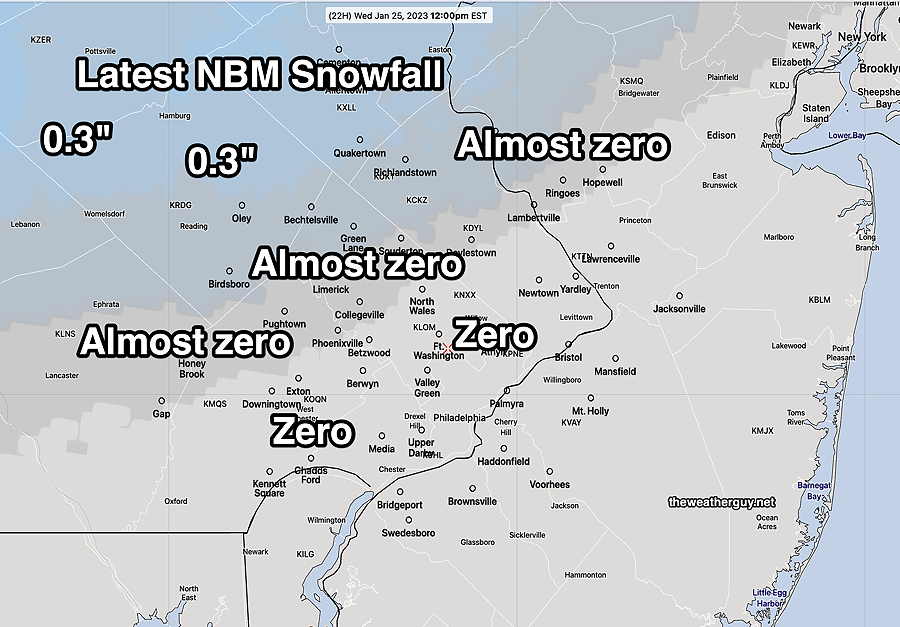 Rainfall will become heavy during the evening and night. Models are showing as much as 1.7" of rain. It will become very windy during the evening and night. The cold front moves through about 10PM with strong gusts
---
Update Tue 01/24 @ 8:13 PM — Another unlikely but possible forecast, from the GEFS suggests this afternoon's GFS (posted earlier) should not be totally ignored. Here's the latest 18z GEFS, just available, with its snow forecast.
(The GEFS shows the statistical mean of 30 created variants ("perturbations") of the GFS model. The 30 perturbation models are generated based on forecast error "vectors" that increase/decrease in magnitude over time, a highly advanced and complex process. )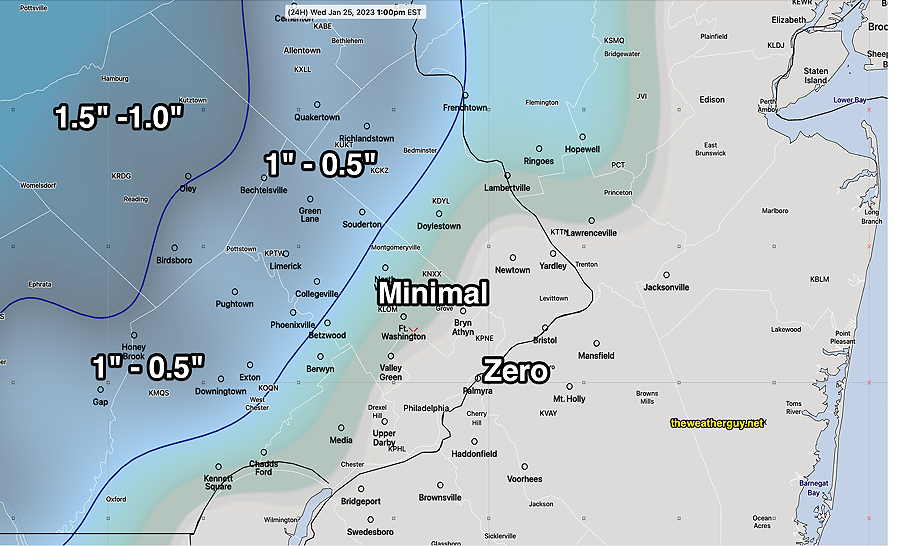 Snow-Rain dividing line from the GEFS at 1PM—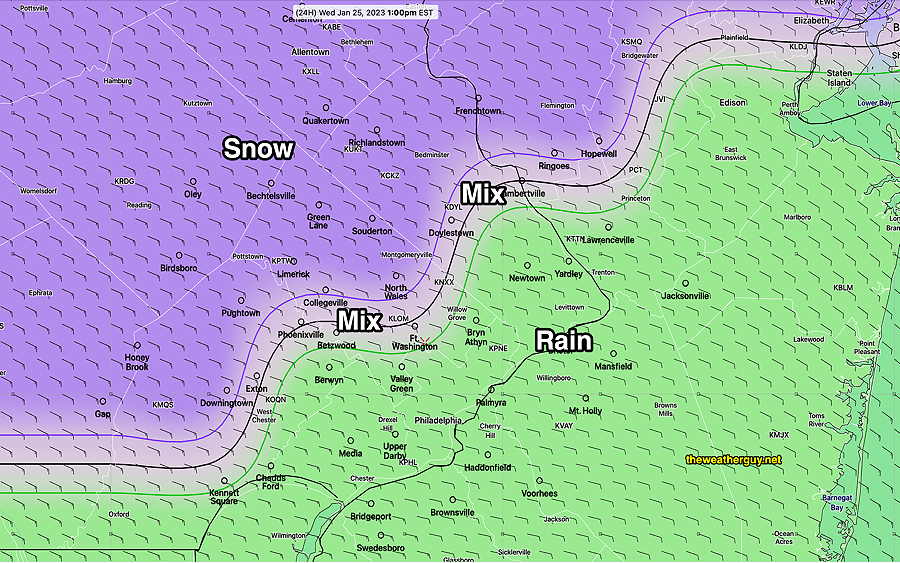 It should be noted that the NBM 00z just became available and has not changed its forecast from the forecast just below (Almost zero snow) .
(The GEFS data above doesn't enter the NBM mode until the 01z run, available later. )
---
Update Tue 01/24 @ 6:27 PM — Models remain on track for minimal to zero snowfall accumulation. Here's the latest NBM snowfall depth forecast for Wednesday—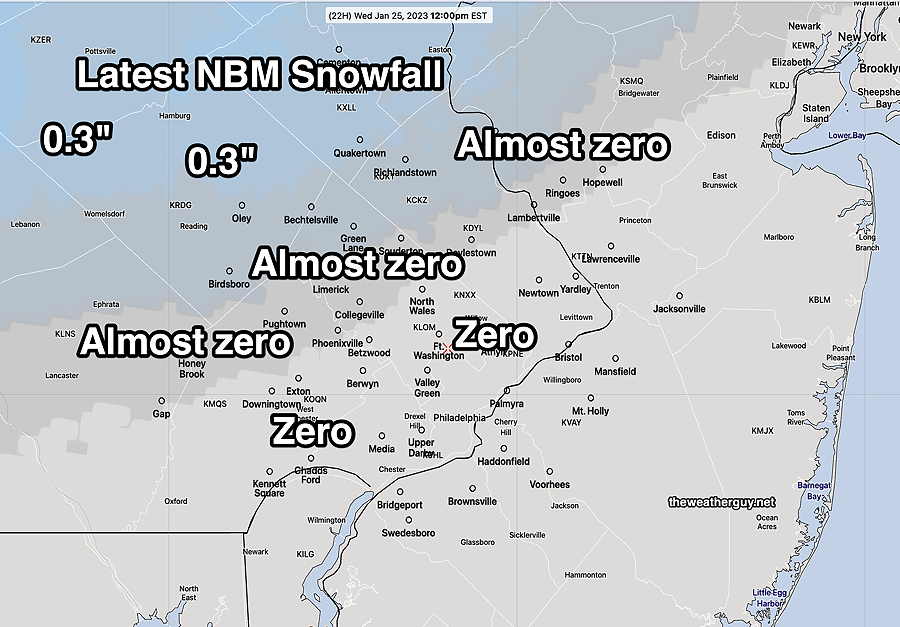 Just food for thought. Here's the very latest GFS, probably quite incorrect—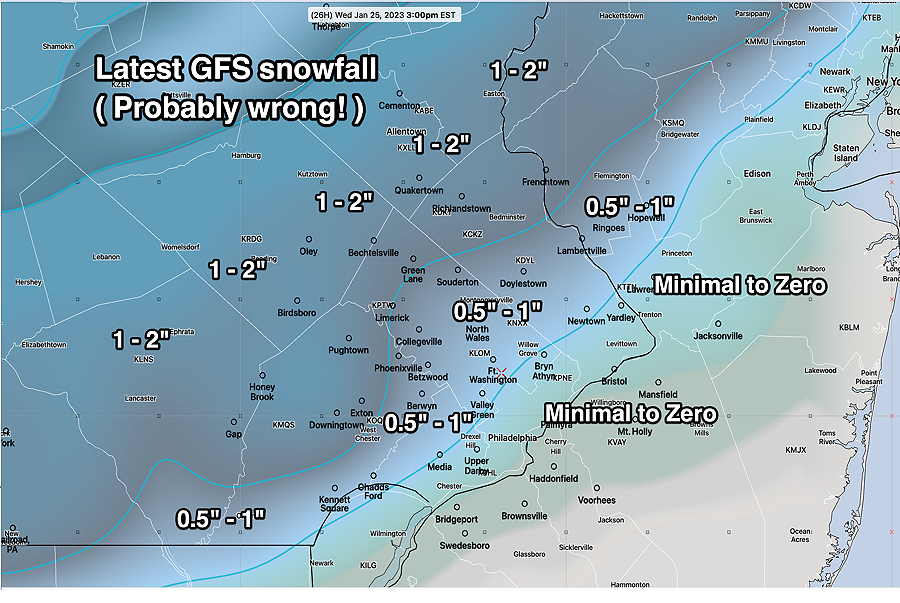 ---
Update Tue 1/24 8:43 AM — Today's models reflect the change to a quick wet snow to rain event tomorrow morning with no accumulation in our area. It should be noted that the NAM and Canadian HRDPS models were the first to move in this direction Sunday night.
This will be a heavy rain event with rainfall amounts in the 1.25" range. Light rain-snow mix begins about 9-10 AM (Blue Bell) and rain continues through the day and night time. Winds increase during the evening hours becoming quite gusty.
---
Update Mon 1/23 10:56 PM — New NBM reflects minimal snow—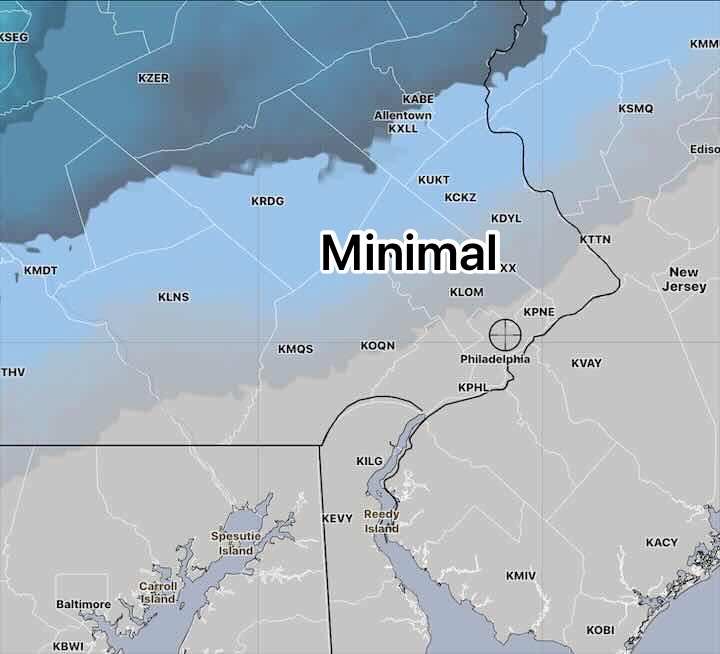 ---
Update Mon 1/23 9:45 PM — As was the case last night, the models are trending towards a later start of precipitation on Wednesday with more warm air. Tonight's NAM, NAM-NEST, along with the HRRR join this afternoon's Canadian high resolution HRDPS and RGEM in forecasting little to no snow accumulation in Philadelphia and the surrounding counties on Wednesday.. The NBM forecast posted earlier, is probably not correct and I expect future runs of the model will reflect the current trend.
(The ECMWF, as of this afternoon, is still forecasting snow accumulation similar to the posting below. Like the NBM, I don't feel it's correct.)
---
Previously Posted Mon 6:05 PM —
A warm front associated with a deep low pressure system in the Ohio Valley will bring first snow, then rain to our area on Wednesday.
Last night's NAM model was the first to have the precipitation move into our area later than previous forecasts.
Current timing is that some snow starts between 9 and 11 AM. (The ECMWF has an earlier start).
Snow changes to mostly rain from south to north between 12 noon and 2 PM. (Areas far north will be much later.)
In many areas, there will be a significant difference between snow falling and snow accumulating.
With a later start, temperatures will rise to above 32º and for much of any snowfall, it will be as high as 36.5º before temperatures rise even higher.
A very complex thermal profile exists with this storm. My main issue with the built-in model snow algorithms is all-important 540 thickness line (red line) will be far north of our area; I'm not convinced about the amount of snow, although other critical temperatures do support snow—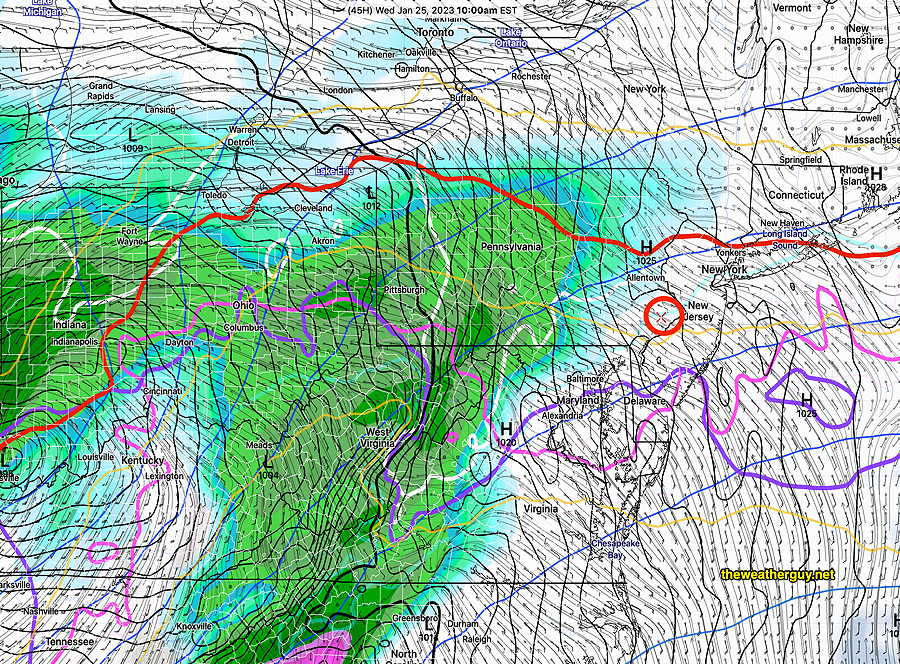 The latest NBM cranks out measurable snow in our northwest suburbs—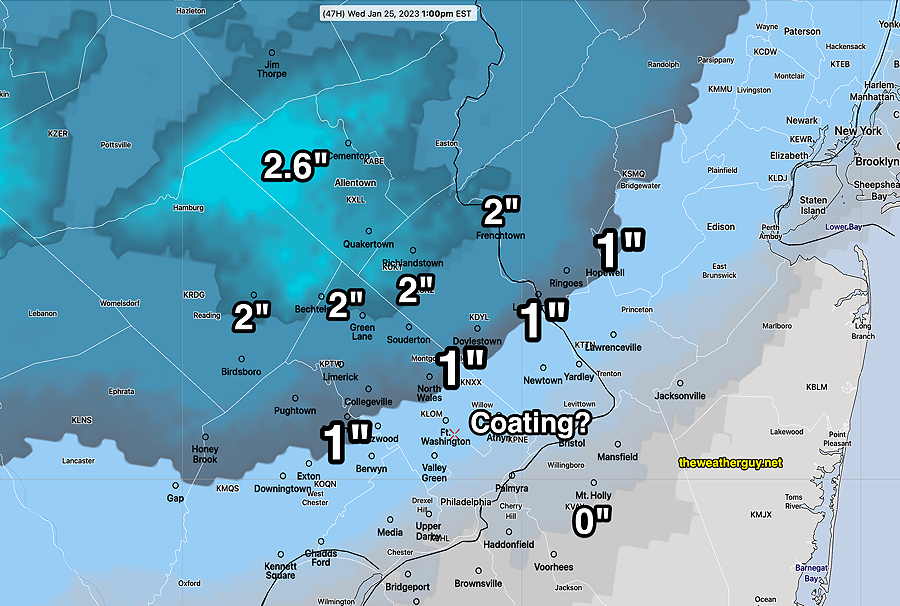 A changeover to all rain expected in the Philadelphia area and immediate suburbs by 2-3 PM, if not earlier. By evening, most area accumulations will be reduced to very little, if not nothing.
The trend has been for a later start and somewhat colder profile, with more snow. Not sure if this is going to hold. Stay tuned.
---
---