#weather #paweather #wx #pawx #philadelphia #phillywx
Shower Forecast Update
Update Fri 06/02 @ 9:10 AM — Despite reasonably high CAPE and thermal instability, the lack of soil moisture feedback and marginal available precipitable water (PWAT= 1.3″) will result in a low degree of shower activity Friday afternoon.
Very widely isolated/scattered activity as early as 3-4 PM lasting until about 2 AM Saturday morning.
Here's the HRRR total accumulation forecast—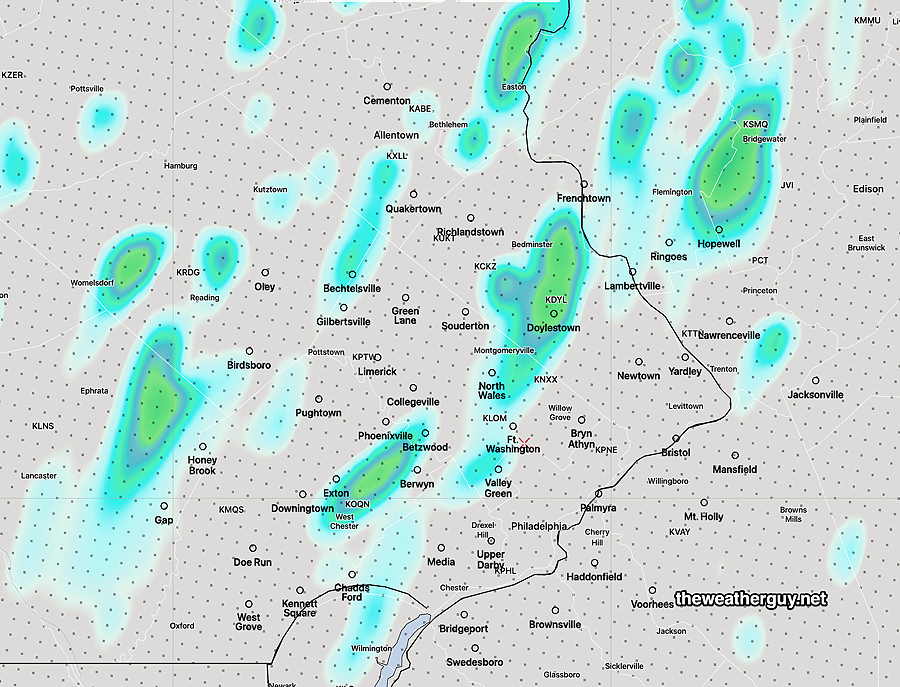 Outlook for Saturday— periods of clouds with periods of sunshine. Low probability of any showers. Cooler.
---
Friday Forecast Update
Update Thu 6/01 @ 10:38 PM —Tonight's models just coming in show widely scattered showers and thunderstorms moving down from the north Friday afternoon. Peak time about 5-6 PM but possible as early as 3 PM. Widely scattered is the operative word. There's enough CAPE and thermal instability, but not very high available moisture. Minimal shear and little jet stream support. Not a drought buster.
---
Update Thu 06/01 @ 4:30 PM — Most models are forecasting high temperatures around 92º-93º on Friday afternoon.
That said, the ECMWF, German ICON and Canadian HRDPS are showing some suburbs of Philadelphia reaching 95º-96º.
The NBM which is designed to iron out differences in the model forecasts is showing 92º but with a high standard deviation of ± 3.2º.
Interestingly, the dew point temperatures will be low, so the heat index ("apparent temperatures") will likely be lower than the air temperature.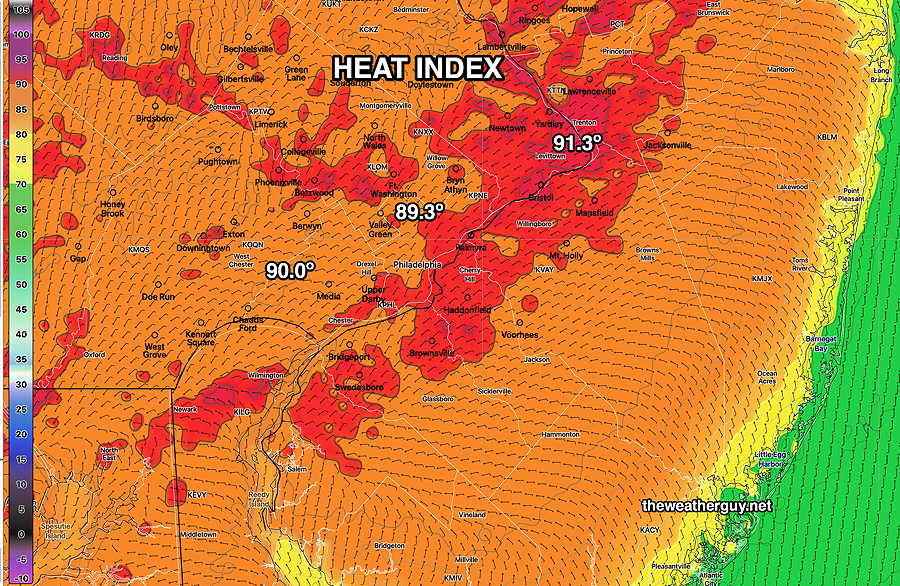 It appears that a lack of soil moisture and precipitable water may significantly reduce thunderstorm development and coverage Friday evening. Much needed rain doesn't currently appear to be a likely possibility in many areas.
---
Possibly some thunderstorms early Friday evening?
Update Wed 05/31 @ 5:35 PM — The incredible weather we've been having is really quite perfect, BUT there's been a significant deficit in rainfall in may areas, especially from Philadelphia and the suburbs immediately westward.
The backdoor cold front expected Saturday could produce some light showers.
Today's higher resolution models are suggesting the possibility of some thunderstorms late Friday afternoon or early evening in advance of the front.
(There will be plenty of heat and CAPE available for thunderstorm formation on Friday. Precipitable water is expected to increase to 1.7″. Missing will be soil moisture, which tends to enhance convective activity.)
The NAM-NEST model is showing a few scattered storms early Friday evening, mostly to our far north and more later in the evening.
Just out of curiosity, I took a look at the experimental RRFS (Rapid Refresh Forecast System) model under development and scheduled for release the end of this year.
Here's a comparison of the NAM-NEST and the experimental RRFS at 6 PM Friday—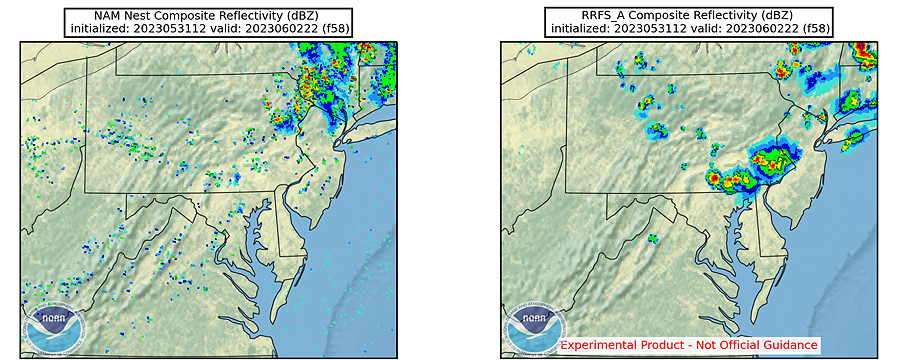 ---
Ninety Degrees Plus on Friday. Light showers possible Saturday
Update Wed 05/31 @ 9:39 AM — The upper level ridge will move eastward enough on Friday to give us some true summer temperatures. There's a range of forecast high temperatures, but here's the latest ECMWF and NBM to give a sense of what's expected—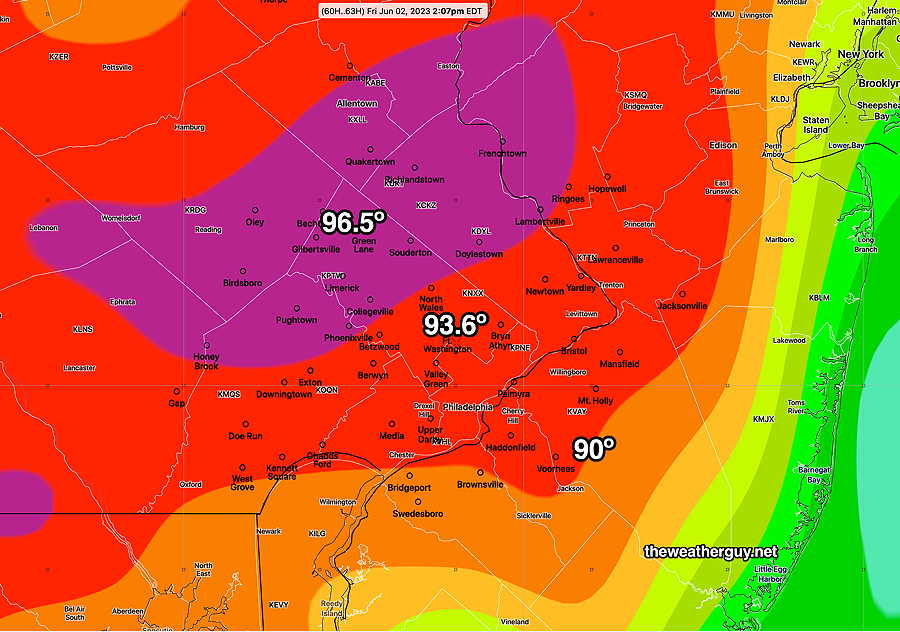 Here's the NBM model version 4.1 forecast which is a weighted average of over 40 models, weighted based on the model's most recent 6 hour performance—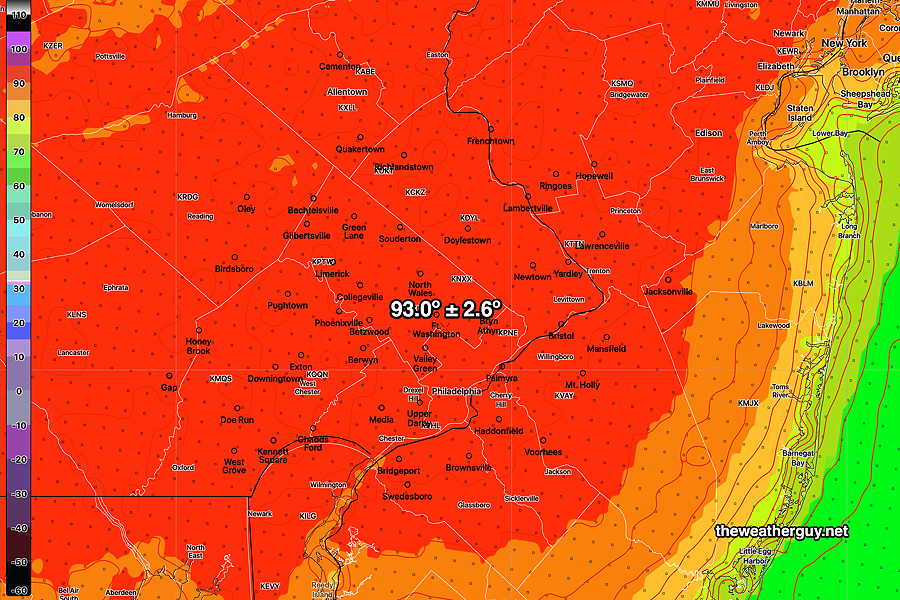 Dew point temperatures will be relatively low (60º or less) so the actual "apparent temperature" ("heat index") will not be that high (less than 90º in most areas.)
For Saturday, a back door cold front moves through. Most models are showing light showers mid-day with about 0.2-0.3″ of rain. Not very much, but we'll take it. With soil moisture so low, we'll see if we even get that much.
---
---
Blocking Pattern Retrogrades. Expect 90º on Friday
Update Tue 05/30 @ 11:50 AM — Not only is the blocking pattern expected to persist this week, but the latest GFS has joined the ECMWF in showing a deepening of the upper low over the Newfoundland and a retrograde of the entire block westward—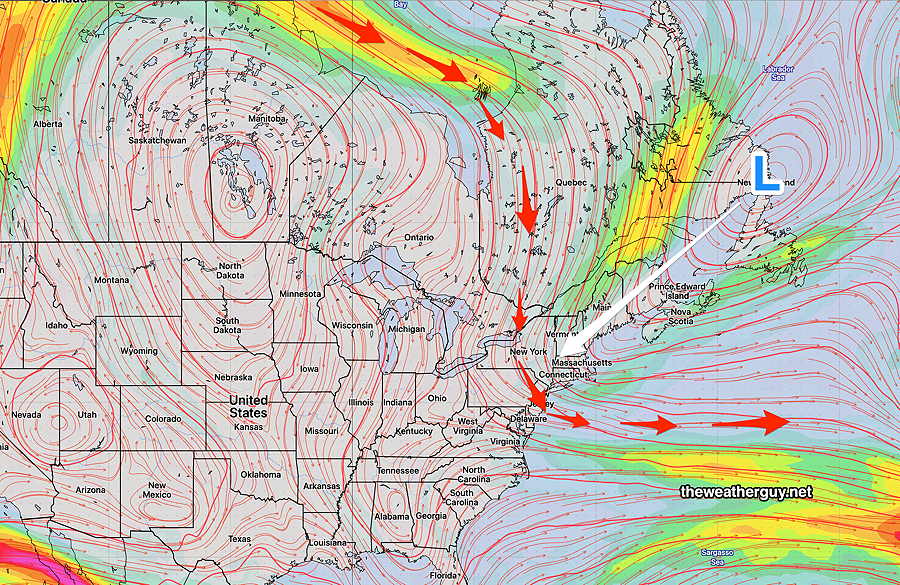 Following 90+º temperatures here on Friday, the retrograde will cause a backdoor cold front to move across us Saturday. The last two days of the ECMWF model shows a bullseye of rain with this backdoor cold front over us on Saturday. The GFS has joined the ECMWF with this forecast, but has significantly less rain for us.
Following the backdoor cold front, we cool down significantly for Sunday.
---
Previously Posted Mon 9:24 AM —
Blocking Pattern Entrenches
It's been over three weeks since the immediate Philadelphia area has had any significant rain.
While the term "pattern" is sometimes loosely used regarding weather changes, this is beginning to look like a true persistent pattern for our area, all the result of a relatively unchanged, blocked upper air configuration.
Over past weeks, I've used the terms Omega Block and Rex Block to describe the upper air configuration that is resistant to change.
The latest ICON ensemble (ICON-EPS) clearly shows we're heading into a combined Rex block and large scale Omega block for the end of this week—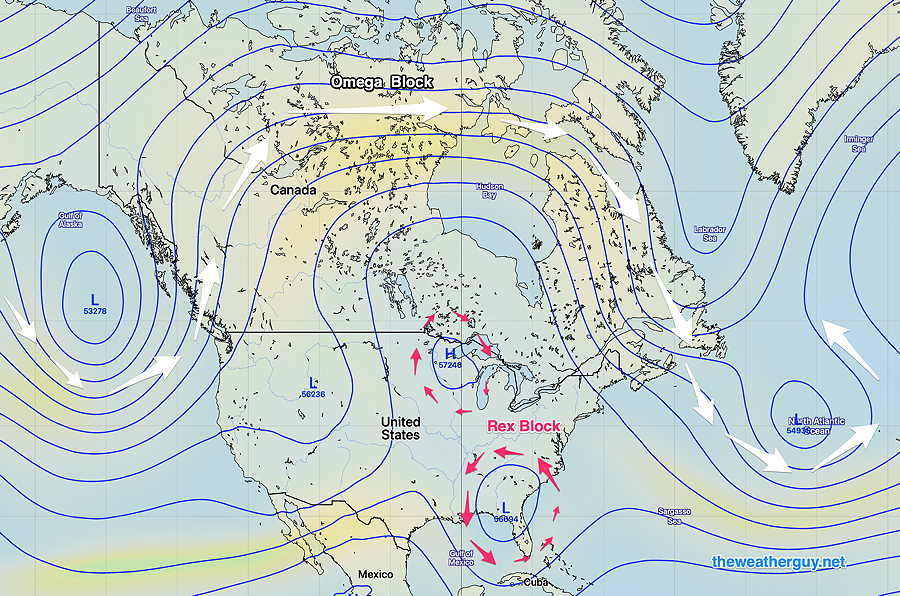 The GFS ensemble (GEFS) shows a similar Omega block configuration without the Rex Block—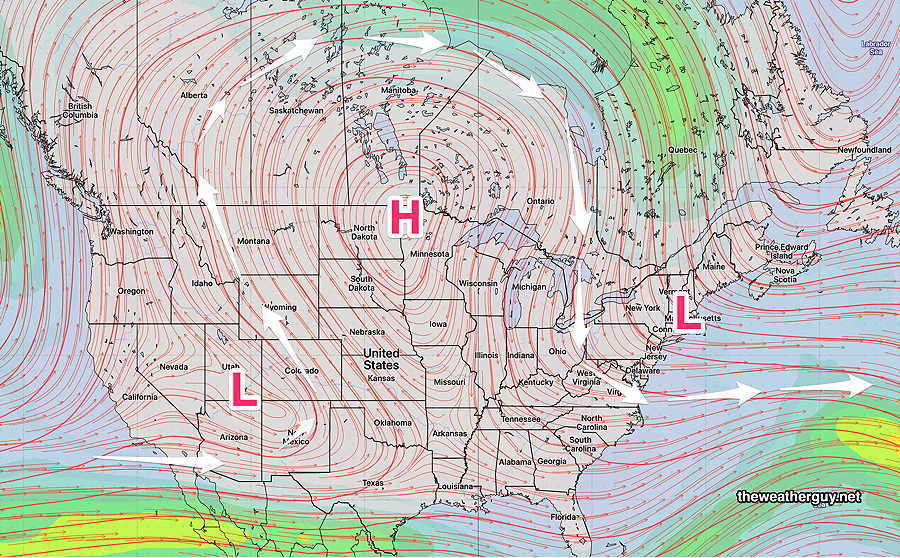 What does this all mean? Well, what we have weather-wise is essentially what we will be getting through at least the next week or so— Beautiful, cooler to near average weather with little-to-no chance of rain.
The center of the US will be in the very warm (hot) sector of the block, but we'll be in the cooler part of the block, influenced by the upper low pressure system.
As I've expressed over the past week or two, I'm concerned that this may progress into a significant dry period (short term drought) for the immediate PHL region.
Patterns change, often without advance notice, but for now this is what we'll see. The NAEFS suggests we may get some light rain the end of NEXT week (June 7-10th time frame.)
---