Weekend Outlook
Update Thu 01/05 @ 6:01 PM — A quick note that the latest GFS just available shows some light snow possible, western and southern sections late Sunday evening. Very light and not quite a storm. Stay tuned.
Thursday
Update Thu 01/05 @ 5:36 PM — Some interesting weather sights from the Schuylkill trail today-
First, several areas of sprinkles and showers did develop during the afternoon, as forecast by the HRRR and NAM-NEST. Some unusual virga seen from mid-level clouds—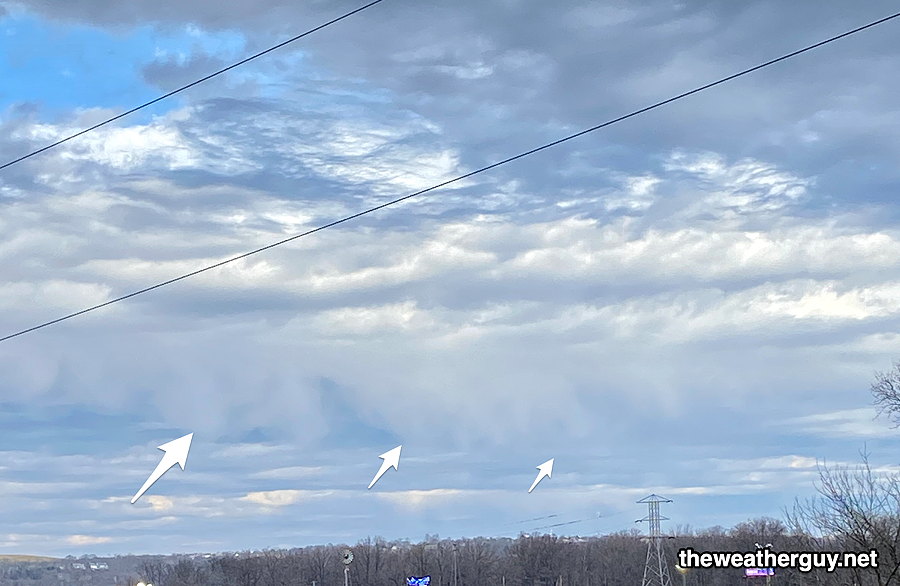 Another sight was a somewhat rare wintertime rainbow in the afternoon.—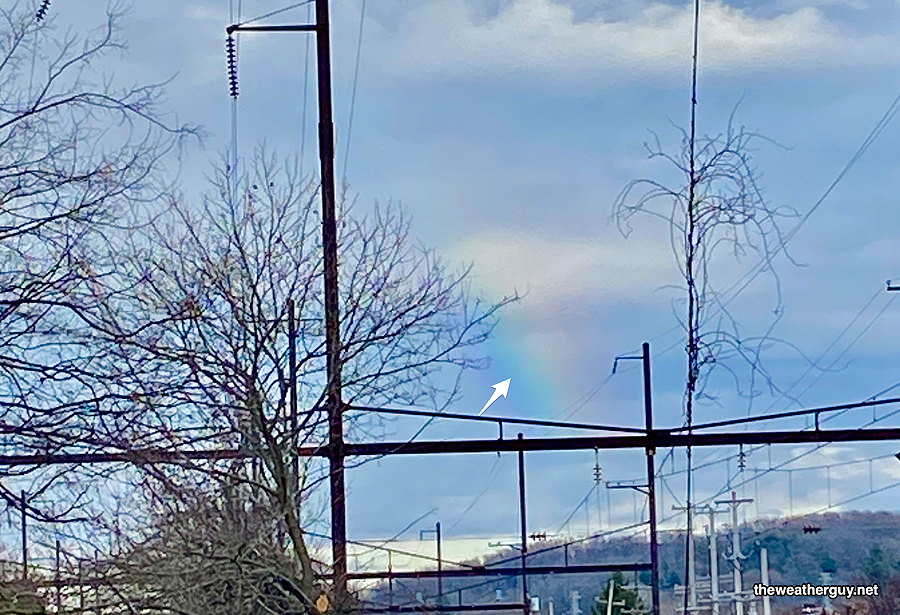 ---
Update Thu 01/05 @ 9:36 AM — This morning's HRRR and NAM-NEST show much more cloudiness this afternoon than previously forecast (previous forecast was "high uncertainty"). Even a few widely scattered sprinkles possible.
Update Wed 01/04 @ 8:38 PM — A cold front will move through this evening and temperatures over the next 24 hours will begin a descent closer to normal by late Friday.
Thursday will feature a mix of sun and clouds. High uncertainty about the amount of cloudiness due to increasing upper trough and a storm southeast off the coast.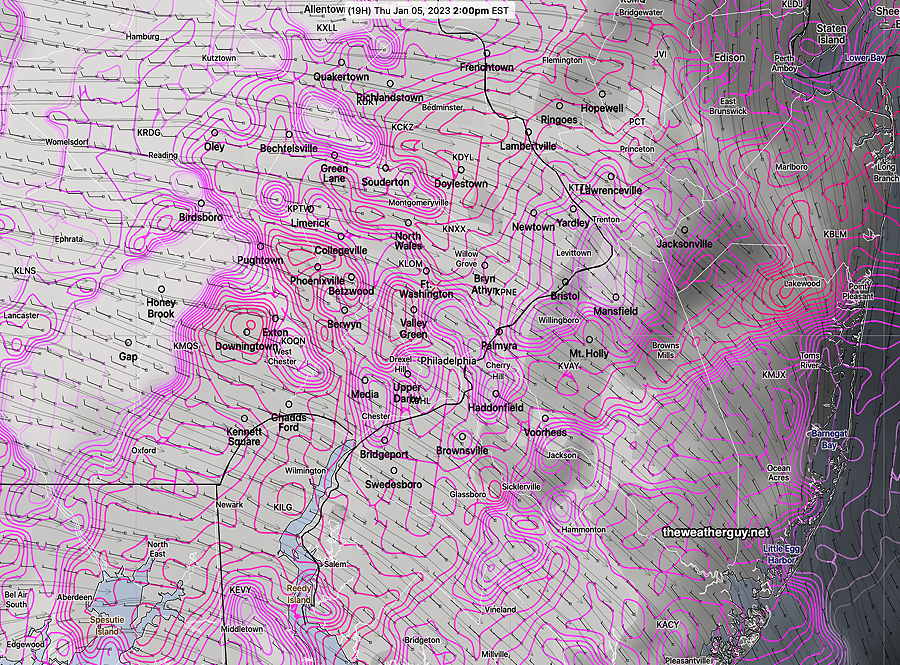 An upper air disturbance and upper trough will bring some showers later Thursday evening and night.
The weekend looks closer to 'normal' temperatures. No snow on the horizon. Slight chance at the end of next week. Increasing chances of snow towards the third week in January when colder air might return.
Wednesday
Update Wed 1/04 8:08 AM — Clouds move in about 11 AM. Showers move in 2-4 PM, earlier western Montco and southern Chester counties. Rainfall amounts will be on the light side, 0.10 inches. Highs near 65º!
---
Update Tue 01/03 @ 8:03 PM — A cold front approaches. High cloudiness, perhaps with some breaks of sun early, then thickening and lowering clouds. Rain moves in between 2 and 3 PM (earlier west of the city.)
Increasing winds during the evening, ahead of the cold front that moves through about 11 PM.
---
Yet Another Wrong Model Forecast
Tue 11:04 AM
Forecast Review
— I didn't have time last night to post a Tuesday forecast, but I can tell you that the models had only light showers barely making it into northwest sections of Philadelphia late morning and then exiting to our northeast. This morning's models were similar.
12z NBM forecast for noon showing precip coverage barely making it into Philadelphia —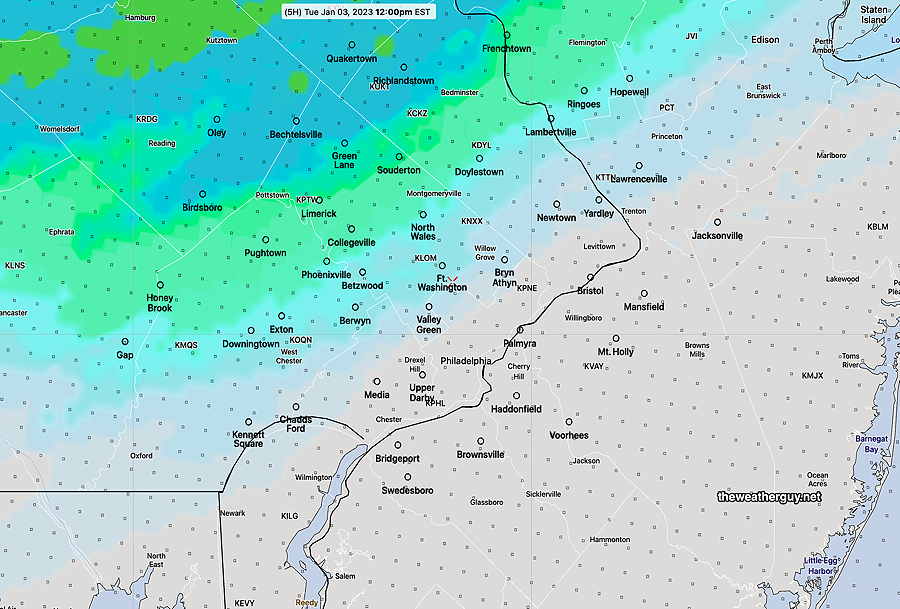 Current Radar at 11 AM —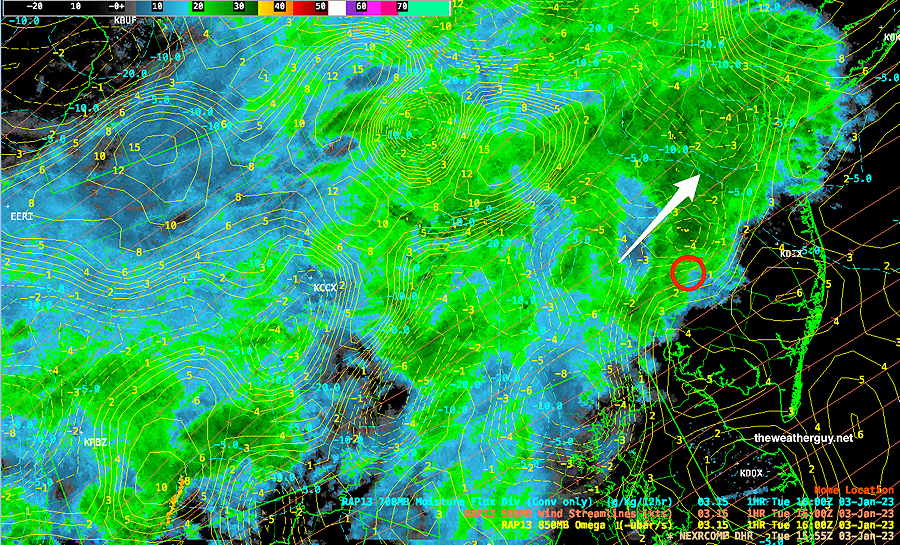 Some of the rain coverage error can be explained by the resolution of the models, but not all of it.
I'm usually in awe about the weather models, but I can't explain why there have been two consecutive days where the model forecasts have been substantially wrong.
Mon 5:23 PM
Forecast Review
— Today's forecast was one of those where meteorologists just have to scratch their head, wonder what happened to the sunshine with 60º temperatures, and admit a failed model forecast.
Eating lunch outdoors today, I was wondering where the sunshine was. When it started raining about 1:30 PM, well…
I've gone back and reviewed the morning models. I've looked over every one of the 14 different models that automatically download each day to my own 'little weather data server', and every one of them had little to no clouds at noon and no rain during the mid-day hours.
What I did find: the HIRESW and HRRR models showed areas of strong vorticity and a strong negative/positive vorticity couplet in the mid levels of the atmosphere (500mb) at 1-2 PM —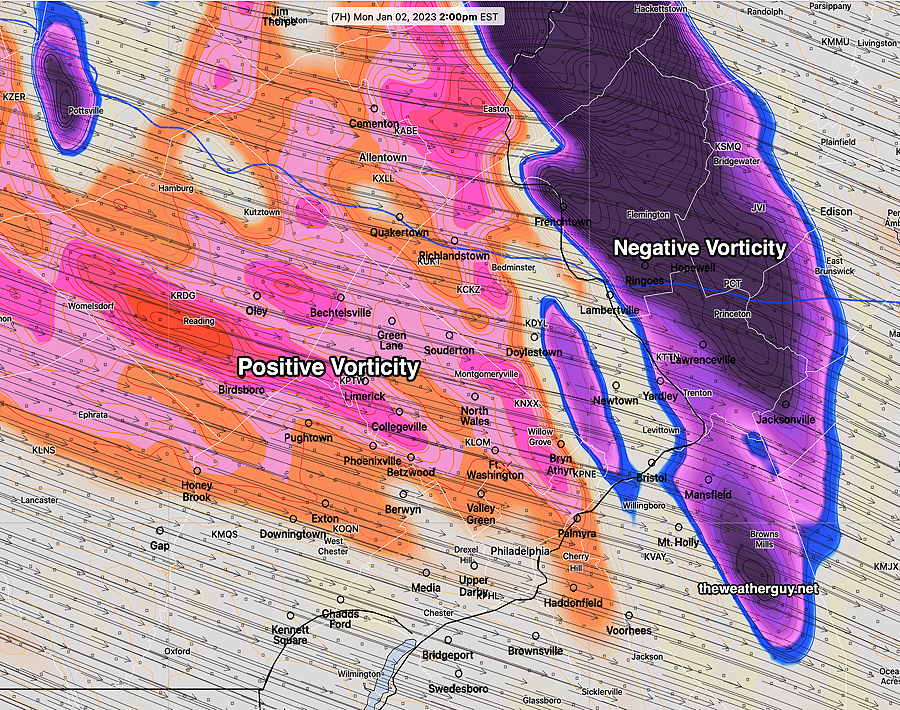 So with the models getting the dynamics correct, clearly there was an input error in the available moisture. There was much more moisture and clouds than forecast. (You can't get rain when there are no clouds/moisture, despite the dynamics being present. ) At least we know what likely happened with today's forecast.
MONDAY
Update Mon 01/02 @ 9:56 AM —The cloudiness this morning was expected. We should see more sun especially from Blue Bell and eastward towards noon, BUT the latest NBM shows advancing cloudiness by 2-3PM with more uncertainty elsewhere—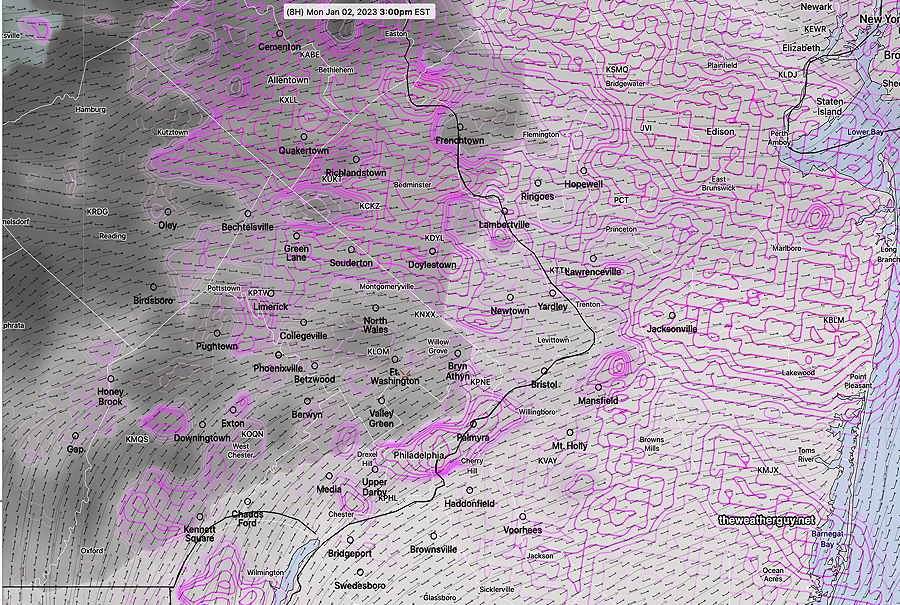 ---
LACK OF COLD AIR
Update Mon 01/02 @ 9:44 AM — I mentioned yesterday that following the extreme cold of last week, there's a relative lack of cold air in Canada right now. There's no extremely cold, dense air mass to push the jet stream to our south.
Here's the forecast temperatures from last year, (January 21st) in comparison to today —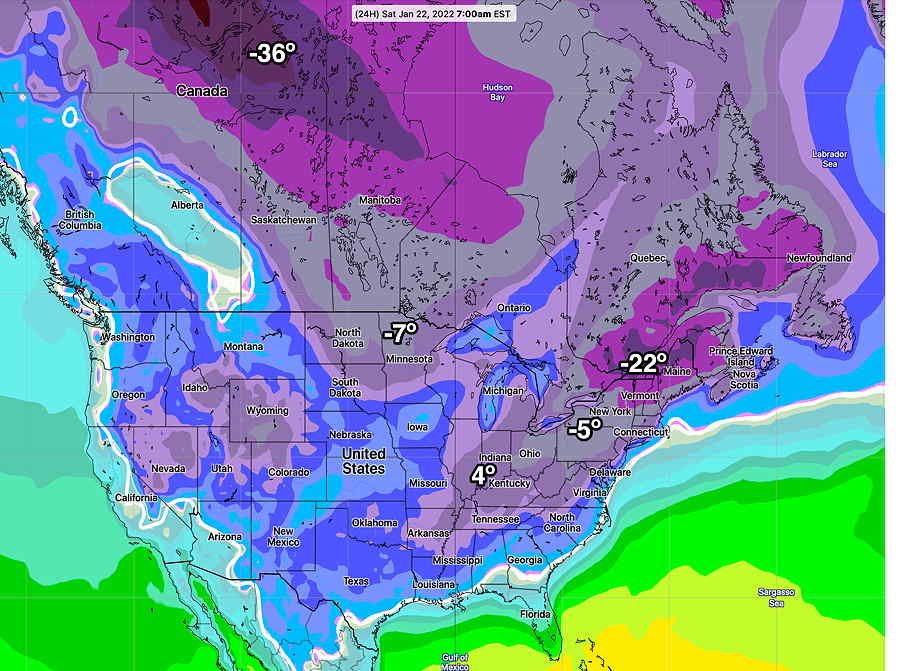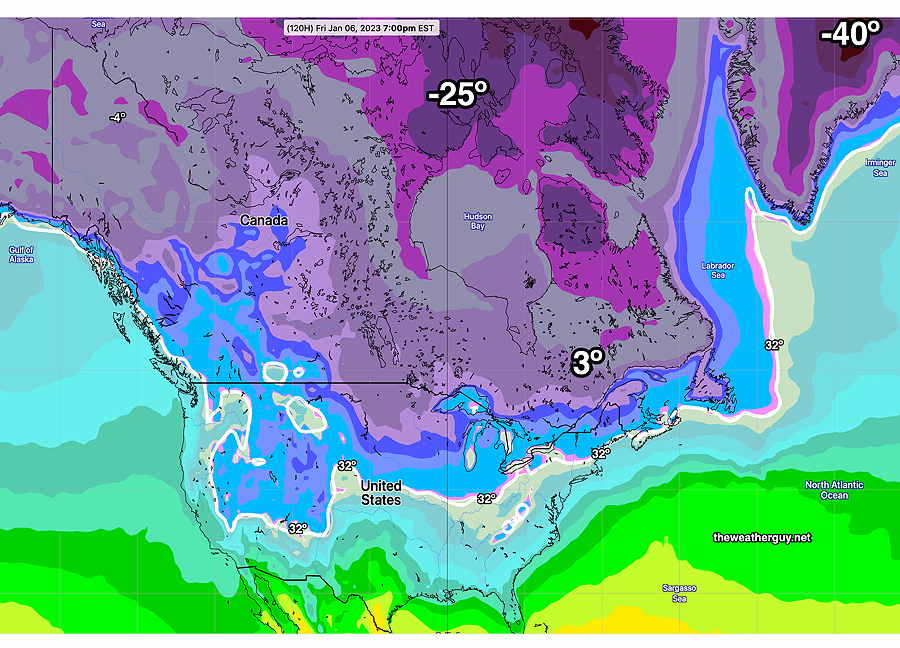 While the temperatures change day to day, and the above maps are not a direct calendar day-to-day comparison, the temperatures in Canada this week are 'milder' than last January (and last January wasn't a particularly cold season.)
For snow lovers, we won't see much of anything until things chill down to our north.
---
MILD AND WET
Previously Posted Sun 8:12 PM —
This week's weather will be influenced by a warm moist flow with the jet stream to our north. (There's a lack of extremely cold air in Canada and Greenland after the main blob came down last weekend. It will take a week or two for it be replenished. )
Monday will be the nicest day of the week. We may has some low clouds and fog early Monday, but the fog will break for sunshine. Temperatures in the upper 50s to near 60º!
The current water vapor image shows the moisture stream that will affect us later Tuesday and Wednesday and again on Friday.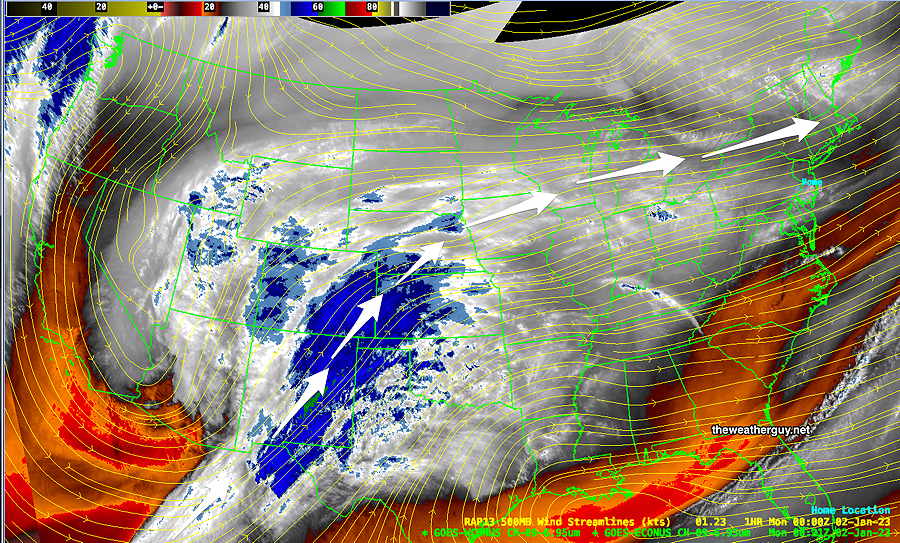 The water vapor image (above) corresponds to the current GEFS forecast jet stream flow for the present time—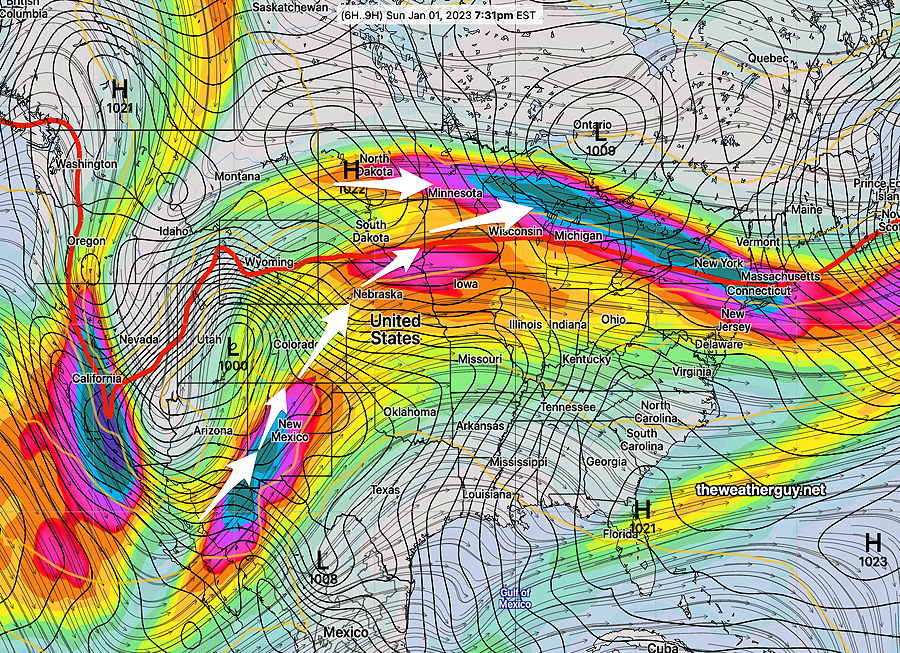 Tuesday and Wednesday; Temperatures will be very mild, but we'll have clouds on Tuesday and clouds with rain on Wednesday.
By Friday, some cold air associated with Canadian high pressure will push the jet into a moderate trough over the eastern US with low pressure spawned off the coast—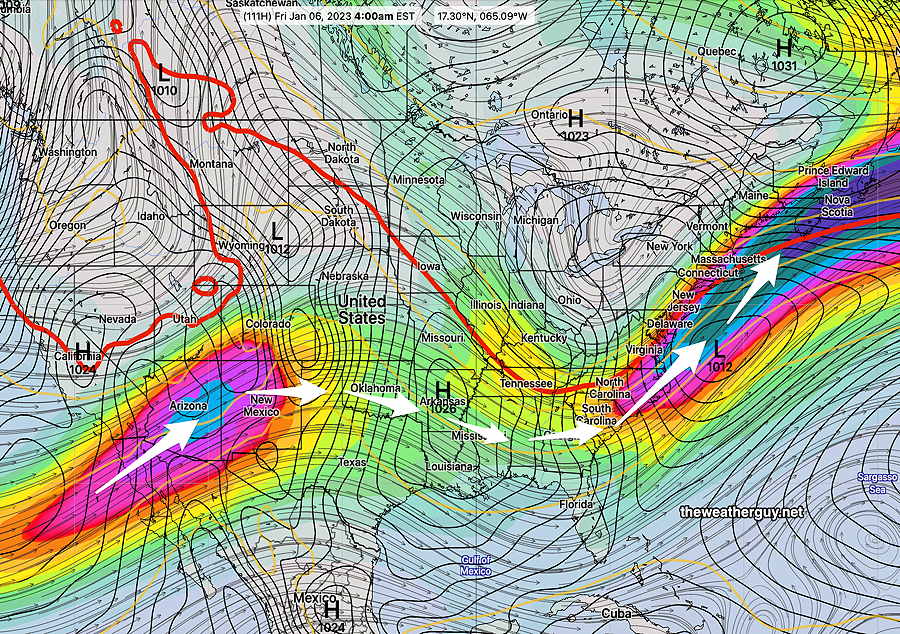 With temperatures above freezing on Friday, we'll have rain, but not far to our north, there will be some snow, despite temps above freezing.
---
---