Update Sun 01/22 @ 2:58 PM — I wanted to update on the possible coating of snow early Wednesday morning before it all changes to rain.
Surface temperatures will be over 32º by 9-10 AM in most of the the immediate PHL suburbs.
Reviewing the models from last night and this morning, I think the ICON model captures the gist of the likely 'snow'—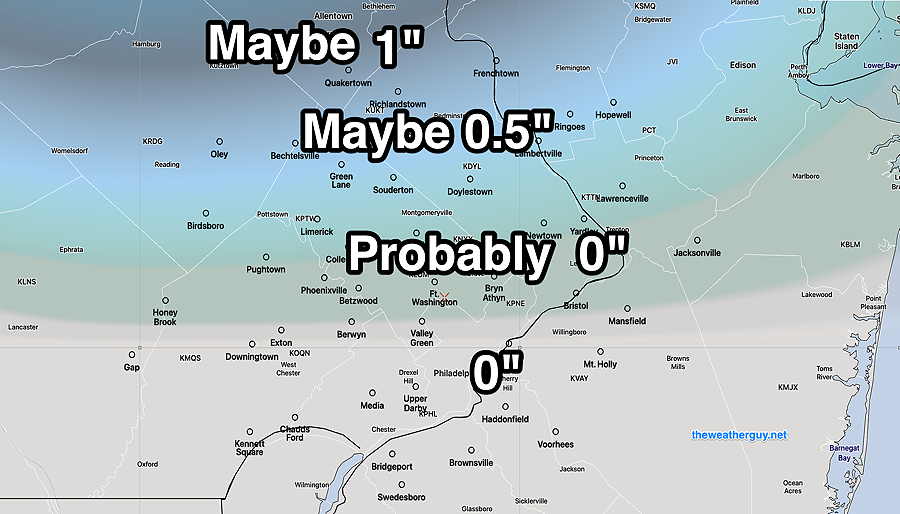 Significant rain will follow any snow that does fall, so final accumulations in our just about all of our area will be zero.
The NWS has daily "extended forecast discussions" Here's a quote which sums up the lack of jet stream amplification and snowstorms here-
"Although a colder pattern is coming, there is no imminent sign of any major arctic air masses surging south from Canada."

---
Update Sat 1/21 11:23 PM — No change in Sunday's forecast. Rain moves in about 2-4 PM.
Tonight's
GFS
and Canadian models are showing a period of snow before a changeover to rain with Wednesday's system. A small accumulation in northern and northwestern suburbs possible before the changeover. Not all models onboard with this. Updates tomorrow.
Update Sat 01/21 @ 9:25 AM — I looked out the window this morning expecting to see sunshine and said to myself, "something ain't right".
Here's the latest NBM (12z) just released, showing a lot more cloud cover than it had forecast yesterday with much more range of uncertainty—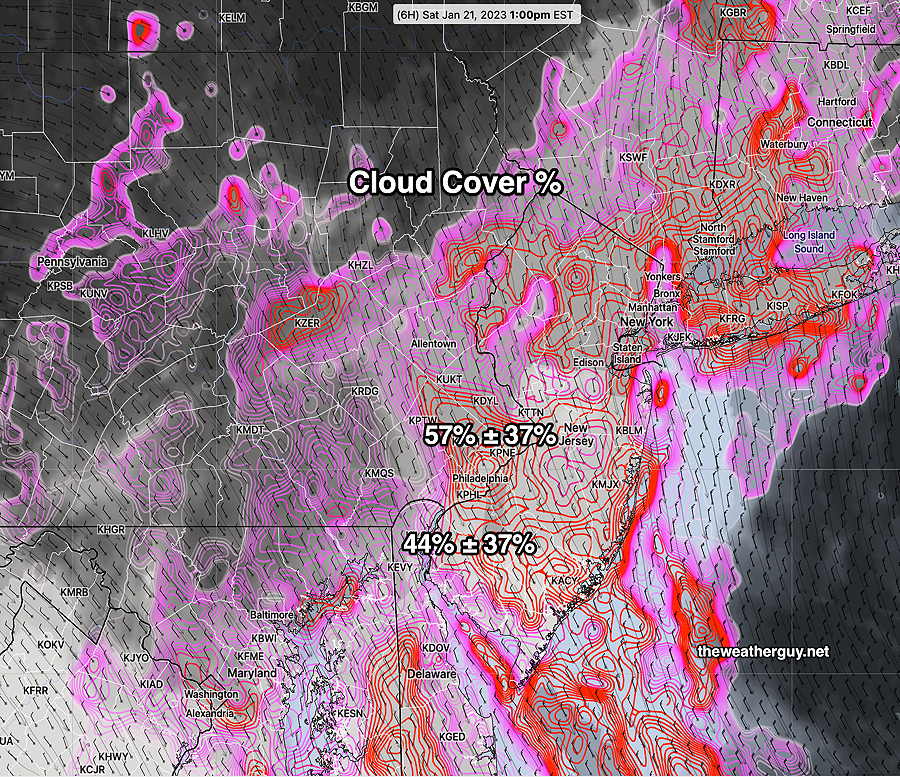 The latest HRRR just available also shows mostly cloudy for today, although the latest GFS (06z) shows no clouds, as does several other models.
So here's the updated forecast—
Saturday
Considerable cloudiness, some breaks of sun possible in some areas, especially late afternoon. Winds decreasing throughout the day. Little wind at the time of the Eagles start. High 42 ± 1.3º
Forecast for Sunday (below) remains unchanged with rain moving in 3-4 PM.
---
Previously Posted Fri 6:10 PM —
We had the predicted cloudiness today and even some scattered light rain drops that passed through much of Montgomery county. (I went back and I couldn't find a model that predicted these convective showers.)
High pressure builds in for Saturday. A strong coastal low will affect our weather on Sunday through daybreak Monday.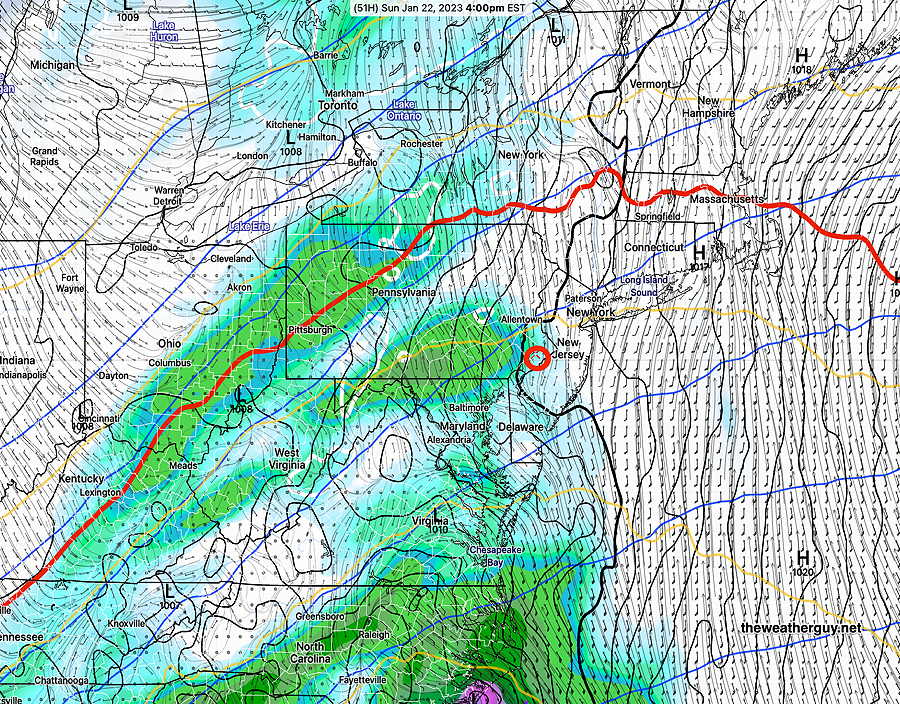 This coastal system is yet another storm that in past winters might have given us a chance of snow. Not this winter.
Another coastal storm this coming Wednesday into Thursday, is also forecast to be rain, (with the possible exception of the Canadian model).
Saturday
Mostly sunny, some clouds at times. Windy. High temperature 42.3º sd 1.4º NBM model for location Blue Bell, PA. Winds begin to drop off during the Eagles game.
Sunday
High clouds in the morning thicken and lower towards noon. Rain moves in about 3 PM. Becoming windy. High temperature 43.7º sd 1.3º NBM model for location Blue Bell, PA.
---