#weather #paweather #wx #pawx #philadelphia
Chance of Snow Fades Again
Update Sat 02/04 @ 3:42 PM — The latest run of the ECMWF has backed away from the potential snow and is more in line with the other ensemble models. There are still huge timing issues between today's GFS, the Canadian and ECMWF, so uncertainty remains high. However the likelihood of a coastal snowstorm has become unlikely now. That snow possibility didn't last long.
---
First, an observation. Today's adjusted mean sea level pressure was 30.68″. For you barometers fans, that doesn't happen here very often. (Average sea level pressure is 29.92″ and typical barometric pressures with sunny cold weather is in the 30.25″- 30.35″ range.) Readings above 30.60 are the result of very cold, dense air, something that should be no surprise if you've stepped outdoors today.
Possible Snow
There haven't been many (maybe any) possibilities of snow this winter season. A few marginal possibilities on the extended forecast models all have fizzled out. A possibility has begun showing for next Friday through Sunday time frame.
The global models forecasts extend out to 384 hours (15.5 days) but you don't have to be a meteorologist to know that forecasts beyond 3-4 days have increasing uncertainty. Once you get into the 5+ day range, meteorologists primarily use "ensemble" models, models that try to statistically account for modelling error, input data errors, model biases, and chaotic effects.
Today's GFS and GEFS (ensemble) and Canadian Ensemble (GEPS) along with the ECMWF are suggesting the formation of a coastal low the end of next week. A giveaway of the uncertainty with this potential system is the wide range in the timing, from late Friday night to late Saturday night.
Here's the ECMWF for next Saturday night—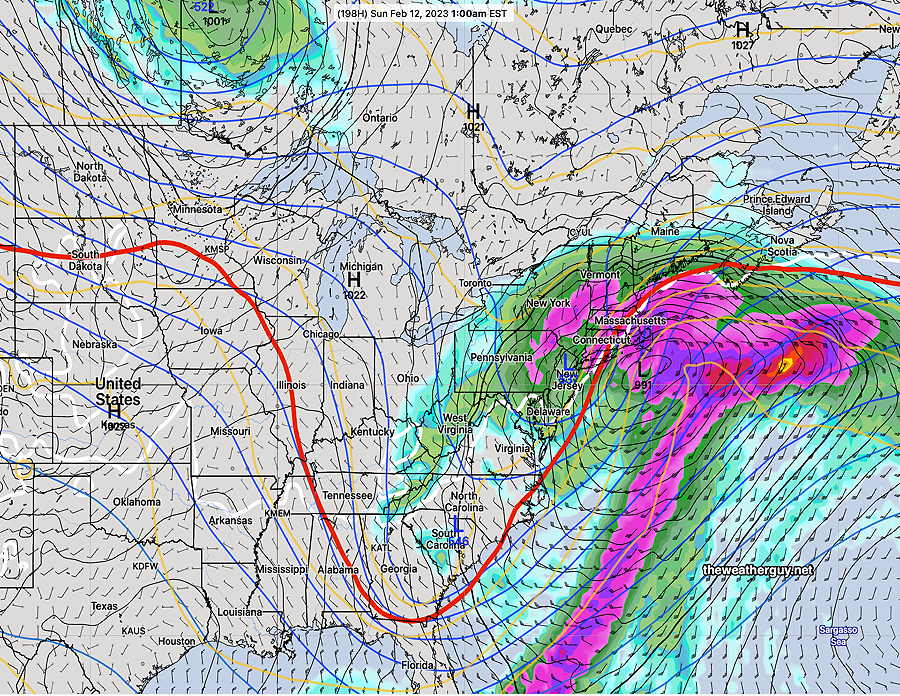 The NAEFS which combines the GEFS and the Canadian GEPS (ensembles) has different timing and somewhat warmer forecast—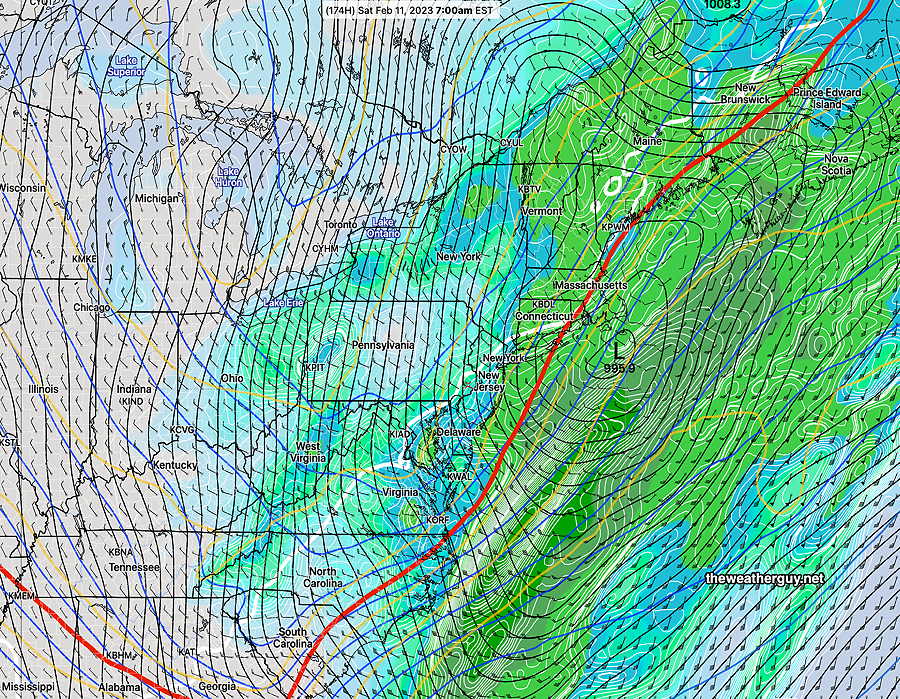 So for you people wondering about possible snow here, this setup is as close as we've seen forecast-wise this season. BUT the difference in timing suggests terribly high uncertainty and the possibility that this snow forecast fizzles out is well above average. If you like snow, don't get your hopes up quite yet.
---