Thursday
Update Wed 01/18 @ 6:19 PM — Low pressure will move in Thursday morning with rain starting between 7 and 10 AM—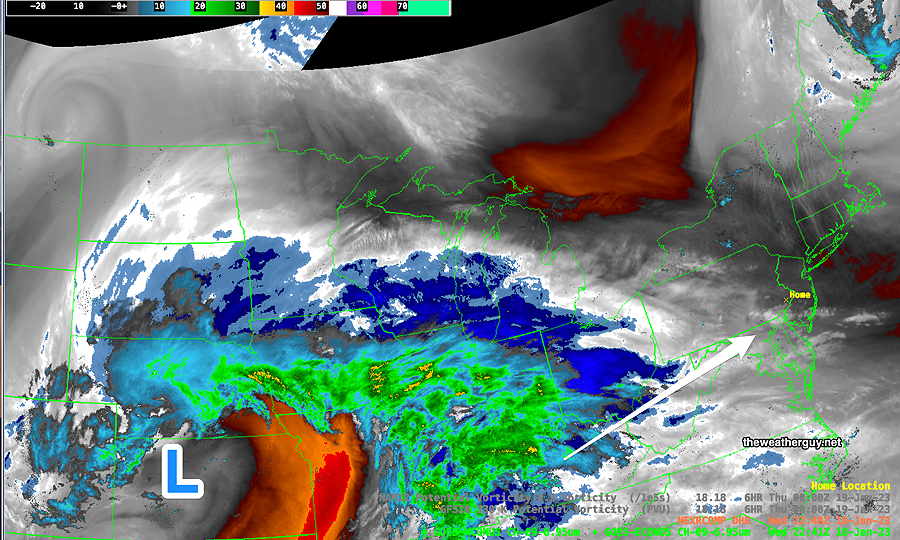 Rain through the day. Increasingly windy during the afternoon. Total rainfall is still expected to be from 0.5 -0.8″ rain —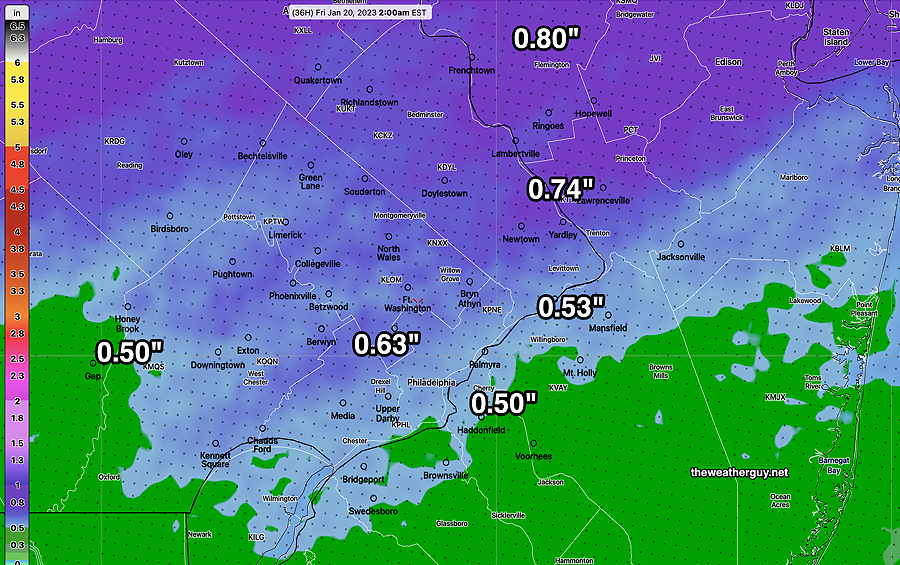 Friday looks fairly cloudy. Windy!
---
Today's New York Times has an interesting article: "Can we talk about how we talk about the weather". It addresses the increasing hype about storms and the use of exaggerated weather forecast descriptive terms. It touches on the new [absurd] trend in naming ordinary storms and pseudo-scientific, non-specific approach to what are "bomb cyclones" and "atmospheric rivers" and the "polar vortex". And my favorite: media hype.
Long-time followers of this blog know of my disdain for all of this. I often see this blog as my crusade to cut through this on a regional level.
This blog has a small regular daily following, fairly large when a winter/summer storms loom.
As many of you regulars know, I've always geared what you read here towards authenticity, not the most re-tweets [or 're-toots' in the Mastodon world].
Wednesday
Update Tue 1/17 9:39 PM — Tonight's models are showing both periods of sun and periods of clouds for Wednesday. More sun than previously forecast.
---
Update Tue 01/17 @ 5:17 PM — A strong upper air flow (jet streak) directly over us on Wednesday with low pressure in eastern Canada will cause mild but cloudy conditions for us on Wednesday. Some strong mid-level disturbances with a strong lower level jet will mix down some of these higher winds.

So Wednesday looks to be fairly cloudy (with some sun early and some occasional breaks in the clouds.) (More sun east of the city into NJ. ) It will be WINDY. Highs 50º sd 1.2º Blue Bell.
Thursday looks quite rainy. 0.5″- 1″ of rain expected.
No snow on the horizon, but several coastal storms are forecast— next Monday and next Wednesday/Thursday. There's just not enough cold air for snow here.
Nonetheless, the weather pattern has changed a bit over the past few days and during a more 'normal' winter, this pattern would bring us a good chance of snow.
---
Tuesday Update
Update Tue 1/17 10:59 AM — So much for the showers dissipating.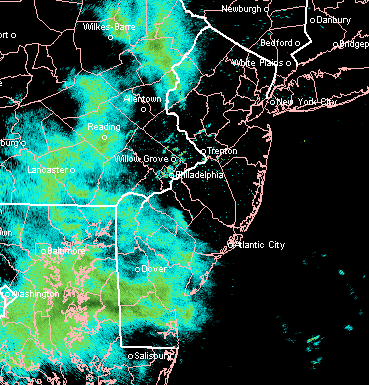 Follow up –The showers turned out to be minimal. A few sprinkles.
---
Update Tue 01/17 @ 10:00 AM — As expected, the radar echos have arrived earlier than forecast. Latest radar, supported by current models, has the showers dissipating as they move towards the immediate PHL area and will pass mostly north and south of us —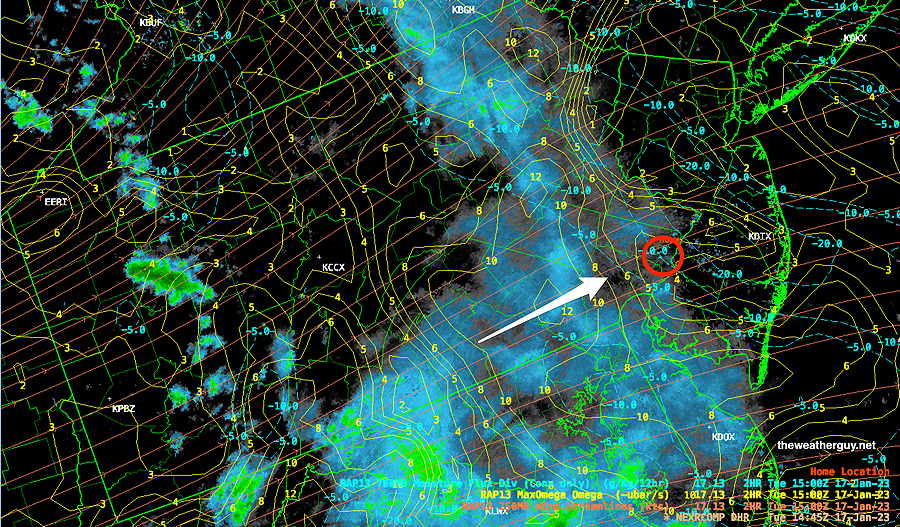 ---
Monday -Tuesday Update
Update Mon 01/16 @ 9:45 PM — Tonight's models are leaning towards very light precip staying to our south. A few sprinkles in the morning possible northern sections.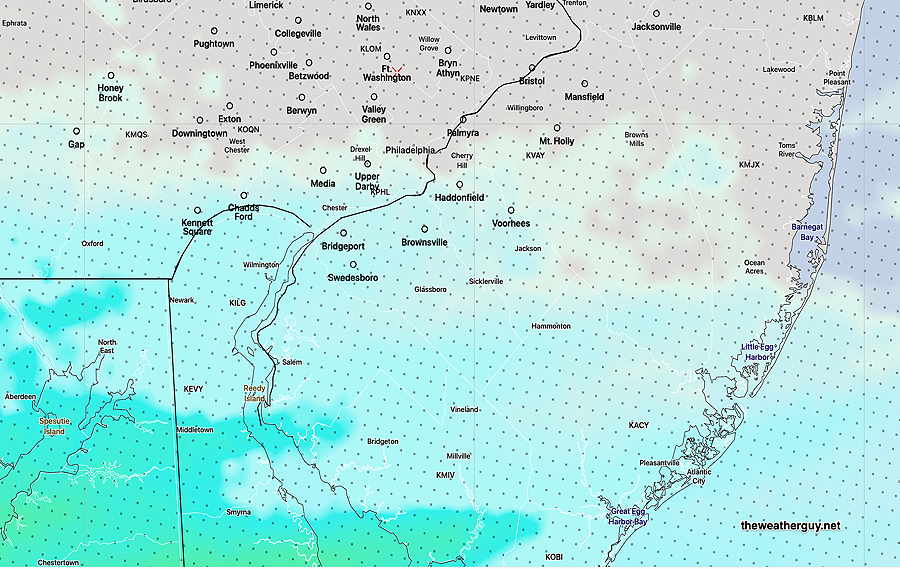 ---
Update Mon 01/16 @ 5:10 PM — This afternoon's models continue with the forecast of clouds for Tuesday with some very light rain (0.01-0.02″) moving in between noon and 3 PM. A comparison of the GFS and NAM models with current water vapor imagery suggests the models may be a bit slow with the light showers, so it wouldn't surprise me if we see some very light showers as early as 11 AM.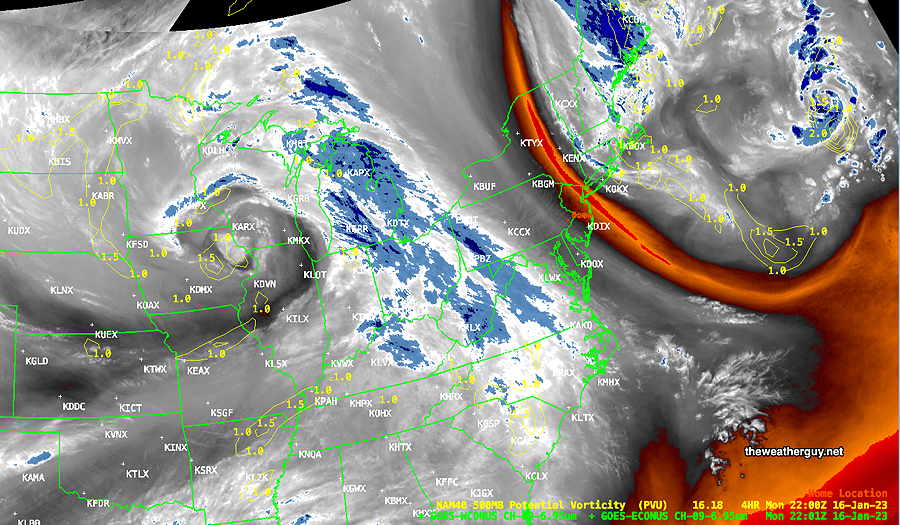 I should add that this afternoon's NAM-NEST has no rain for our immediate area, having the light precip move to our north and south. The German ICON and Canadian RGEM models are similar. So there's some uncertainty whether our immediate area will get any precip.
---
Update Mon 01/16 @ 9:05 AM — It's still breezy/windy Monday and the winds will make it feel colder than the thermometer reading.
As for Tuesday, there's some uncertainty in the amount (if any) of rain we'll get in our immediate area. The low resolution models have the rain missing us, moving to the north and south of us.
The higher resolution models do crank out a small total amount of scattered showers (0.01- 0.02″) as captured by the latest NBMv4.1 model—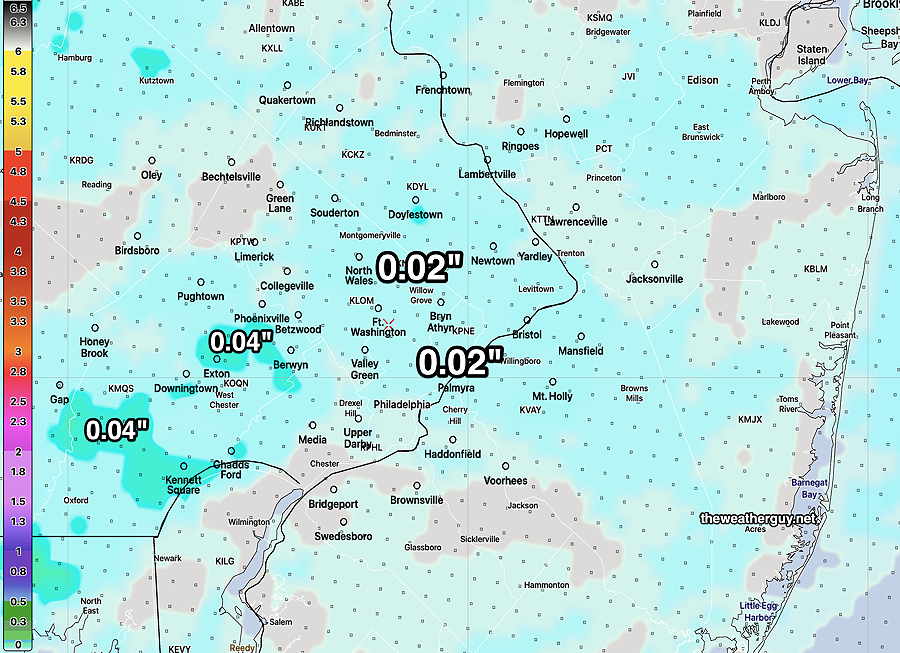 ---
Previously Posted Sun 8:16 PM —
Our snow-less winter will likely continue for this coming week into this weekend. At one point last week, I had posted that enough cold air was building in Canada in the coming 7-10 days that we could could see a change in the pattern with the cold air sagging down into an upper trough.
There is no sign of that happening in the current medium range model forecasts.
This week will continue the pattern of milder than average temperatures, punctuated by low pressure systems that track up to the Great Lakes with their attendant cold fronts moving through each time.
Monday: Fair skies. Still breezy. Temps in the mid 40s.
Tuesday: The first example of this repeating pattern will be on Tuesday with showers moving through. The showers lose upper air support as they pass through our immediate area mid day Tuesday, and it's uncertain if we'll get much more than a few sprinkles if anything.
Here's the current RAP model forecast for Tuesday—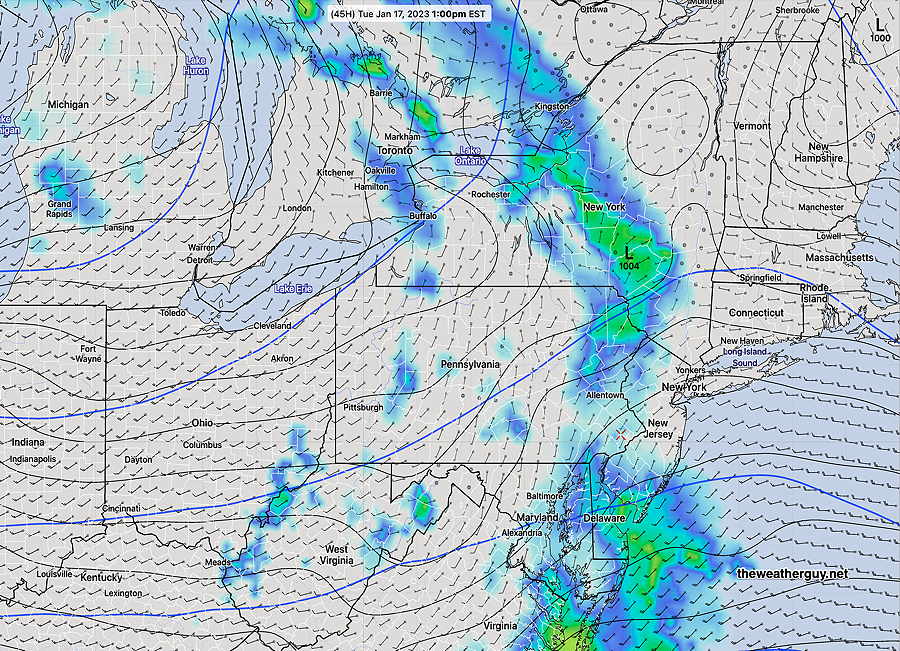 Wednesday: A mix of clouds and sun. Mild in the 50s
Thursday: A more robust system moves through on Thursday with rain.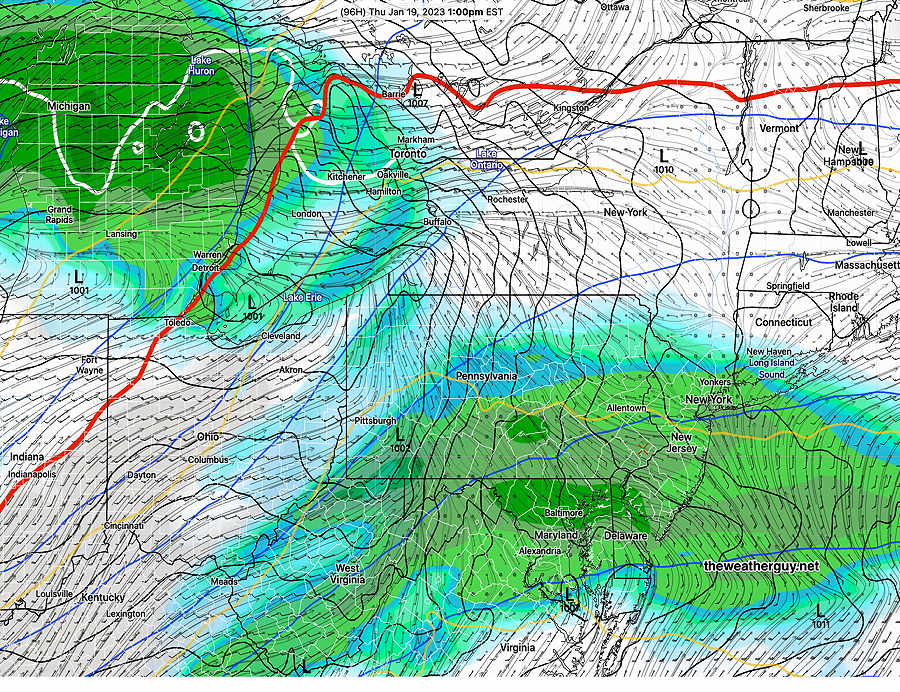 Friday: Clearing windy and colder.
---