#weather #paweather #wx #pawx #philadelphia
Updated Sunday Forecast
Update Sat 02/25 @ 10:06 PM —Some early morning sunshine will fade behind some low cloudiness in the mid to late morning as a weak front approaches from the west.
Clouds break for sunshine in the early afternoon, but it will become quite windy, with gusts in the 30 mph range. High 53º, almost 20º warmer than today.
Sat 10:00 PM
Forecast Review
— Despite the outlier
NAM
forecast, we only had what was an hour or two of snow flurries. No accumulation. I think we still qualify as having had a snow-less winter so far.
Update Sat 02/25 @ 10:35 AM — The morning models (12z model runs for EST ) become available between 8:15 AM and 11 AM. Accumulating snow is conspicuously missing. A model spin-up issue or our snow-less winter continues?
---
Update Sat 02/25 @ 9:12 AM — In a way, I've enjoyed this mild, snow-less winter.
But back last fall, I was spending considerable time improving the appearance of my model snow graphics in preparation of this winter. So far this winter, I haven't had a chance to use these graphics and I must confess that today's light snow showers are a thinly veiled attempt to put them into action.
Today we're expecting to see some snow showers develop as low pressure moves both to our north and south.
The highest resolution models (2-4 km resolution) show virtually nothing accumulating, but the lower resolution models (13km NAM, and 10km Canadian RGEM) do show some snow accumulation, a coating to 1/2 inch in some locations.
Here's current radar with superimposed RAP model graphics —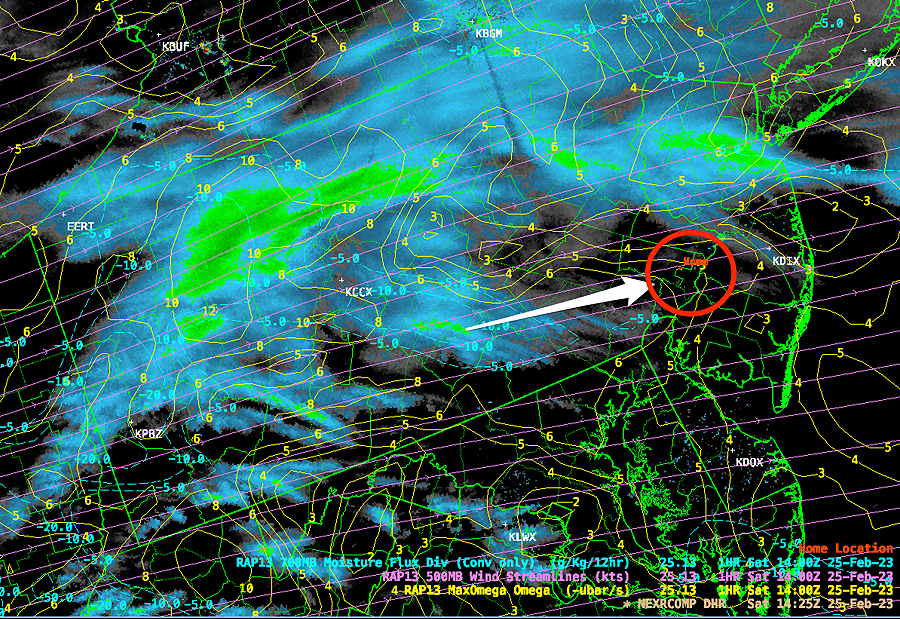 Here's the latest NAM model snow accumulation, just became available—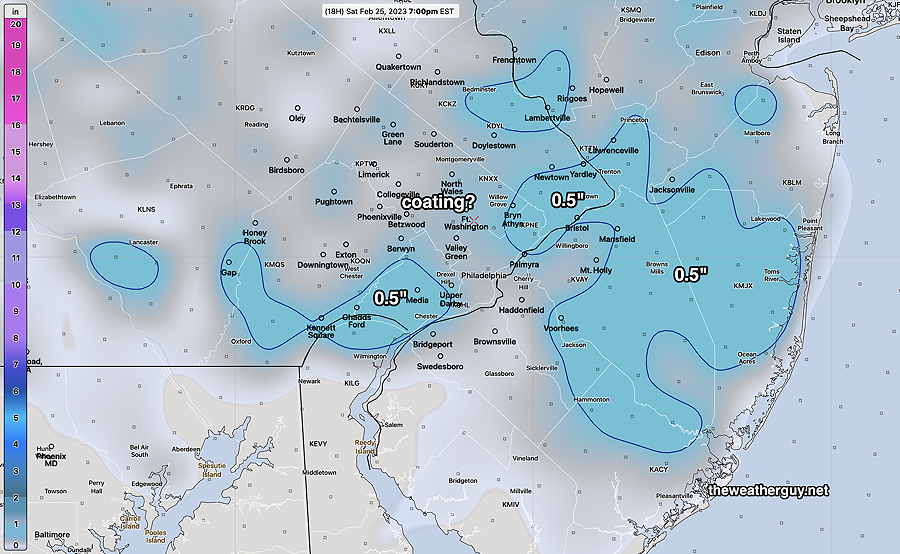 ---
Previously Posted Fri 6:00 PM —
Low pressure will move east and will be south of us as some moisture just brushes the Philadelphia area Saturday afternoon. The NAM, as mentioned in my earlier post had forecast a very light accumulation for us, but it appears that any light accumulation will be closer to the Delaware border and into South Jersey.
Saturday
It will be cloudy and cold Saturday with some snow flurries just reaching north of the city during the early to mid afternoon. To our south, near the Delaware border and into South Jersey, there's a chance of a coating, up to 1/2 inch.
This simulated radar forecast from the NAM captures the extent of the northern extent of the flurries and also shows where a coating is more likely. This afternoon's GFS has a fairly similar forecast—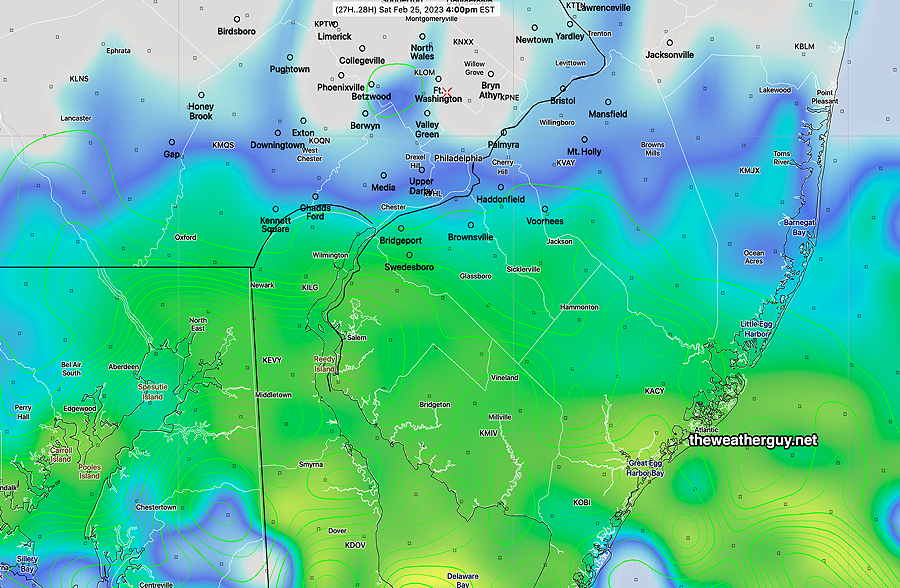 This is the current NAM forecast for snow accumulation. It is likely over-forecasting snow accumulation—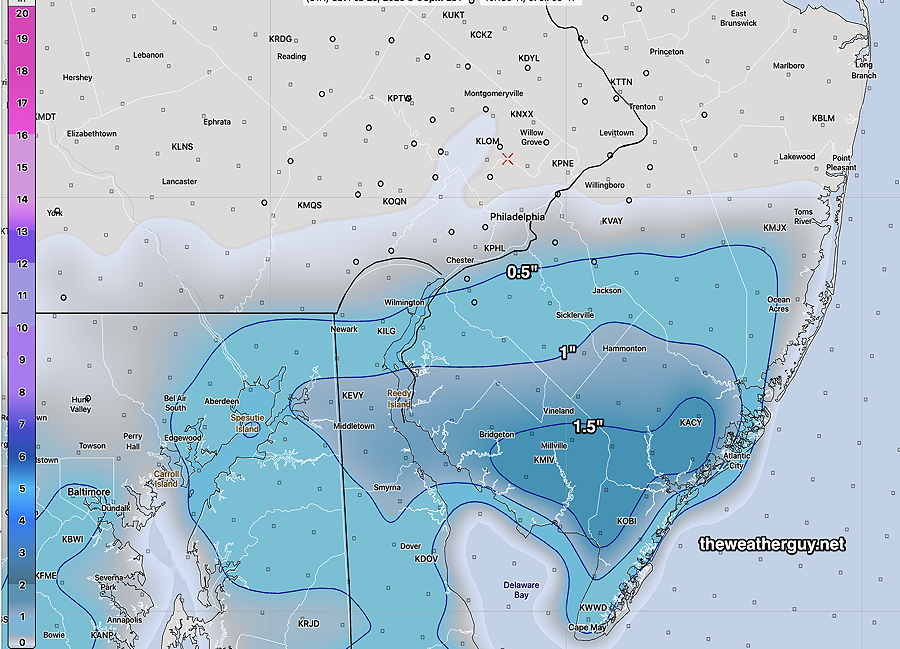 High temperature only 34.0º sd 1.9º ( NBM model- location Blue Bell, PA)
Sunday
High pressure builds in and some early cloudiness lifts in the mid morning for sunshine for the rest of the day. Much milder but WINDY.
High temperature 50.0º sd 1.7º ( NBM model location Blue Bell, PA)
Winds

---