#weather #paweather #wx #pawx #philadelphia
Saturday
Update Fri 2/24 8:51 AM — While the 00z NAM was an outlier last night with its prediction of very light snow Saturday afternoon, a few additional models (RAP, ECMWF) have joined the 06z NAM in predicting a coating up to 1 inch of snow for the immediate PHL area, especially south and west of the city. Conspicuously missing are the GFS, ICON and Canadian models in sharing that forecast.
Additional model runs today will clarify. Perhaps this will be another example of proving my mantra, "Never ignore the NAM".

---
Previously Posted Thu 10:05 PM —
After a very mild day today, we'll descend back to more winter-like temperatures, especially on Saturday.
Of interest is a storm that is currently forecast to move off the coast to our south on Saturday afternoon. Most models have had, at most, some snow flurries for Saturday afternoon as some moisture moves up from this storm.
Many models which had been showing snow flurries have even backed off on that forecast. The latest ECMWF, GFS and NAEFS have minimal flurries, or none at all.
Tonight's NAM has caught my interest. It's an outlier for now, but the NAM is forecasting much colder temperatures and much more moisture from this southern storm.
Tonight's NAM is even forecasting measurable snow accumulation by Saturday evening—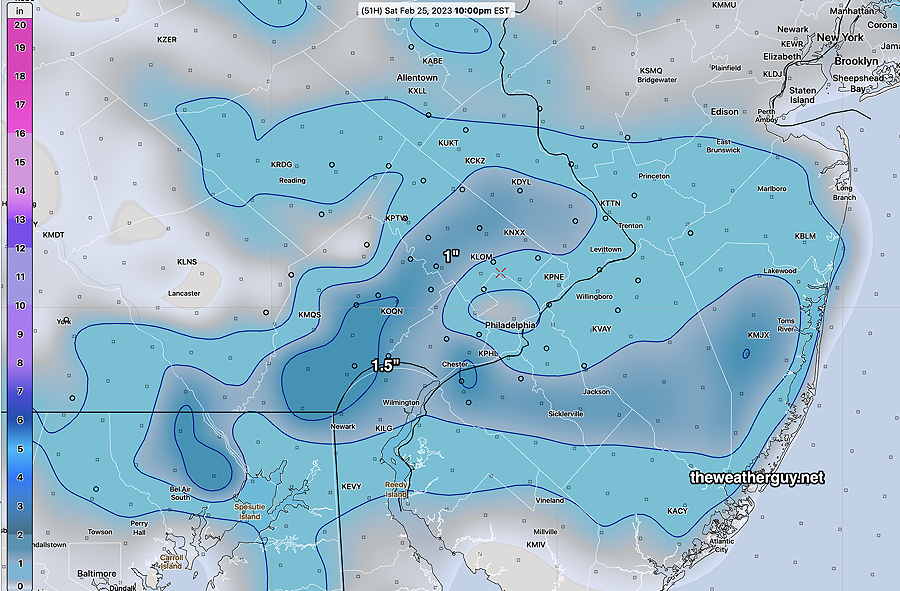 Again, the NAM is currently an outlier with this forecast, so snow lovers, don't get your hopes up too much. I just thought I'd pass this along in a winter which has shown no action.
---
---