#weather #paweather #wx #pawx #philadelphia
Back where we started
Update Sun 2/12 10:53 AM — This morning's NAM has reverted back to the rain moving into Philadelphia. Now about 8-10 PM and continuing into the night. The Eagles win forecast hasn't changed.

---
Forecast change
Update Sat 2/11 10:22 PM — Tonight's high resolution models (NAM) keep the rain well south of our area Sunday evening. A significant change in the forecast.
Update Sat 2/11 11:18 PM — BTW, the GFS and tonight's Canadian RGEM still have the rain here, as previously forecast. My bet is on the NAM and the Eagles.
---
Update Sat 02/11 @ 5:56 PM — No major changes in the forecast for Sunday. Rain moves in from the south between 4-6 PM. In the city, it will be very light and there will be a sharp cutoff just north of the city's northern immediate suburbs. This has been a boundary or edge condition for the precipitation shield for days and some models are further north, some are further south.
The HREF forecast provides a good compromise—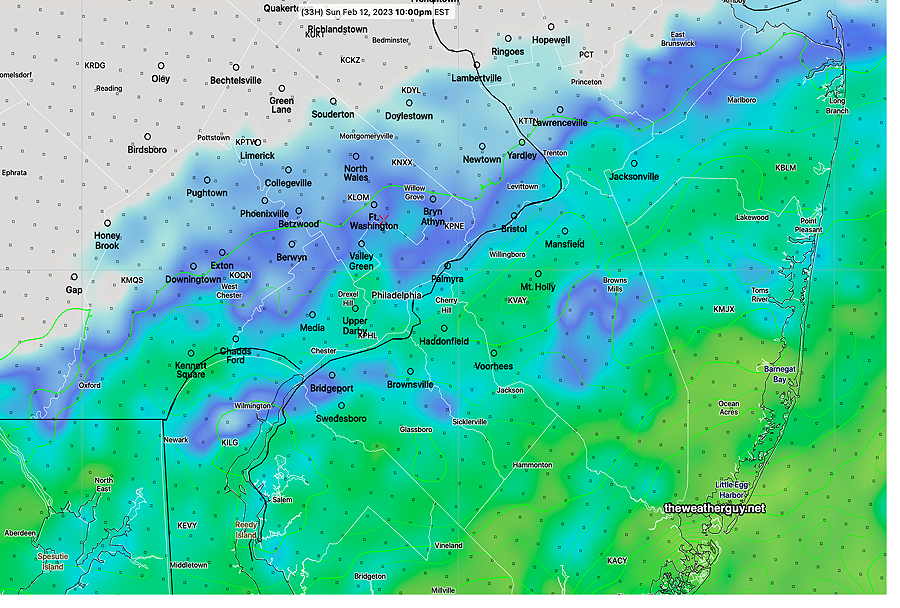 One change is the precip moves out as early as 11 PM to midnight, just in time for the Eagles victory celebration.
Still no signs of any snow here for the next 10 days!
---
Update Fri 2/10 10:43 PM — Tonight's models are trending towards a bit earlier start of the rain on Sunday in Philadelphia, perhaps as early as 4-6 PM. Unfortunately, it appears that it might advance further north with somewhat heavier rain making it into the city than previously forecast. Stay tuned.
---
A secondary cold front will pass through Friday night and Saturday will be much colder than previous days.
A coastal storm with a closed low will be blocked from moving north. The precipitation shield will affect NJ and Delaware during the day Sunday. Light showers will move in to the immediate Philadelphia area Sunday about 5-7 PM
Sunday
The coastal low will move north but be blocked by high pressure. While the rain will be significant in South Jersey and Delaware, only light rain is expected to move into Philadelphia early evening.
Here's the northern-most extent of the rain by 7 PM, according to the high resolution NAM-NEST —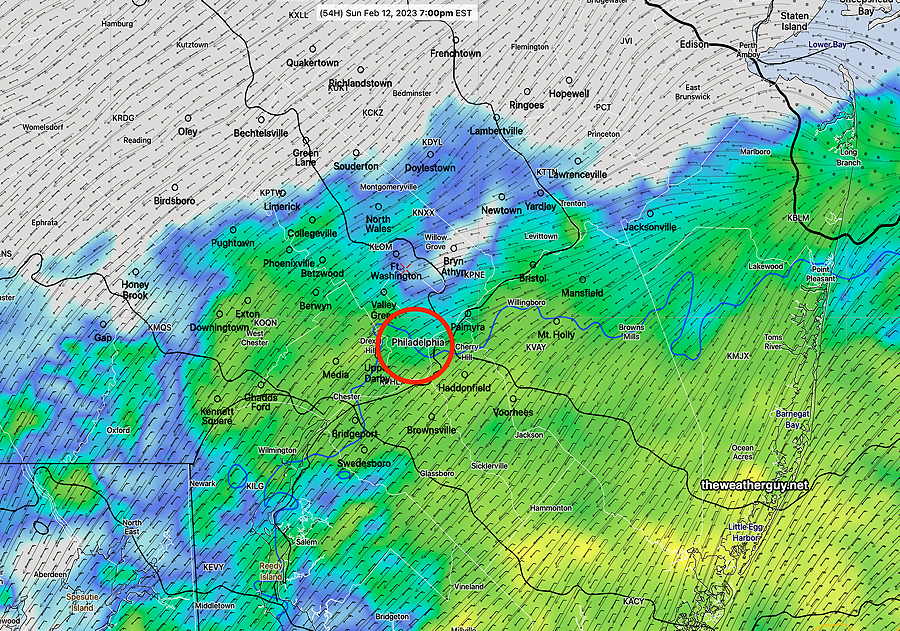 High temperature 45.6º sd 2.5º ( NBM model – location Blue Bell, PA)
---