#weather #paweather #wx #pawx #philadelphia
Continuing Forecast Change For Sunday
Update Thu 02/09 @ 8:57 AM — Regarding the coastal storm that is now forecast by all models to develop Sunday, the latest GFS keeps any significant rain out of the immediate PHL area until after midnight Sunday into Monday morning. A few other models have light rain moving in after 6 PM–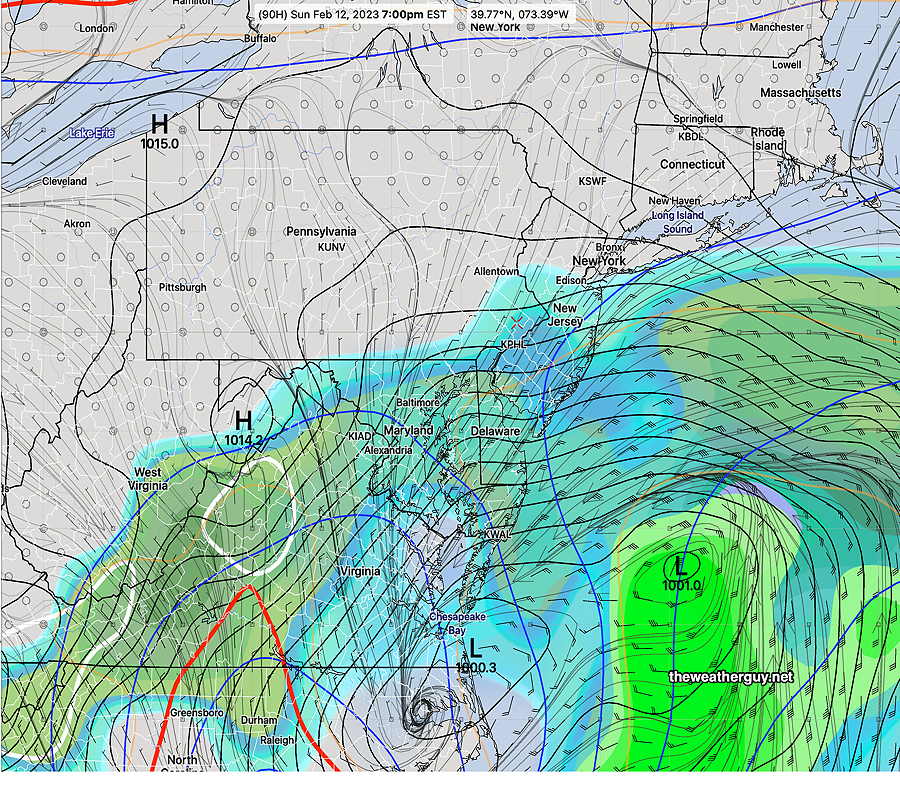 ---
Continuing Forecast Change
Update Wed 02/08 @ 6:21 PM — Today's models have moved away from having the coastal storm progress northward very much on Sunday and will likely skirt to our south later Sunday night into Monday.
Here's the latest GFS—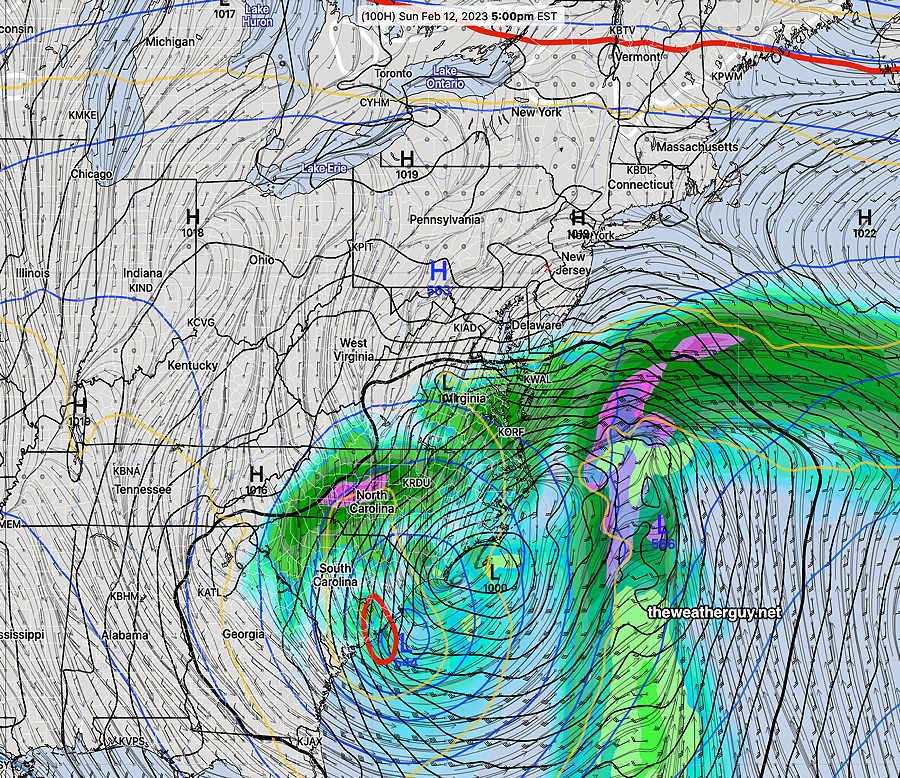 ---
Interesting Weather Possible Sunday
Update Wed 02/08 @ 8:39 AM — The complexity of the weather setup for this weekend has been a challenge for the numerical weather models, and over the past week or so, I've been watching this scenario evolve.
The GFS forecast for this weekend over past days has been described as an 'outlier' by the NWS chief forecasters, but interestingly, last night the ECMWF joined the 'outlier' GFS in forecasting a closed low and a coastal storm for Sunday!
In a "normal" winter, this might pose the potential for major coastal snowstorm, but this winter and this weekend, the thermal profiles are quite complex. As a result, the precipitation type will be a difficult forecast, but it is still leaning heavily towards rain here.
The current forecast track may keep it from moving further north than shown below at 4 PM Sunday—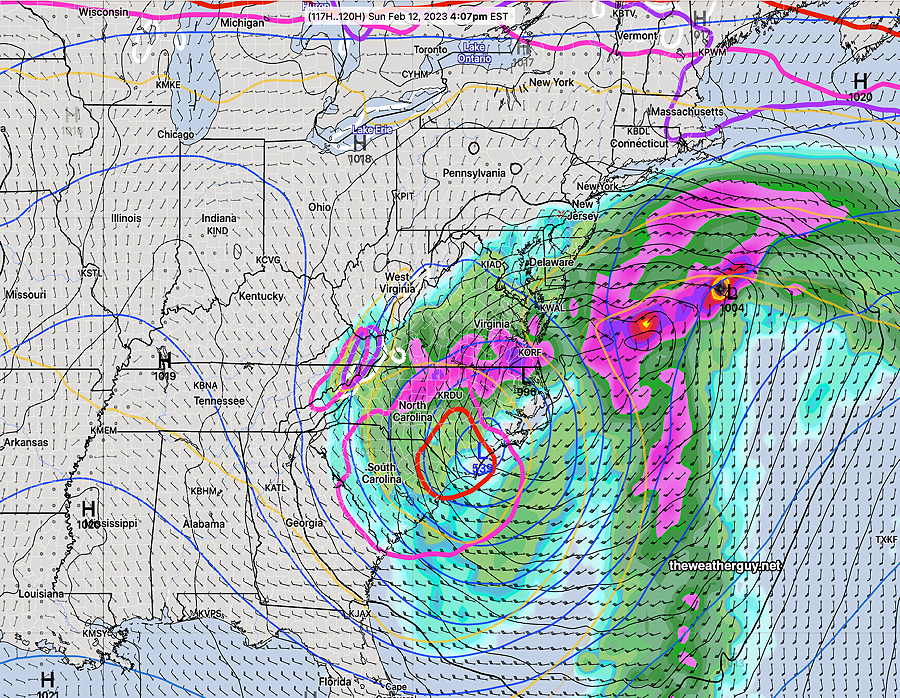 GFS—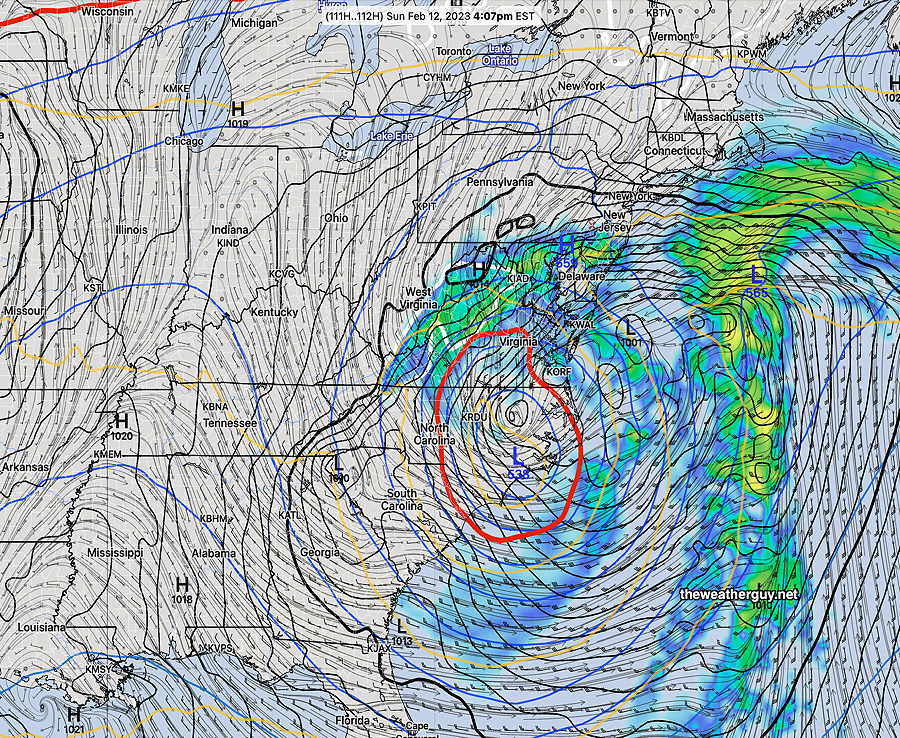 Nonetheless, an interesting setup. (While it's going to be too warm for snow here, should the closed low (red circle) move up over us, it will be a different ball game.)
My regular readers here know that when a mid-level or upper level low closes off, forecasting movement and track of the surface low and the precip can be daunting. Stay tuned.
---
Forecast Uncertainty
Perhaps people have noticed that the forecasts the past two days haven't been the best. Yesterday was supposed to be sunny but it was very cloudy in the afternoon. Today was supposed to be cloudy in the afternoon, but the cloud cover was very thin and the sun shone through.
Clearly, we're in a pattern the models are having trouble with. Which brings us to the forecast dilemma for the end of the week into the weekend.
There remains significant differences in the model forecasts for the coming weekend. It's been like this for days.
Here's the latest GFS for 10 AM Sunday. In a "normal" winter there might be worries about a major coastal snowstorm, (but not this winter and not this weekend.)—
GFS forecast—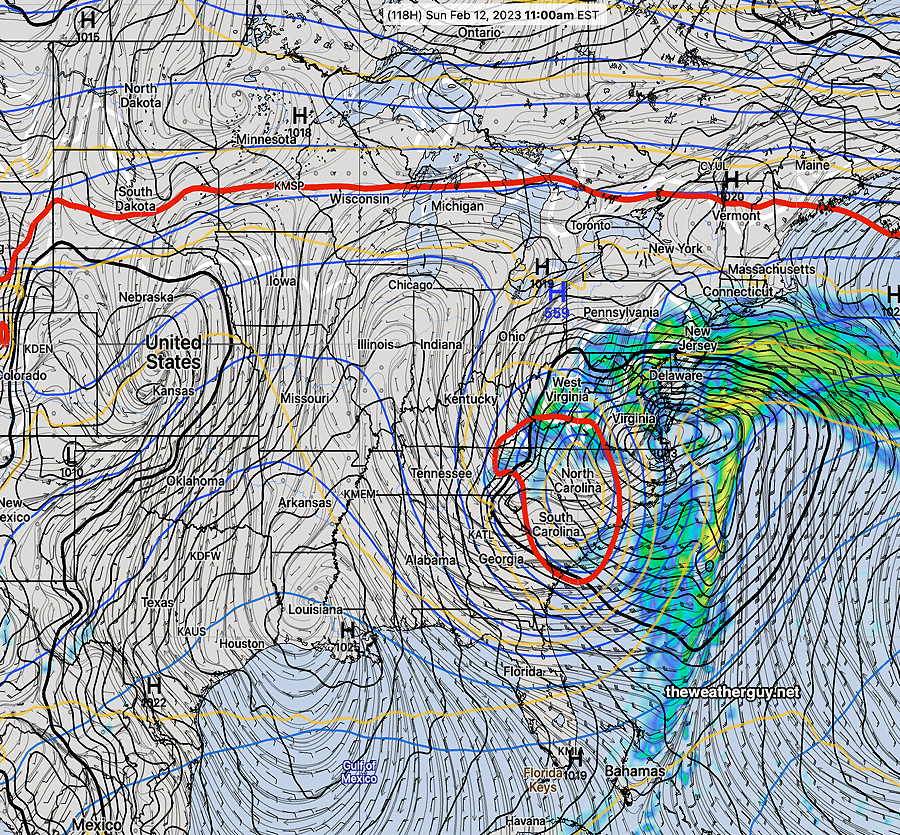 As ominous as that map looks, here's the current ECMWF forecast showing the storm further south and east that will shear out to sea —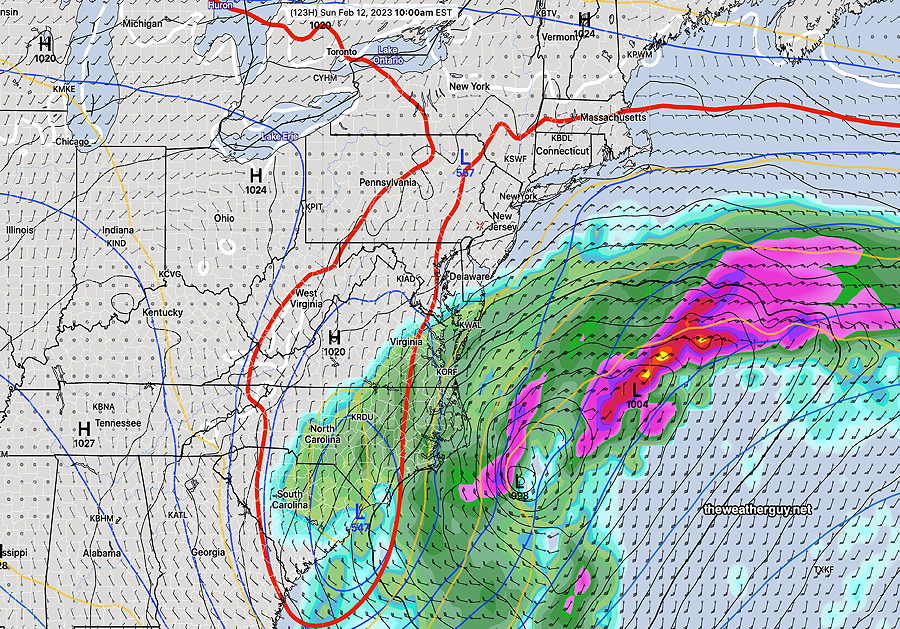 So we have two very different forecasts for the weekend, particularly Super Bowl Sunday. I'll be honest…I have no idea what the weather will be this Sunday. While I'm at it, there's too much uncertainty even Friday and Saturday. Hopefully things clarify.
When was the last time you heard that with the TV weather entertainers?
---
---