#weather #paweather #wx #pawx #philadelphia
Update Tue 2/21 7:10 PM — Looking over some other models suggests the showers on Wednesday are likely, starting between 11 AM and 1 PM. Most interesting is the HRDPS and GEFS which show a chance of the precip starting as snow flurries before changing to rain. I'll have to see it to believe it.
---
Previously Posted Tue 5:26 PM —
A cold front has moved through Tuesday afternoon with some showers and gusty winds. Temperatures tonight will drop into the 30s.
The front will return on Wednesday as a warm front.
Wednesday
Several models are forecasting showers late Wednesday morning or early afternoon, although the HRDPS, and to some extent the HRRR, are suggesting the showers fall apart as they move north over Philadelphia. The NBM consensus is that we will have some light showers, but the amounts will be light. (< 0.05″) It will cloudy. High temp Wednesday 43-45º
Thursday
Thursday will start with some low clouds and perhaps fog, but skies will brighten for sunshine. High temperatures between 73º and 78º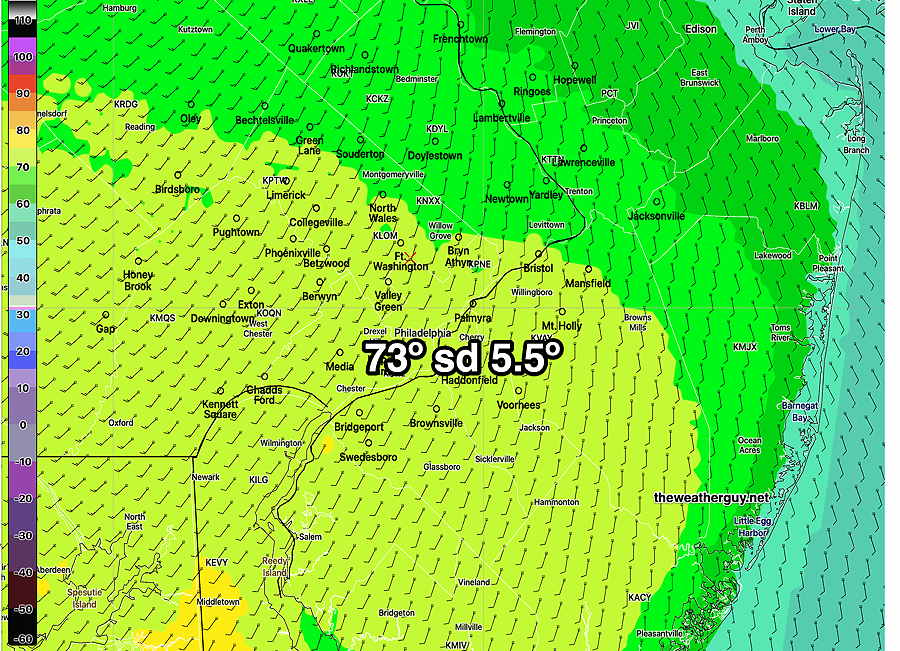 The chance of snow has faded from Saturday's forecast from most models, except the latest ECMWF, which shows light snow, especially just south of the city, Saturday afternoon.
---