Forecast Updated 10:50 PM — Tonight's GFS just available continues with the high snow totals, even in Philadephia, similar to those earlier today.     I  guess we'll have to ignore the NAM group of models low snow totals.
---

Forecast Updated Sun 9:12 PM — Tonight's NAM model has become available.  The NAM model continues to show a significant mixing with sleet after midnight as the warm front event continues.  Total snowfall at at 7AM is unimpressive around the city—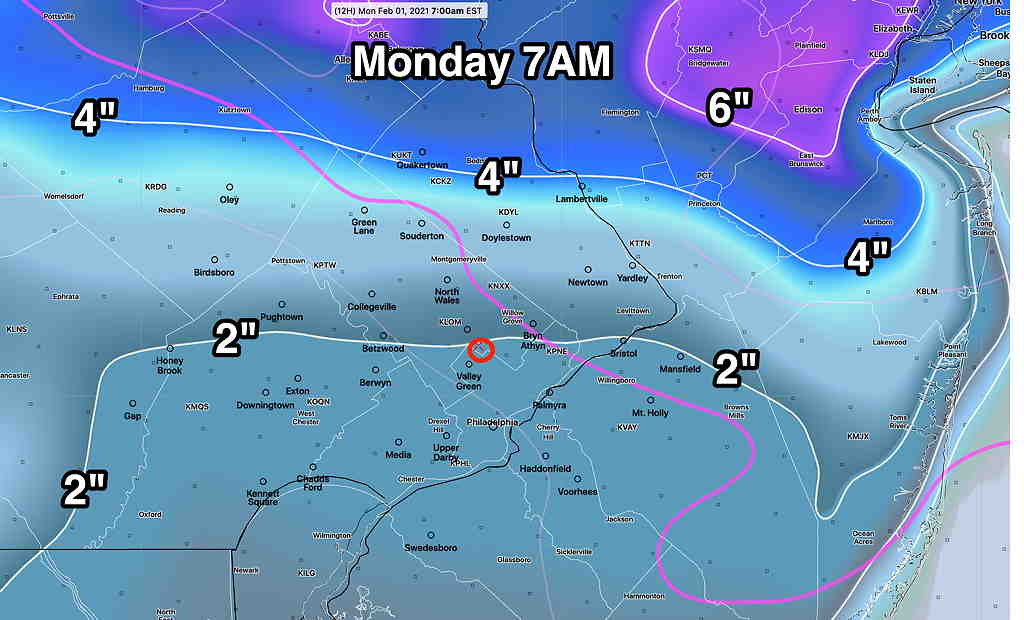 The NAM has most of the accumulation resuming after 11 AM Monday as everything changes back to snow.
By 7 PM —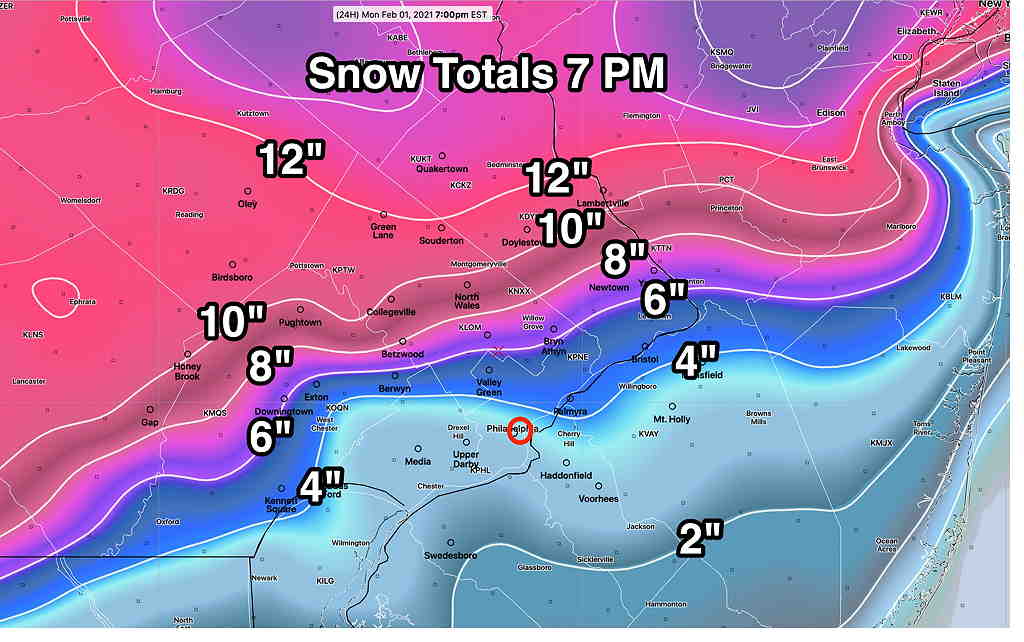 Some snow continues into the evening hours.
Even less impressive is the higher resolution NAM-NEST—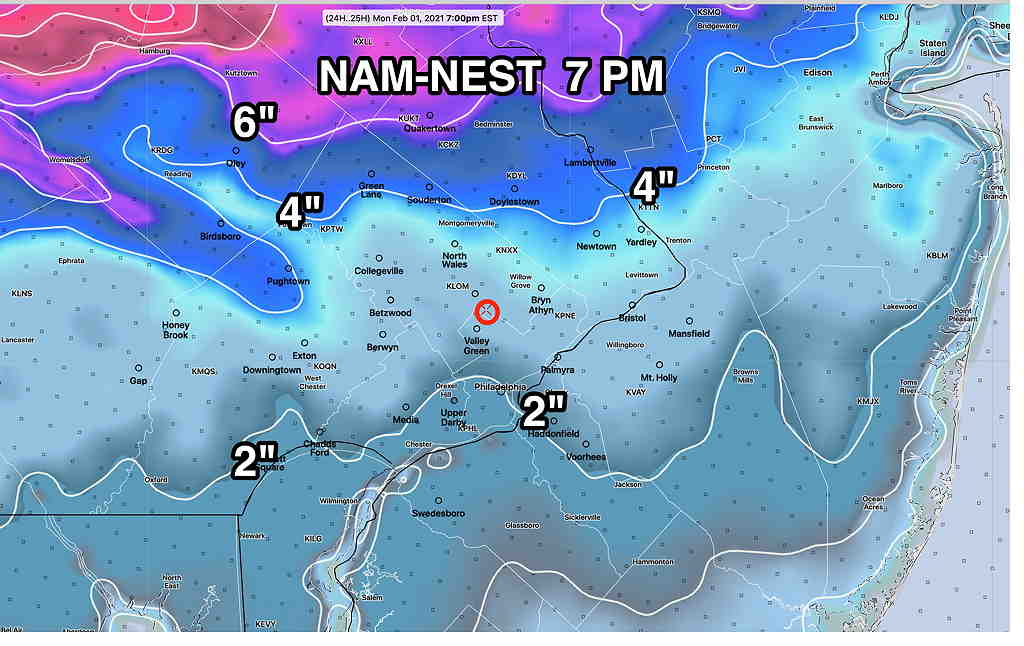 Be advised that most of the models today have continued with the much higher amounts that are highly advertised in the news.   And those models may very well be correct.  But one has to take into account that the NAM group has much more sleet and lower snow totals, especially near the city.   

The GFS group and other models become available about 10:50 PM.  It might be too late to do graphics, but if things change significantly, I'll update after 11 PM.  Otherwise, look for an update tomorrow morning.
---
Forecast Updated Sun 3:56 PM — Despite the impressive snow totals predicted by most of the models, the NAM continues to forecast much lower snow totals.  The afternoon NAM just became available.  The NAM is insistent on showing temperatures at 6000 feet (800 mb) to be above freezing, mixing the snow with sleet and reducing snow totals by at least 1/2  compared to the GFS model.   Below is the current forecast position of the NAM 32º (~6000 ft)  isotherm at 10 AM Monday.  Areas south and east of this line may have significantly reduced snow totals if the NAM is correct—
The NAM-NEST and Canadian High Resolution are similar. Despite the impressive high snow total headlines of the other models, "it's never good to ignore the NAM model".
NAM Snow totals—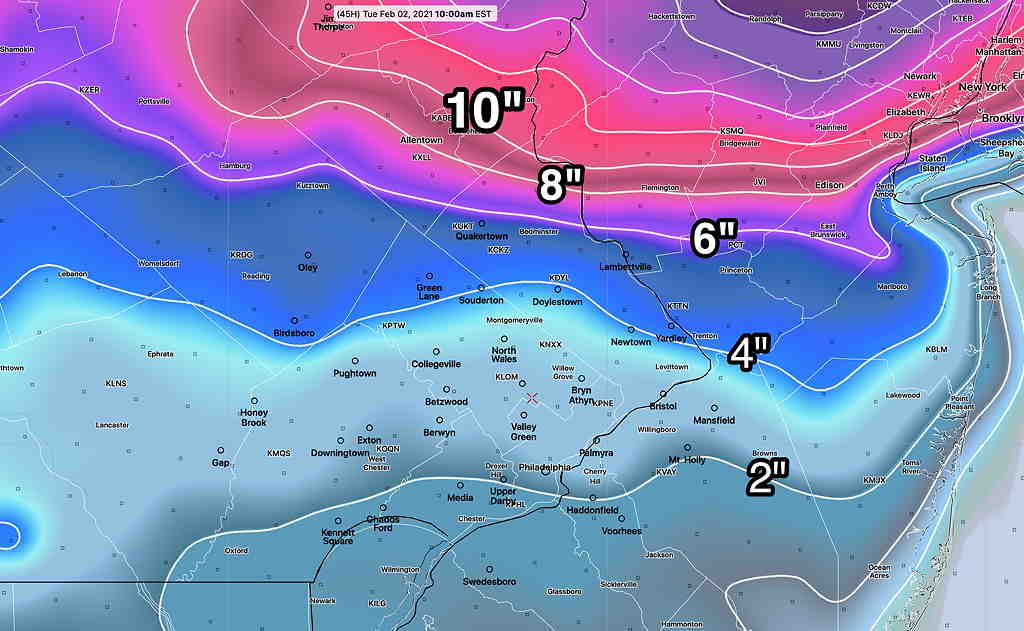 In past storms, the average between the GFS and NAM has been a better forecast when there's been so much divergence.  
---
Updated Sunday 2 PM— more graphics added at the end of this post…
The morning models have come out.  The models are in fairly good agreement forecasting a significant snowfall for our region. There is still some issue with a warm layer moving in at 6000 feet (800 mb)  which would reduce the accumulation in Philadelphia, south and east.   The latest GFS is colder and has more QPF than previous runs.
This will be a prolonged event with a warm front (warm air advection snowfall) followed by a blocked, slow-moving coastal secondary low. The snowfall totals quoted below are through Tuesday evening.
The latest GFS model data provides a reasonably good estimate of the currently expected snowfall totals. It's inline with many of the other models, perhaps on the high side.  But it's the latest —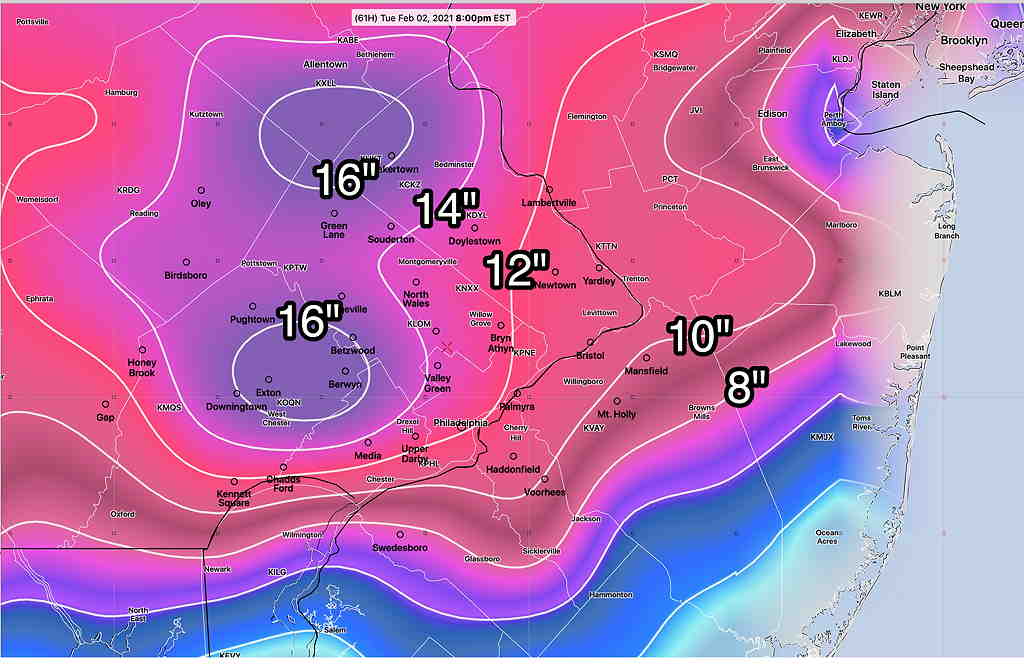 Additional snow total graphics added below at 2 PM:
The latest ECMWF snow totals—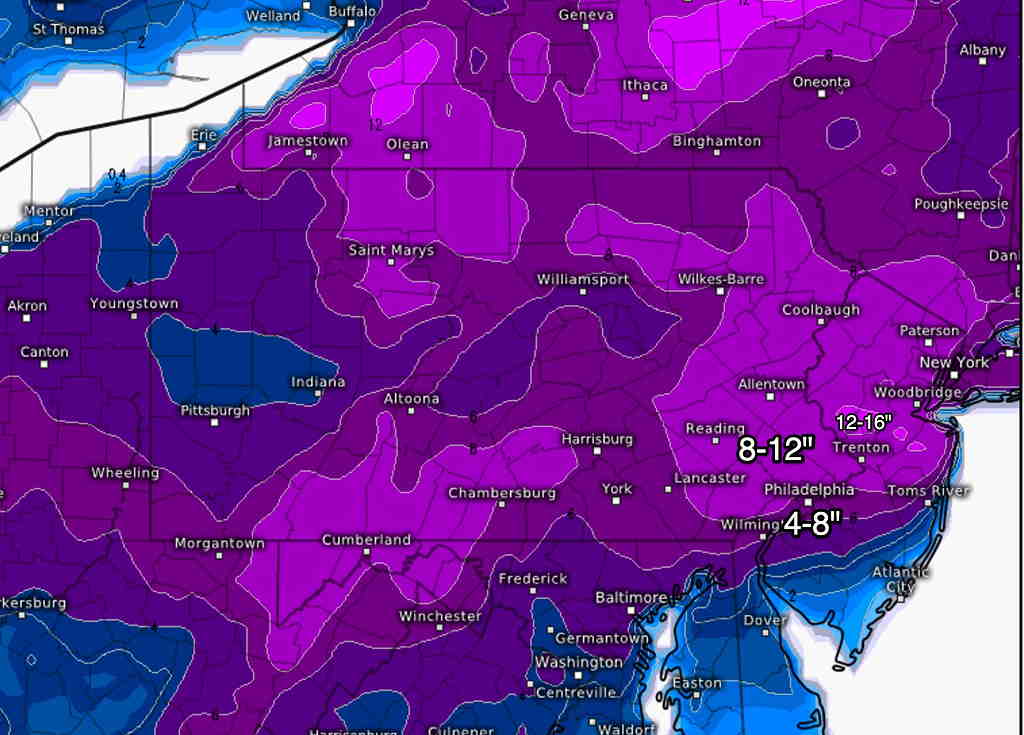 German ICON model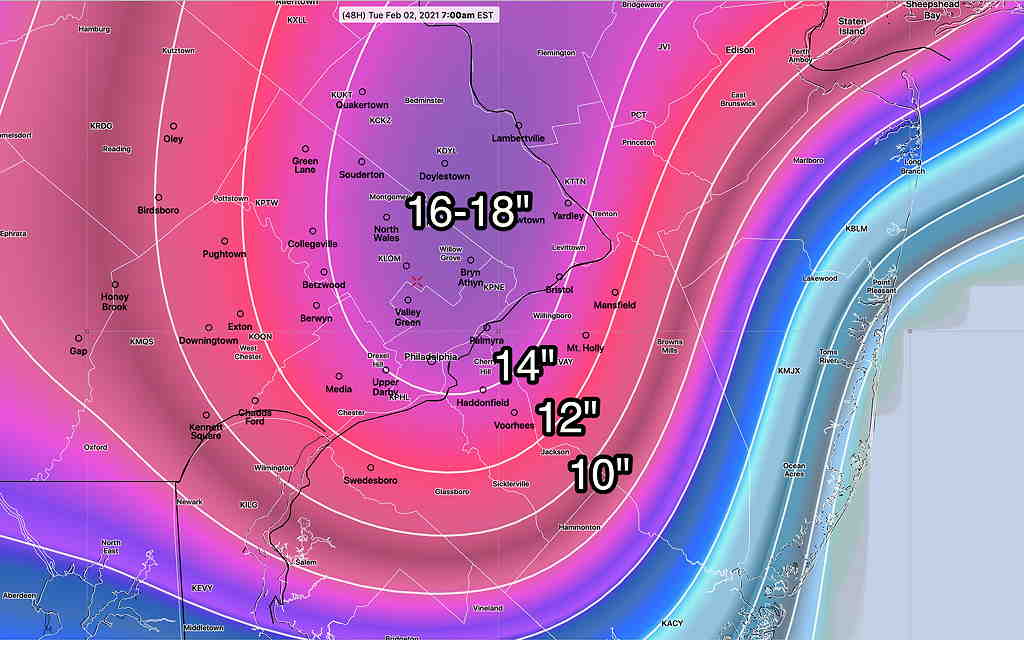 High Resolution Window FV3 (experimental) model—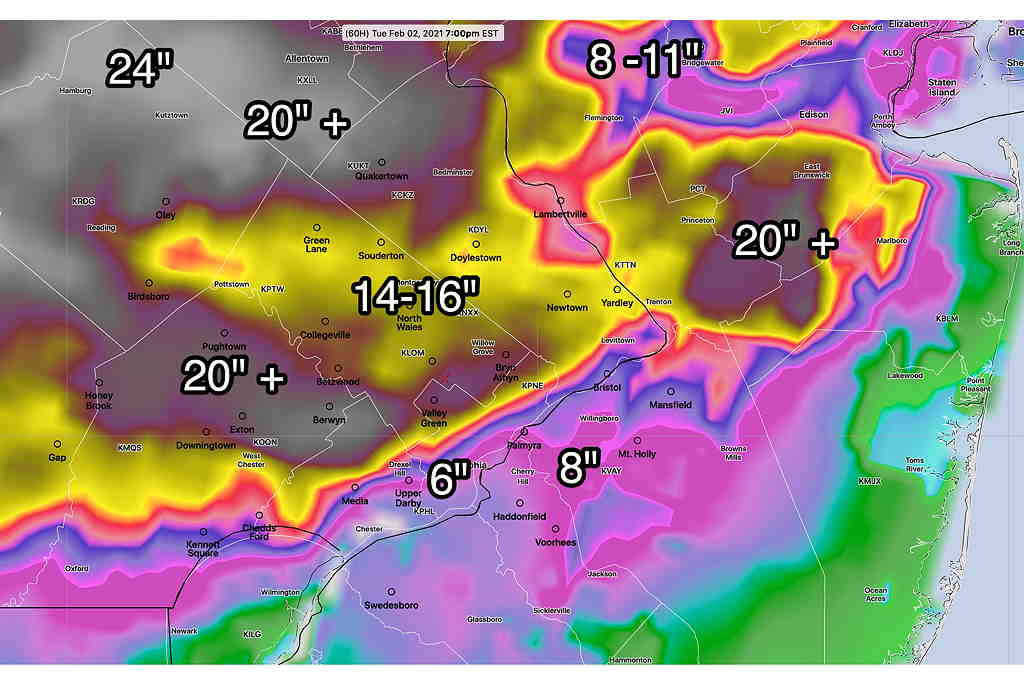 Canadian Regional GEM model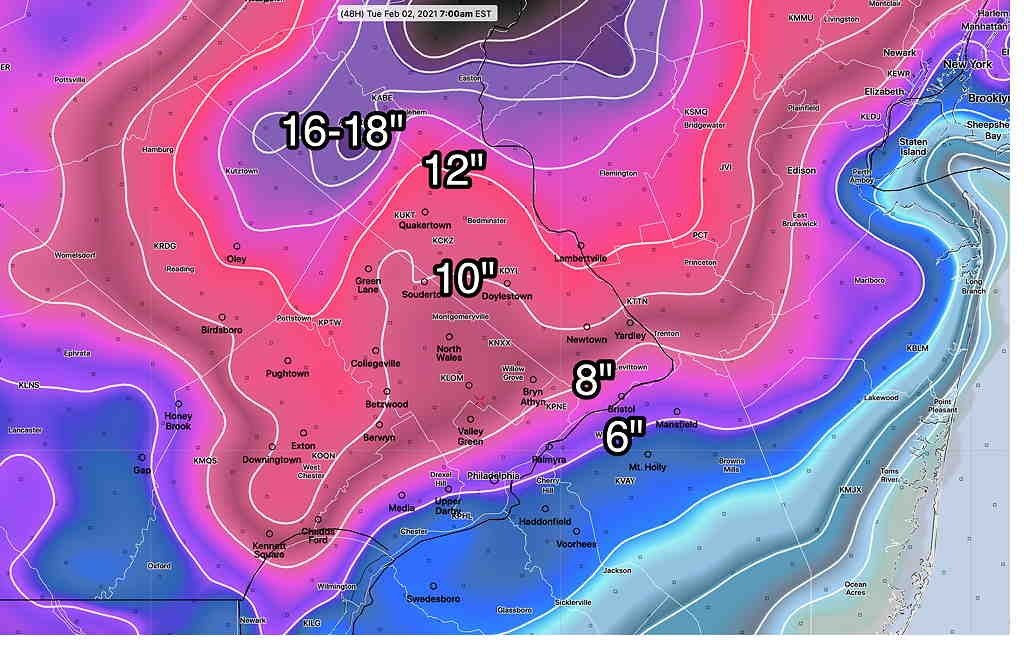 For the record, the NAM has warm air moving in at 6000 feet, reducing the above snow totals by about half near Philadelphia.  With so many models at the higher end, I'm ignoring the NAM snow totals.  (The NAM QPF values are consistent with higher snow totals.) 
Here's the NAM model snow totals (without the fancy graphics).  It forecasts a fraction of the other models snowfall near Philadelphia—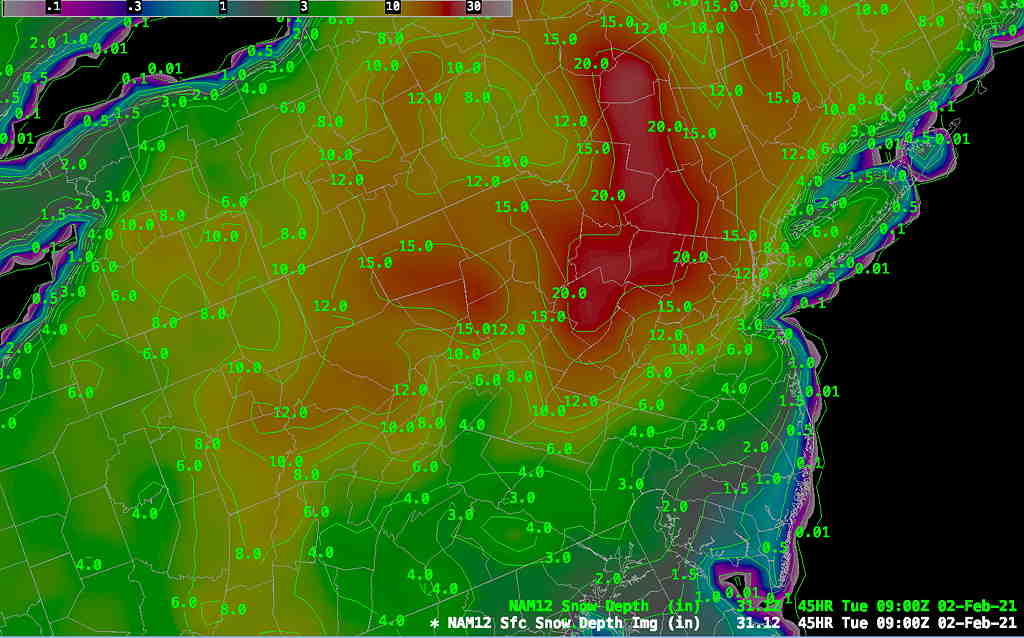 More updates later today.  Stay tuned…