Fri 07:37 AM Update — The next chance of snow for us (Monday evening into Tuesday) is about 96-108 hours in the future, still beyond the range of the short range, higher resolution models. (The shorter range, higher resolution models forecast 84-89 hours in advance at best. Many only forecast 48-60 hours in advance.)
Current operational GFS snow totals by Tuesday afternoon—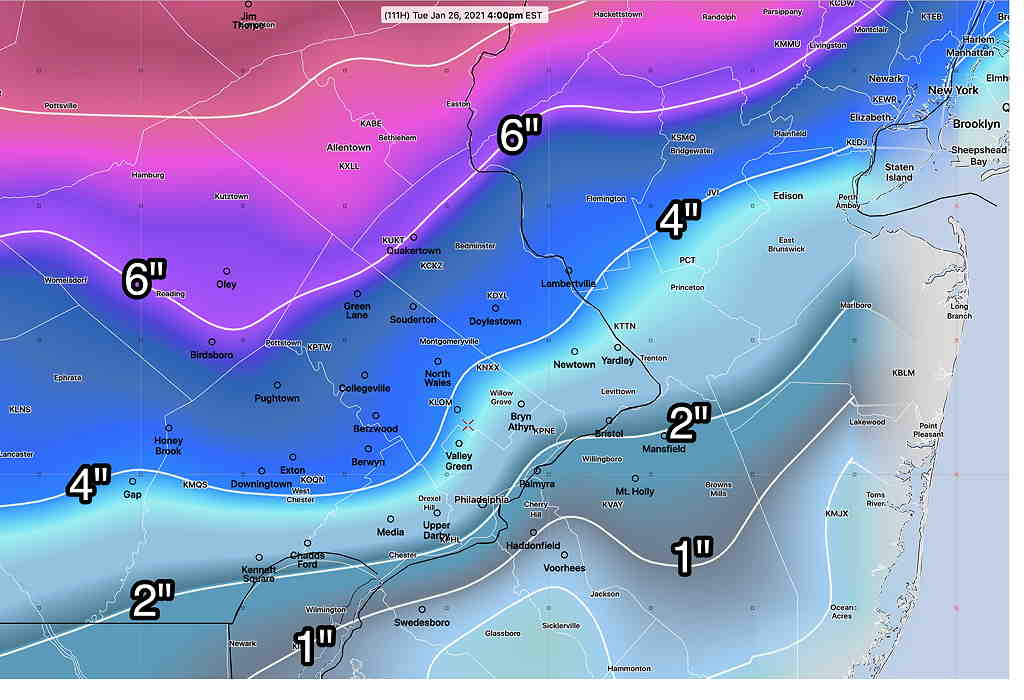 The above GFS snow totals are somewhat similar to the ECMWF (European), Canadian GEM-Gobal and German ICON. Stay tuned.
Thank you to those of you who took part in my recent user feedback poll. Here are the final results:

With it so close, I'm going to stay with only posting major new posts to Twitter, but with an occasional update also posting. (A slight change to the current approach I use.) The updates (such as those on this page) won't be automatically posted to Twitter.
Thu 08:06 PM Update — Today's GFS has joined other models (Canadian, European, ICON and GEFS) in predicting about 1-3 inches of snow here Monday night into Tuesday morning. (Unfortunately, the newer GFS v16 has not been available today due to planned maintenance of NOAA's servers.)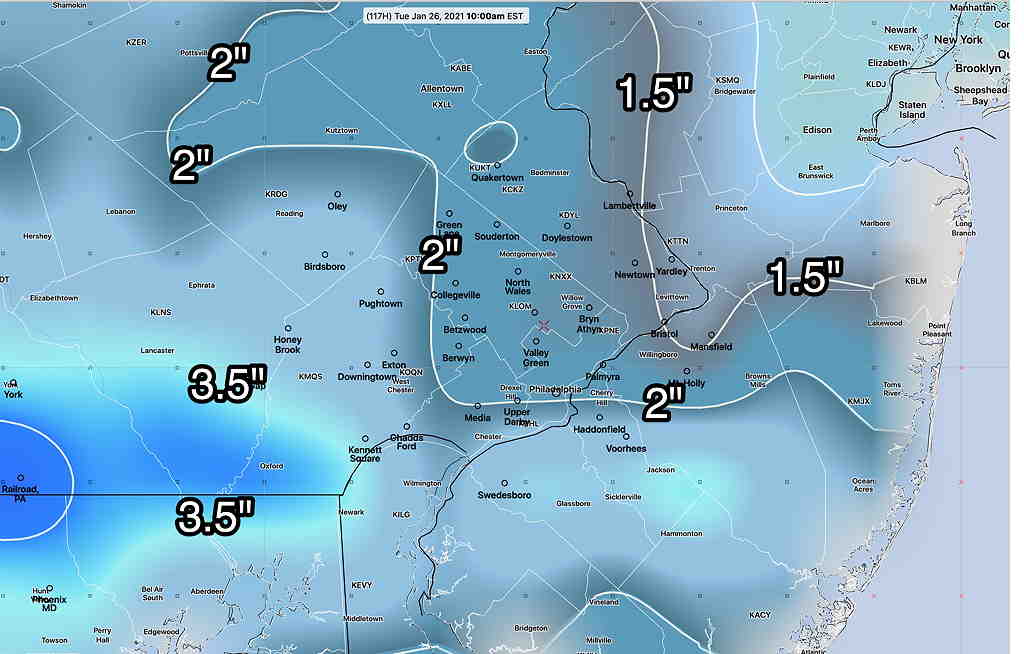 A new wrinkle for getting larger snow accumulation is going to be temperatures, which are trending somewhat warmer at certain levels of the atmosphere, especially near Philadelphia. Many areas will have a sleet/rain mix at times during the event reducing snow totals and making an accurate snow total forecast difficult. Since the storm is coming during the nighttime hours, a period of sleet or freezing rain is a possibility as temperatures near the ground may drop below freezing—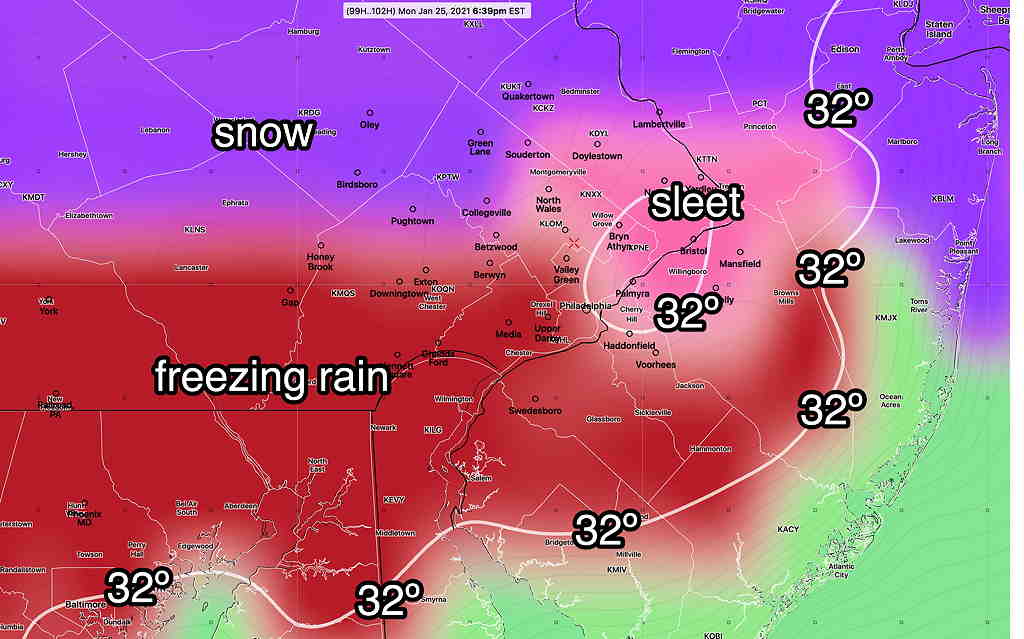 A change back to snow is expected before ending Tuesday morning.
The fine structure of the thermal profile won't be known until the day before the event. Stay tuned.
From Wednesday …
Today, several people at work asked me, 'so where's the snow?'
The statistical ensemble (GEFS) model continues to forecast a minor snow possibility for the overnight period from Monday into Tuesday morning. (see yesterday's post for the precip forecast graphic; it hasn't changed much with today's model runs.)
The sort of thing I like to do is compare the soon-to-be-released GFS model version 16 and the current operational GFS model (version 15.2)'
(The GFS 16 is scheduled to become the operational model the first week in February.)
The soon-to-be-released GFS 16 has significant snowfall for our area, 4-7 inches—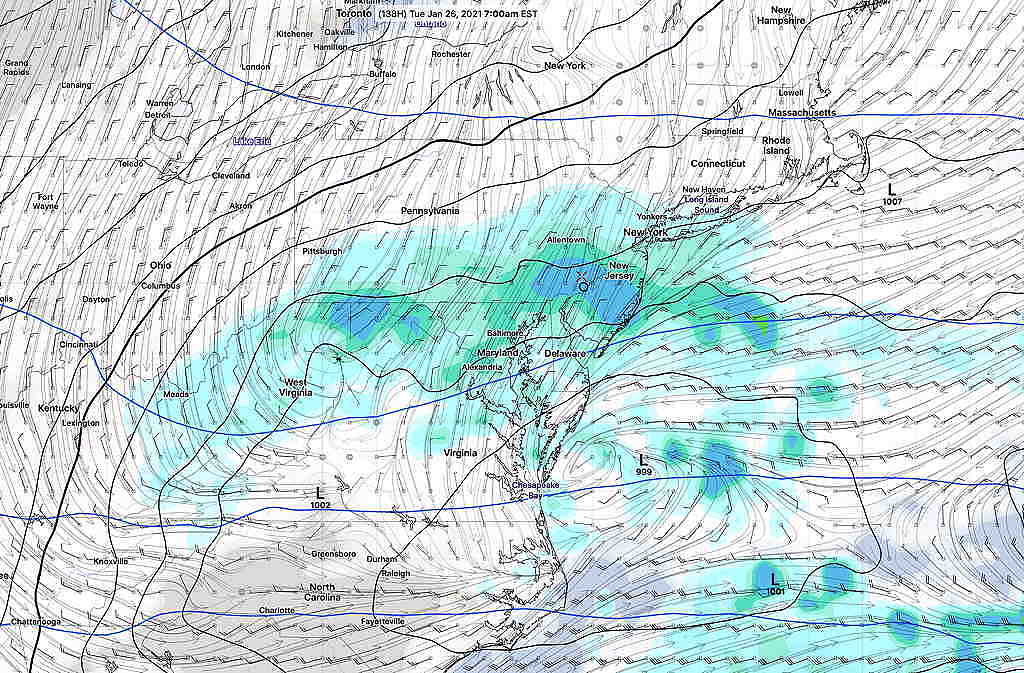 The current operational GFS model has the storm a bust with little development and little snow—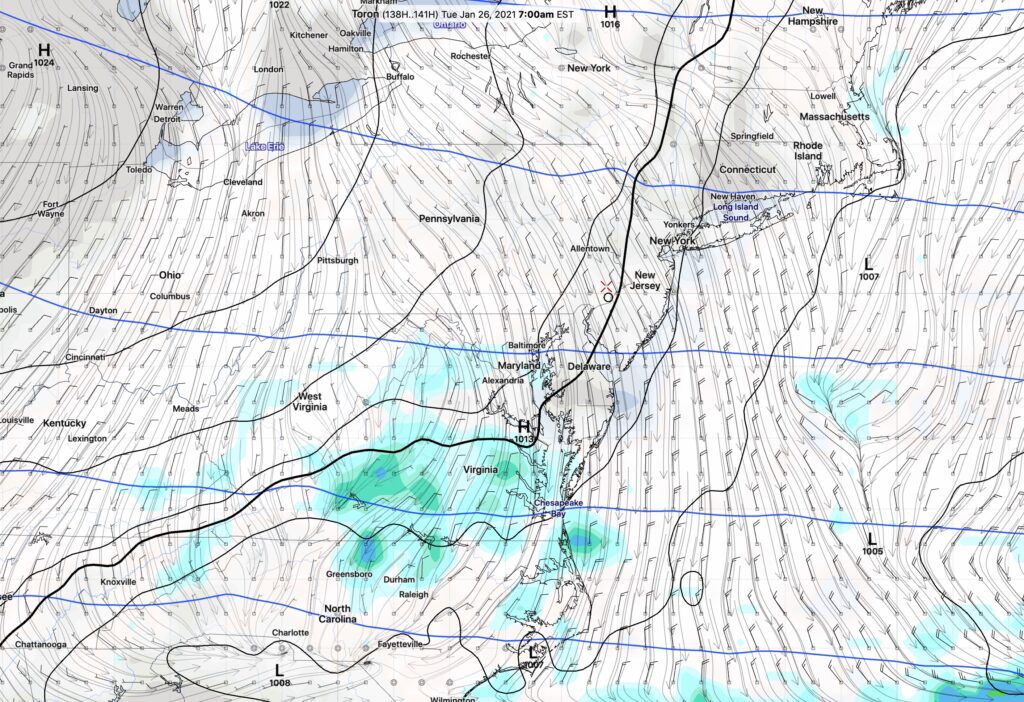 The current Canadian Global and the European models are closer to the the low end with some snow 1-2 inches.
In the time period in question (~138 hours in the future), the statistical GEFS model is probably the one to consider most—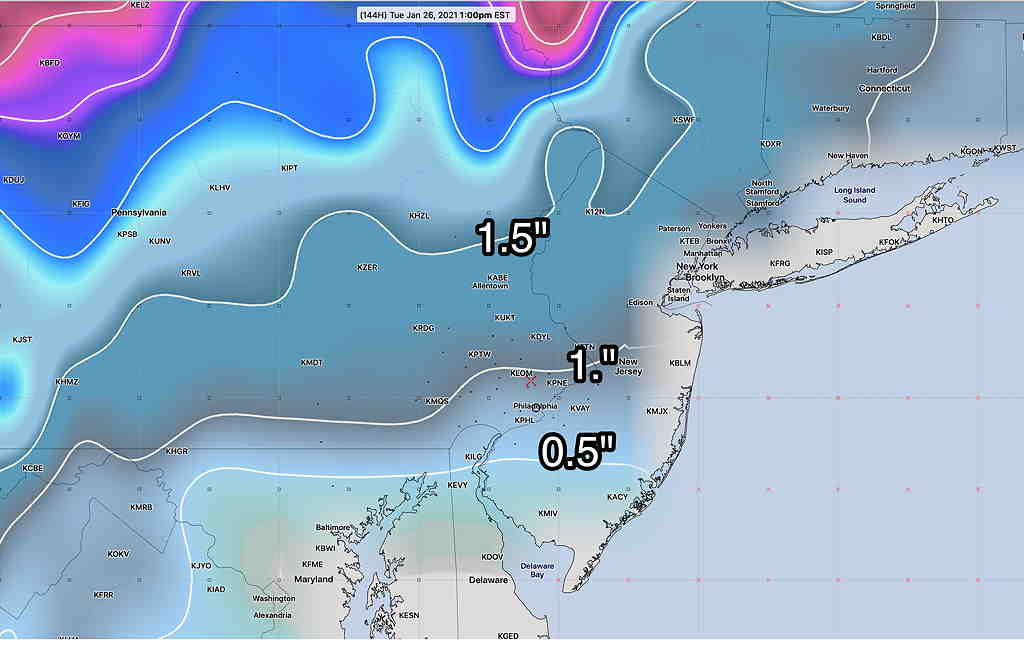 If that's the case, the soon-to-be-released GFS model v16 has a serious precipitation over-prediction bias.
The fun of this is to see what happens. Stay tuned.