#weather #paweather #wx #pawx #philadelphia
Tuesday Forecast
Update Mon 02/27 @ 8:15 PM — The heavier rain will be ending before daybreak. Tuesday morning will have very low clouds, areas of fog and some widely scattered sprinkles as a weak trough remains over central PA and Maryland.
The low clouds gradually lift during the afternoon, but it may be mid (to late) afternoon before things break up for some sun.
---
Mon 8:15PM
Forecast Review
— It's interesting that the weather outside is unfolding closer to yesterday's models than this morning's models.
Examples : The rain started around 4-5 PM as forecast yesterday but today's models had forecast a later start time.
Example: The transition to sleet and snow is further south, almost as predicted by yesterday's models, but today's models had all rain in the city and just outside.
If we backtrack to yesterday's forecast, it will changeover to rain by later this evening.
Updated Monday Forecast
Update Mon 02/27 @ 9:11 AM — Current models have decreased the extent and duration of the sleet this evening.
Clouds increase by 1 PM and lower and thicken during the afternoon.
Rain starts between 6 and 7 PM in the city, but areas near Yardley/Trenton, it may start as light snow.
It's looking like it stays rain in the city and immediate suburbs, but northwest, it transitions to a mix of sleet and rain around 9 PM. Here's where the mix occurs according the the HRDPS—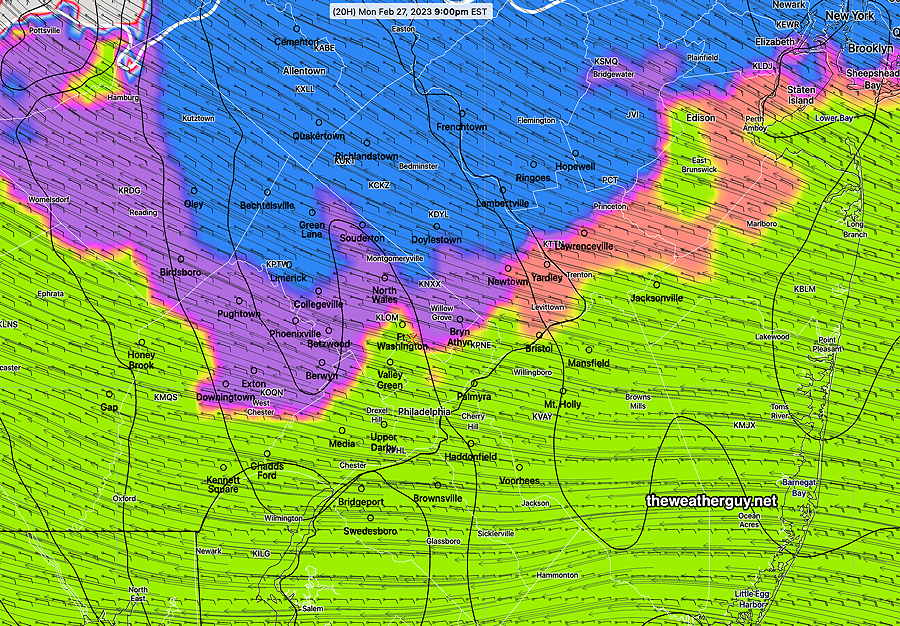 It then moves back to all rain except areas near Quakertown and Allentown and north where a mix lingers longer before changing to all rain after midnight. Temps remain above freezing here.
Update Mon 02/27 @ 10:20 AM —It looks like much of Tuesday through early afternoon will be very cloudy with sprinkles in the morning.
---
Previously Posted Sun 9:10 PM —
Monday Evening Sleet Rain mix
The rapidly changing weather pattern will produce yet another change Monday evening.
Low pressure will bring clouds Monday afternoon, then precipitation Monday late afternoon, starting as early as 4 PM but possibly as late as 6 PM.
Due to the initial rain falling through very dry air, the onset of the rain is expected to result in evaporative cooling.
This evaporation cooling will drop the air temperature to the "wet bulb temperature", which will be below freezing in such a dry column of air.
So precipitation may start as rain, but this dynamic evaporative cooling process will cause the precipitation to change to sleet as the rain falls and freezes falling through this colder lower layer of air.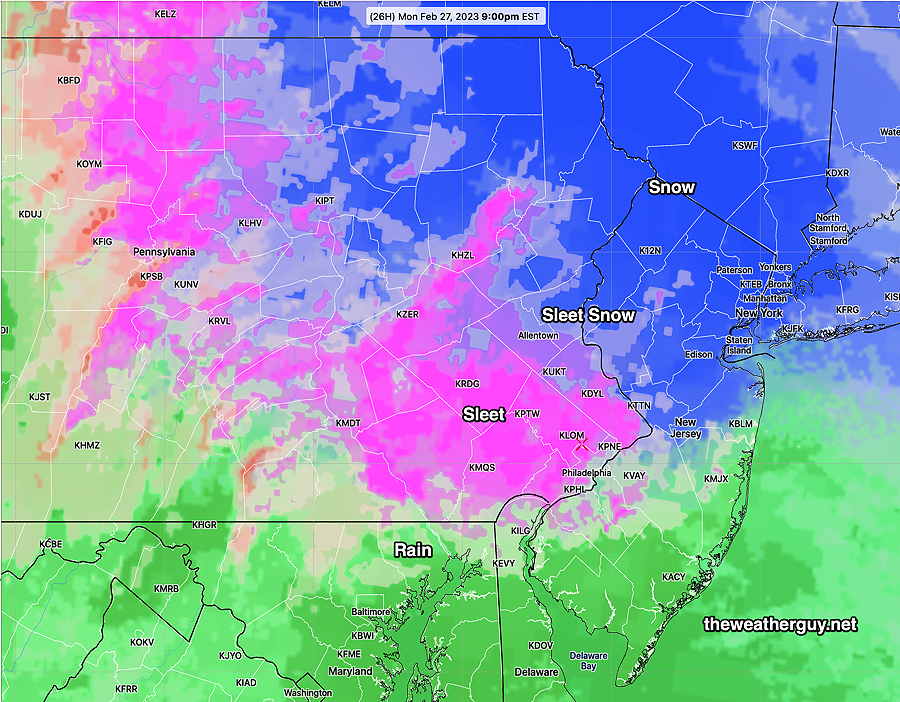 By 11 PM to midnight, Philadelphia and the immediate surrounding areas should change back to all rain.
Here's the NBM by 3 AM —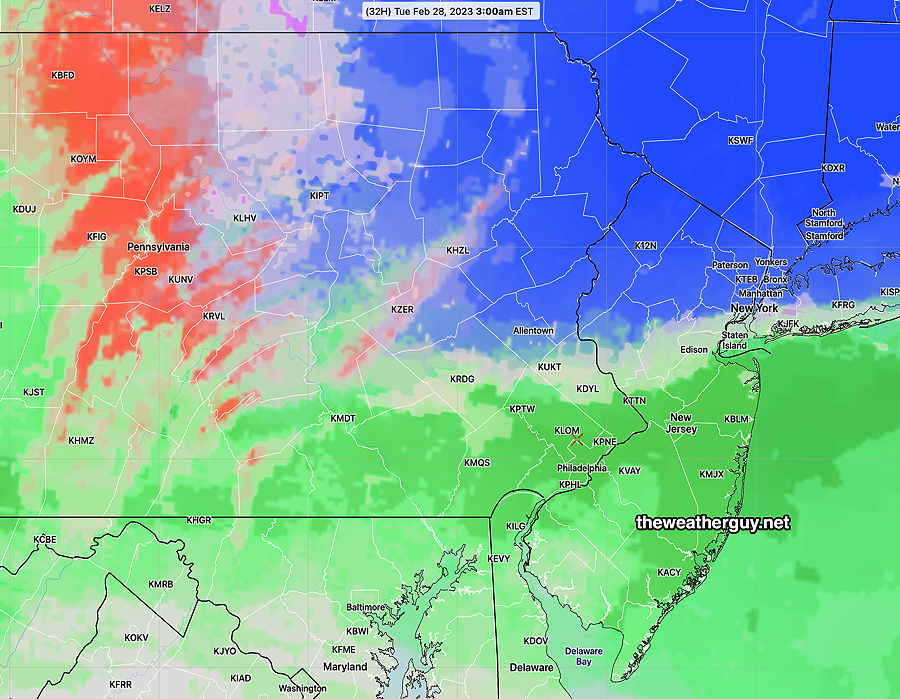 Some accumulation of sleet possible in the immediate PHL area during the evening but it should all melt with the considerable additional rain expected, so no accumulation around here by morning.
These dynamic temperature situations sometimes causes surprises, but there appears to be good model agreement with the current forecast.
---