Mon 05:46 PM Update — This is complex forecast.  Snow is NOT the issue. Precipitation type (sleet, freezing rain, rain)  is a question.
There are  differences between various models, especially regarding surface temperatures and temperatures below 6000 feet between 6 AM and 11 AM.  There are different forecasts for precipitation type. 
The NAM/NAM-NEST group have temperatures below 32º while the GFS/RAP group have it a above freezing.   So the NAM group has more freezing type precip (sleet/freezing rain) after daybreak.
In the old days (before I  had direct model data), I would use the NAM FOUS data for my forecast.  The FOUS shows little snow for our area, but maintains a longer period of sleet/freezing rain/rain into the mid morning hours.  So, I'm leaning towards the NAM group for this forecast.  The graphic below captures the parameters of the NAM FOUS data—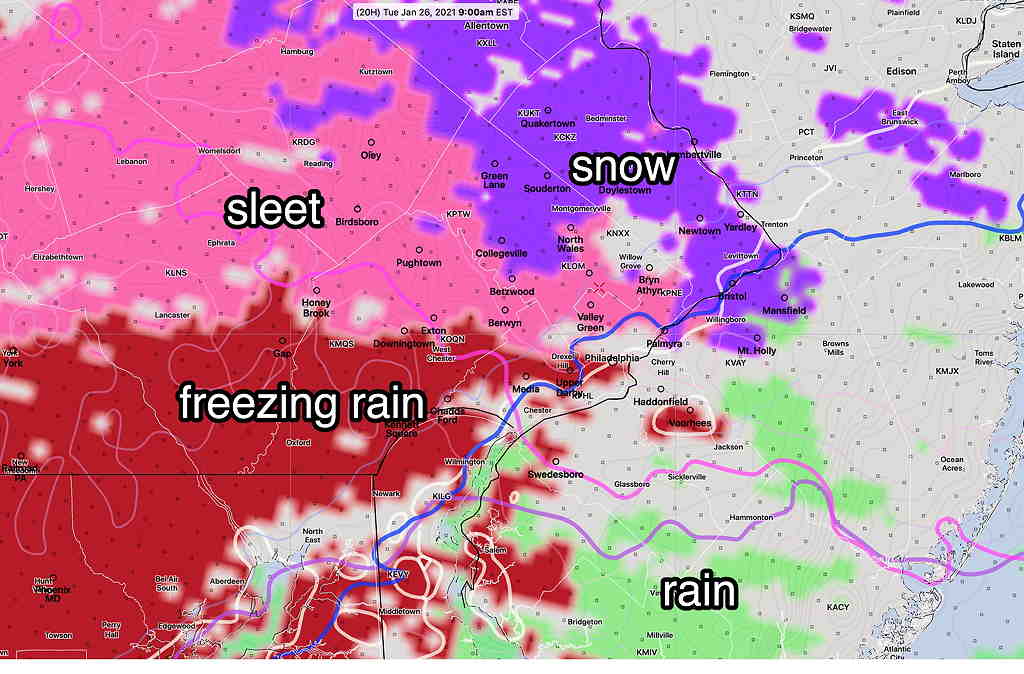 Both model groups have the majority of precip in the immediate PHL starting later,  after 8 AM, although it starts earlier far southwest of the city.
Areas southwest of the city will have precip start before daybreak; these  areas are more likely to get a coating of snow before the changeover.    
If things change, I'll update between 10 and 11 this evening
Mon 01:35 PM Update — A quick update.  This morning's GFS has virtually NO snow accumulation for the immediate PHL area.   Surface temperatures rise above freezing early, so most areas won't see any freezing rain either.   Just light rain.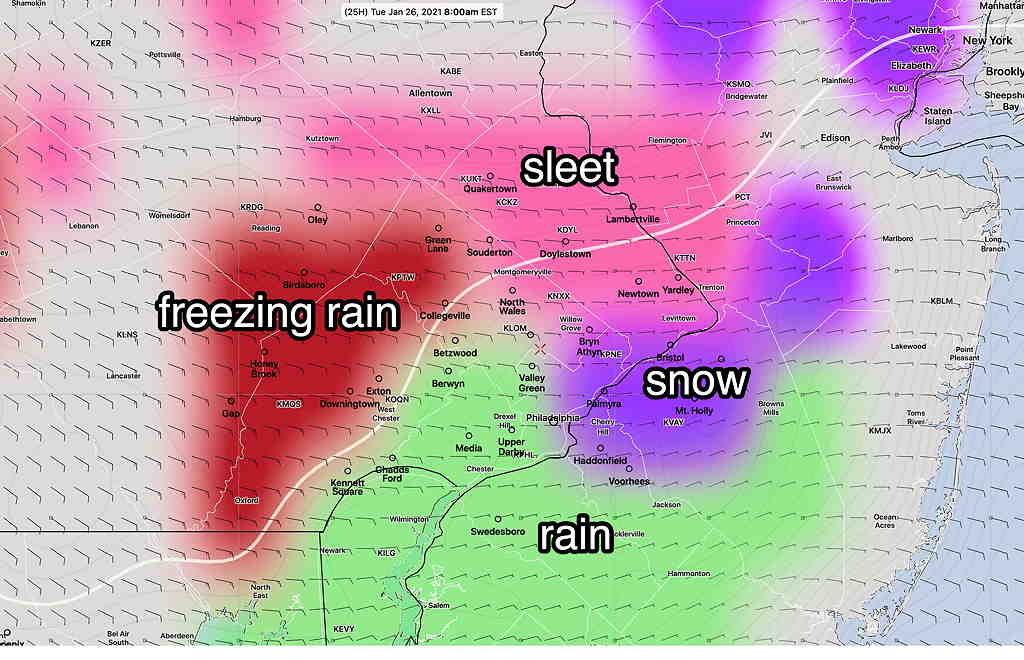 Thursday's expected storm will miss us entirely, according to the latest GFS.
Sun 10:46 PM Update — Tonight's models suggest several hours of light sleet and freezing rain after daybreak Tuesday morning following a light coating of snow that falls before daybreak. It's not clear if the models are over-predicting this freezing precipitation potential.  We'll need to see tomorrow's models to get a better idea of the thermal profile on Tuesday.
Sun 04:53 PM Update — Today's models continue to downplay the snow for Tuesday.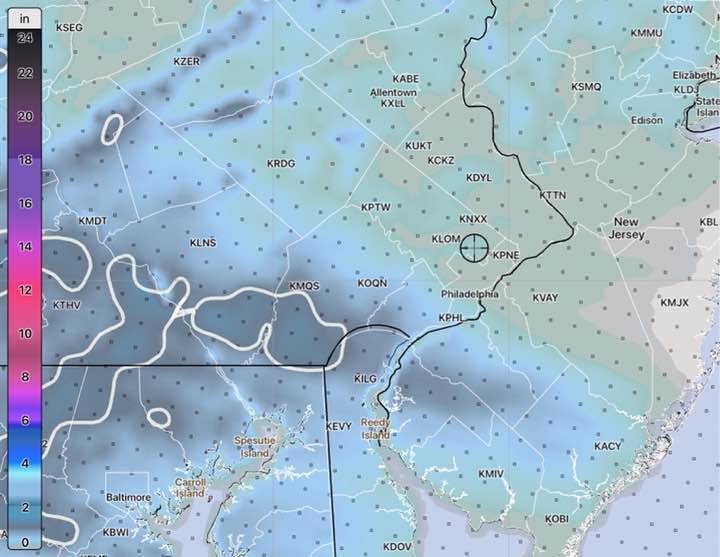 Warm air moves in at 2000-3000  feet, resulting in a period of sleet and freezing rain instead of snow after daybreak Tuesday.  Little accumulation in and near the city. 
The storm for Thursday, while more developed, appears only to brush us with some snow.  Again, an inch is the most likely amount.
From Saturday evening…
The upcoming week looks to be a relatively active weather week compared to the past few weeks.
Tuesday—
The storm expected to pass to our south on on Tuesday is showing less development and less moisture. Additionally, it now appears to move in later Monday evening and gradually exits during the day Tuesday.
Warm air appears to be brought in about 2000-3000 feet above ground level.  The predominant precipitation type will be sleet/freezing rain, then light rain on Tuesday instead of snow, after a small accumulation Monday night.  Total accumulations have reduced to under 1 inch for most of the immediate Philadelphia area—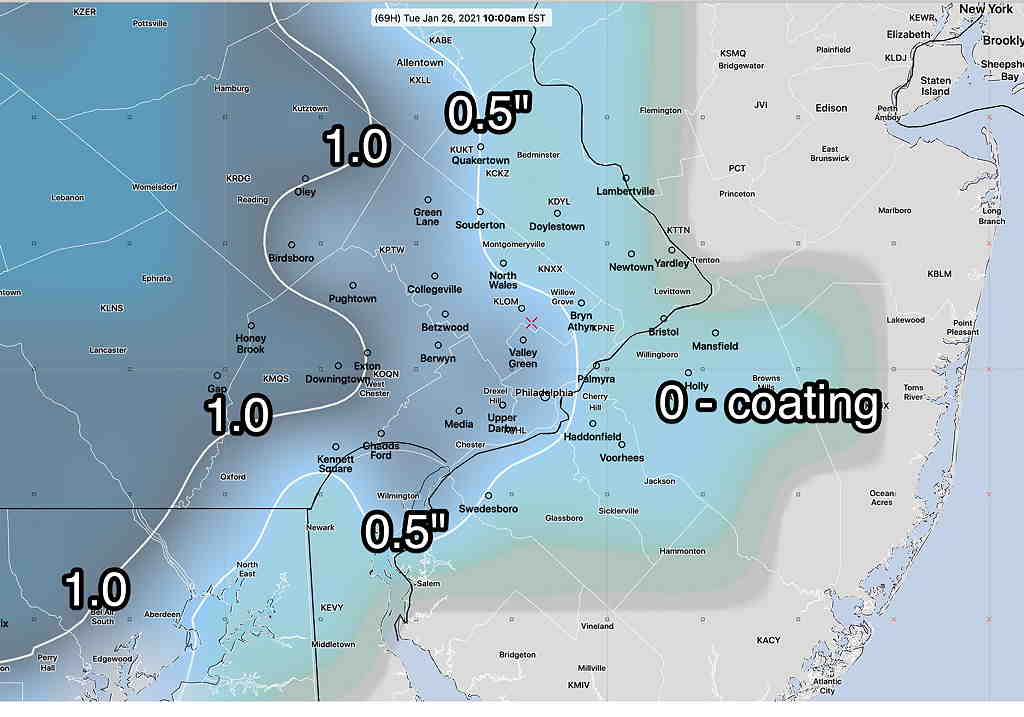 It appears that light rain showers, may linger on and off into the day Tuesday, tamping down or melting some of the small accumulation we receiving Monday night.  The main issue may be early Tuesday morning with some icy areas and perhaps some freezing rain in some areas—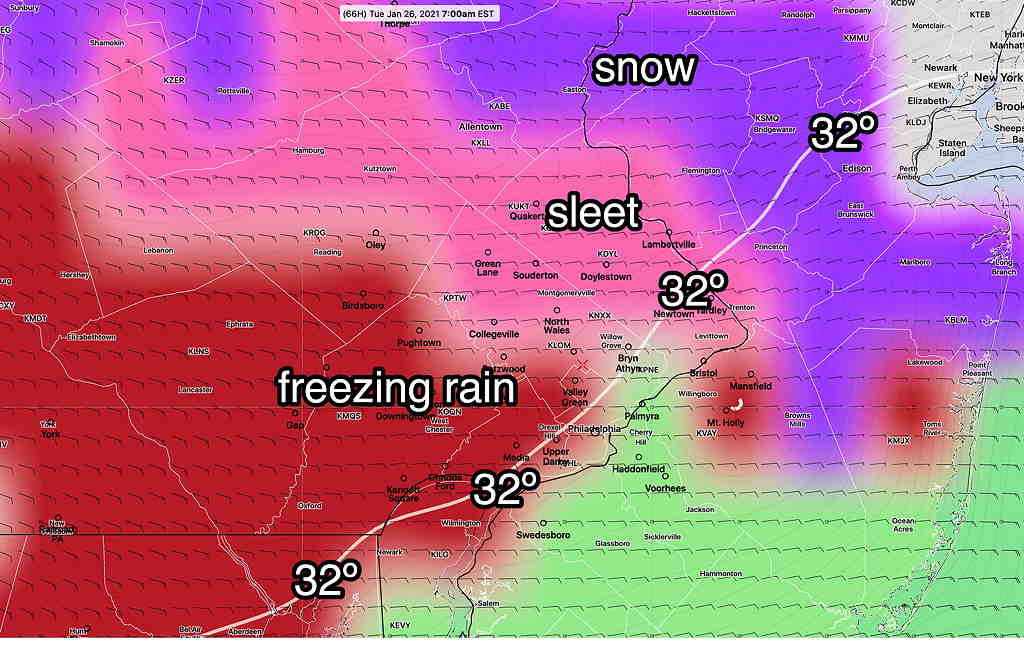 Thursday—
Yet another storm is now showing moving to our south on Thursday. This storm is expected to brush us with light snow Thursday morning, however there is a possibility of greater intensification with this system—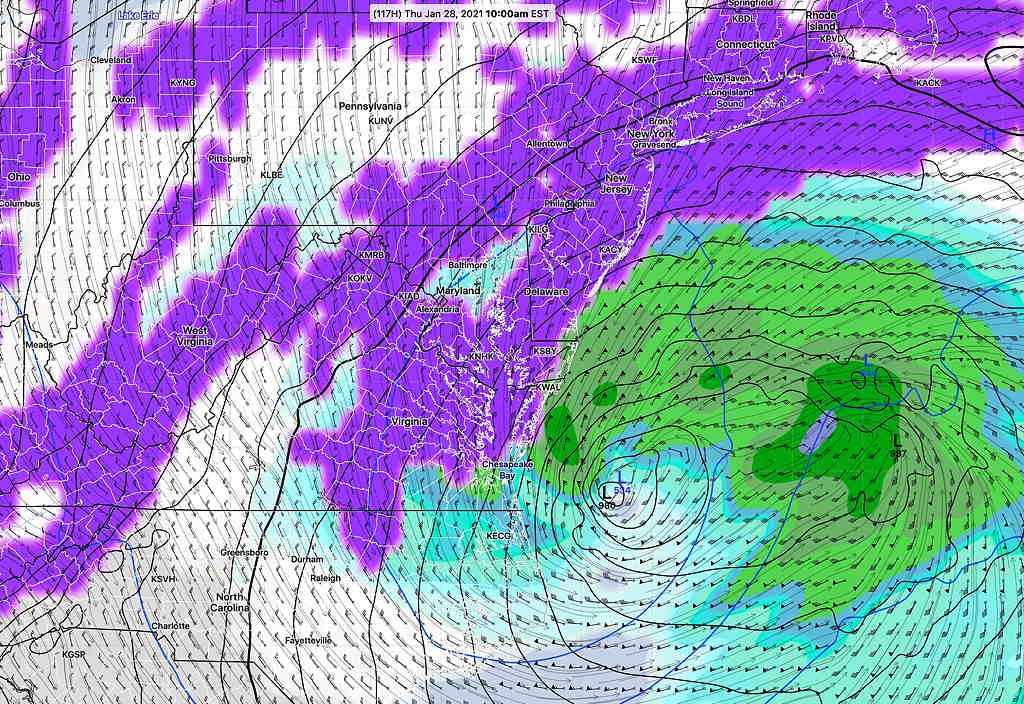 Currently, only about 1 inch of snow is expected with this Thursday storm.
Stay tuned.