Sat 09:14 AM Update — This morning's HRRR continues to show an area of clouds moving in later in the morning today associated with the vorticity—
• Some sun early, then considerable cloudiness in the late morning.  Then, a  mix of sun and clouds in the afternoon.
• Some snow flurries possible early evening
• High temperature 32.1º sd 0.9º  (NBM model) Blue Bell.

• Windy, especially mid-day.  Winds 15 mph with higher gusts to 35.\
---
The potential snowfall for Monday night into Tuesday continues to look like a minor event.  The NBM (model blend) picks up the trend with totals of 1-2 inches of snow by 7 AM Tuesday.  (It pretty much ends by 7-9 AM. )  A mix of sleet and freezing rain at some points in the event will limit totals, although there isn't all that much moisture with this storm to begin with.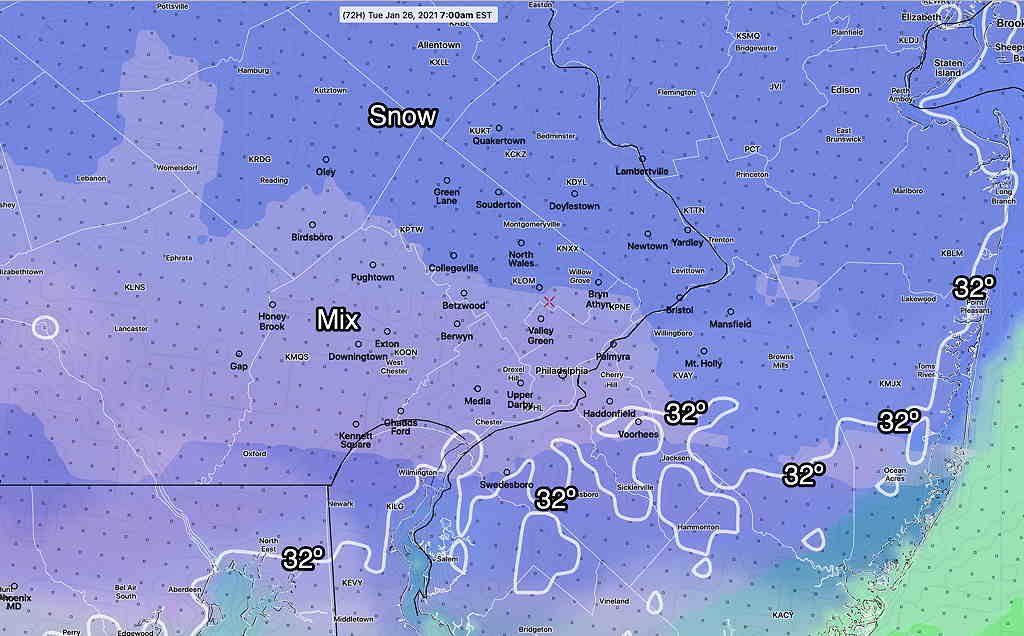 Check back for updates later tonight.
From Friday evening…
Cold high pressure builds in for Saturday and Sunday.  Ordinarily that means sunny skies, but an area of vorticity,  moisture and cyclonic flow in the upper atmosphere will cause considerable  instability cloudiness during the earlier part of the day Saturday—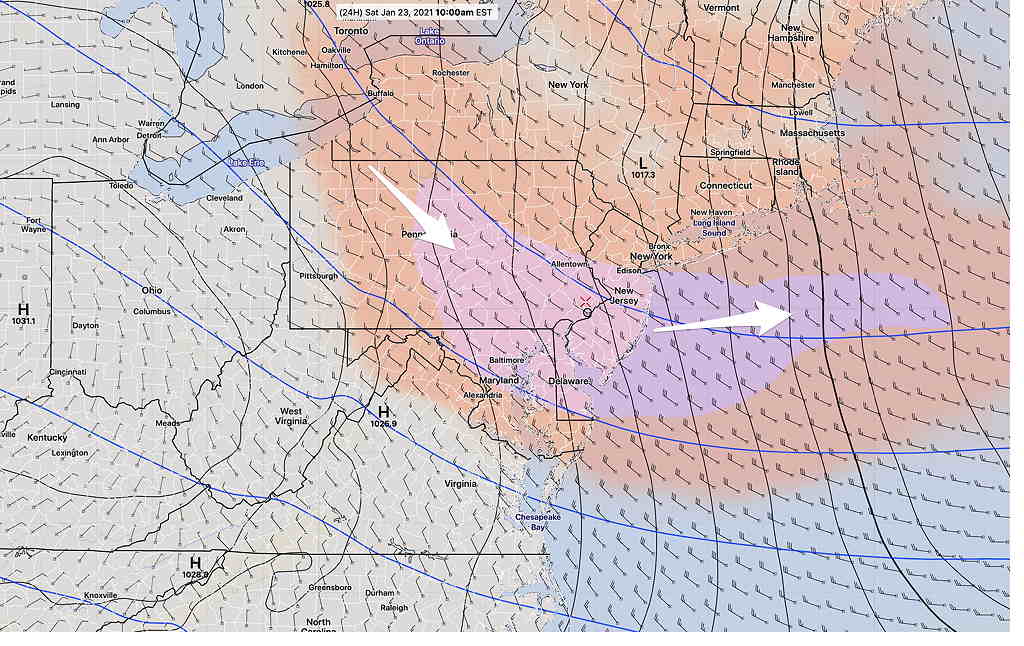 (Note – continuing downtime of the main NOAA weather model distribution server has made some model data unavailable today.)

Saturday —
• Sun early, then considerable cloudiness in the late morning.  A mix of sun and clouds in the afternoon.
• High temperature 31.9º sd 1.1º  (NBM model) Blue Bell.

• Windy, especially mid-day.  Winds 15 mph with higher gusts to 30. 
The upper flow becomes more anti-cyclonic on Sunday. Fewer clouds, less wind and more sunshine. Moisture from an approaching storm may allow some high level cloudiness to move in.

Sunday —
• Mostly sunny, some high level cloudiness during the late afternoon.
• High temperature 34.6º sd 0.7º (NBM model) Blue Bell.

• Winds 10 mph gusts to 15
The wintry weather Monday evening into Tuesday looks to be a mixed precipitation event with snow mixing with sleet/freezing rain the back to snow. Final snow totals 1-2 inches by Tuesday morning, but expect changes in this forecast. Stay tuned.