Friday Storm Update
Update Fri 12/23 @ 10:44 AM — Latest NBM shows virtually no snow accumulation in our area. For those holding out hope for a white Christmas, here's the latest HRRR—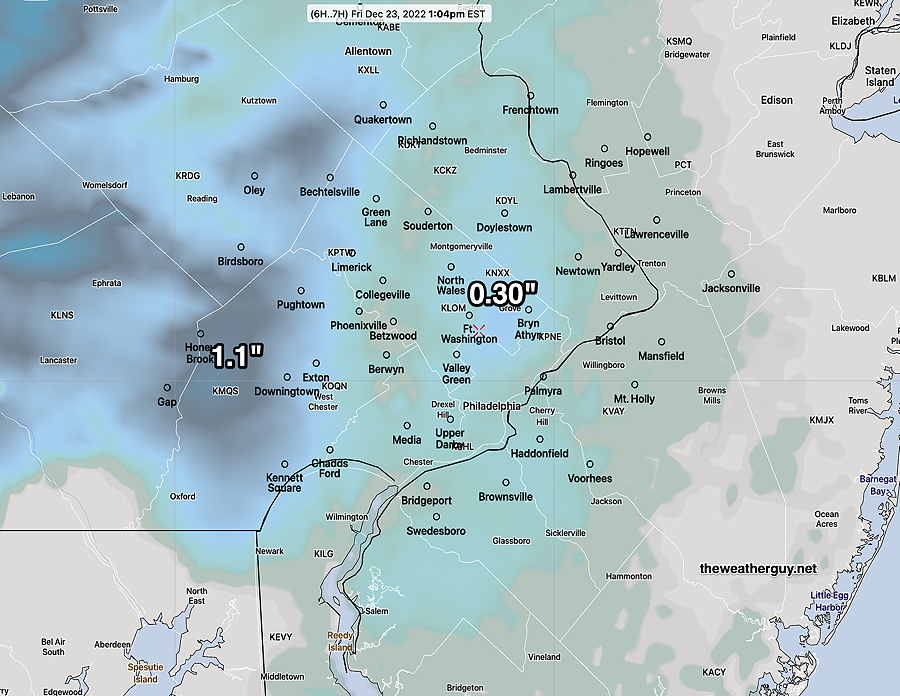 ---
Update Fri 12/23 @ 10:15 AM — Additional rain now falling as the front moves in at 10 AM.
Storm rainfall measurements via MRMS through 9 AM—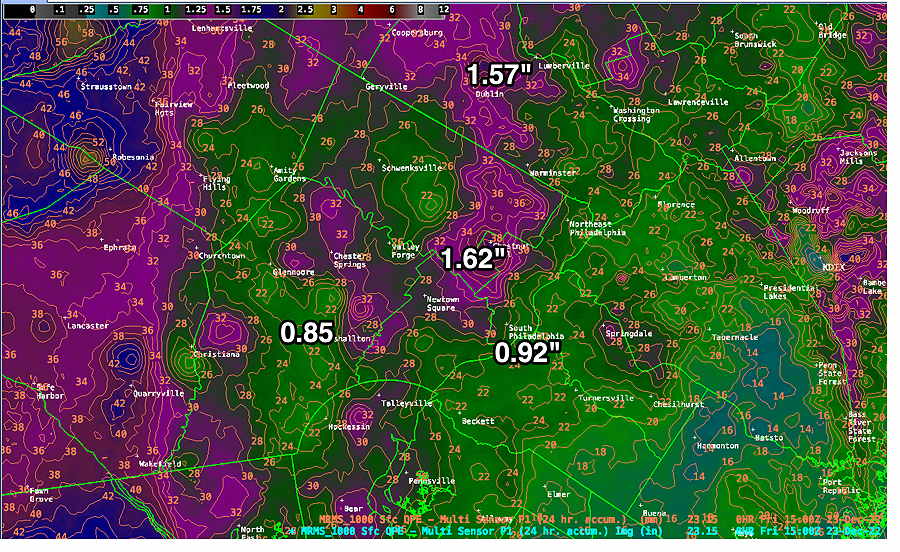 Current Temperatures at 10 AM—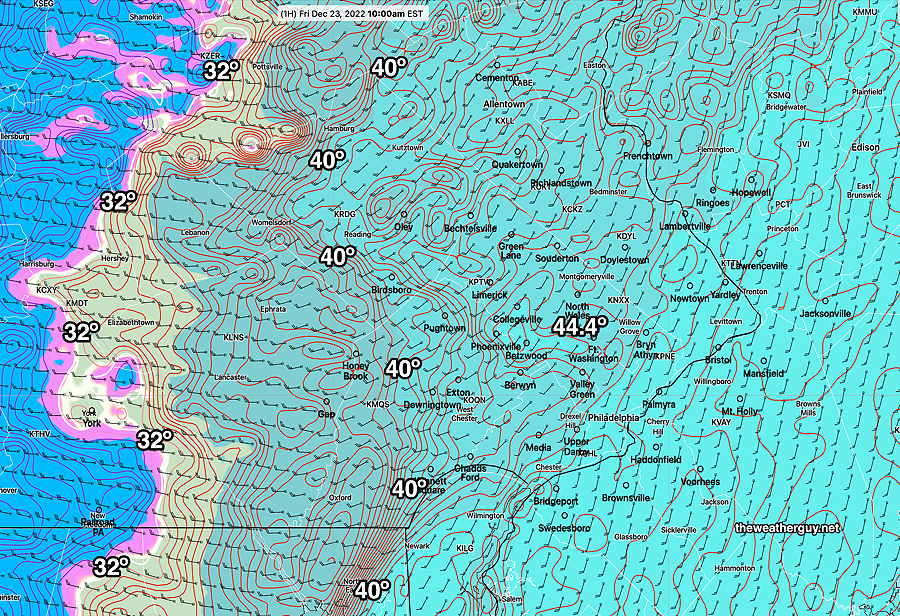 Cold Front Passage
Update Thu 12/22 @ 9:47 PM — Latest NBM (00z) shows the rain to snow transition in the city about 11 AM.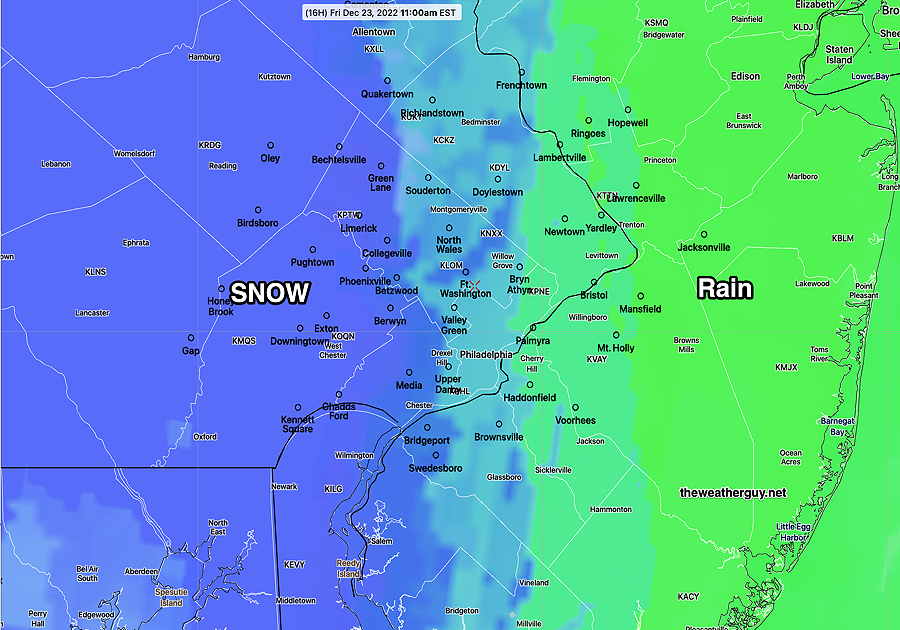 Some breaks in the clouds expected mid to late afternoon.
Temperatures drop from 58º to 32º by noon and into the 20s by afternoon—
Areas that may see a light coating (less than 0.3 inches) —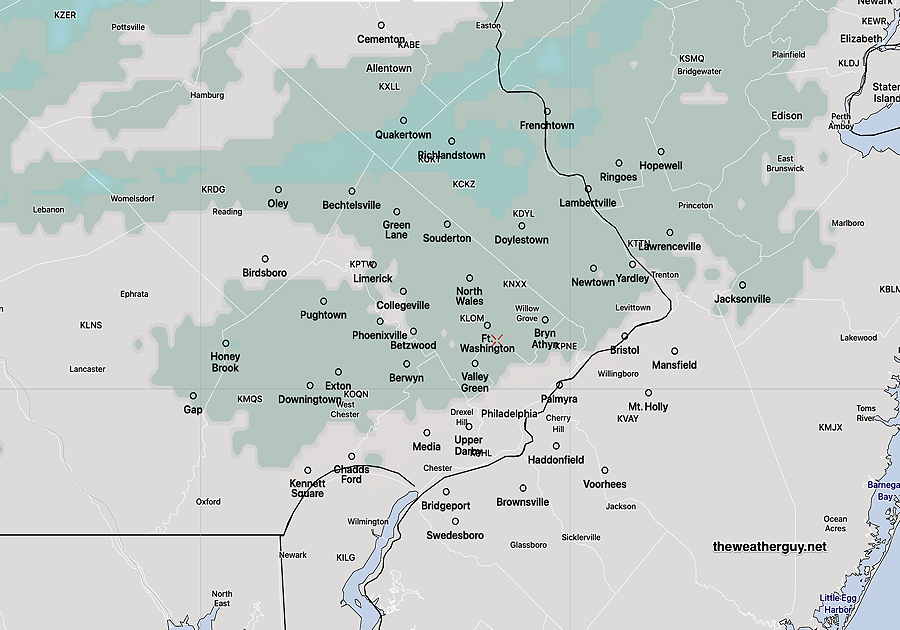 ---
Storm Update
UpdateThu 12/22 6:31 PM — Forecast essentially unchanged. Cold front moves through as early as 9 AM according to latest GFS. Highest winds after midnight and just ahead of the frontal passage.
---
Update Thu 12/22 @ 11:36 AM — Latest 12z GFS available. GFS has closer to 1.5 inches of rain instead of the higher totals posted from the HREF. Probably somewhere in between these two.
The GFS also has the cold front moving through earlier, about 9 AM at Blue Bell and the changeover to snow squalls/flurries. The GFS has a slight coating of snow in some northwest suburbs, but within the range of model noise.
---
Storm Update
Update Thu 12/22 @ 10:33 AM — This morning's models are coming in. General forecast from yesterday still holds.
Here's some changes with the 12z models—
Rainfall has increased and will total from 2 to 2.5 inches according to the HREF!
Highest winds and wind gusts after midnight tonight and especially during Friday morning.
Changeover to snow squalls and flurries may occur earlier, from west to east, from 9 AM to 11 AM.
The latest NBM has little to no accumulation, even in western suburbs.
Wind Meteogram for Blue Bell PA
---
---
---
Forecast Update
Update Wed 12/21 10:56 PM — No change in the forecast summary from this afternoon below. (The NBM joins the HRRR with an 11 AM start tomorrow.)
---
Current Storm Status on Wed Evening
Update Wed 12/21 @ 8:25 PM — The pieces are coming together for the forecast. So what does it all look like on satellite and radar?
Water vapor image (at this specific wavelength-) shows the mid-atmosphere jet stream components—
Here's the current composite radar—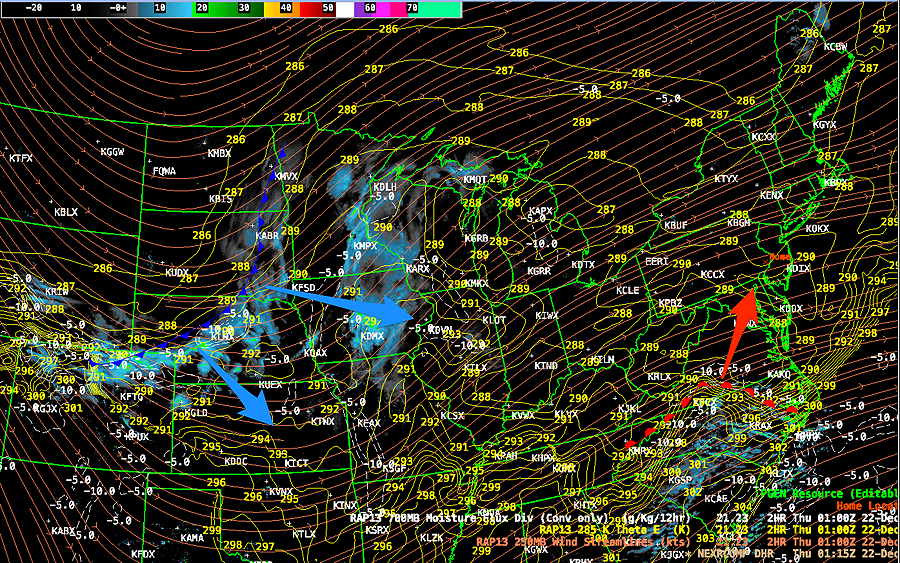 ---
Update on Thursday -Friday Storm
Update Wed 12/21 @ 4:50 PM — This afternoon's models just becoming available. Not much change from the previous two updates and a generally good consensus among the models. Here's the current summary:
Rain starts in earnest between 11 AM Thursday, (HRRR model) and 2 PM (NBM model) although some light sprinkles can't be ruled out as early as 7 AM.
Precip no longer expected to start as a snow mix here. Just rain.
Heaviest rain: late evening Thursday and Thursday night and also a burst of heavy rain as the front moves through Friday morning.
Rainfall will be heavy: 2-2.5 inches total rainfall
Cold front comes through Friday as early as 10 AM (HRRR) or 11 AM (NBM) with heavy rain and rapid drop in temperatures. At or below freezing by noon.
Wind gusts in the 45 mph range, possibly 50 mph after midnight Thursday and especially with the frontal passage Friday morning.
With the frontal passage, rain changes to snow showers between 11 AM and noon Friday.
No accumulation in the immediate PHL area. A thin coating possible northwestern Montgomery/Bucks/Chester counties.
More updates and fine-tuning as necessary. Stay tuned.
---
Update on Thursday -Friday Storm
Update Wed 12/21 @ 11:06 AM — Quick update. Latest GFS just became available. Rain moves in earlier, about 11 AM Thursday.
Friday: The front moves through about one hour earlier on Friday: 10 AM (Blue Bell PA) . Highest winds at that time. Change to snow squalls/flurries by 11 AM
Updates later this afternoon.
---
Update on Thursday- Friday Storm
Update Wed 12/21 @ 9:06 AM — After review last night's models, I'm going to lean on the new NBM model (version 4.1) just released last week. Using this morning's 12z run just available.
Thursday: While some sprinkles and even snow flurries will move in as early as 7 or 8 AM, the NBM shows accumulating rain moving in late morning on Thursday
Early Thursday morning—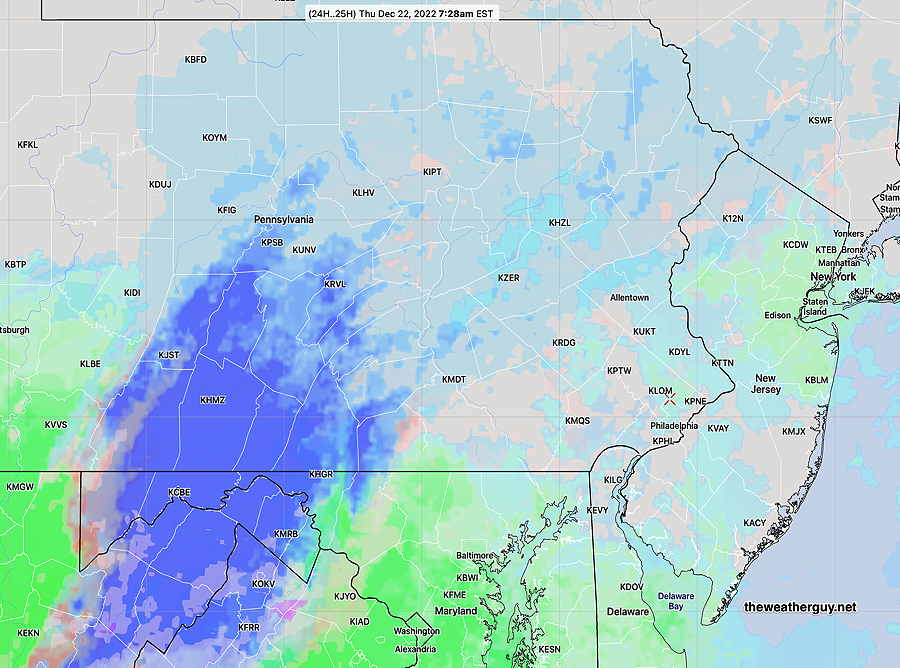 The rain moves in late Thursday morning and early afternoon—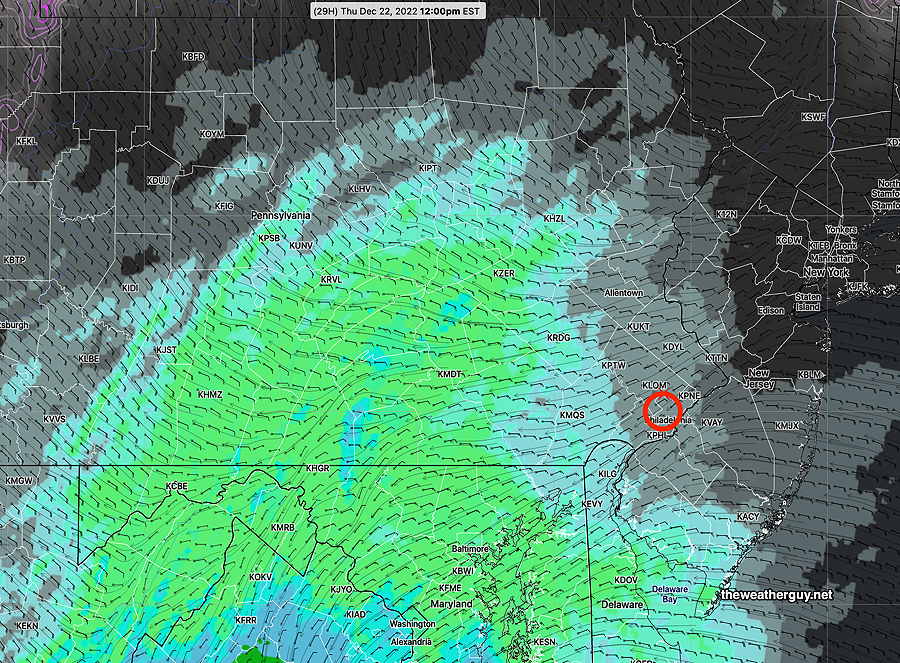 Heavy rain Thursday late afternoon through night.
For Friday, the front is moving through just a bit earlier, about 11 AM. Wind gusts 40-50 mph expected.

A rapid mix to snow squalls and flurries. Here's the NBM PTYPE—
A coating or dusting possible by late afternoon Friday, but probability is is only 40% for Blue Bell.
Check back later for updates.
---
Differences in the Thursday Start Time
Update Tue 12/20 @ 9:03 PM — Latest NBM (00z) just available shows a light spotty mix at 8 AM Thursday. All to rain by 9 AM.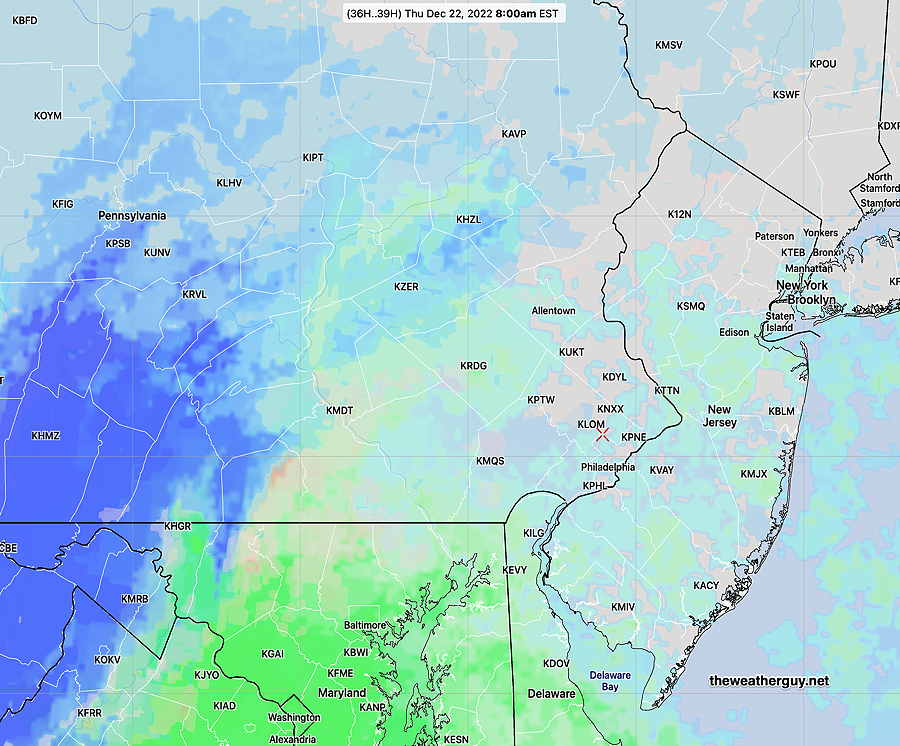 ---
Update Tue 12/20 @ 8:26 PM — There are large differences in the precipitation start time on Thursday.
The GFS shows the precipitation not arriving here until about 2 PM Thursday.
The GFS at 8 AM Thursday shows precip well to our southwest—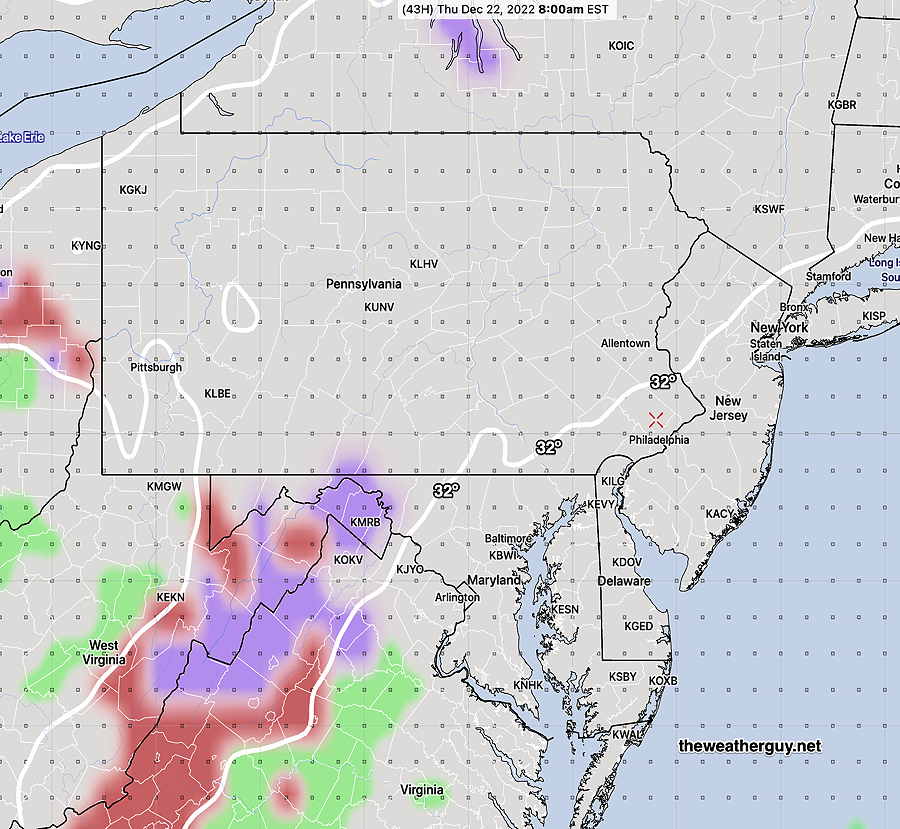 Several of this afternoon's higher resolution models show light precipitation starting in the morning. The NBM is in this camp.
The Canadian RGEM even has some very light snow or frozen mix on the onset early Thursday morning.
The Canadian RGEM forecast for 8 AM Thursday morning (below) can't be disregarded and seems to be supported by the latest ECMWF just available —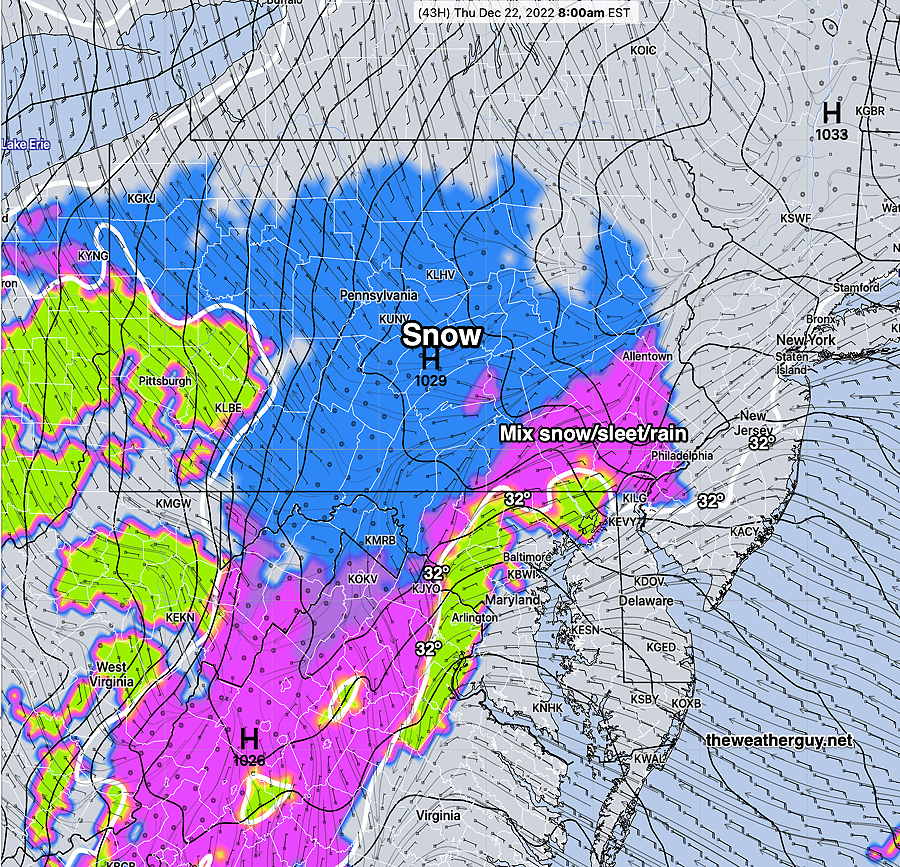 Of course it quickly changes to all rain on Thursday.
---
---
---
Thursday to Friday Storm Update
Update Tue 12/20 @ 5:41 PM — (added NBM snow accumulation below)
The latest models have stayed with the earlier timing of the storm and the cold front passage.
Thursday: This afternoon's HRRR suggests that light rain moves in during the morning hours Thursday with rain becoming heavier about 2 PM. (The latest ECMWF and NBM have the rain moving in by late morning Thursday.)
Rain becomes increasingly heavy later Thursday and Thursday night. Winds increase after midnight Thursday. 1-2 inches of rain expected.
Friday: Here's the latest NBM wind meteogram for Wings Field, Blue Bell showing wind gusts 45-50 mph from 6 AM to 6 PM Friday —

I don't see any snow squalls in any model's forecast PTYPE, but the ECMWF has all three critical thickness lines east of us by 1 PM with some precip to their west. It could be the atmosphere dries out rapidly with the front, but I wouldn't be surprised to see some non-accumulating snow squalls. (Hold your horses…latest GFS DOES SHOW SNOW SQUALLS)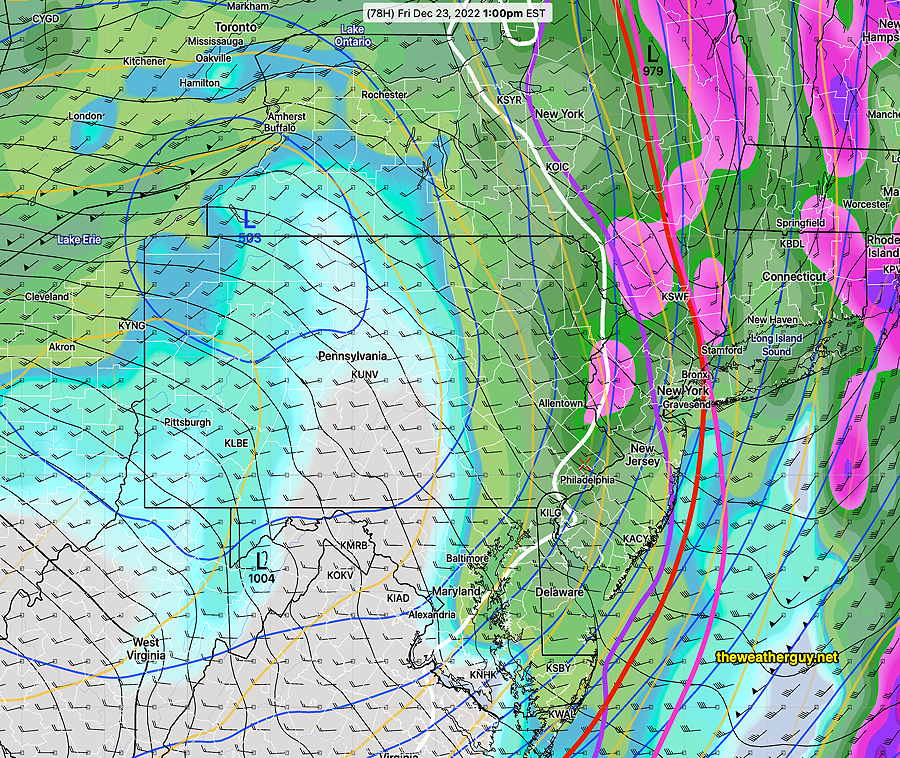 Latest GFS Just Available–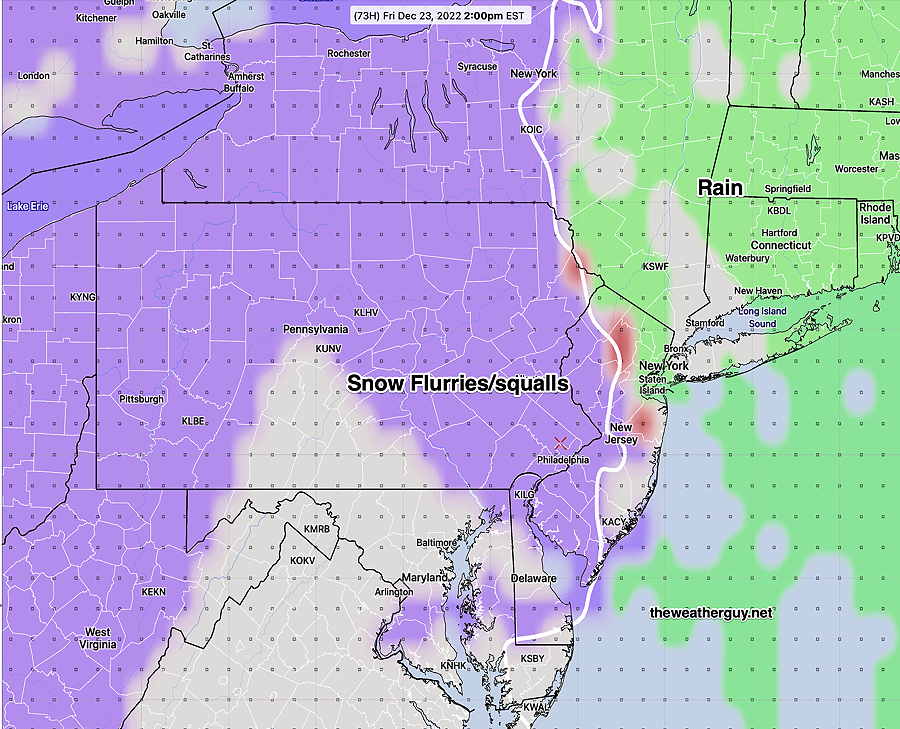 Stay tuned.
NBM snow accumulation by Friday evening—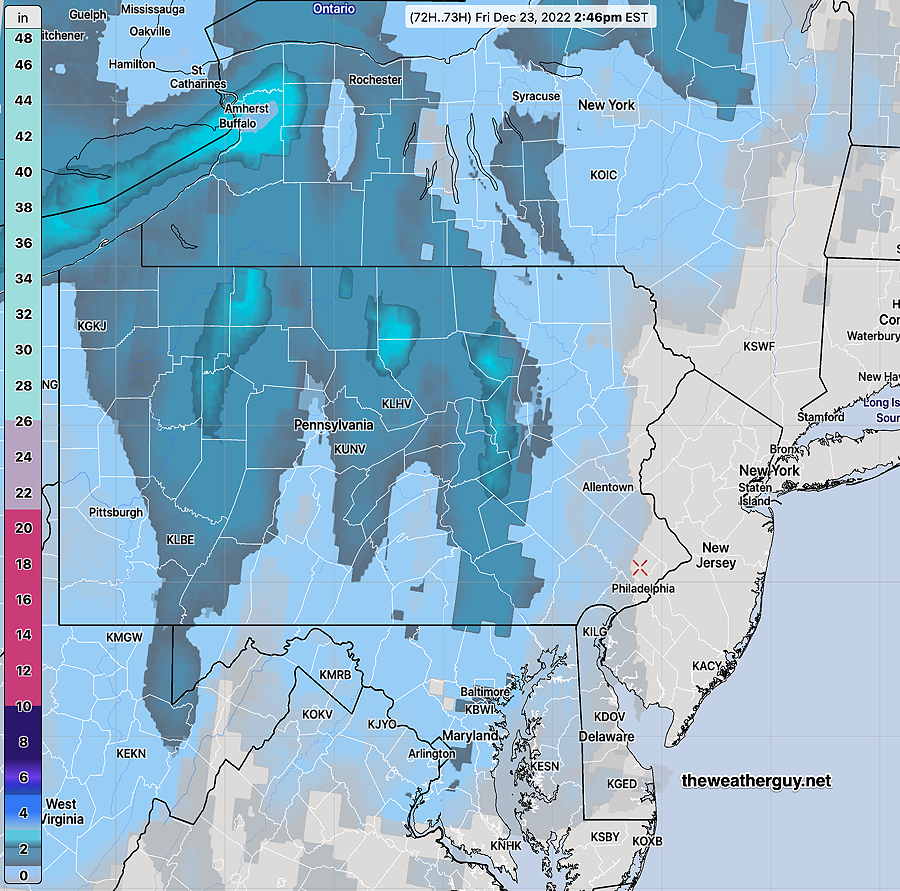 ---
Update Tue 12/20 8:44 AM — A brief update with the current trends for the storm. The cold front continues to come through earlier and faster on Friday. The dry slot forecast by last night's NAM has disappeared with its early morning 06z forecast.
The actual cold front moves through about noon to 1 PM Friday with thunderstorms and high wind gusts, possibly followed by plummeting temperatures.
Last night's ECMWF suggests a quick period of non-accumulating snow showers/squalls following the frontal passage.
Clearing skies mid to afternoon on Friday. Very windy.
Updates later.
---
Update Mon 12/19 11:00 PM — Tonight's NAM forecast range extends to 7 AM Friday.
Tonight's NAM suggests that the heavy rain Thursday night departs early with a possible dry slot Friday morning. The sharp cold front comes through in the early afternoon with high winds perhaps some thunderstorms, another brief period of rain, followed by plummeting temperatures.
---
Storm Exits earlier on Friday
Update Mon 12/19 @ 7:59 PM — This afternoon's models are leaning towards faster storm movement and an earlier cold front passage on Friday. (Previous models showed the front moving through late afternoon to evening.)
The NAEFS and GFS shows the front moving through about 12 PM to 1 PM Friday with the rain diminishing early to mid afternoon Friday. Temperatures start to drop with the frontal passage. High winds expected with the frontal passage.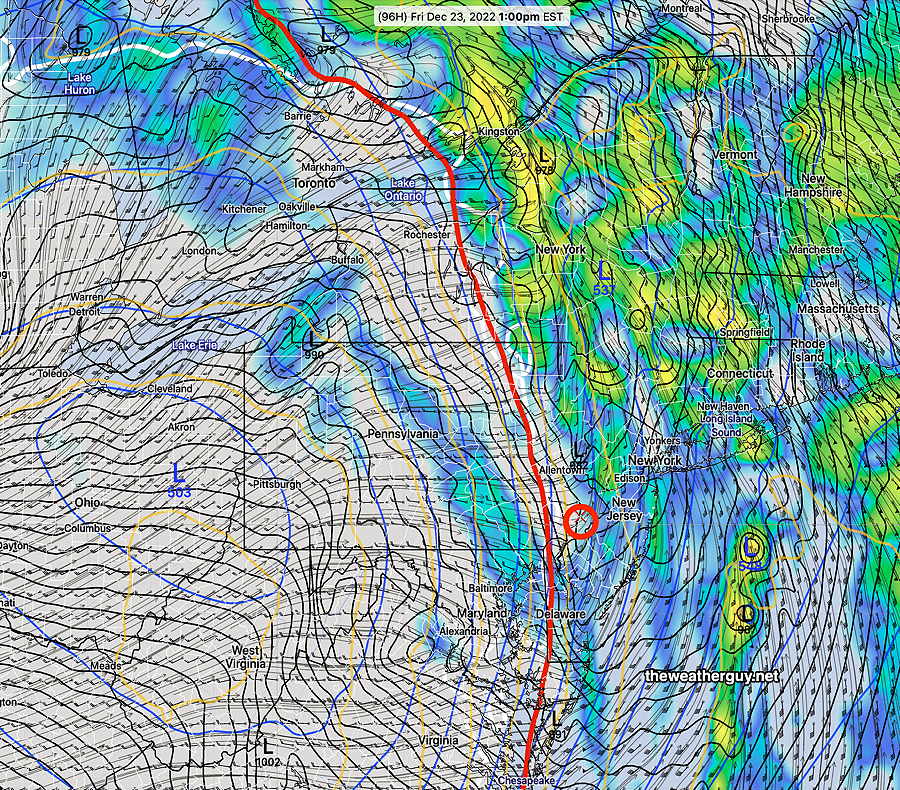 ---
---
---
Posted Mon 5:10 PM —
The big weather story for this week is the huge storm expected set up near the Great Lakes. For several days last week, it looked like we might have quite the snowstorm here; so much so that I thought it was prudent to set up a separate Winter Storm page.
Over the weekend, things have changed dramatically and a separate coastal storm is not expected to form with this system. A deep upper low pressure system will spawn a surface low west of us. Virtually no snow is currently forecast in our area by any model from this storm. Indeed, temperatures will rise into the 50s before falling rapidly below freezing Friday evening and night.
Nonetheless this will be a monster of a storm . Central pressures are forecast to rival recent hurricanes here. Heavy rain and high winds are expected.
The impulse that will set off the large storm is not yet over the continental US. Leading jet flow energy is becoming visible below—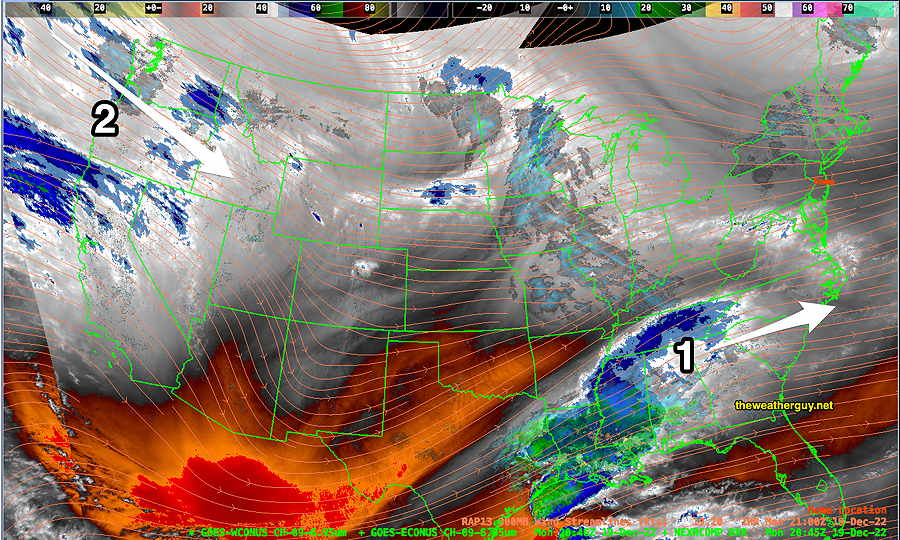 Currently rain from this storm is expected to move in Thursday afternoon and heavy rain will exit late Friday afternoon or early evening. Stay tuned.