Forecast Updated Sat 08:50 PM —
For Sunday, the upper air low pressure system moves off to our east. The pressure gradient will cause it to be windy. An upper air wave approaches late in the day Still above average temperatures for January. (Seasonal average high is 40º and low is 23º Blue Bell.)
Sunday —
• Sunny in the morning, clouds move in towards noon.
• High temperature 44.0 sd 1.1º (NBM model) Blue Bell.

• Windy late morning and early afternoon WSW 12-15 mph with gusts to 20- 25 mph
Sat 08:46 AM Update — All models last night showed a several hour "dry slot" of clear skies this morning about 10 AM. (In past weeks, the recently updated HRRR v 4 has been particularly good at cloud cover forecasts)—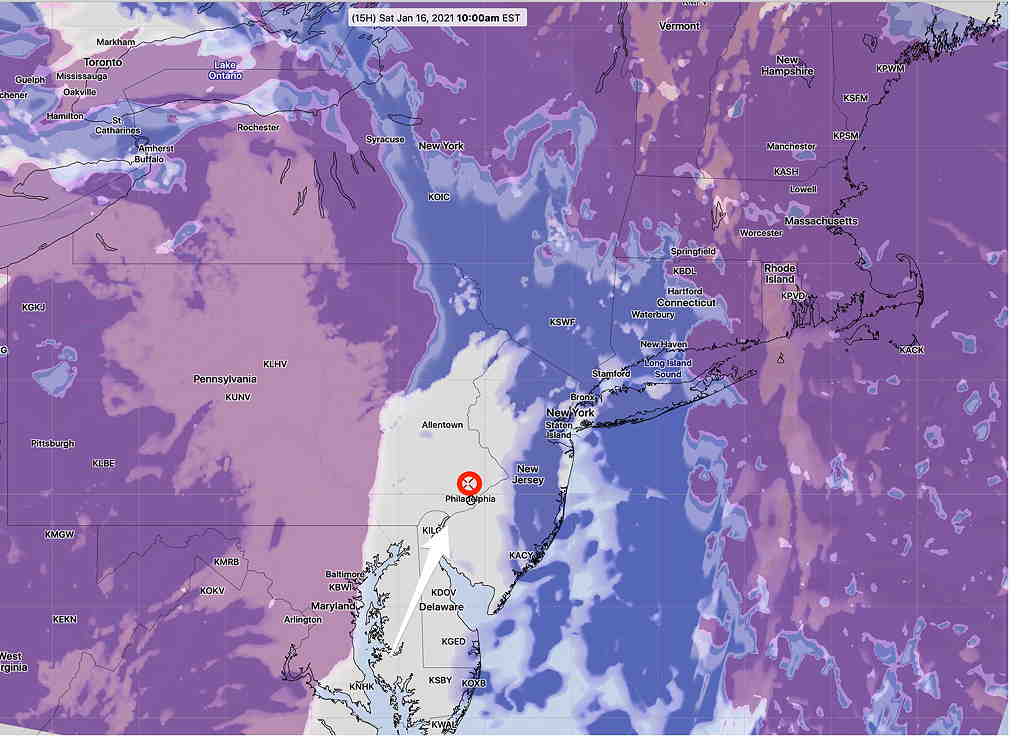 This morning's 12z (7 AM) HRRR (High Resolution Rapid Refresh) model has reduced this area of clearing to a narrow area moving through about 10 AM—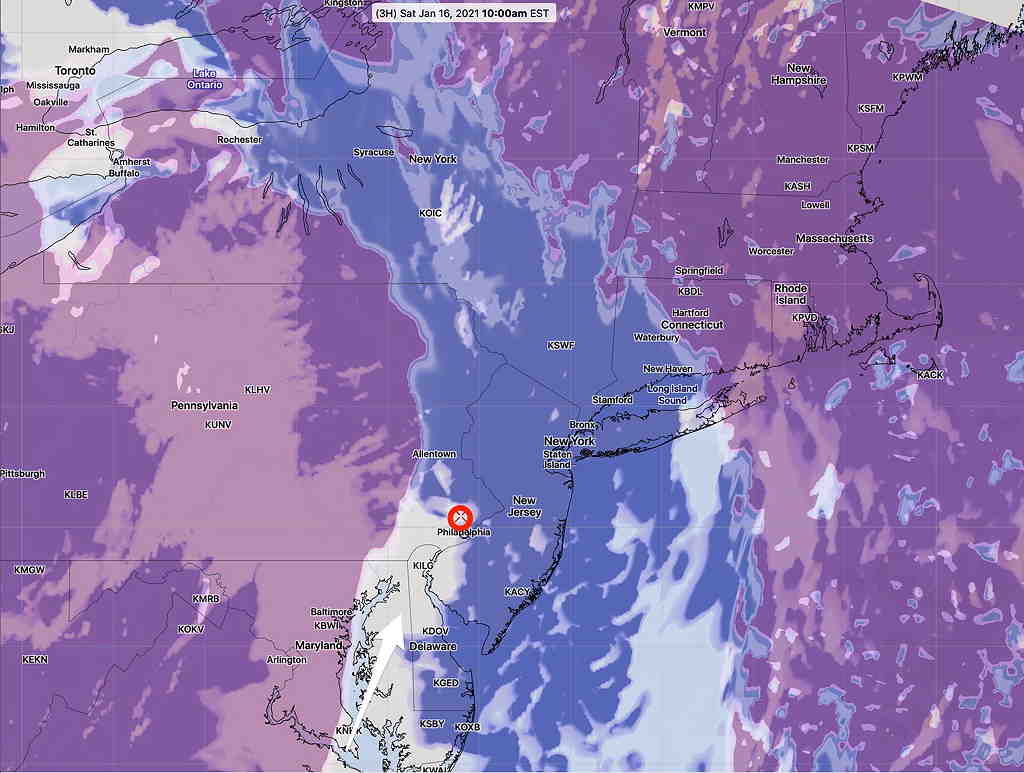 I guess we'll see if we get the brief clearing predicted. Cloud cover is one of the toughest weather parameters to get right.
---
Fri 9:10 PM- Updated Saturday and Sunday forecast below
What had been thought would be a persistent pattern change starting this weekend is turning out to be a just a temporary dip in the jet flow this weekend; a return to non-eventful weather is expected for much of next week.
Regarding the dip in the jet flow this weekend, it's best captured by the 1000-500mb "540 thickness line" (RED), which demarcates a colder, dense air mass from a milder air mass (often a dividing line for rain-snow)—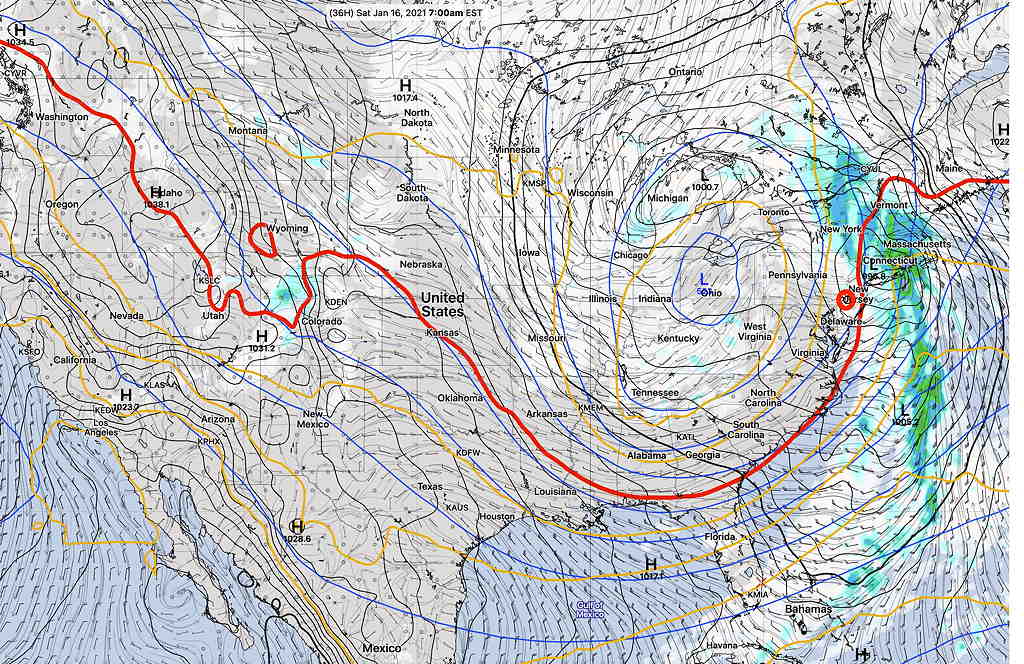 Saturday —
• Showers end around daybreak.
• A few hours of sun early, then considerable cloudiness much of the afternoon.
• Widely scattered light sprinkles possible late afternoon or evening. Possible snow flurry mixes in.
• High temperature 46.4 sd 1.5º early in the day, then slowly falling temps in the afternoon (NBM model) Blue Bell.
• Breezy, winds WSW 9 mph with some gusts to 15 mph
For Sunday, the upper air low pressure system moves off to our east. The pressure gradient will cause it to be windy. An upper air wave approaches during the afternoon. Still above average temperatures for January. (Seasonal average high is 40º and low is 23º Blue Bell.)
Sunday —
• Mostly sunny in the morning, cloudy in the afternoon.
• High temperature 45.1º sd 1.0º (NBM model) Blue Bell.
• WINDY, WSW 12-15 mph with gusts to 25 mph mid-day.
A mostly flat, zonal upper air flow for next week.  Disturbances moving in this flow will bring cloudiness at times, despite the lack of any major storm development. In past winters, this might have been a setup for ice storms in the midwest at the air mass boundary, but a lack of extreme cold and a lack southern jet moisture seems to have ruled that out for the time being, but it's something to watch out for—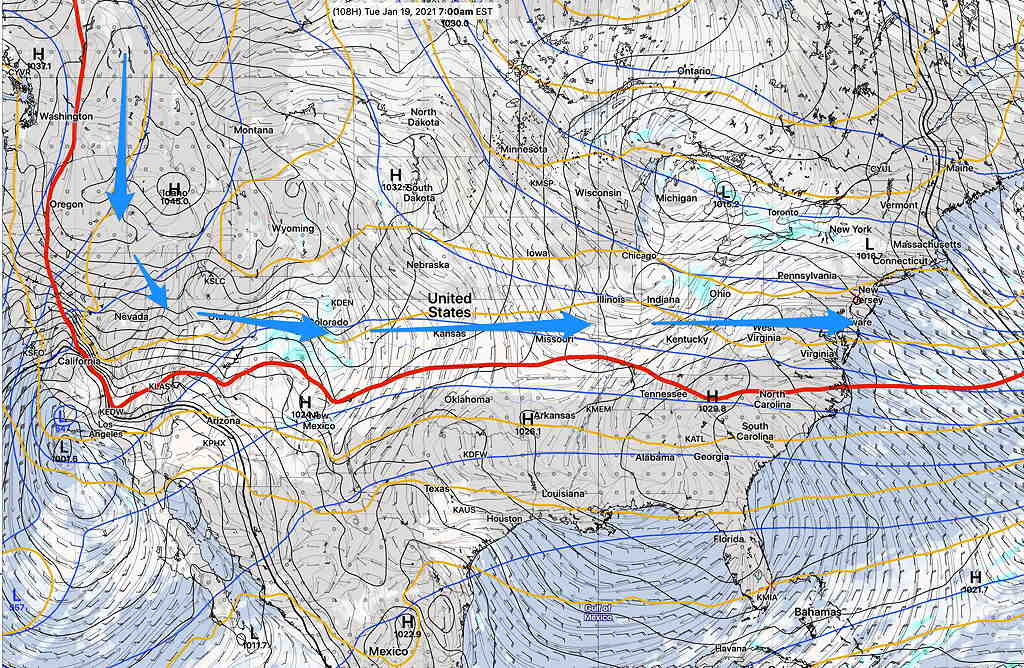 I'll update later this evening for any changes, but the forecast models have been fairly consistent over the past few days.
User Feedback Requested: 
Users, would you like  to see all  updates posted to Twitter or just the major new posts (as currently done)?   Thanks!
This survey expires on 1/20/21