Forecast Updated Wed 8:03 PM — This morning's update captured the trend towards lower snow totals.

Tonight's range models will begin to become available over the next hour (NBM, HRRR, SREF, RAP, NAM, NAM-NEST and HIRESW).   

The late afternoon trend continues with the main axis of precipitation falling from Philadelphia and south; these same areas will have the earliest transition to sleet/freezing rain.
  
This afternoon's Canadian Regional GEM and German ICON model show QPF values of 0.3-0.4 inches water (3-4 inches of snow) prior to the transition to sleet and freezing rain. 

I hope to have an update by 9:30 PM.
Forecast Updated Wed 5:10 PM — Quick update. Precipitation values have reduced from yesterday's models.  3-4 inches is the more likely accumulation from the city north.  More details this evening.
Forecast Updated Wed 8:27 AM — The models are still predicting in the general 4-6 inch range of snow accumulation especially north of PHL, followed by sleet and freezing rain.   Some of the models that are run at 1 AM EST in the morning (the 06z Models) are showing a more southern track with less snow.   

Another issue with snow accumulation not to be ignored is the average temperature of the atmosphere up to 18,000 feet (as depicted by a derived parameter called the "1000-500mb thickness" ) is marginally too warm for most snowstorms in our region.   While it will be cold in the lower layers, the setup really supports sleet and freezing rain.    My real day job will take precedence over these forecasts today, but I'll be back this evening for an update. 
Forecast Updated Tue 10:24 PM — Tonight's short range models have become available still show a heavy punch of snow in the morning, starting before 7AM Thursday followed by significant sleet and freezing rain. About 5-7 inches of snow before the changeover about 1PM.  Northwest areas of Montco and Bucks may stay all snow with higher accumulations.  
There have been some shifts in the model forecasts. The snow will start a little earlier than previously forecast starting as early 4-6 AM Thursday from southwest to northeast.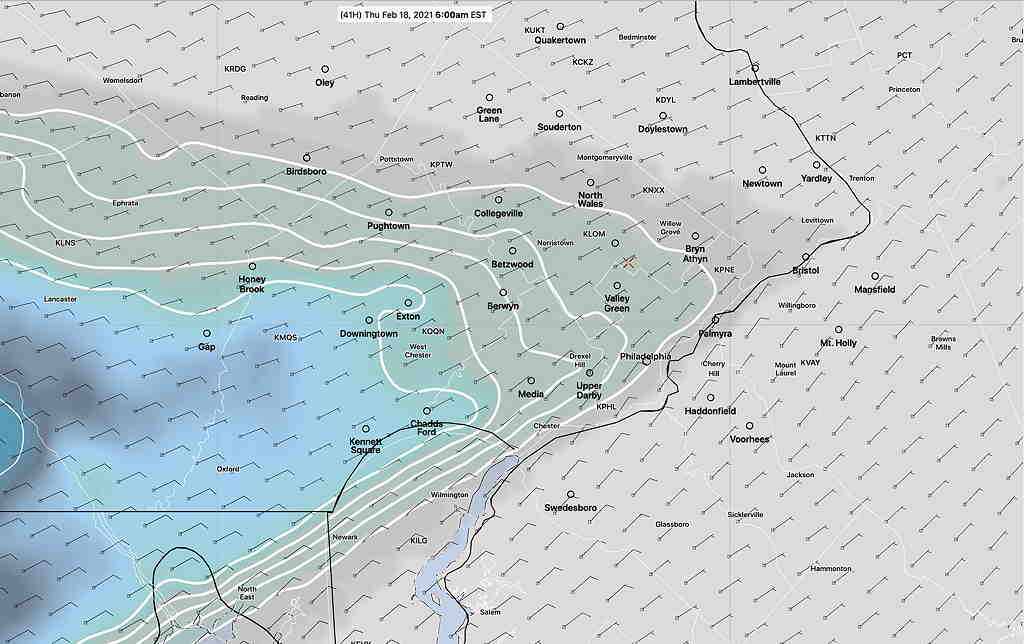 The NAM and NAM-NEST are showing a heavier snow accumulation in the morning prior to a change to snow/sleet and eventually sleet.
The Short Range Ensemble Forecast (SREF), which combines statistical variations of the short range models including the NAM, has quite a spread in the possible snow accumulations and snowfall timing, as depicted in this simple one location meteogram for Blue Bell—

Capturing the spread and uncertainty is the latest Model Blend (NBM) snowfall totals—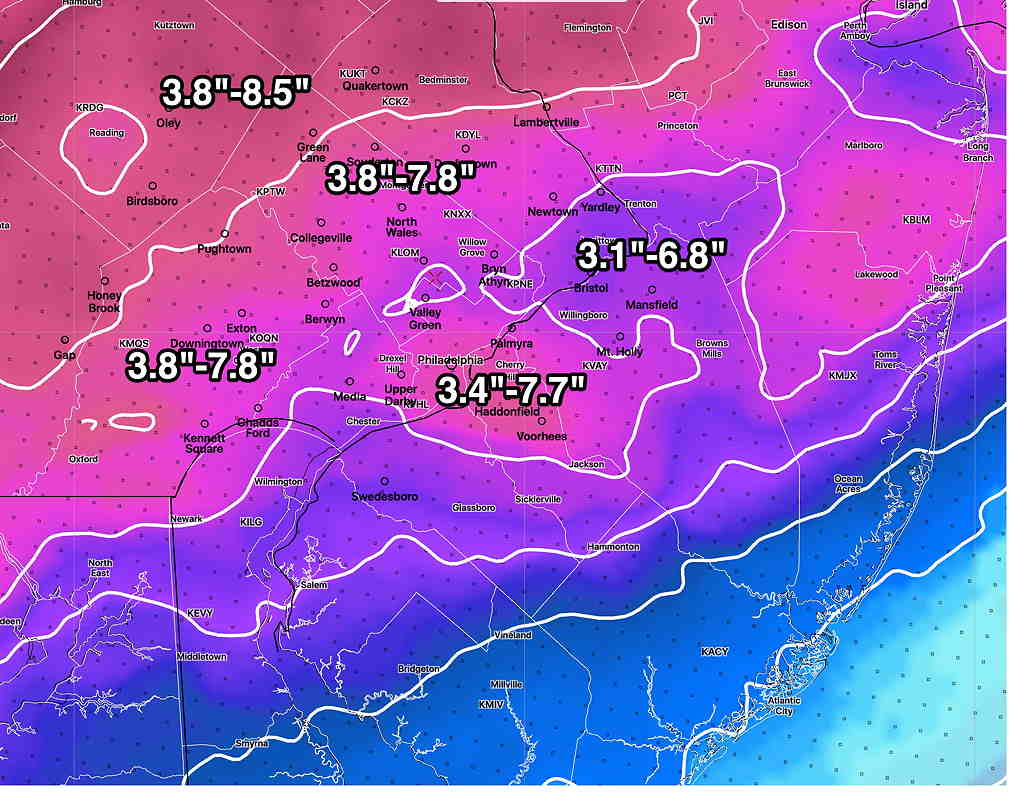 My preferred model for snowfall/sleet has always been the NAM model or a combined NAM-GFS blend. Here's the latest NAM (which tends to run high this much in advance)—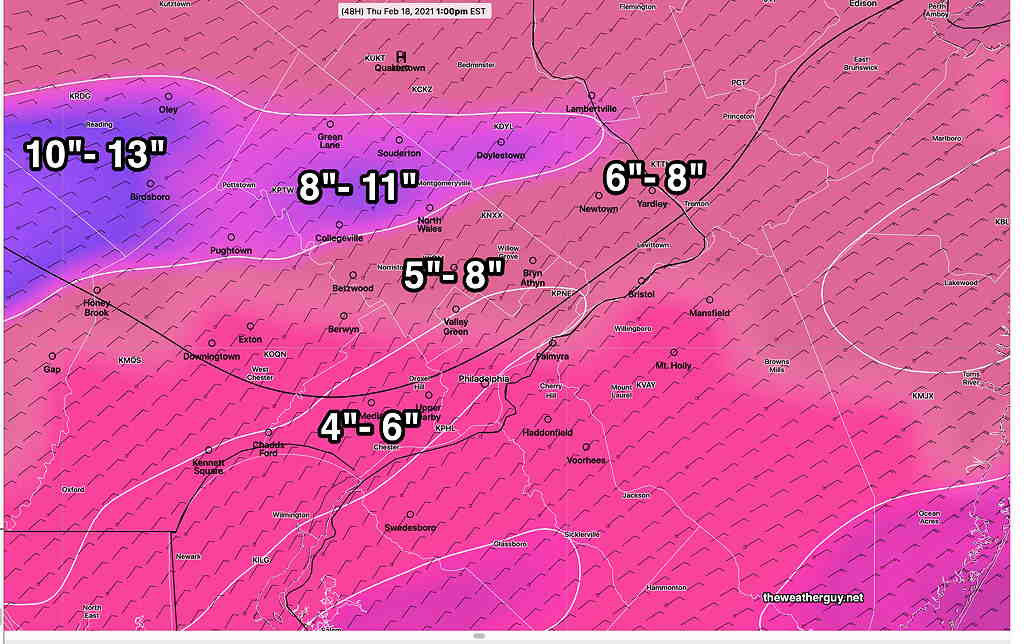 The NAM is showing an early burst of heavy snow during the morning.
Additionally, the NAM has an extended period of sleet and freezing rain on top of the snow after 12-1 PM.
This afternoon's GFS model has just become available as I write this.  The possibility of at least a 5-8" generalized snowfall is forecast with the snow -> sleet changeover delayed into the late afternoon.  
As usual, we have uncertainty with a coming snowstorm. But the trend is for a more significant snow accumulation. Stay tuned for updates.