theweatherguy and Twitter – Life after Twitter?
Click here.
Colder Sunday
Update Sat 11/12 @ 6:13 PM —
A cold front moves through after midnight tonight (Saturday) with showers. Colder air moves in Sunday and especially Sunday night. A mix of clouds and sun with highs 50.8º sd 1.8º NBM model, Blue Bell. (Average high this week is 54º-55º)


The long term outlook is for temperatures to be at or below normal for the next 10 days or so.
It will be fairly windy and gusty—

BTW, how much rain did we get on Friday? Not as much as it seemed—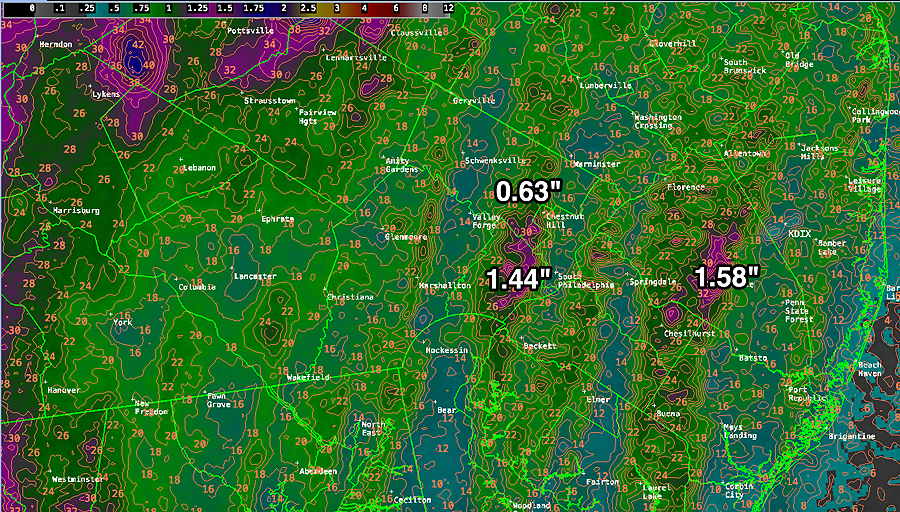 ---
Where's the Sun?
Update Sat 11/12 @ 5:26 PM —
Well, my 'experiment' with relative humidity didn't work. The models were correct and we had mostly sunny skies. I do realize what I had overlooked— there was too little moisture at upper levels. Anyhow, I always like to see what parameters connect with sensible weather and this is what makes it fun for me.
We might have a chance to try the same technique tomorrow. 🙂
Update Sat 11/12 @ 9:31 AM —
I was curious about the amount of sunshine today. For a reason. The models' cloud algorithms are still pushing clouds to dissipate with sunshine, but a look outside suggests otherwise.
The latest GFS and HRRR all show little to no cloudiness at this hour. Not correct and not the first time their cloud algorithms under-forecast cloudiness.
What the models all show is significant moisture at about 3000 feet (925 mb height). Here's the GFS current model—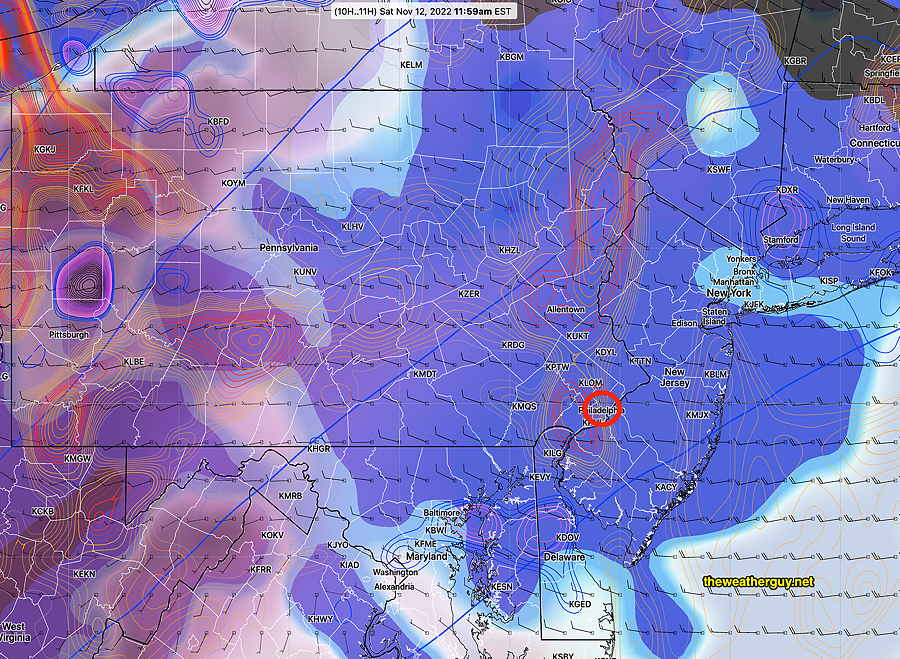 Water Vapor shows upper air disturbance (vorticity)—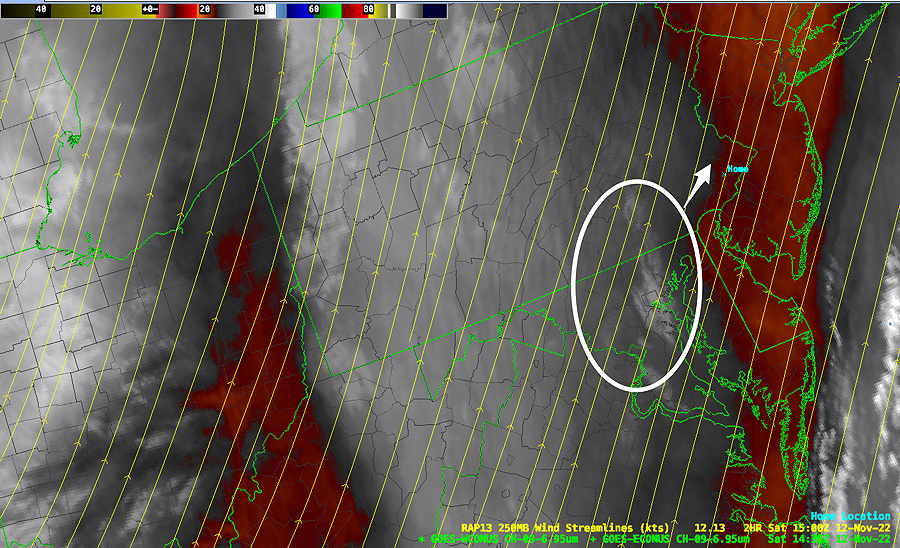 So if we use the model's cloud algorithms, we have sunshine shortly. If we use 'my technique' of relative humidity at specific levels combined with voriticity, we have clouds lasting until about 2 PM or so. 'My technique' has let me down in the past, so it's an interesting experiment.
---
Updated Fri 11/11 9:41 PM —
Tonight's models are pushing more sun, little cloudiness on Saturday.
Previously Posted Fri 6:21 PM —
The remnants of what was Nicole will depart around daybreak Saturday and we will likely wake up to a mix of clouds and sunshine.
We can see the remnants of Nicole plainly visible on the current water vapor satellite image, but also note a developing disturbance (white circle) that will affect our weather Saturday night—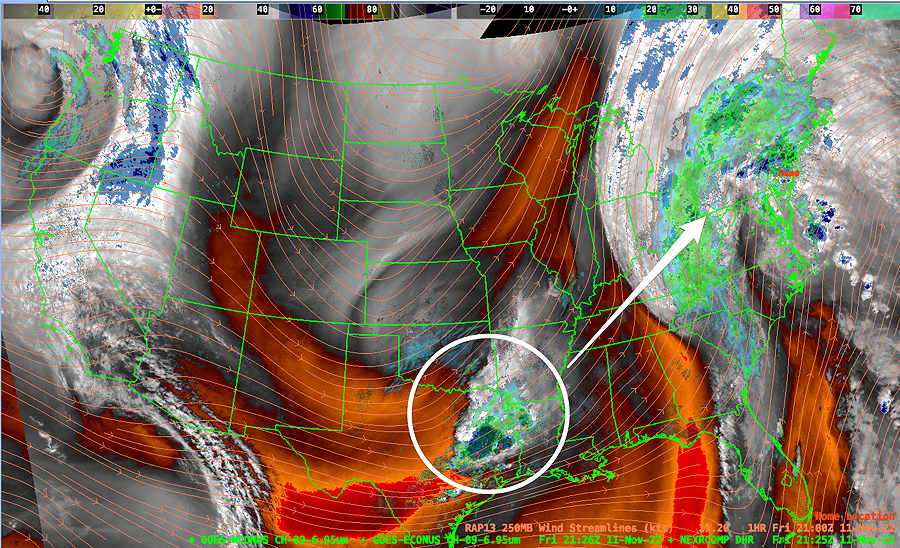 Saturday
A mix of sun and clouds in the morning, but there may be periods of considerable cloudiness later in the afternoon as a secondary cold front and the disturbance approaches. It will be mild in the morning (upper 60s), but temperatures will be dropping slowly to near 60 after 2 PM. Windy in the morning, but winds should slowly decrease during the day.
High temperature 68.1º sd 1.1º NBM model Blue Bell, PA (this high will be in the morning.)
Some showers moving in late evening.
Sunday
Showers should depart early morning. A period of sun in the morning will give way to instability cloudiness in the early afternoon. The sun may break out again late afternoon. Winds breezy and somewhat gusty.
High temperature 50.6º sd 1.8º NBM model Blue Bell, PA
Areas of temps at or below freezing Sunday night in areas north and west of the city.