Poor Forecast—
Forecast Review Sun 11/06 @ 12:06 PM — "I thought the rain would stay to our west?"
Folks, I was off-duty most of Saturday 😉 and I thought I could coast on what seemed to be a high confidence forecast with any rain staying to our west. BUT not so!
When it started raining about 10 AM this morning, I went back to look at last night's models and, as suspected, none (except for the ECMWF and Canadian HRDPS) showed any rain for the immediate PHL area for this morning.
Since the ECMWF has shown a tendency to over-predict precipitation over recent months, had I actually looked last night at updating the forecast, I probably would have ignored it.
Even the new GFS v 16.3 didn't show rain here this morning. Numeric Weather Prediction (" the models") often amazes me. Not today.
Update Sun 11/06 @ 9:23 AM — Periods of clouds and periods of sun throughout today. Radar is showing some showers moving in from the south, somewhat further east than had been forecast yesterday. Some parts of the city may has a few showers. The models have been consistent with the most cloudiness between noon and 3 PM. High temperatures 75º ± 1.5º. Breezy and gusty winds to 25 mph.
Enjoy the mild weather. A change coming Friday with a tropical-sourced coastal system followed by a stronger cold front.
---
Update Sat 11/05 @ 8:57 AM — We had less fog than forecast this morning and that will likely be true again on Sunday.
The models are in agreement with front barely making it through Philadelphia on Sunday.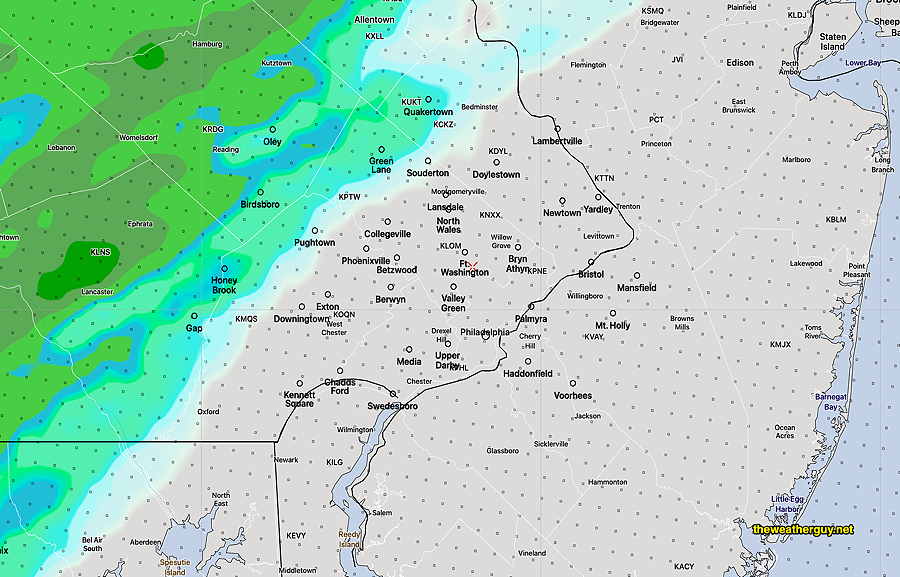 There's a range of uncertainty with the amount of cloud cover for Sunday, with the NAM-NEST showing considerable cloudiness for much of the day and the GFS having considerable breaks of sun except for a period of thicker clouds in the early afternoon.
Uncertainty in the cloudiness will affect the high temperature forecast. Either way, expect temps in the 70s.
---
Update Fri 11/04 @ 5:51 PM — Updated forecast below to include wind gusts both Saturday and Sunday and early morning fog Saturday. Also light scattered showers Sunday morning, based on latest HRRR model.
Unseasonably Warm Saturday & Sunday
A warm southwesterly upper air flow will bring unseasonably mild air to us Saturday and Sunday.
Current water vapor image (Friday) shows strong upper ridge over the eastern US and a sharp trough in the mountain region of the west. A front in the central part of the country will lift north and west of us.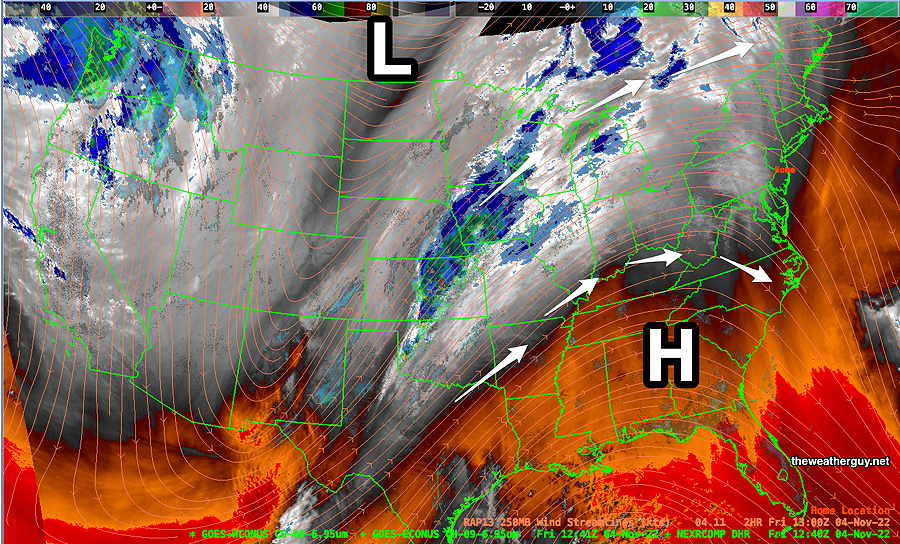 The ECMWF model forecast for the above water vapor image—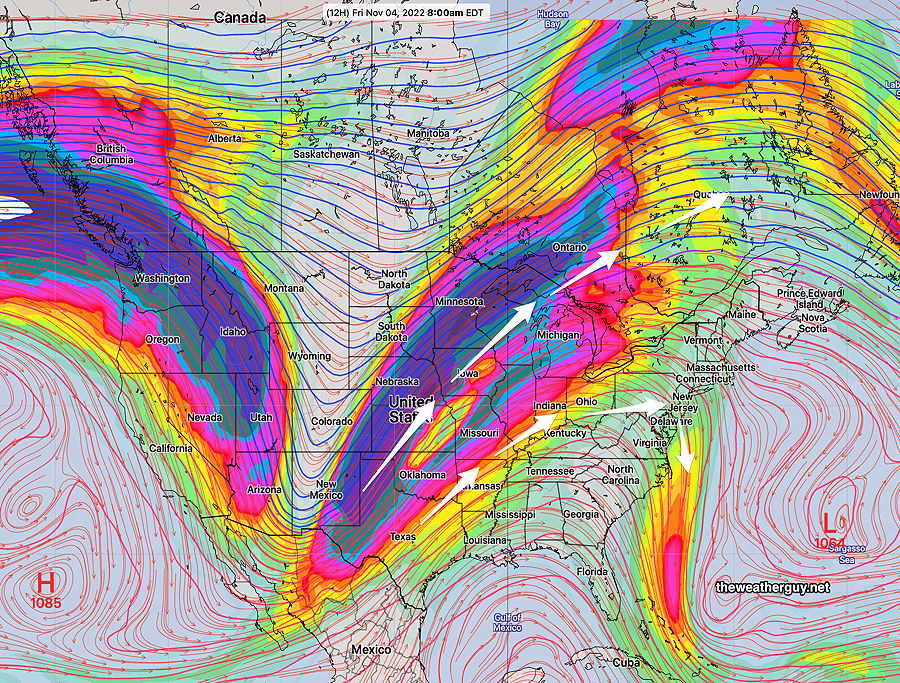 The deep trough in the Rockies will flatten as the amount of cold air is limited by this push. By Sunday, things look very different but we'll still be in a southwesterly flow —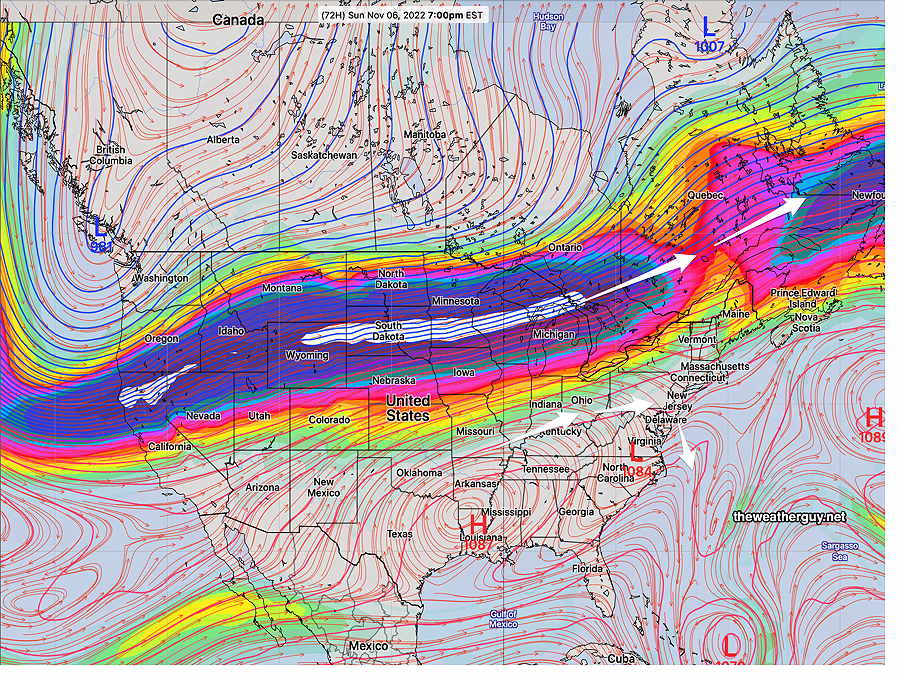 With the upper air trough dissipating, there won't be much support for the cold front when it moves through our area early Sunday afternoon.
Update: High resolution models show some light showers making it into the immediate PHL area Sunday morning.
The GFS just shows a brief period of clouds moving through Sunday afternoon —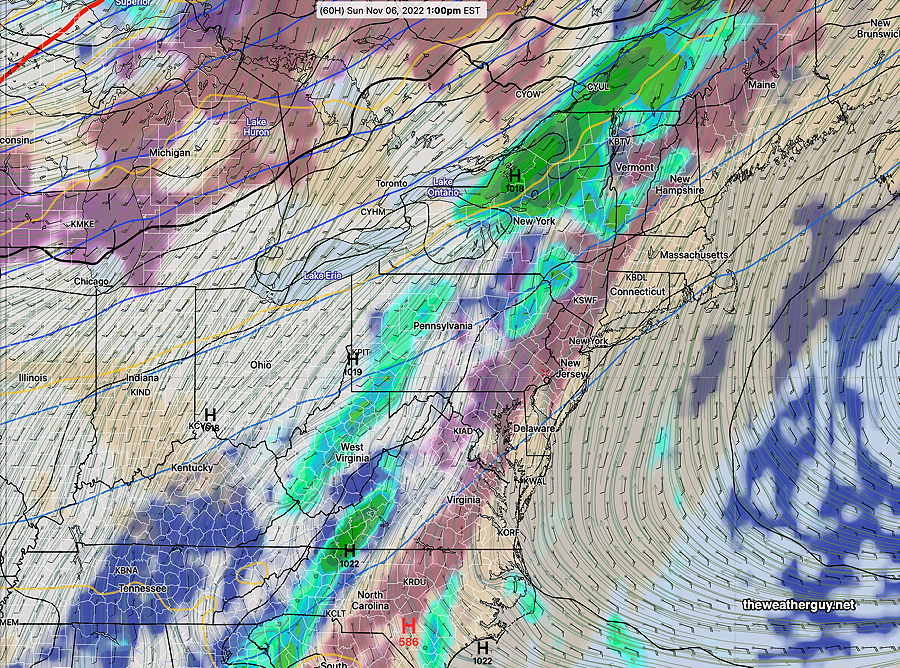 Saturday
Considerable fog early morning, then sunshine through high thin cloudiness. Somewhat gusty winds from the south about 20 mph.
High temperature 74.5º sd 2.8º NBM model Blue Bell, PA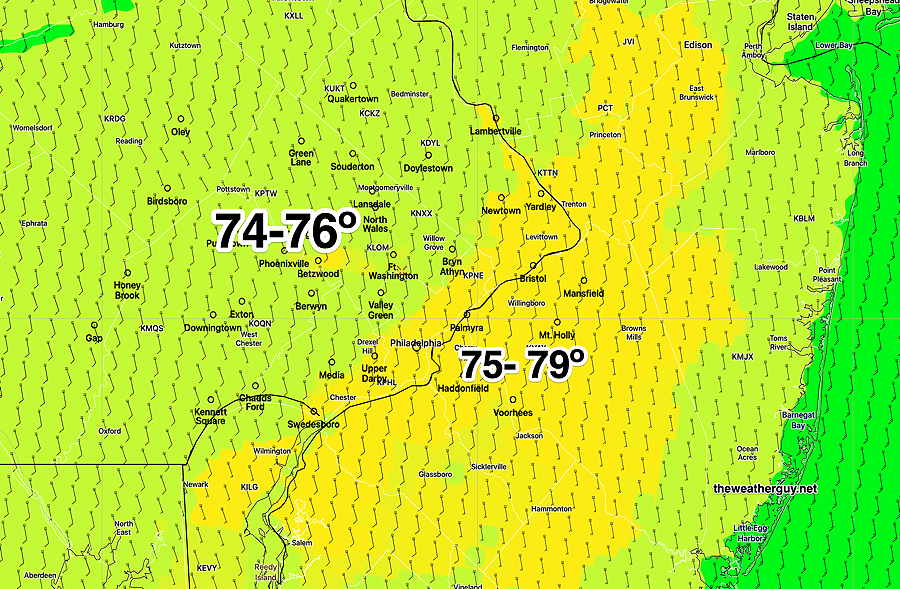 Sunday
Areas of fog early (less than Saturday), then brightening skies. A few widely scattered light showers in the morning. A period of mid-level clouds in the afternoon with the remnants of the cold front. Fairly windy with wind gusts from the South Southwest over 30 mph.
High temperature 75.5º sd 1.8º NBM model Blue Bell, PA