Sun 09:59 PM Forecast Review — The models did well with the forecast for the storms to diminish as they approached Philadephia Sunday evening.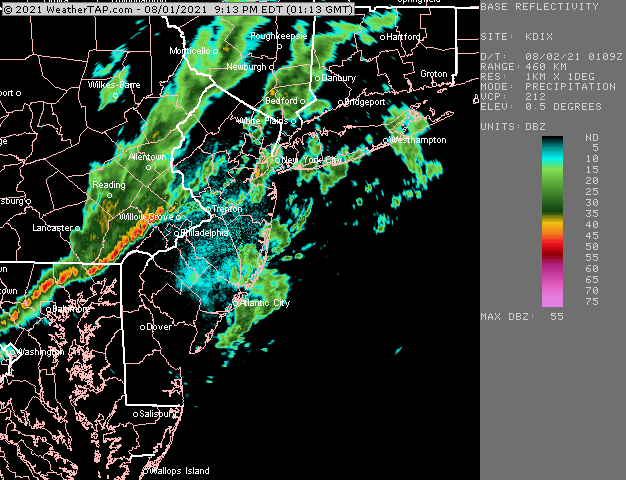 I'm trying to get past yesterday's model forecast failure in the immediate Philadelphia area. Anthony Wood wrote a Philadelphia Inquirer article which mentions the forecast failure, but the expert he interviews provides an excuse, not any real answer, to explain the forecast failure. With so many models incorrectly forecasting heavy rain/storms in Philadelphia proper, the only thing I can postulate is there was some essential upper air data that was missing and/or systematically incorrect. But let's move on…
---
Updated Saturday forecast, Fri 10:30 PM highlighted below
Updated Sunday forecast, Sat 8:30 AM highlighted below
Updated Sunday forecast, Sat 7:40 PM highlighted below
Updated Sunday forecast, Sat 11:40 AM highlighted below
Updated Sunday forecast, Sat 9:15 PM highlighted below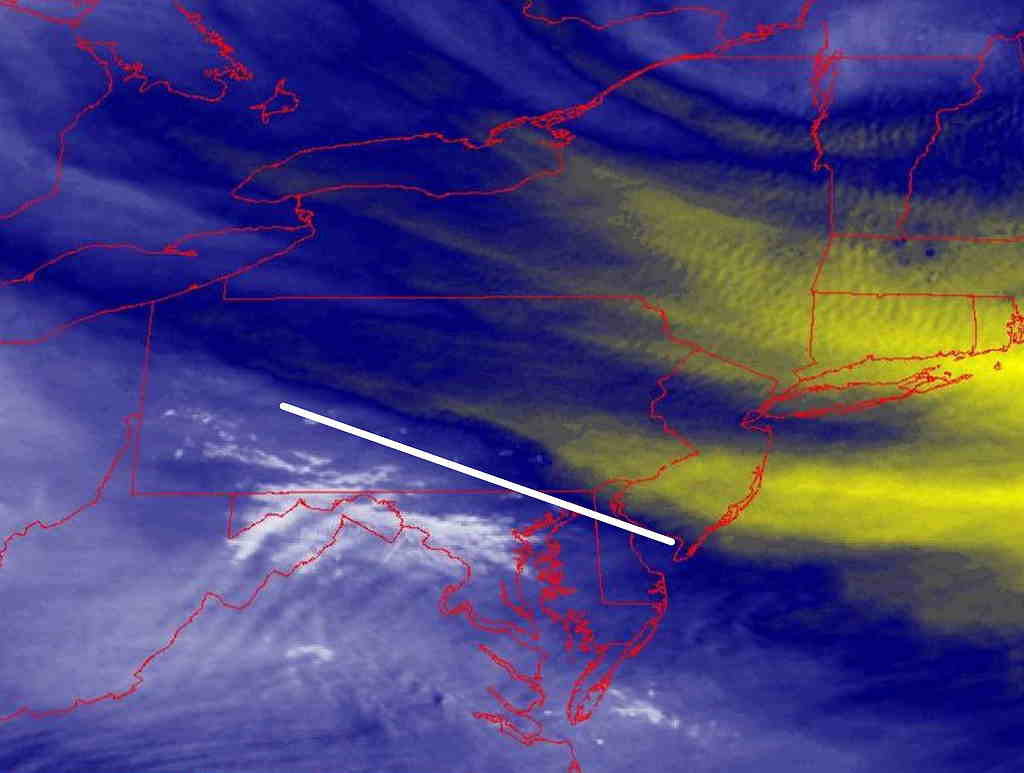 The front that moved through here Thursday is south of us, but the boundary isn't that far south as shown on today's water vapor image—
The cool air that's with us on Friday will remain through Saturday, but aloft, warm humid air will try to return northward. Some cloudiness will develop as this moisture tries to return and will affect areas from the city southward according to the GFS. Any cloudiness dissipates by the afternoon. (The NBM has very little cloudiness.) Still a very nice day with high temperatures 78.7º ± 2.2º Blue Bell (NBM) and very low humidity.
Sunday's weather will be influenced by a warm front, followed by a strong upper air disturbance with a cold front moving through Sunday evening.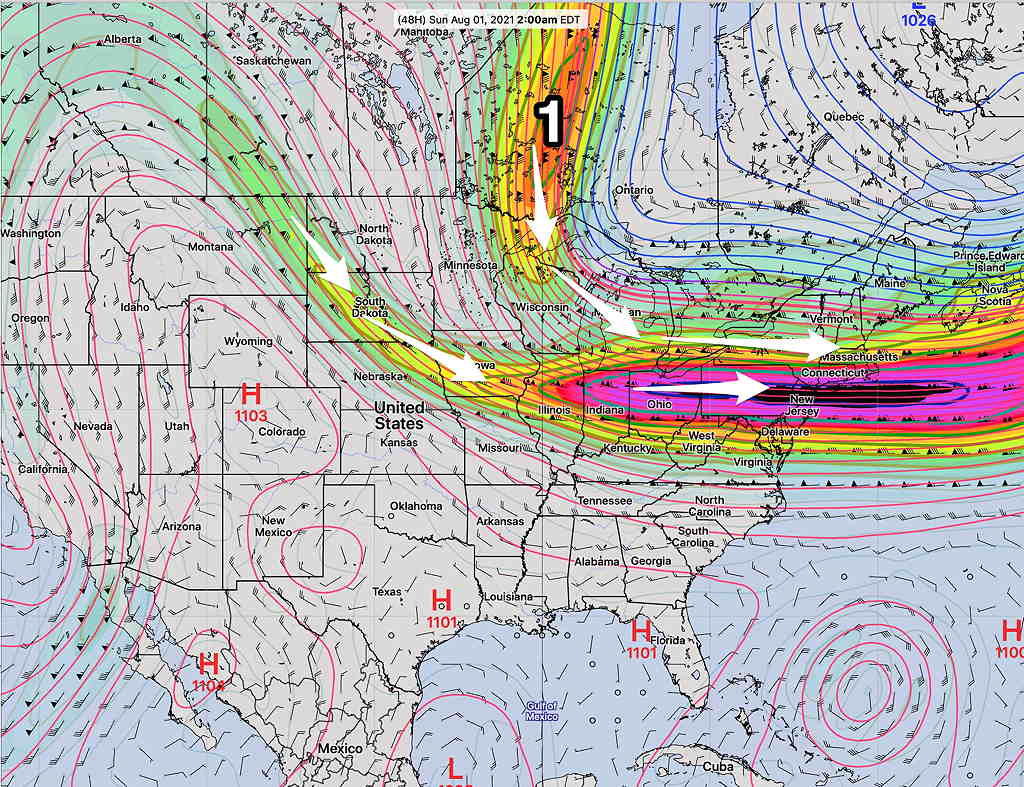 The warm front will continue to push from the south aloft. This will result in cloudiness and some scattered showers Sunday. The NBM has considerable showers, the GFS not so much.
Update: Today's GFS joins the other models with showers/thunderstorms for most of Sunday, starting during the morning and continuing through the afternoon as the warm front moves through. There may be a break in the action late afternoon. Additional showers/thunderstorms during the evening, about 9 PM.
Update: Most models have the line of thunderstorms Sunday evening weakening as it approaches Philadelphia from the west; they may not make it into the city or eastward.

At 9 15 PM, there hasn't been much weakening of the line of storms. We'll see what happens..
Update: The GFS maintains very little in the way of showers during the day. Any showers/thunderstorms in the evening will be mostly north and west of the city, less into Philadelphia. High temperatures 77.9º ± 3.3º Blue Bell (NBM) with higher humidity/dewpoints in low 60s.
As the cold front moves in Sunday evening, more showers and thunderstorms are likely. Current estimates are between 6-9 PM.
This upper air impulse (above graphic #1) will be the kicker for a very amplified jet flow next week. We'll be on the cool side of things, but the amplification will spawn low pressure that, depending upon the exact track, may provide very unsettled and rainy conditions, especially by next Thursday.