Update Thu 6:09 PM : Tonight and Friday should be a very low thunderstorm probability timeframe. The later part of Saturday and Sunday look to be active weather days.
---
Thu 06:05 PM Forecast Review —Some thunderstorms did develop around the region Wednesday evening, but not where the models had forecast; instead of south and west of the city, they were mostly north and east.
---
Updated Wed 10:19 AM : As mentioned yesterday, the models didn't do too well with thunderstorm prediction on Monday and Tuesday.
For today, Wednesday, things are a little different. An upper air trough (see graphic below) moves through about midnight and this upper air support along with several areas of vorticity ahead of it are expected to trigger thunderstorms in advance between 4 PM and 11 PM tonight. Currently, the models have the heaviest activity to our west and south, but show scattered activity elsewhere as well. Precipitable water about 1.8″, CAPE = 1800, Lifted Index= -6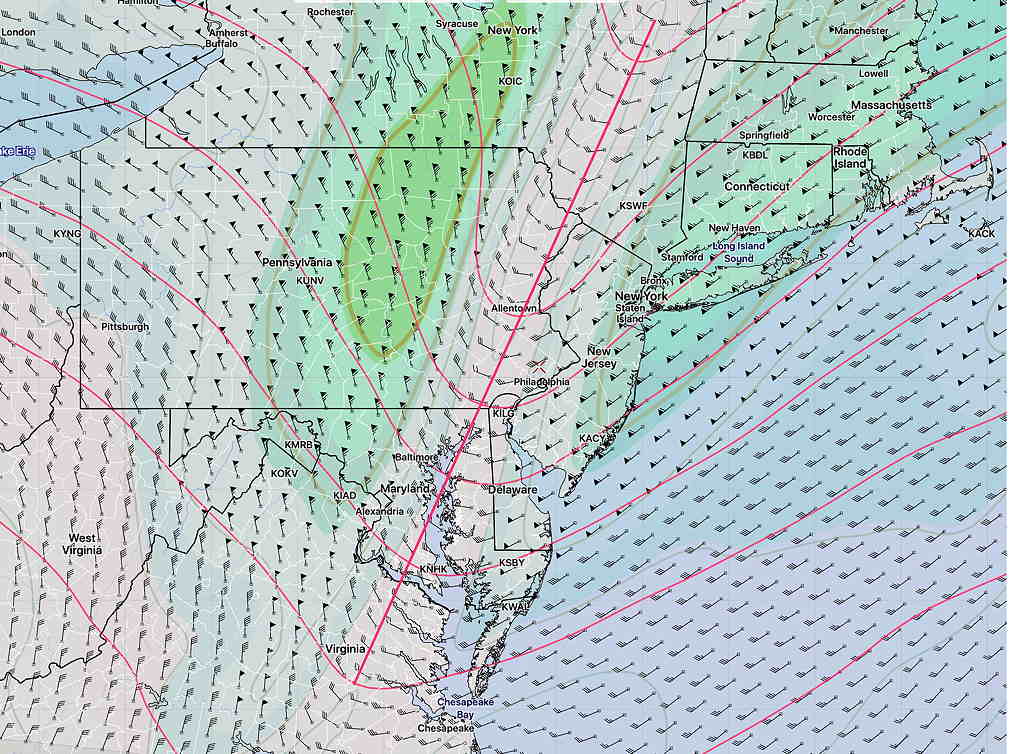 ---
Updated Tues 7:30 PM: I'm glad I've been taking a break from posting any mid-week weather forecasts over the past two days; most if not all of the models have been wrong about the high temperatures and the thunderstorm development today, Tuesday.
An unexpected change in the position of a frontal boundary gave us an easterly stable wind flow, lower temperatures, and as of this post, no thunderstorms.
The boundary is south, across Delaware, and it's unclear when it moves north past us, whether we'll have and thunderstorms later this evening or on Wednesday. The numerical weather models so often impress me. Not today.
---
It shouldn't be any news to anyone that we're entrenched in a hot and very humid air mass.
High instability (Lifted Index = -6 and lower) and high CAPE (>3000 J/kg) along with some upper air disturbances have set off thunderstorms. Precipitable Water values are more than 2.2 inches.
While my immediate neck of the woods hasn't seen more than a few drops of rain, areas just a mile or so down the road have had severe thunderstorms with very heavy rain.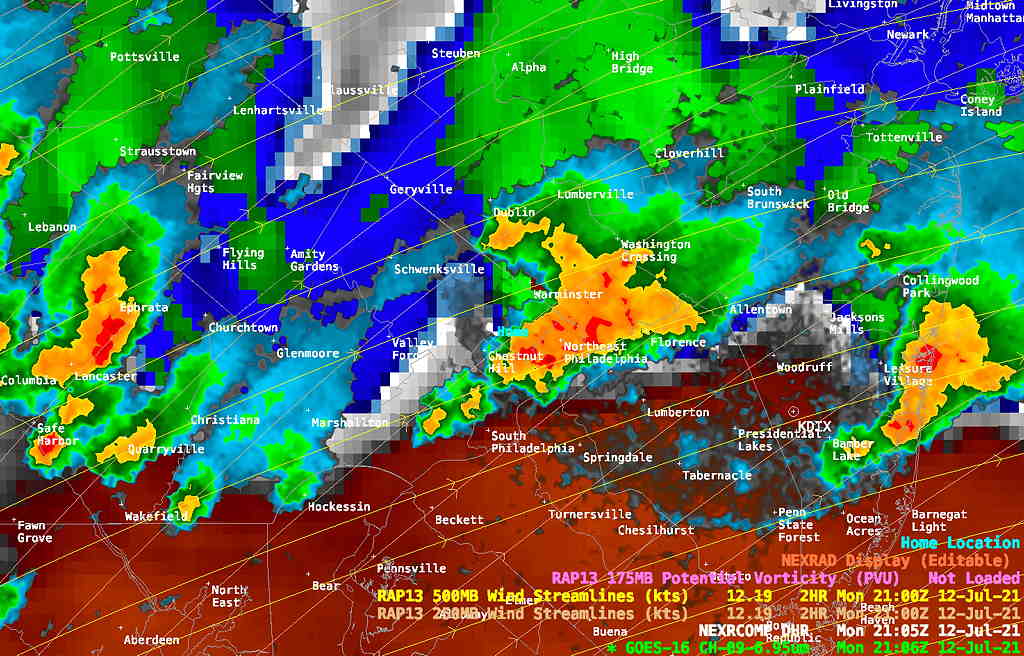 Thunderstorms are expected to continue in some areas past midnight.
More storms expected after 1-3 PM Tuesday.