Wed 08:17 AM Forecast Review — The storms did re-develop dynamically last night between 10-11 PM right around the PHL area. Some were very strong (we lost our power). That's what you get when
CAPE
values are >3000 and the
Lifted Index
is in the -8 range.
For today, Wednesday, most of last night's models have the major dynamics staying to our far north and west. Some thunderstorms possible 5-11 PM , but not as severe as last night.
Updated on Tue 7:26 PM highlighted below
The storms popped early due to high instability, but luckily, not the severity that had been forecast. The intense storms formed far north, in NYC.
As post-storm forensics, I guess there were very low jet stream winds to mix in in this area.
The latest GFS and RAP models have another disturbance moving through between 10-11 PM tonight. The earlier storms have stabilized the atmosphere. We'll see what happens.
---
Updated on Tue 5:28 PM highlighted below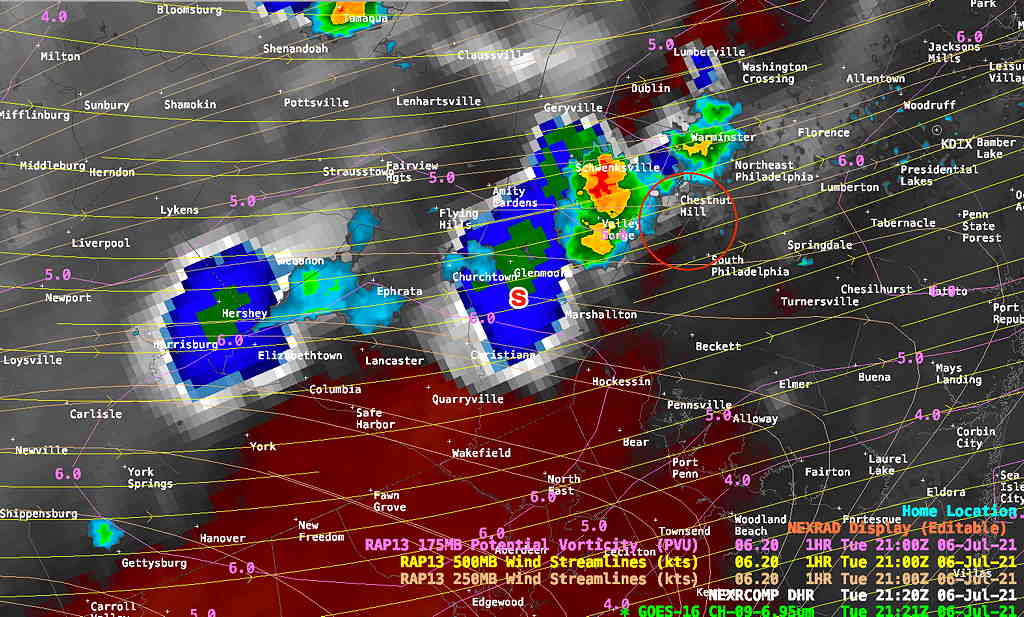 A quick mobile post. Models all have thunderstorms, likely severe, moving through between 6 PM and 10 PM this evening. CAPE values are very high at 3000 J/Kg and instability Lifted Index very high at -8. Storm motion and shear vectors nearly parallel providing an environment for strengthening.