Thu 05:41 PM Forecast Review —
The trend was for an earlier start and the heavy rain came through about 1.5 hours earlier than forecast.
Rain totals were in the 1-2.5″ range, according to the latest MRMS —
Showers will linger this evening as weak low pressure formed near us.
Update Thur 10:45 AM— This morning's high resolution models just becoming available. Front moves through 2-4 PM with heavy rain, some embedded thunderstorms and high wind gusts both prior to and after the frontal passage. Rain totals 1.5-2″ with locally higher amounts.
Here are some areas of potentially severe weather based overlap of higher CAPE values and higher helicity —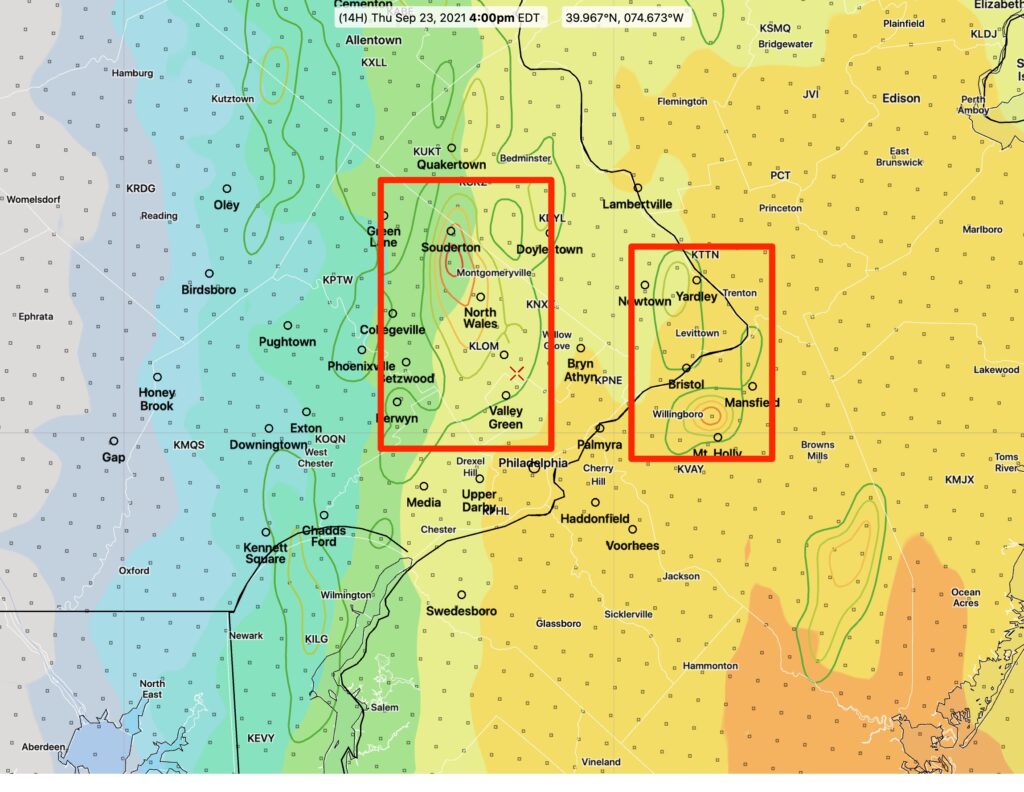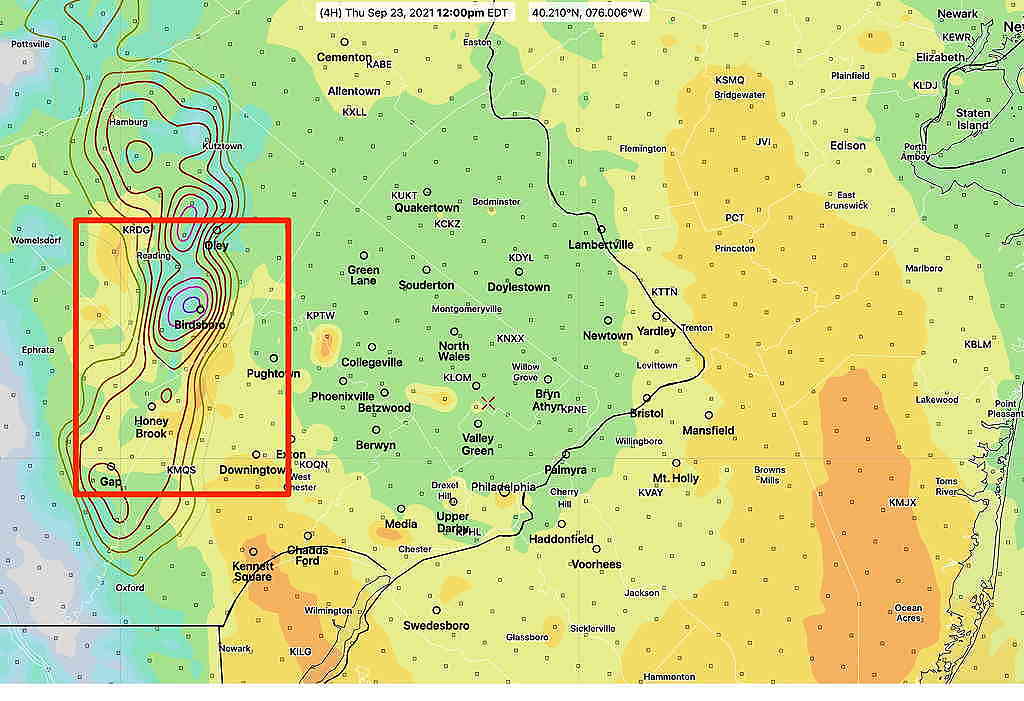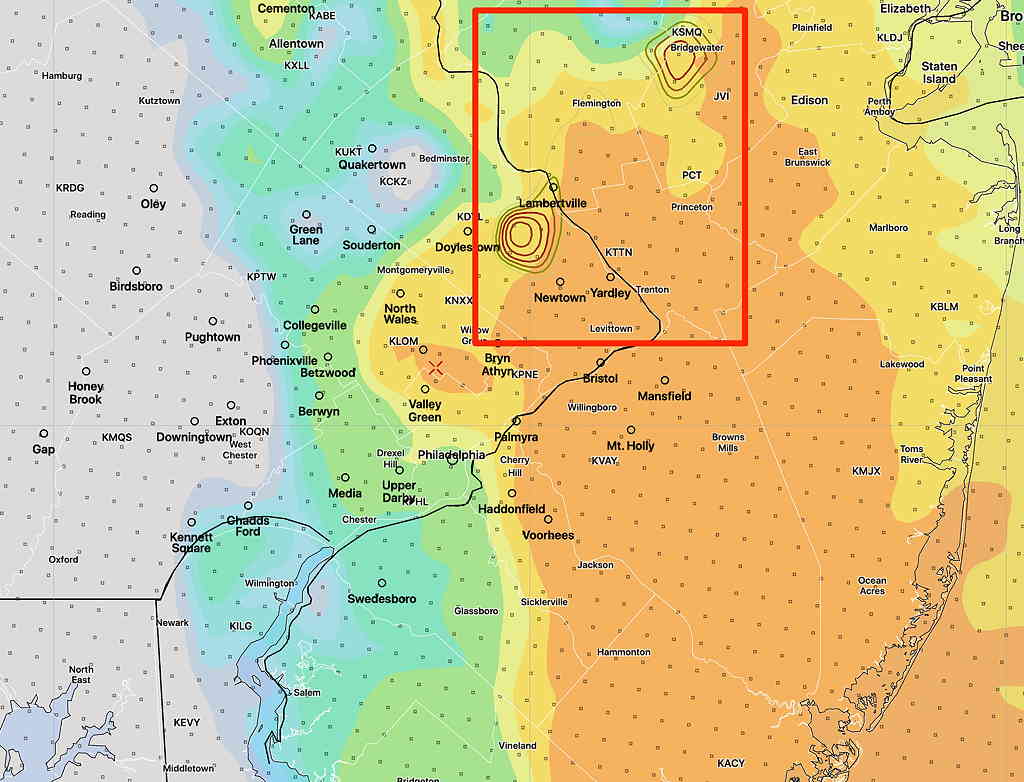 ---
Update Wed 9:45 PM — Tonight's models just coming in suggest an earlier frontal passage, about 3 PM. An earlier start for showers, about 10 AM. Heavy rain and high wind gusts expected earlier, about 2-3 PM. Rain will continue into the evening. About 1-2 inches of rain total.

---
Wed 7:20 PM — The timing of the the cold front passage for Thursday has been a difficult call for much of the week, as the models have all differed with this system. Things have come more together this afternoon, with the deep low pressure system over Ohio propelling the front through earlier than previously thought: about 9 PM Thursday.
Ahead of this front, strong dynamics, at all levels including the lowest levels ("lower level jet") will bring gusty winds and abundant moisture.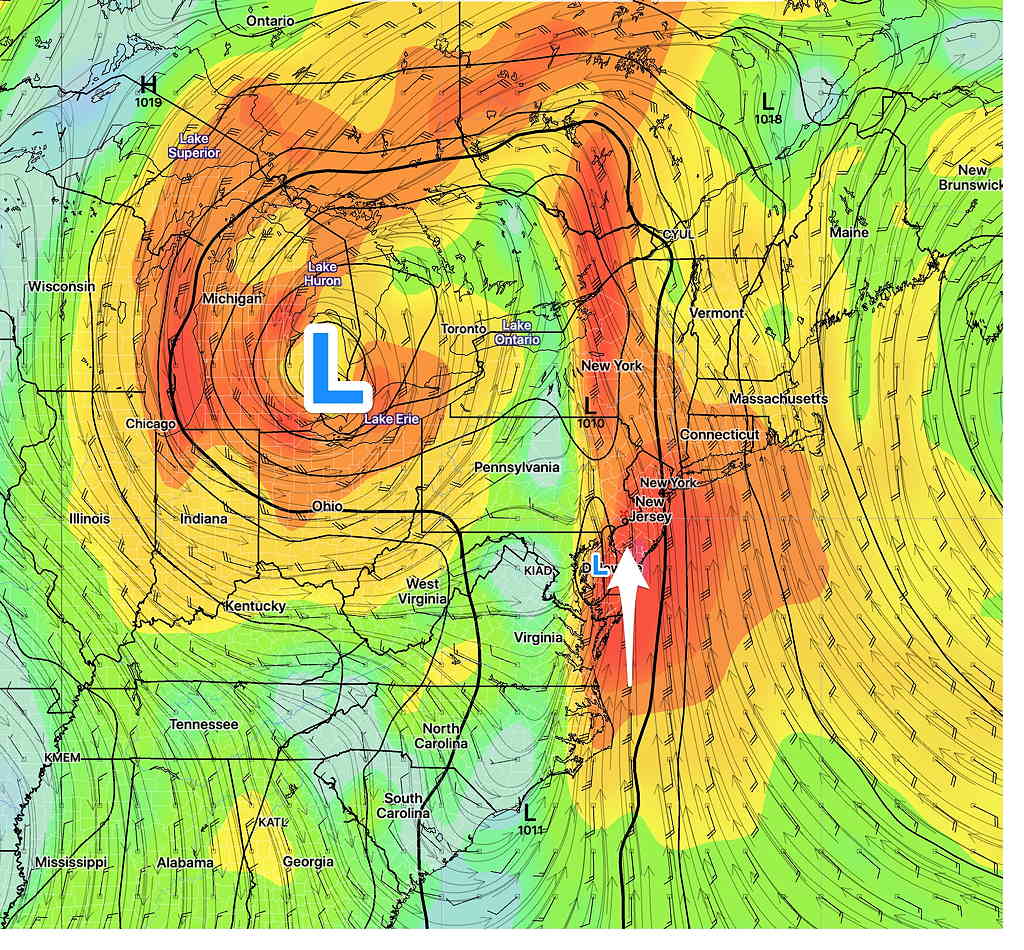 Some significant showers develop as early as 11 AM to noon over our area. The main dynamics move through during the afternoon. The time-frame to watch is around 4-5 PM, where high wind gusts and heavy rain will be moving through and continue until about 9 PM Thursday.
Currently, the forecast CAPE values are less than 600 (suggesting that any thunderstorms that form could be strong, but not severe) and while helicity values are high (>400), the helicity doesn't overlap with the higher CAPE; tornadic activity is not likely.
The main issue will be heavy rain (latest NBM is forecasting over 2″ of rain) and high wind gusts. Stay tuned.
---
Tues 9:22 PM — A brief plunge in the jet will bring a cold front through about 1 AM Friday morning. A strong upper closed low will form over Michigan, but will lift into Canada on Friday.

A southeasterly flow of moisture ahead of this low will result in showers developing as early as Wednesday afternoon. With this frontal passage, rain with some embedded thunderstorms will develop on Thursday during the daytime and especially during the evening.

Fairly heavy rain (1-2 inches total) and increasing winds will be our weather over the 36 hour period from Wednesday afternoon until about midnight Thursday.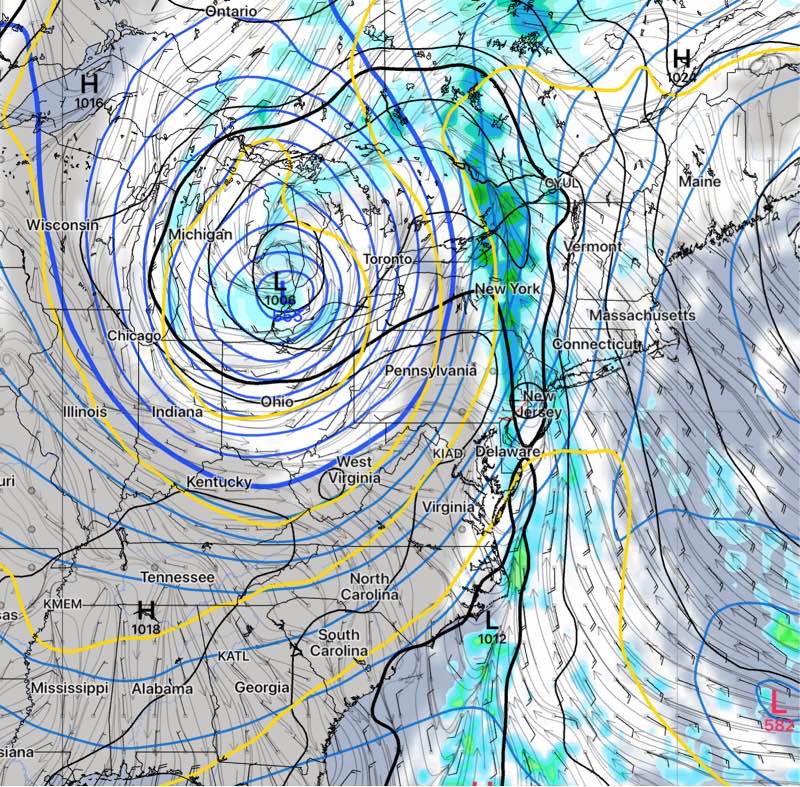 Another cold front moves through over the weekend.

---

Original post
Autumn 2021 begins on Wednesday, and just in time, the jet stream makes a deep plunge with colder air briefly pushing into the U.S..
As mentioned in Friday's Weekend Forecast, some models have the "540 thickness line" (the generalized demarcation between rain and snow in winter) making its first appearance for the season on the weather map.
The GFS isn't forecasting as cold a plunge in the jet flow as Friday's ICON model, but it still shows a considerable plunge in the jet.
The cold front that is associated with this plunge will move through sometime late Wednesday into Thursday with some heavy rain possible.
Prior to the front, continued warm weather on Monday with increasing cloudiness on Tuesday. Some showers possible on Wednesdayahead of the actual front.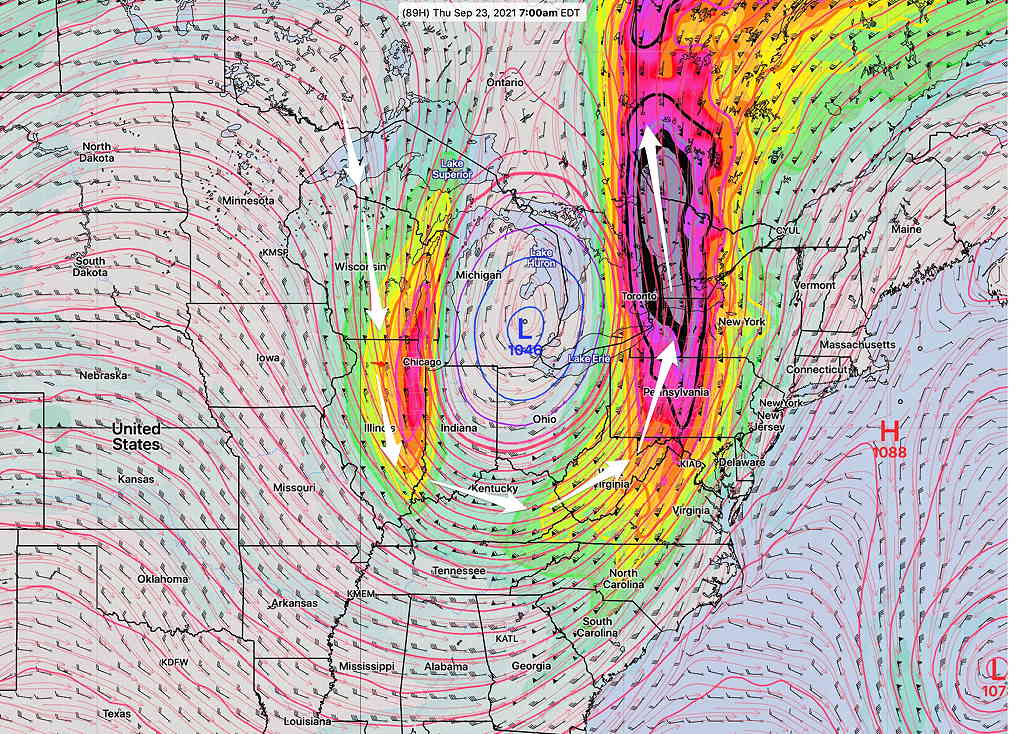 This jet plunge will pinch off into a closed upper low that near Ohio, eventually opening up over Friday into the weekend. As a result, some of the details in timing with this week's forecast are uncertain at this time.