Deep low pressure in the mid and upper levels of the atmosphere will move over western Pennsylvania on Saturday as it spawns a secondary coastal low pressure system at the surface. Several other low pressure systems will rotate around thia main upper low. The systems will slowly exit through Sunday.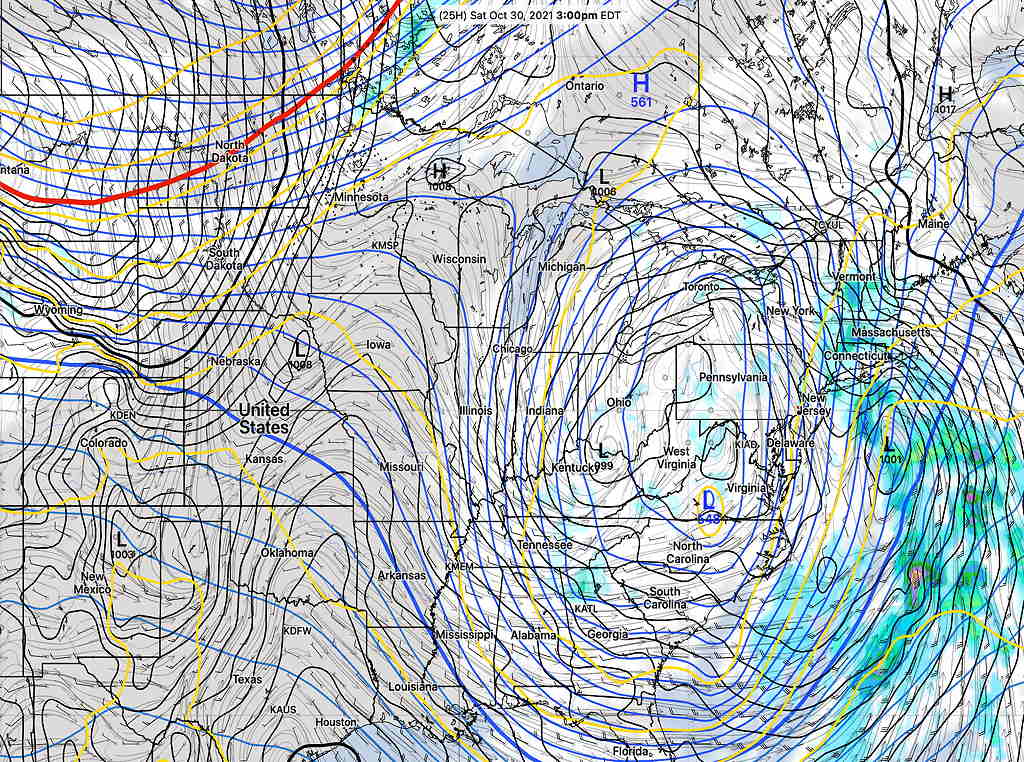 Saturday
Update Sat @ 9:42 AM — This morning's first 12z models have become available. For the immediate PHL area, it looks like it will be dry today. Sunny with periods of clouds. The new HRRR has significant cloudiness in the afternoon. Areas just to our east (Delaware river and east) may have some scattered showers from the coastal surface low later this afternoon and evening.
Following high winds and fairly heavy rain Friday night, the upper level low and main surface low to our west will develop a dry slot early Saturday over our area.
Clouds will give way to periods of sunshine during Saturday morning and early afternoon.
The strong upper cyclonic flow will result in instability cloudiness Saturday afternoon, while the secondary coastal system throws back moisture westward.
Some scattered showers possible late Saturday afternoon or Saturday evening, most likely west of Philadelphia.
Hi temp still above seasonal average of 65.3º sd 1.7º NBM model Blue Bell.
The upper air low will depart Sunday afternoon, but the upper air trough will swing through causing considerable cloudiness during the mid day hours.
So some sun in the morning then cloudy, then clouds breaking for some sun late afternoon.
Hi temp still above seasonal average of 62.6º sd 1.0º NBM model Blue Bell.
Winds

Temperatures begin a chill down starting Monday with relatively cold temps by Thursday or Friday.