Fri 11 PM Update— Tonight's models just becoming available suggest that widespread accumulations greater than 12 inches are possible with this storm.  I'll update in the morning.
---

The coming snowfall for the Philadelphia area is now looking to be significant.  All models have snowfall starting Sunday afternoon and lasting into Monday evening as a warm front approaches, followed by a secondary coastal low pressure system.  Most models have all snow, but the GFS has a mix with some rain late Sunday night into Monday morning before changing back to all snow. 
The majority of the accumulation is expected during the day Monday.
The latest GFS model snowfall amounts are—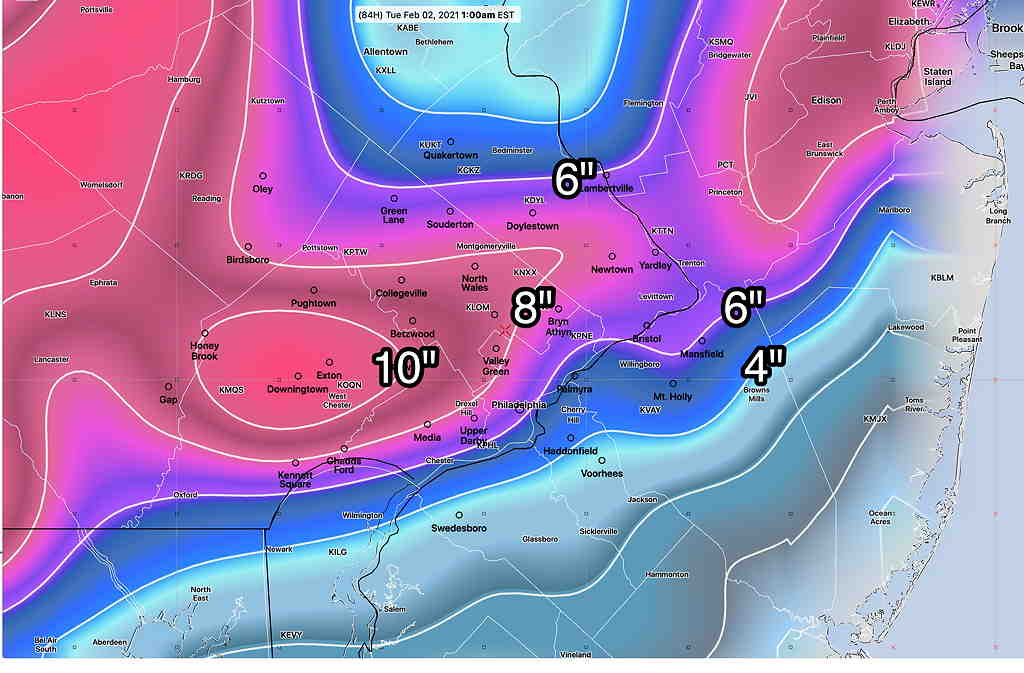 I'm posting the GFS because it probably best captures the snowfall range of all the models.
However, I think that these model-calculated snowfall totals may be the low end of the spectrum and it assumes that some of the precip will be mixed with sleet/rain for a period of time increasing compaction.    If there's no mix to rain, the snow amounts could almost double in some areas.  Indeed, a straight QPF to snow calculation gives many areas over 12″   Many models are forecasting QPF values of over 1-1.5 inches of water.

The ECMWF, ICON, NAM, SREF and other models are similar, although they each have their snowfall maxima at somewhat different locations. 
I'll be updating through the weekend.  Stay tuned.