Update Thu @ 5:11 PM — A slight change to the weekend forecast, as today's models are forecasting a weak low pressure system to develop south and east of us early Saturday, along the stalled cold front that has moved through today, Thursday.
This looks to bring some light sprinkles around daybreak Saturday mostly near Allentown, then periods of cloudiness with periods of sunshine. The morning looks to be cloudier than the afternoon.
Sunday starts sunny, but increasing cloudiness is forecast by the GFS and NBM in the afternoon. Average seasonal high temperatures are in the 47º-48º range for the weekend. We'll be close to that.
Interestingly, the Canadian Meteorological Center (CMC) just completed and released major updates to their models this week. The CMC GEM model has forecast much more sun for Sunday, but the new statistical CMC GEPS has a similar forecast to the GFS of increasing clouds Sunday afternoon. We'll see.
My regular weekend weather forecast will be out tomorrow.
---
Update Wed @ 8:00 PM — A warm front moves through tonight (Wed) with some showers into early Thursday.
The uneventful pattern continues through the weekend as a cold front moves through Thursday night and stalls near us, allowing disturbances in the jet flow to bring clouds.
Disturbances (1) and (2) in the upper flow will bring moisture and vorticity both Friday and again Sunday with increased cloudiness. Saturday looks to be the best day with periods of sunshine.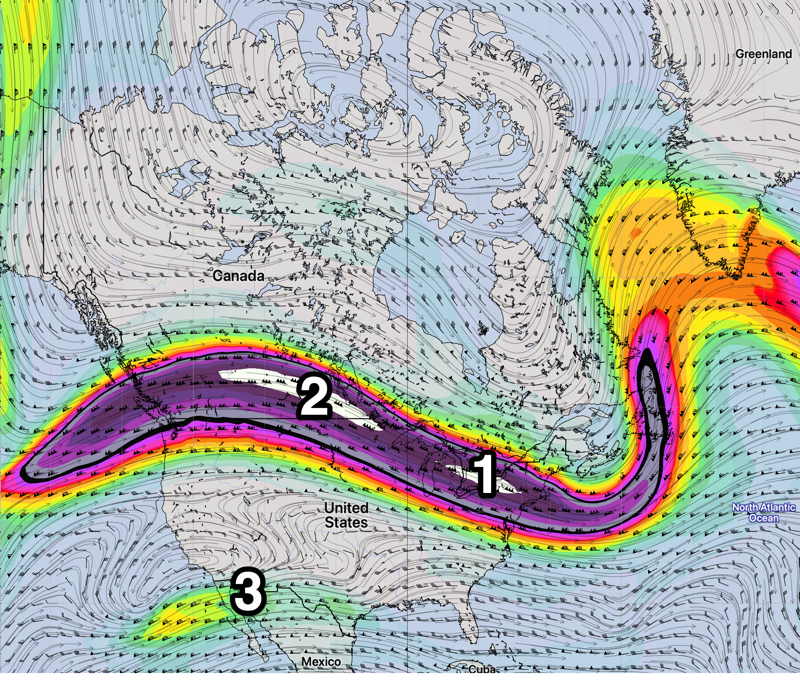 The pattern changes (at least for a few days) late Sunday as additional jet stream energy carves a higher amplitude trough over us. What remains unchanged is the upper low near Hudson Bay. It just hasn't move much—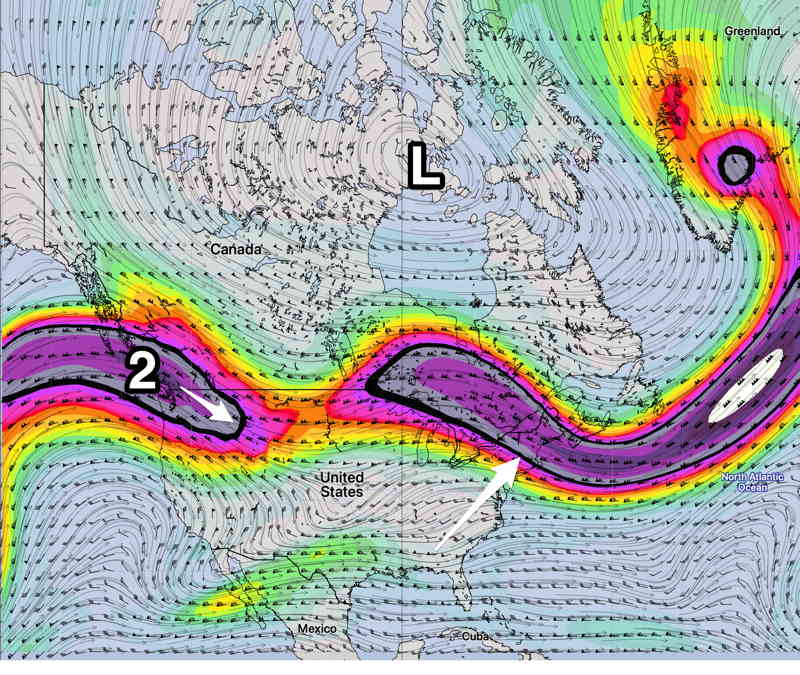 ---
Initial Post Discussion—[post_published]
An uneventful weather pattern has evolved for this week, as a flat jet flow will not lend itself to any great storm development. A warm front followed by a cold front will affect our weather later in the week.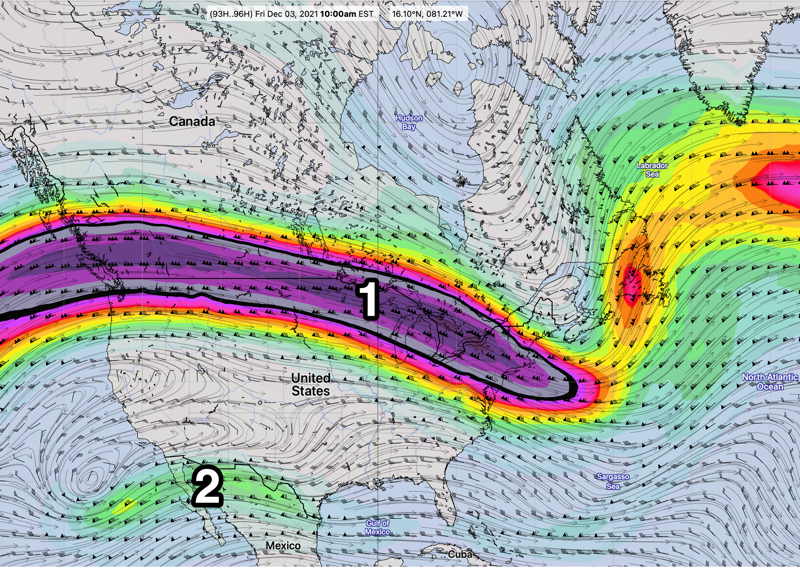 Some cloudiness on Tuesday.
A warm front moves through slowly on Wednesday with clouds.
Milder air on Thursday will be pushed out by a cold front late Thursday into Friday.
Windy late Thursday and on Friday.
Saturday looks to be cold and dry as does much of Sunday.
Moisture from the Gulf (2) may work its way towards us late Sunday.