Update Sun 11:50 AM — Several models have a few hours of sunshine mid afternoon on Sunday.
---
Update Sat @ 5:53 PM — The cold front came through about 1:30 PM today, within the forecast range but a little later than Friday's models had suggested.
As mentioned in the Sunday forecast, it still looks like Sunday will have considerable mid-level cloudiness develop during the morning with possible breaks of sunshine in the afternoon. The cloud cover will be mid-level clouds and suggest a winter-like day. A strong upper air disturbance will cause the cloudiness—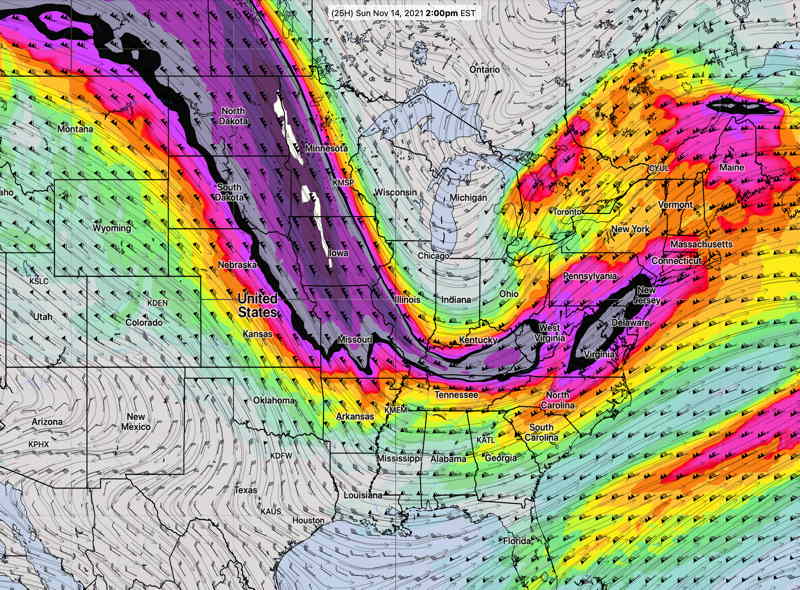 Another front moves through Monday.
---
Update Fri 9:52 PM —Tonight's models are coming in with lighter precipitation (< 0.10 ") on Saturday than the earlier GFS-based forecast. Timing 11:30 AM to 2 PM. WINDY. Remainder of forecast unchanged.
---
Initial Post Discussion—[post_published]
The GFS was ahead of the pack predicting the frontal passage today and the afternoon clearing. I'm going to lean towards the GFS for the weekend forecast. The weekend will will feature a cold front passage Saturday and much colder weather for Sunday.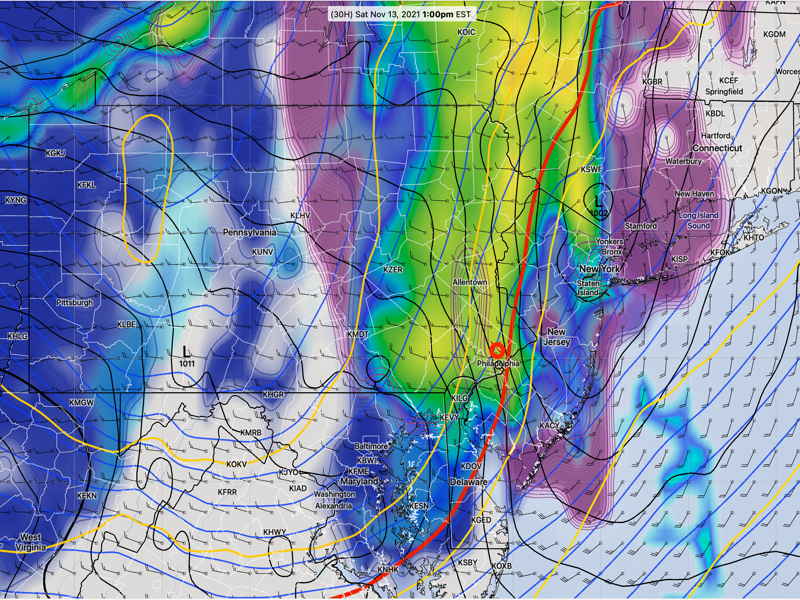 Saturday
A strong cold front will move through mid-day Saturday from about 11:30 AM through 1:30 PM. Temperatures fall rapidly after the frontal passage.
Clouds and winds will increase during the morning, and by about noon, showers will develop. The GFS and HIRESW-FV3, ICON and Canadian GEM models are predicting showers with the frontal passage.
However, the latest HRRR has the showers passing by to our north and some other models have negligible precipitation. I'm leaning towards the GFS which has 0.20 inches of rain falling.
Temperatures in the 50s in the morning will drop into the 40s by early afternoon and into the 30s by nightfall.
Sunday
Sunday will be sunny in the early morning, but an upper air disturbance, moisture and instability will cause considerable cloudiness by late morning into the afternoon. Skies may break for sun at times in the afternoon. It will be cold. Breezy. Highs 48.1º ± 0.9º
Another cold front moves through on Monday!