Update Fri @ 10:27 AM — This morning's early models continue with last night's updated forecast: not much happening weatherwise on Sunday. The coastal low will form too far to our northeast.
Another cold front moves through Sunday evening with gusty winds.
I'll post my regular Weekend Weather Forecast later today/this evening.
---
Update Thu @ 9:52 PM — Thursday's afternoon models have moved away from any coating of snow Sunday. Not much happening here according to this afternoon's GFS, ICON and tonight's NAM. The Canadian GEM still has a coating, as does the NBM. Coastal low pressure develops too late to affect us. The NAM has temperatures above freezing by early Sunday morning.
---
Update Thu @ 12:18 PM —
Friday: Showers end by 7-9 AM. Very windy in the afternoon. Winds approaching 35-40 mph.
Sunday: light snow early morning. A very light coating possible, according to the latest models.
---
Update Thu @ 9:46 AM — For today, a mix of high clouds and some mid level clouds will break for full sunshine during the afternoon today. A cold front with showers after midnight into early Friday morning.
Regarding the coastal low for Sunday into Monday, last night's models have less development with this potential system and any development appears to occur nearer New England. Perhaps a snow flurry for us early and light rain showers. Snow flurries at night.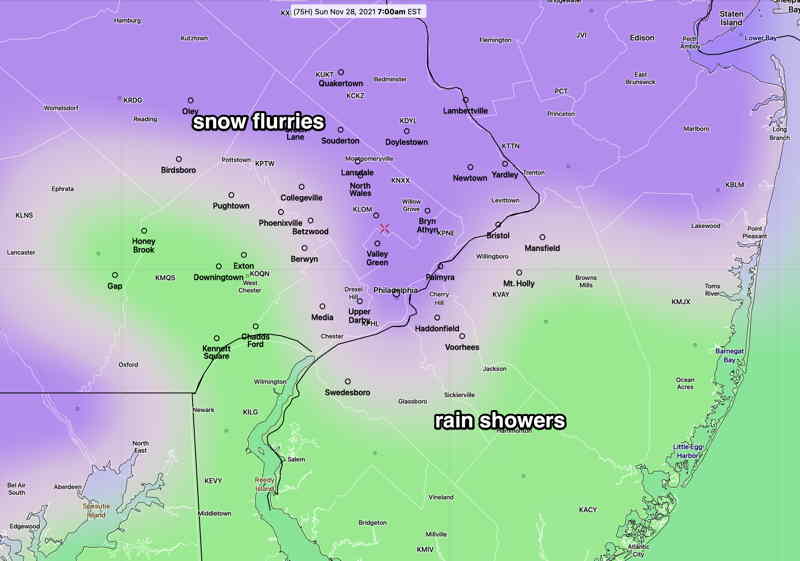 ---
Update Wed @ 3:45 PM — A quiet weather weekend weather outlook has become more interesting today. The outlook for Sunday has changed.
The two jet streams (shown in the graphic from yesterday) are forecast by the GFS, Canadian Global and ICON to phase somewhat and spawn low pressure somewhere off the NJ coast—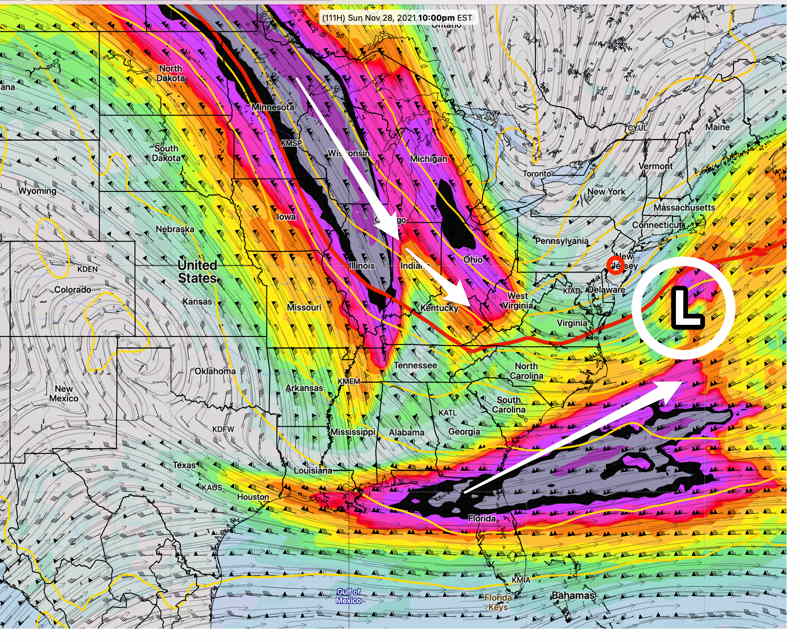 Some snow may be the result especially north and west of the city. Accumulations currently near zero.
---
Initial Post Discussion—[post_published]
The cold air will be loosening its grip on Thursday as a southwesterly flow of milder air moves in. (1 in graphic below)
Thursday will be sunny in the morning, partly to mostly sunny in the afternoon. Clouds late. The model blend (NBM) high temp forecast on Thursday is 54.5º± 1.5º but it wouldn't surprise me if high temps got into the upper 50s.
Another plunge of cold air will occur with a dip in the jet stream flow late Thursday into Friday. A cold front will move through early Friday morning with some light rain before daybreak on Friday.
Cold air with this upper trough (2) will be with us for the weekend. Several impulses in the upper flow will bring some cloudiness at times and reinforce the cold air.