[su_note note_color="#ffffff"]Updated Tue 10:52 PM —Tonight's models have widened the time window for thunderstorms on Wednesday.  Some severe storms will form in the Allentown area as early as 12-1 PM.  A fast moving bow echo formation is forecast for this batch.  They may or may not make it into Philadelphia.   Additional storms will form around 3 PM in our area and several rounds of severe storms afterwards, especially around 5-9 PM.  [/su_note]
[su_note note_color="#ffffff"]Updated Tue 07:12 PM — Some showers and thunderstorms are possible after midnight tonight, before daybreak Wednesday morning.  Most likely north of the PHL area.
Most of today's models have been more consistent with a forecast of severe thunderstorms between 3 PM and 8PM Wednesday in the PHL area.  The instability parameter values are very impressive and severe storms are likely. However, the GFS model still seems to keep the heavy activity north of the PHL area. .
Here's a new HIREF (Experimental) model displaying "Maximum Updraft Helicity";  high values are associated with potential tornadic development for 6 PM Wednesday—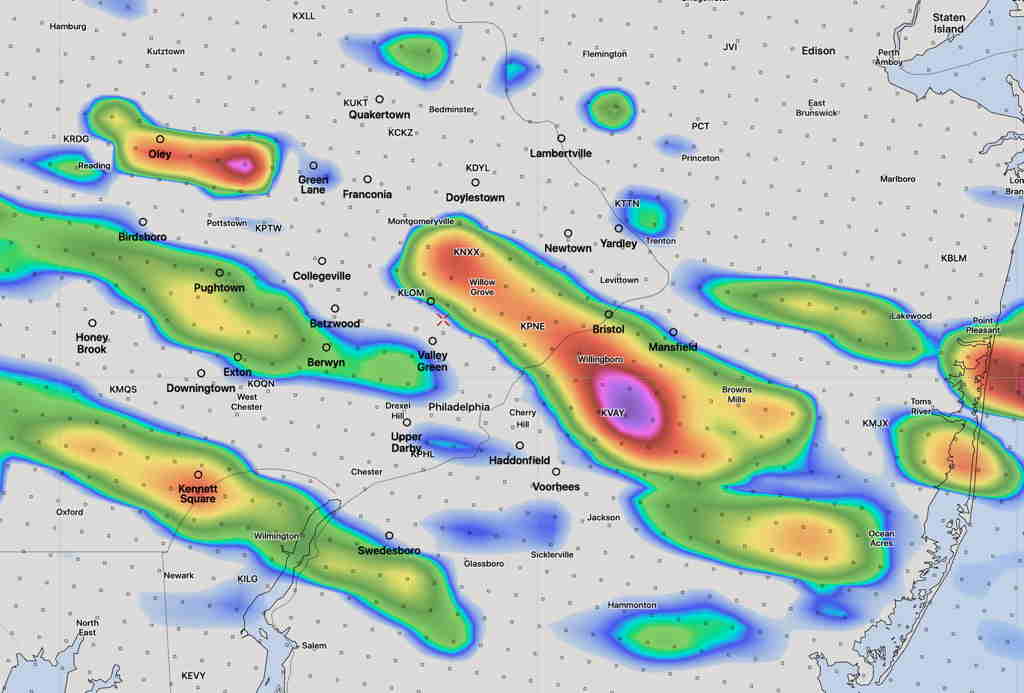 We'll have to wait for tomorrow morning's models to pin down the exact placement of the most severe weather.  [/su_note]
There's much uncertainty with the specifics of the weather forecast over the next few days.  While the general setup I discussed here on Sunday's outlook post remains generally intact, the difficulty is in the details.
First, for today, there are wide differences in the model forecasts for the amount of cloudiness today.  Some models have it very cloudy; some like the NAM-NEST have considerable breaks of sunshine.
For the showers tonight, some models have them falling apart as they approach Philadelphia, others have the bulk of activity moving just to our north or just to our south. 
The same is true for Wednesday, where the timing and placement of the largest storms varies between models; the gist is that the strongest activity may miss Philadelphia.
I'll update this evening if things clarify.