Wednesday Update
Just a quick note that the first of the impulses expected to move along the fast jet stream track will approach on Saturday. It appears that this most likely misses us to our south, according to the ECMWF.
This afternoon's GFS gives us a light 1 inch accumulation on Saturday, as does the Canadian CMC.
Another impulse moves by Sunday afternoon. The GFS is more aggressive with this second system and gives us a QPF of about 0.30 inches water. The forecast for these systems is low confidence at this time.
from Tuesday..
We're almost done with the current storm. The "cold air damming" proved to be more persistent than any of the models had forecast; the cold low level temperatures and the mixed precip remained somewhat longer than expected.
We're continuing in an active weather pattern. The high level wind flow will act as a fast highway for moisture and disturbances to transit across the country–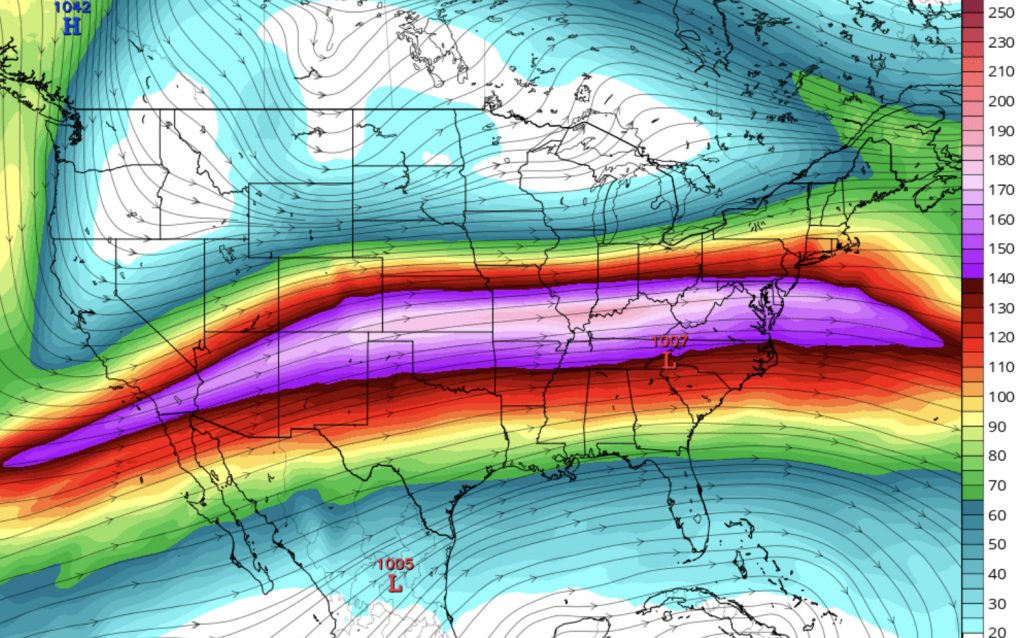 We'll be seeing a chance for precipitation almost every 36-48 hours! Note that the track is just to our south.  There are several more chances for snow and mixed precipitation over the next week.   Details are uncertain, but I'm keeping an eye on it.   Stay tuned.