Forecast Update Wednesday 11 PM
Tonight's NAM has become available and its forecast range takes us to Sunday morning. Like tonight's GFS, it has us in the northern fringe of the precipitation shield. QPF values are about 0.16 inches water, which suggests 2-3 inches of snow, less north of Philadelphia. The outlier remains the FV3-GFS which has a more northerly track. Still too early to hang one's hat on a specific accumulation.
Forecast Update Wednesday 12 PM
This morning's models continue with the idea that Philadelphia will be on the northern fringe of this storm, whose northward movement will be blocked by high pressure in the northeast.
We are just coming into range covered by the NAM model (84 hours out) and it has some light snow breaking out north of the main low pressure system.
Based on current forecasts, 1-2 inches are possible at PHL with even lower amounts in Montgomery and Bucks counties. (Don't take these numbers literally…it's just a current estimate.)
Tonight's NAM will probably give a better handle on things. For Philadelphia and north, this is a minor snow. Heavier amounts in southern Delaware and possibly Cape May County NJ.
For those wondering, I'm trying a format where updates are placed in these "update boxes" embedded in my earliest post about this weather event. Generally, when I make these embedded updates, I don't rebroadcast it to Twitter.  Let me know if this works for you.
Forecast Update Wednesday 8 AM
Last night's models have shown greater consensus with the predicted storm for the weekend.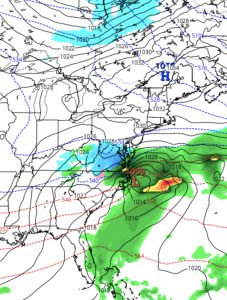 With the exception of the FV3-GFS, all keep the storm blocked to our south. Little or no snow expected in Philadephia and areas to the north with the current predicted track and development of the storm.
I will continue to watch this. Still waiting for input from the NAM model.
Forecast Update Tuesday 11 PM
Tonight's models just available have the storm sliding to our south with only the northern edge of the snow field affecting Philadelphia. Several models (Canadian and ECMWF European) have it almost missing us. The snow, if it occurs, will begin later Saturday afternoon.
Will have to wait until the NAM model is in range for a better handle on this snow potential. The NAM only predicts 84 hours out.
The National Blend of Models shows only a 50% chance of any snow for Philadelphia. Still too uncertain at this time.
Forecast Update Tuesday 11 AM
This morning's GFS and FV3-GFS still back to showing a coastal storm that affects our area Saturday night into Sunday. Still much uncertainty with the forecast in this time frame. Stay tuned.
Forecast Update Tuesday 8 AM
Last night's models (with the exception of the FV3-GFS) have begun to show the blocking effect of high pressure, which would have the effect of keeping the anticipated storm to our south, mostly missing us. This was the original prediction, until the GFS and others went on the coastal storm band wagon yesterday. Still too much uncertainty with the forecast in this time frame.
Much too early to be sure, but both yesterday's GFS and today's GFS FV3-GFS show the possibility of a coastal storm bringing snow to our area, most likely on Sunday.  This system is also predicted by the ICON and Canadian models, although these models suppress most of the precipitation to our south.
A high pressure system will be bringing much colder air to our region this weekend.  As mentioned in yesterday's post, the configuration and position of this dip in the jet favors a storm track that blocks northward movement any low pressure system to our south.  Apparently, the newest GFS and FV3-GFS  have the blocking effect less pronounced.
This is first time since our snow in November that any system has appeared to threaten any real snow for us.
The time frame is over 6 days away, well beyond the 3-5 day window of meaningful statistical likelihood.  (Unfortunately, the government shutdown has shut down some of the experimental statistical model sites that I usually count on)
Mon 11pm Tonight's GFS continues to show a possible snowstorm for Phladelphia and South Jersey late Saturday into Sunday.
Stay tuned.