Sun 7:33 PM
— Forecast Review
— Overall a beautiful day and nicer weather than forecast. The clouds moved in later than had been predicted. The rain made it a bit further into Philadelphia than forecast this afternoon, but did diminish in intensity as forecast. Yesterday's
ICON
and
Canadian GEM
did better than the
GFS
with forecasting the late arrival of the showers.
More showers expected later this evening and after midnight.
Update Sun @ 8:28 AM — Despite the early sunshine, clouds are expected to move in by late morning. Last night's late models (06z) continue with the forecast of showers dissipating as they move into Philadelphia this afternoon.
Most of the eastern area will be dry today (until this evening). Here's last night's high resolution HIRESW model forecast showing the eastern extent of the showers this afternoon at 4 PM; they aren't expected to move much more eastward this afternoon—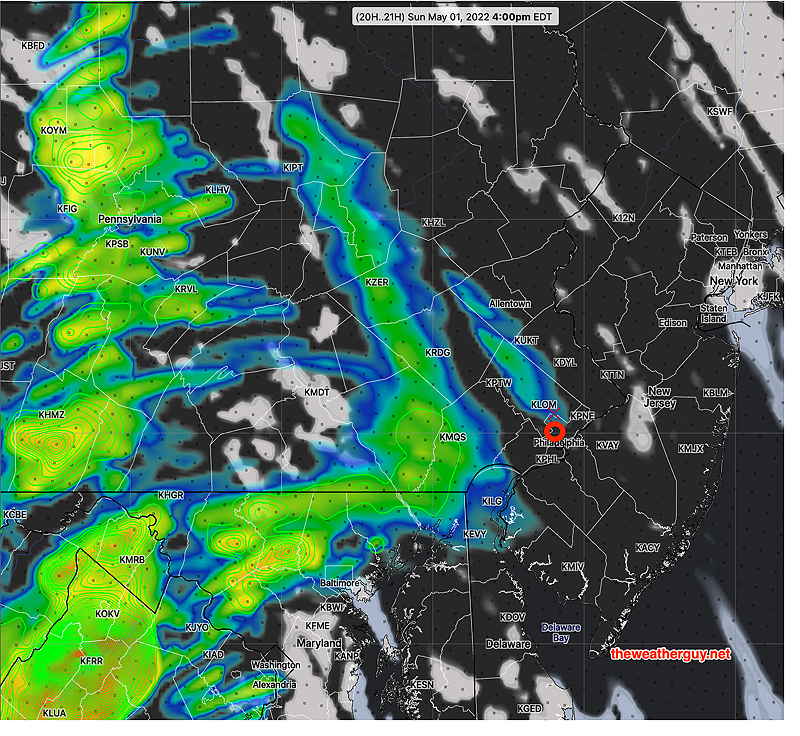 Why does the rain dissipate? The reason is a sharp mid level (500 mb) ridge that doesn't allow vertical upward motion eastward—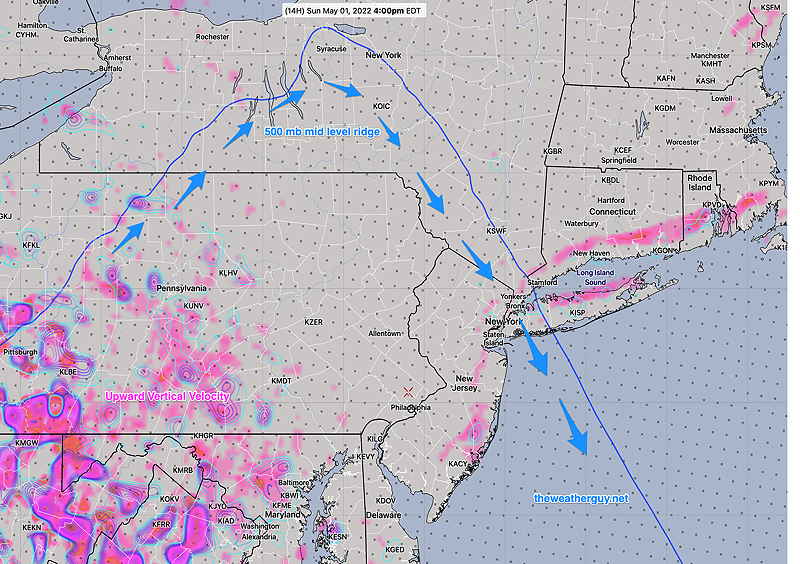 ---
Update Sat @ 10:40 PM — Tonight's models have the rain in far western suburbs Sunday afternoons, but struggling to move into the city during the afternoon as it hits a sharp mid-level upper air ridge. Much of the eastern area remains dry during the day. Still a lower confidence forecast.
---
Update Sat @ 9:15 AM — There's still some uncertainty about the onset of showers Sunday. The GFS, GEFS, SREF and ECMWF have showers moving in from the west by 12-2 PM. The Canadian RGEM and ICON have a later onset, towards evening. I'm leaning towards the GFS group—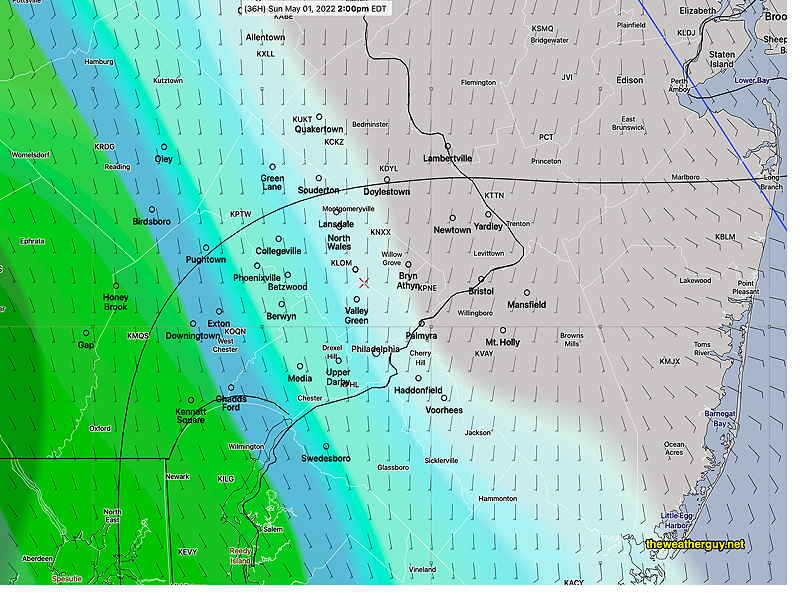 ---
Update Fri 10:13 PM— Tonight's models suggest an even earlier start with the showers on Sunday, possibly late morning to noontime. The NBM still holds the showers off until evening. So forecast uncertainty remains for Sunday.
---
The forecast for the weekend has clarified since posting yesterday's outlook. High pressure will be with us for Saturday. The timing of an approaching warm front on Sunday will occur earlier than many models had been forecasting— the warm front will bring some showers as early as Sunday afternoon. (Most models have joined the GFS and ICON with the earlier showers.)
Saturday
High pressure will influence our weather on Saturday. It will still be somewhat windy mid-day. Highs 65º ± 1.0º NBM model, Blue Bell

Sunday
High pressure moves off as a warm front associated with a deep low in the Great Lakes region approaches. Today's models have joined yesterday's GFS and ICON models—w showers move as early as 2- 4 PM, especially west and southwest of the immediate PHL area. Highs 66.3º ± 3.0º NBM, Blue Bell (large spread due to uncertainty in cloud cover.)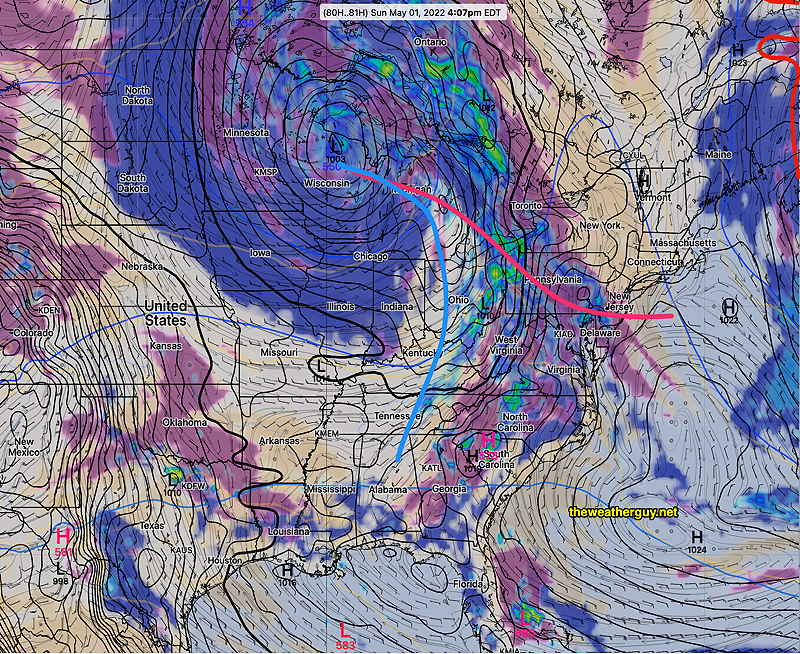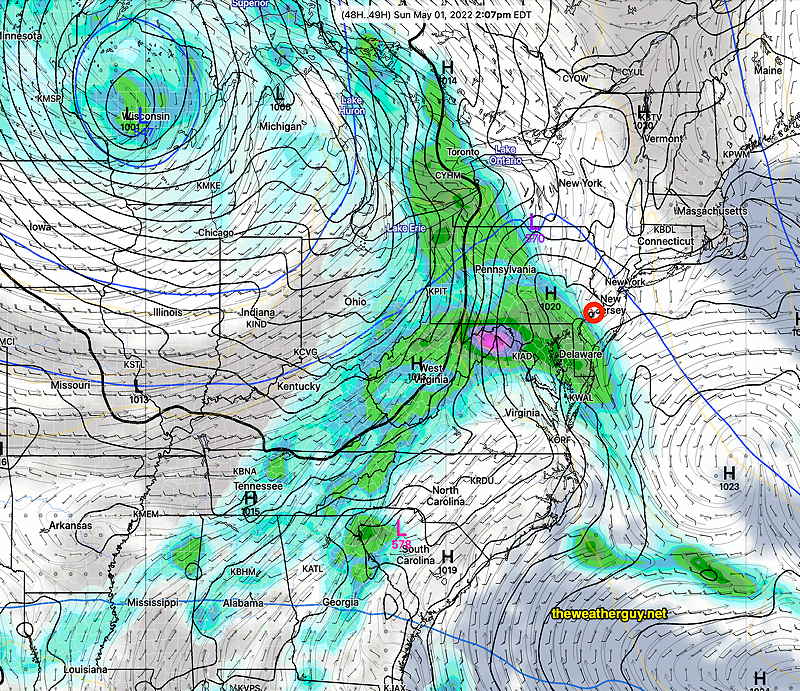 ---
---