As discussed in yesterday's Weekend Outlook, our weather this weekend will be influenced by an strong upper air high pressure centered over Georgia and Alabama. Areas of vorticity will rotate into our area around this upper level high.
The weekend's weather will depend on the timing of these impulses and the models have been consistent in having the these disturbances affect us during the night time hours of both Saturday and Sunday.
[su_note note_color="#d9f2da"]It should be noted that at the time of this post, none of the models are predicting the showers in the northwest corner of Pennsylvania that are occurring now. The confidence level of this forecast is a bit below average.[/su_note]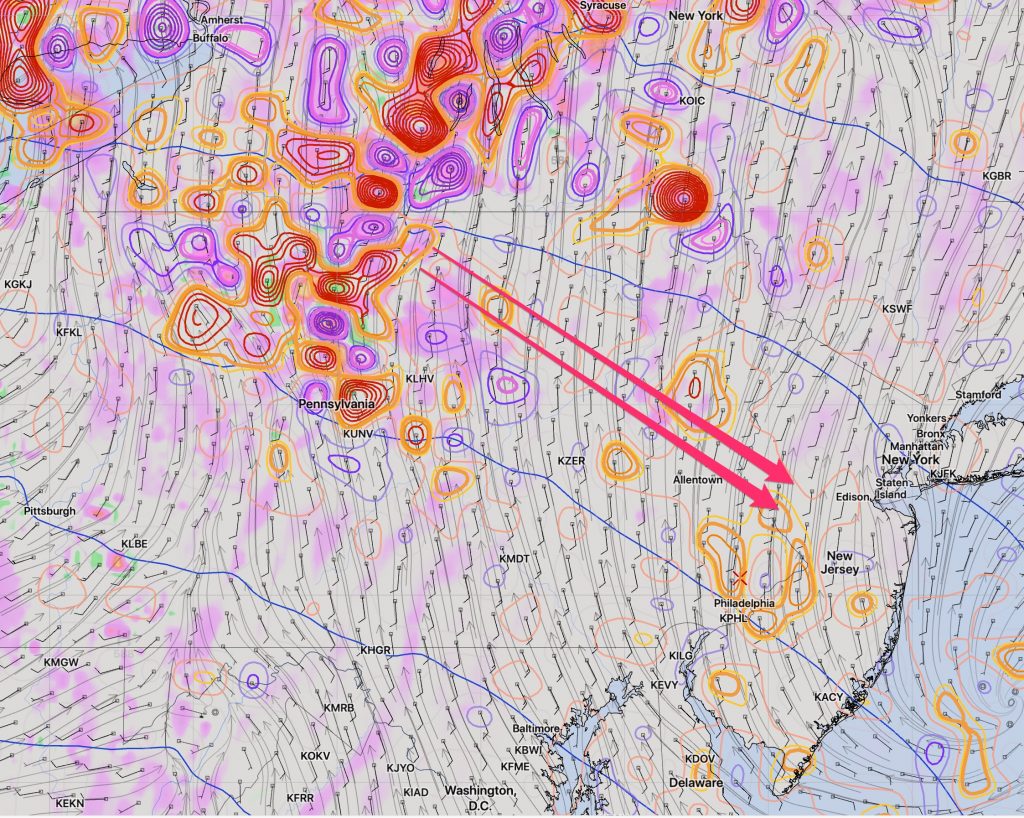 Saturday will have a mix of sun and clouds.  High 78-80.  Cloudiness will be more prominent north and west of the city, less at the shore.  (The models differ in the amount of cloudiness.)  A south-southeasterly flow of moisture ahead of these disturbances will cause the cloudiness to thicken later in the day on Saturday.
The vorticity will drag a warm front over our area Saturday night. Light showers possible Saturday night; most of the rain far north and west of Philadelphia.
Sunday:   After some early morning clouds, Sunday will become mostly sunny and very warm.  High 88-90.
However, another upper air disturbance approaches from the northwest  with increasing  cloudiness on Sunday afternoon.  It will drag a cool front through our area Sunday night.
Showers develop late in the day or the evening Sunday, again mostly far north and west of the city.  (The models differ in the amount of precipitation- the GFS keeps us dry, the NAM has showers.)
A northwesterly flow of drier, somewhat cooler air in store for Monday.
Monday: After some early clouds, Monday will become mostly sunny and pleasant. High 84-86.
[su_note note_color="#d9f2da"]Friday Afternoon's GFS has much more cloudiness on Monday than the NAM. Will need to update over the weekend.[/su_note]