A strong cold front will move through Thursday evening.  Heavy thunderstorms, especially in the far northwest suburbs (Allentown) are possible from late this afternoon and especially between 8 and 11 PM Thursday evening.   Winds will be gusty to 40 mph.
High pressure builds in behind the front for Friday.  Friday will be sunny, windy and cool.  High 73-75
A unusually strong upper air high pressure system will center itself over Alabama and Georgia this weekend.  Around this upper air high pressure system, areas of disturbance, rotation, ("vorticity") or eddy currents will rotate around this upper high, bringing us breaks in an otherwise fair weather pattern.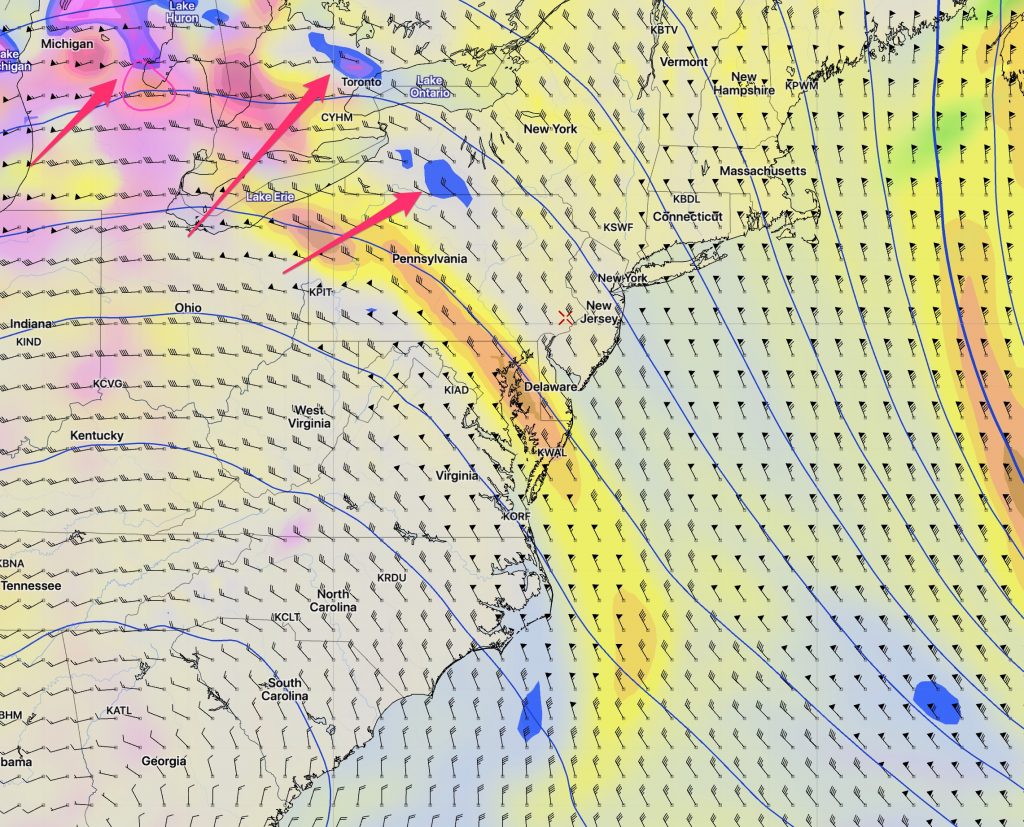 Saturday will be sunny and  warm.  High 88-90. 78-80. An area of vorticity will  approach Saturday night. Showers are possible, but the upper air confluence of flow will cause much of the precipitation to fall apart as it gets to our immediate area.
Sunday:  Skies will clear by Sunday morning. Sunday will be sunny and very warm with highs 88-90.   Clouds increase mid-afternoon as another, stronger area of vorticity and a weak cold front approaches Sunday late afternoon.  There's a chance of showers late afternoon Sunday, especially west of the Philadelphia area.   Some showers will make it into Philadelphia by Sunday night.
[su_highlight]Currently, the greatest uncertainty in this forecast is the extent and timing of the showers Sunday afternoon and evening.[/su_highlight]
Monday: The front moves off the coast and skies clear during the morning, later at the shore.  Delayed clearing possible southern shore areas.   Sunny.  Light winds.  High 83-85.
I'll be updating Friday night, as usual.