Updated Sun and Mon Forecast on Sun 11:08 AM highlighted below
There are some changes and modifications in the forecast that are more clearly expressed with new post, rather than my usual edit of yesterday's weekend forecast. See that post for more background info.
Current Sat 3:30 Water Vapor/Radar/RAP jet-level wind streamlines showing upper low—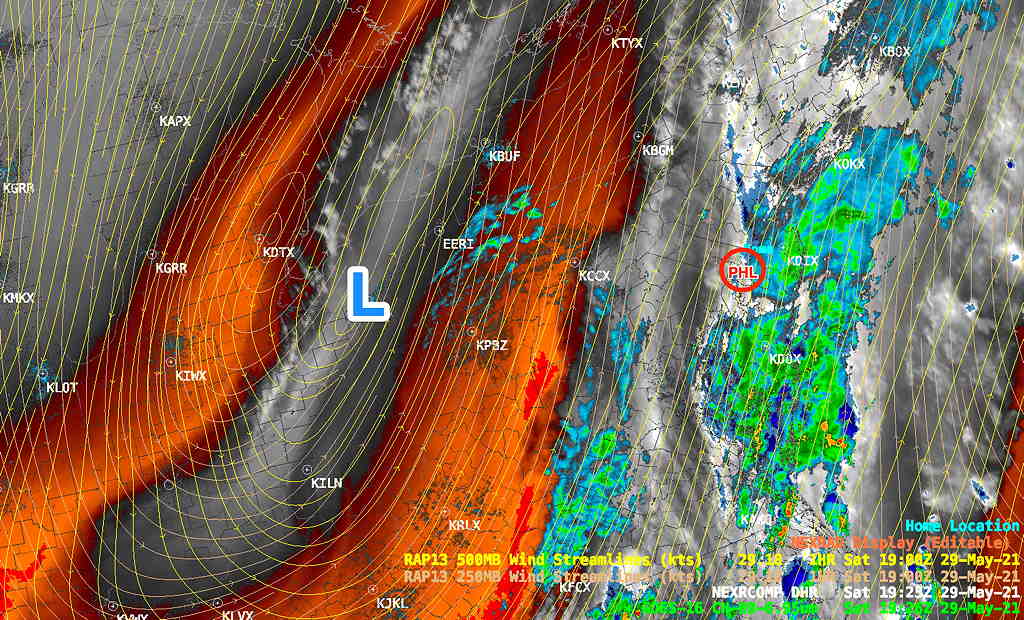 The weekend forecast is mostly on-track. (The hiatus in the rain in Philadelphia this afternoon was predicted by some but not all of the models.) More rain will be moving in later this evening and late night Saturday into Sunday.
The upper low will swing out of here somewhat faster on Monday than yesterday's models were showing—
It will be cooler than previously forecast on Sunday. Dry on Monday.
Sunday
Cloudy with periods of rain throughout the day. Difficult to identify a dry period, but mid to late morning until about noon, there may be a pause. (clearly not!) High 52.7º sd 4.7º (NBM Blue Bell)
Rain ends Sunday evening from south to north about 6 -8 PM 8-11 PM according to new HREF model.
Monday
Becoming mostly sunny, a few periods of clouds at times, especially during the mid afternoon. Cooler than previously predicted High 71.2º sd 1.6º High 72.1º sd 1.3º(NBM Blue Bell)
Updated Wind Forecast