Sat 05:56 PM Forecast Review — We had significant cloudiness today.  Comparing the new GFS v16 forecast  with actual observations of the  RTMA (Real-Time Mesoscale Analysis) at several points during the morning , I would say the GFS over-stated the cloudiness a bit.  The GFS barely predicted the snow flurries, but that's partly because it is not a high resolution model.  Also, the GFS also not a model that's designed to do 'convective type' snow flurries well.    The newly updated RAP and HRRR did well in predicting the flurries, but also somewhat over-predicted the cloudiness.   
Forecast Updated Sat 9:25 AM — To be more specific, yesterday's RAP (Rapid Refresh) model had predicted these snow flurries, but it had kept them north of the city. I had ignored them for the forecast; so often these are false positives.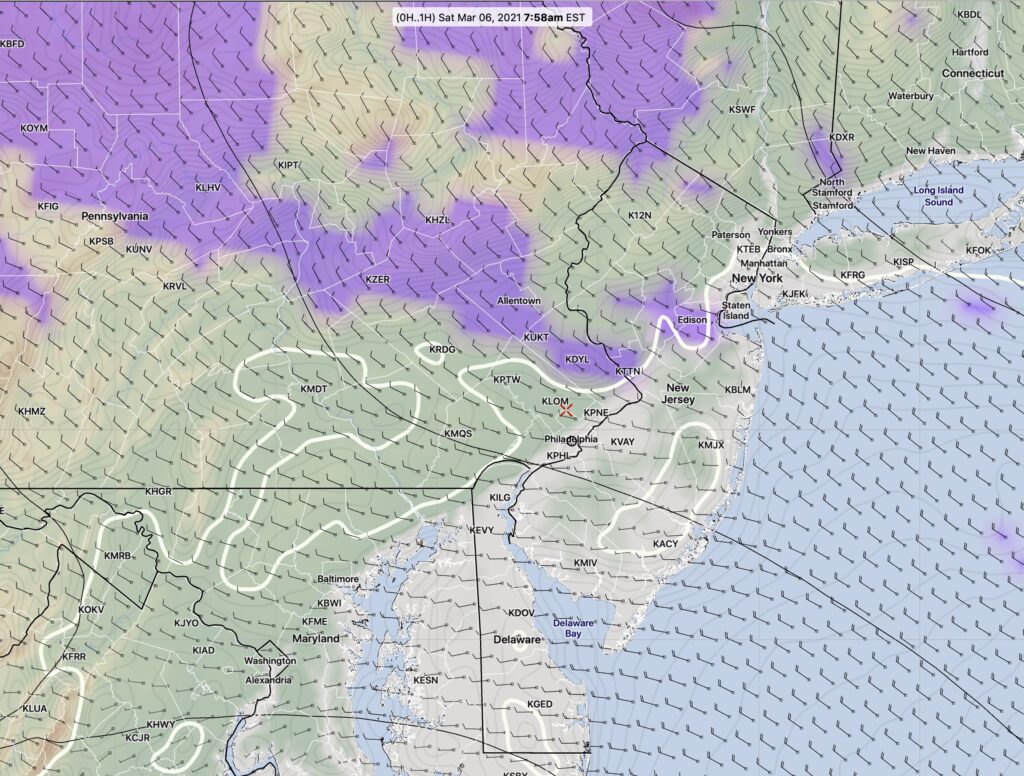 Today's RAP model from 7 AM Saturday predicts additional snow flurries about 3-4 PM today—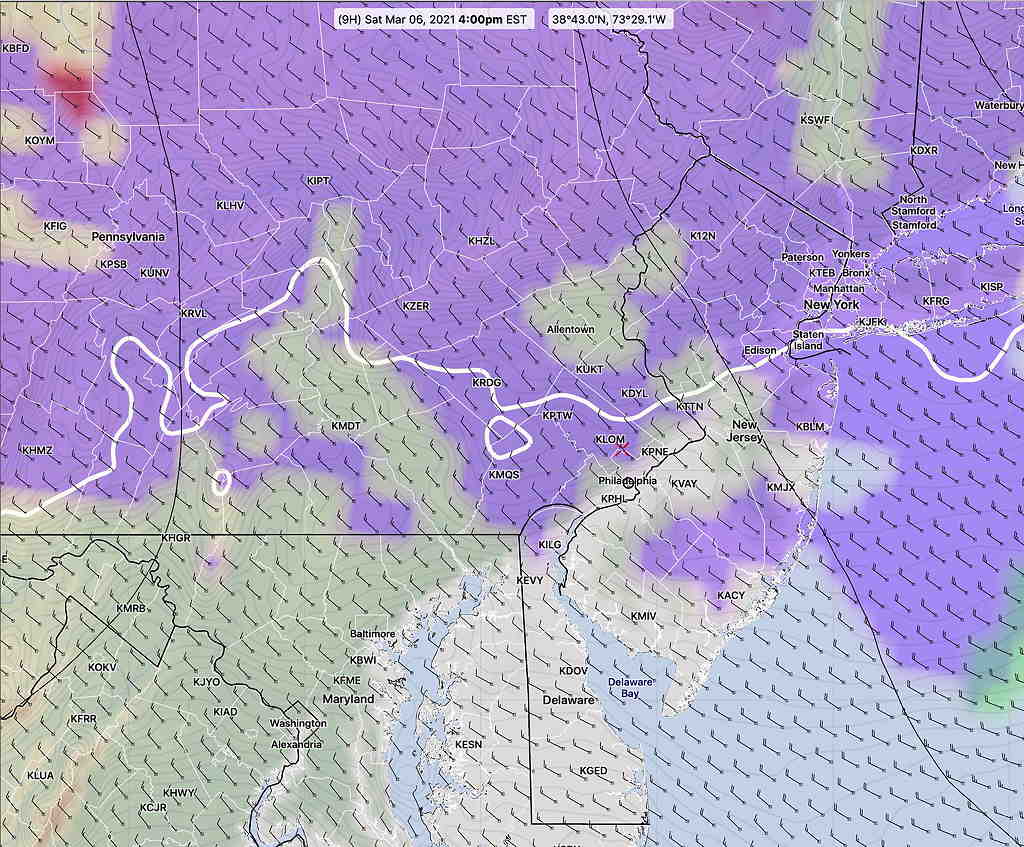 We'll see if the afternoon flurries are false positives.
---
Forecast Updated Sat 8:04 AM— Radar shows snow flurry activity to move through some areas this morning! Last night's RAP model had these snow flurries, but I ignored it. The RAP also has some snow flurries possible this afternoon about 2 PM, especially north of the city.
---
Forecast From Friday…
The sun angle is higher and the sunshine brighter; Spring is clearly on the way.
However, a fairly sharp upper air trough pattern will settle in for the weekend bringing cold weather before the trough moves to the east and is replaced by an upper ridge by Wednesday, bringing warmer weather at that time.
Saturday's colder weather will also feature a strong area of upper level vorticity moving through. This upper vorticity (upper air disturbance) will be accompanied by moisture and many of the models show considerable cloudiness for Saturday.
Here is the new, soon-to-be-released GFS version 16 (Release date scheduled for this March 17th) which shows considerable low cloudiness from mid morning to late afternoon Saturday—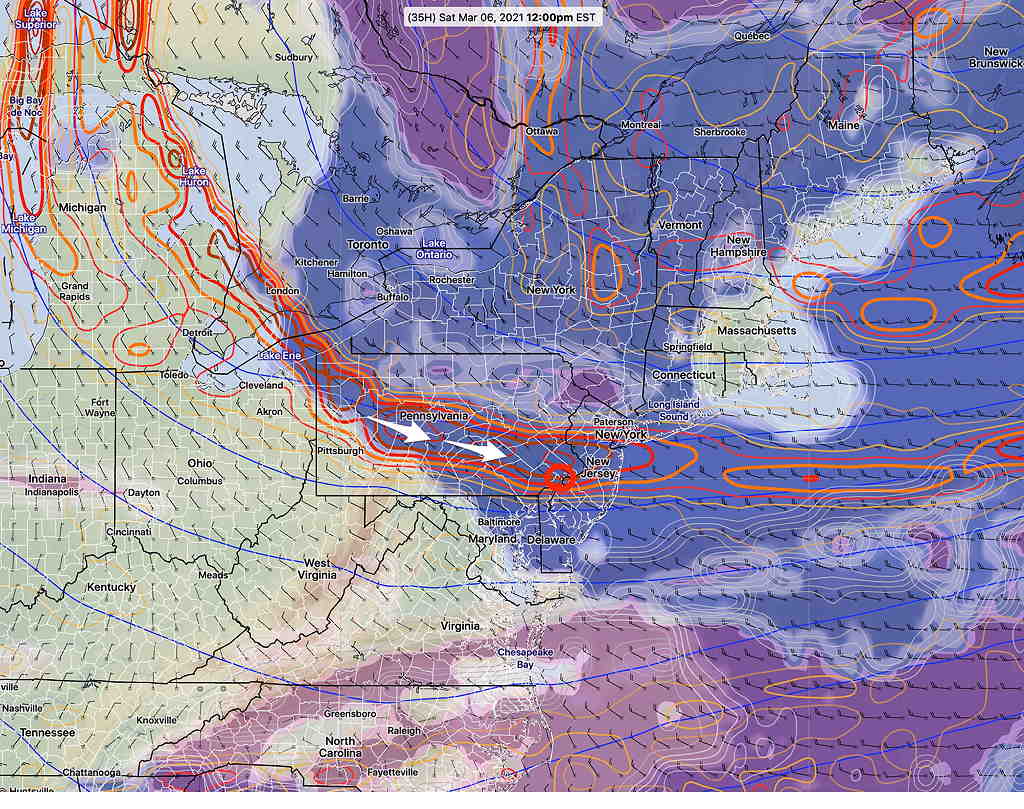 This will be an interesting test for the new version of the GFS which has had its cloud parameters and physics updated. While most models show some degree of cloud cover during the day, some models (Canadian, NBM) only show 60-70% cloud cover, mostly in the afternoon, while the new GFS shows close to 100% cloudiness from 9 AM through late afternoon.
Along with the cloudiness, the vorticity will cause Saturday to be WINDY. Saturday's high temp 37º ± 2.1º (NBM – Blue Bell)
Average high is 49º/51º (Blue Bell/Philadelphia)
For Sunday, the upper trough moves a bit more to our east and high pressure dominates. Mostly sunny skies Sunday, but with some fair weather clouds. Still breezy mid-day. High temp Sunday 39º ± 1.6º (NBM Blue Bell)