Sunday and This Week's Weather Outlook
Update Sun 12/04 @ 10:14 AM — Today will be mostly sunny. The ongoing forecast uncertainty about a period of cloudiness in the early afternoon still remains, as the HRRR and RAP show this cloudiness, the GFS and NAM do not. (The current versions of the HRRR and RAP have been overestimating cloud cover since their update last year.) Some high cirrus will also be visible in the southern parts of our region.
The weather for this week will be affected by a strong southwesterly jet flow aloft from the southern jet stream—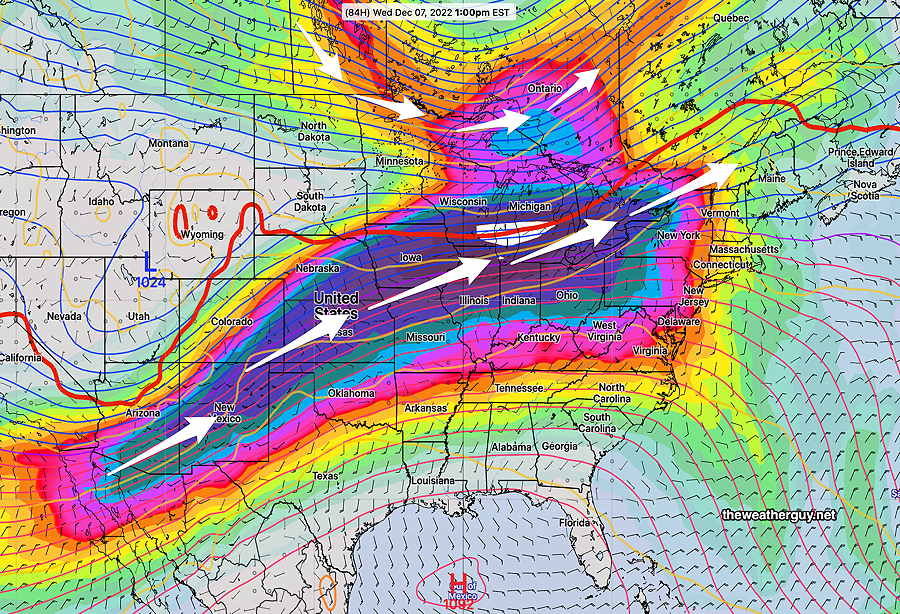 Rain will develop Tuesday into Wednesday and again Friday into Saturday.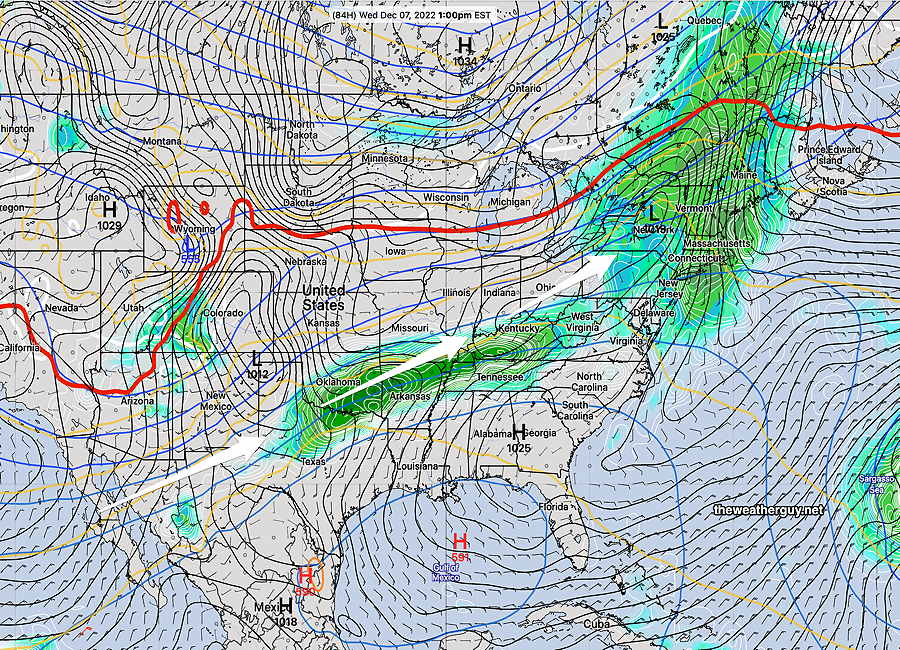 Laden with moisture from the Pacific, we'll have several areas of low pressure form and affect us during the week.
BTW, for those following my postings from last week, I mentioned the possibility of a wintry mix on Friday. That speculation has fizzled out, as the boundary line between cold and warm air is now forecast to be north of our area.
---
Forecast Update
Update Sat 12/03 @ 12:26 PM — This morning's models are less clear-cut about any breaks of sun this afternoon. Still possible around 3 PM, according to the HRRR. Another line of showers about 5 PM.
For Sunday, once again the GFS has backed away from any instability cloudiness; the HRRR has some periods of clouds but not in all locations, so it looks like mostly sunny and cold for Sunday. Breezy but much less windy than Saturday.
---
Update Fri 12/02 @ 10:43 PM — Tonight's models have clarified the earlier posted forecast for Saturday. Rain with the warm front moves through by 12-1 PM. The actual cold front moves through about 4-6 PM with additional showers.
Sunshine should break out for a period of time in the afternoon. It will be mild but very windy.
Here's the latest HREF model forecast for 1 PM showing the back end of the rain moving into NJ—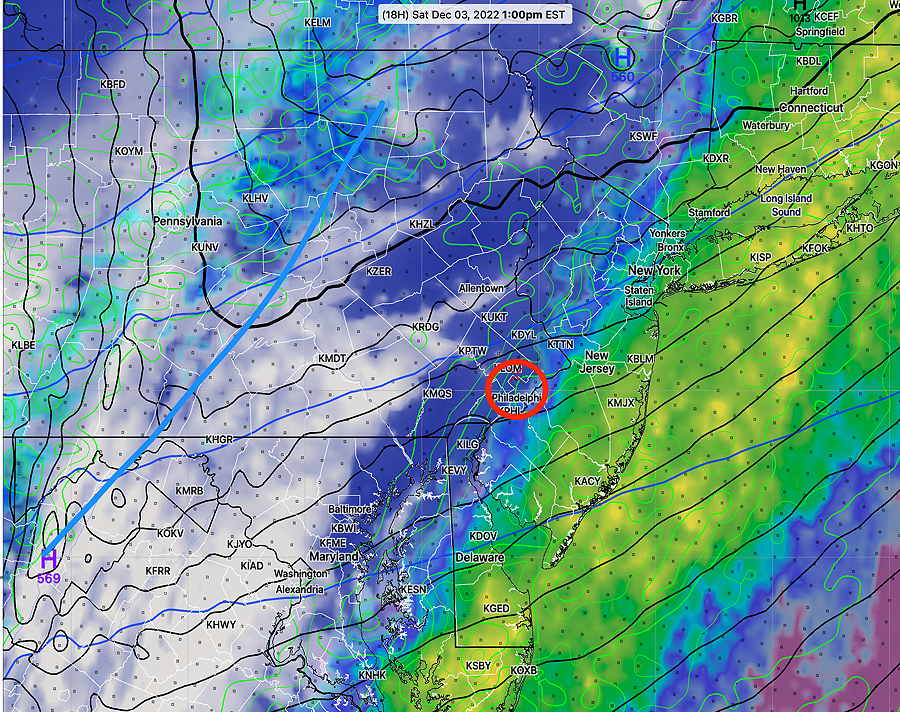 ---
Previously Posted Fri 3:34 PM —
A warm front associated with deep low pressure in Canada will pass through our area on Saturday, followed by a cold front. Rain and very WINDY conditions will develop
High pressure builds in for Sunday.
This morning's water vapor image shows both warm fronts and cold fronts associated with the low pressure system in Canada—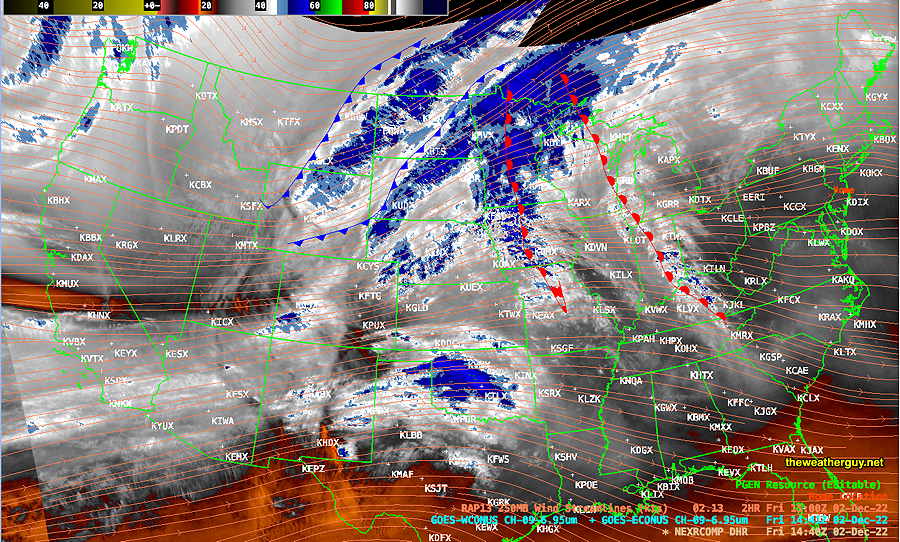 Saturday
The warm front approaches about 7 AM-8 AM from the west with rain and very WINDY conditions. The GFS shows gusts to 50 mph (although we saw with a similar condition on Wednesday that wind gust forecasts can be an inexact science.) Rainfall is only expected to be about 0.35 inches. Warm temperatures on Saturday, but WINDY. Becoming colder in the late afternoon.
High temperature 57.6º sd 0.9º NBM model Blue Bell, PA
Winds:

The rain ends around noontime in the city and later in NJ. Considerable cloudiness is forecast for Saturday afternoon, although some breaks in the cloud cover are possible. The main cold front moves through about 5 PM with a quick shower or sprinkle, then temperatures drop.
The GFS shows the expected scenario well—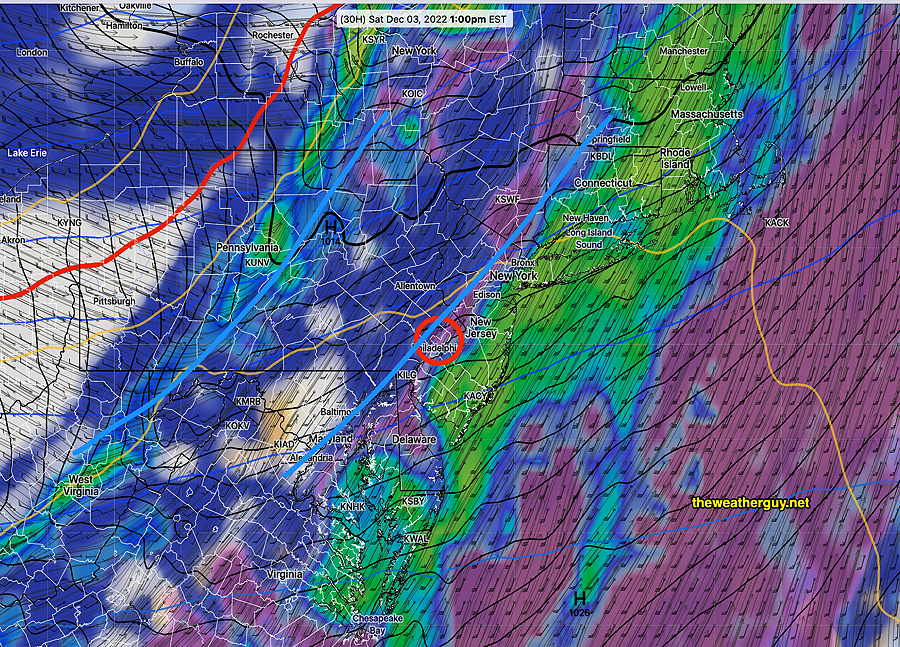 Sunday
High pressure builds in for Sunday. Colder. Sunny in the morning. The models have been on and off with a potential upper air disturbance that may bring a period of clouds in the early afternoon Sunday (1 PM- 4 PM). The latest GFS shows this period of cloudiness again—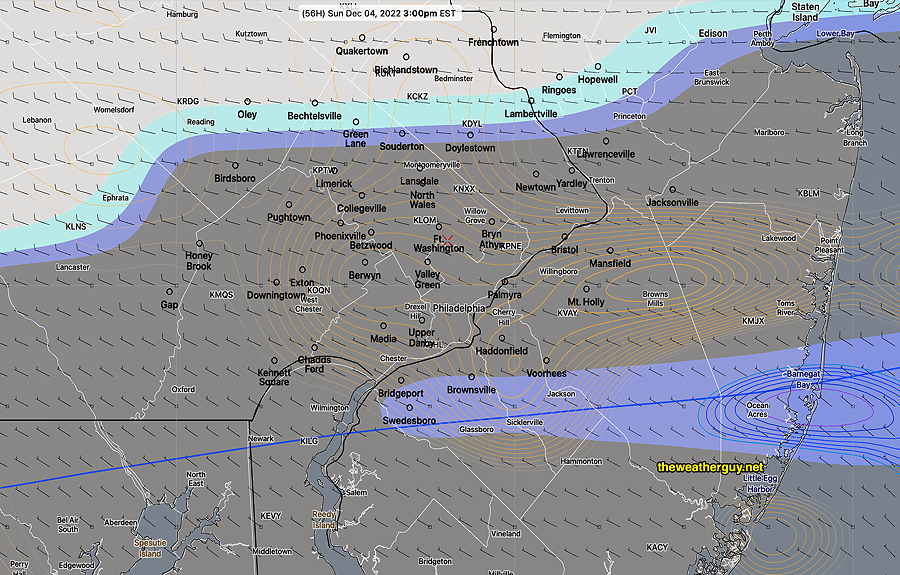 It should be noted that the NBM doesn't show cloudiness for Sunday.
High temperature 43.3º sd 1.7º NBM model Blue Bell, PA