Forecast Update
Update Wed 12/07 @ 8:22 PM — Latest GFS shows snow showers or flurries in our area after midnight Sunday into predawn Monday. No real accumulation expected except north of Allentown where it will be below 32º. The GFS model has a somewhat unusual looking forecast map, so I must confess that I have low confidence with its current forecast—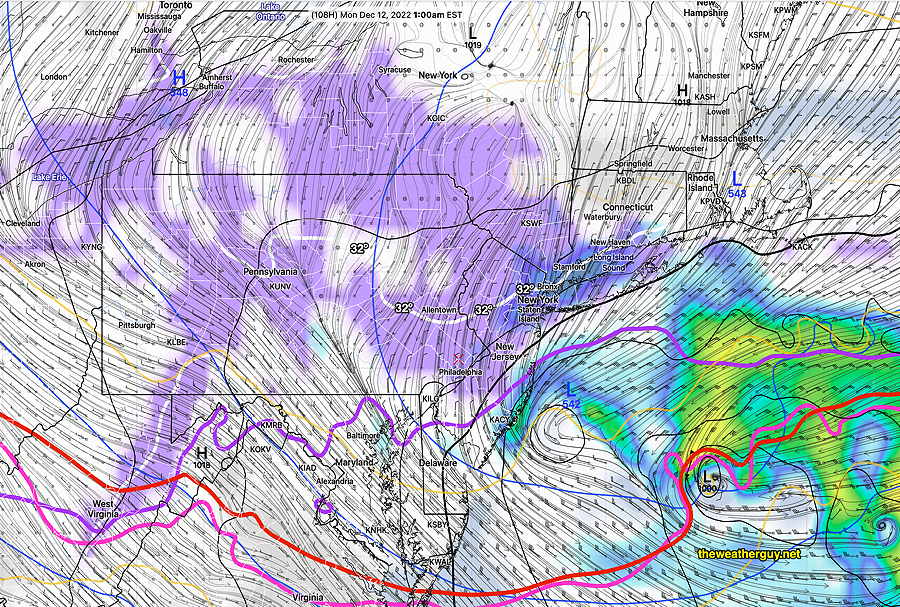 Forecast Updates
Update Wed 12/07 @ 5:43 PM — see Sunday update highlighted below with possible snow showers Sunday evening.
Update Wed 12/07 @ 10:12 AM — Drier air will be gradually entering our area Wednesday afternoon, but today's models show no sunshine, as the clouds are expected to hang tight. Clouds begin to break early this evening, but fog may form again towards midnight.
For Thursday, partly sunny, some clouds.
For Friday, things have finally clarified. Becoming partly to mostly sunny. No wintry mix expected in the evening as the ECMWF forecast has joined with the GFS; the cold high pressure will nose out the moisture to our south, keeping us dry even through early Saturday.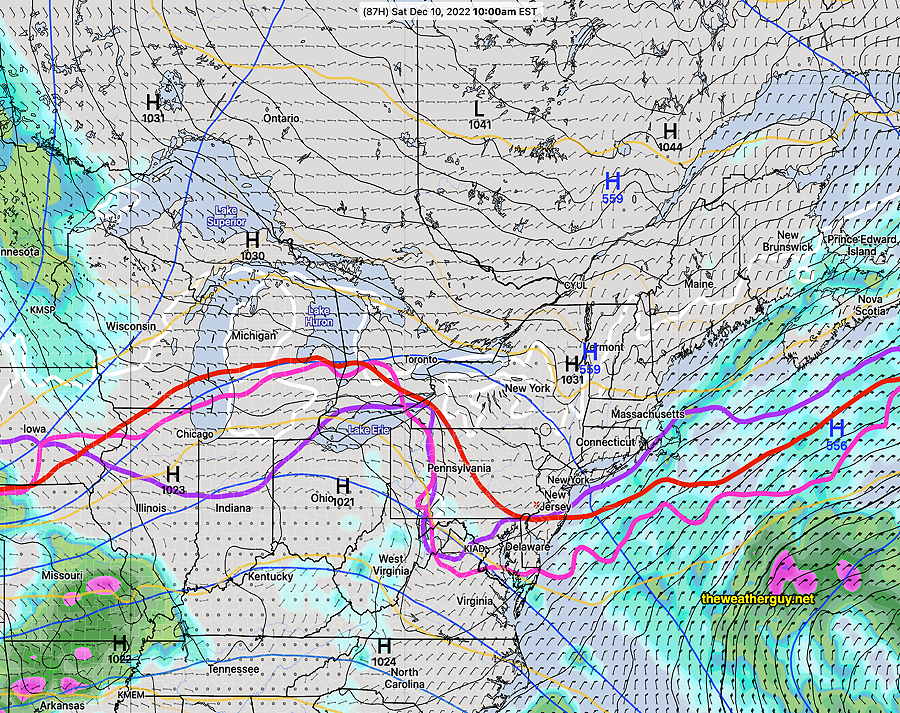 For Saturday: mostly sunny. Increasing clouds in the late afternoon.
For Sunday: cloudy with rain most of the day. Update latest GFS and ECMWF show the possibility of light snow flurries or a coating Sunday night as low pressure develops off the coastline—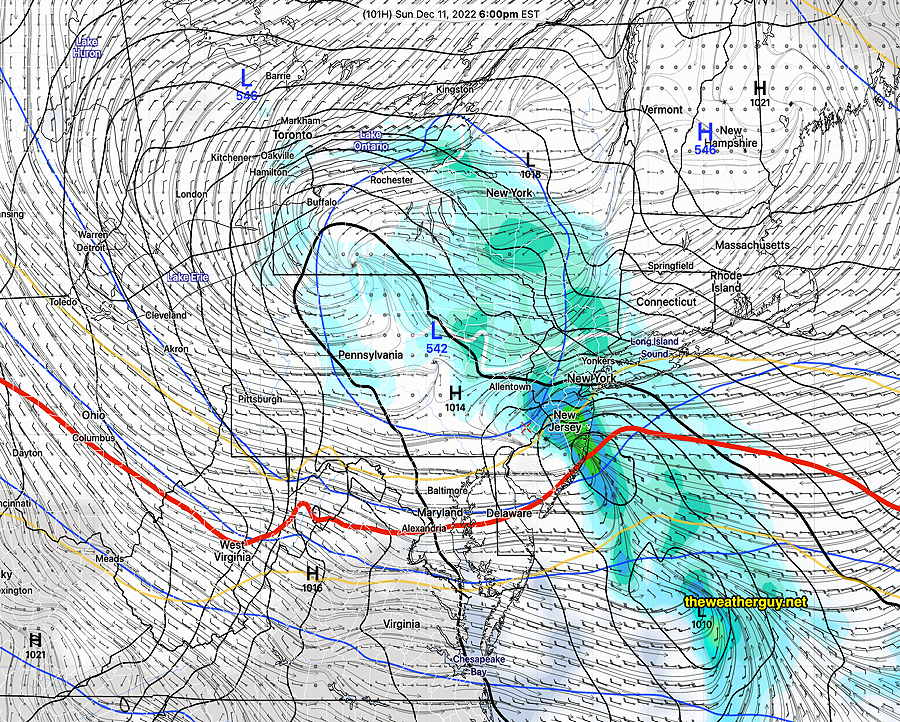 ---
Update Tue 12/06 @ 4:01 PM — The rain came in on schedule today, Tuesday. This weak but rainy system will exit Wednesday.
For Wednesday, we'll be left with clouds, perhaps a few breaks of sun. High in the low 50s.
Commentary
— Why do TV/radio weather people say "on
YOUR
Wednesday… "?
Is our Wednesday going to very different than their Wednesday?
For Thursday, partly sunny. High in the low 50s.
For Friday, another system approaches from the southwest. High pressure with cold air aloft nosing down from the northeast will either (1) suppress the moisture to the south, keeping us dry or (2) introduce enough cold air to allow a wintry, non-accumulating wintry mix to fall after midnight Friday-Saturday in areas especially west of the city.
For Saturday, a northeast moist flow will send back a fair amount of cloudiness into our area.
---
Update Mon 12/05 8:53 PM — Regular visitors to this site know that over the past week, I've been watching for the possibility of a wintry mix to develop sometime over the Friday to Saturday timeframe. I nixed that possibility in last night's outlook, based on the GFS and NAEFS. Today's ECMWF has resurrected that possibility. The models have unusually low agreement in their forecasts for for later in the week. I'll keep an eye on it.
Previously Posted Mon 11:04 AM —
Overview
A flat to slight ridge jet stream will influence our weather this week—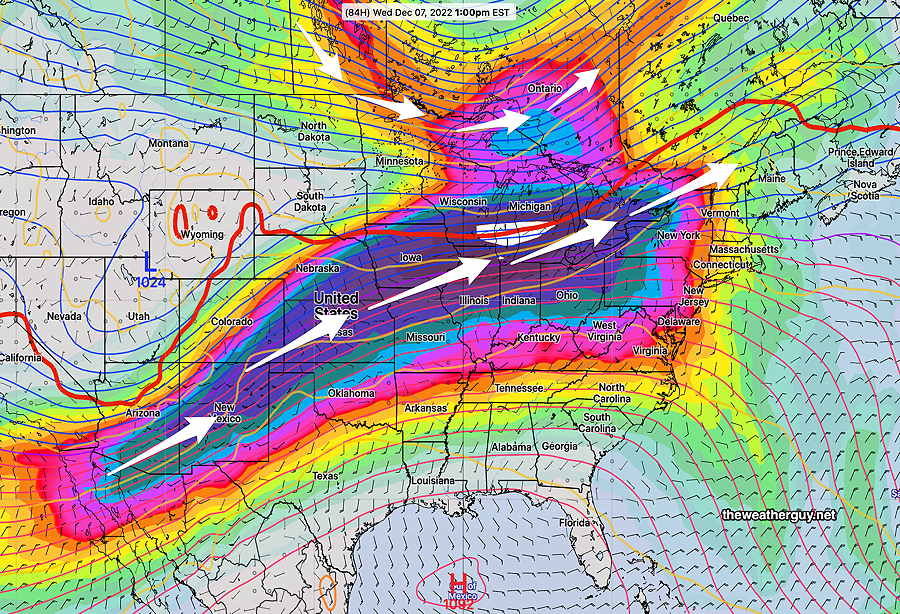 The trend over the past few days is for the coldest air to remain further north of our area and for the flow to be more ridge-like with it just sinking southward by the weekend.
Moisture moving up from the southwest from the southern jet stream will bring a series of disturbances to our area with rain Tuesday into Wednesday and rain Friday into Saturday. With a flat to ridge-like jet flow, no major storms are forecast to develop, just these smaller disturbances.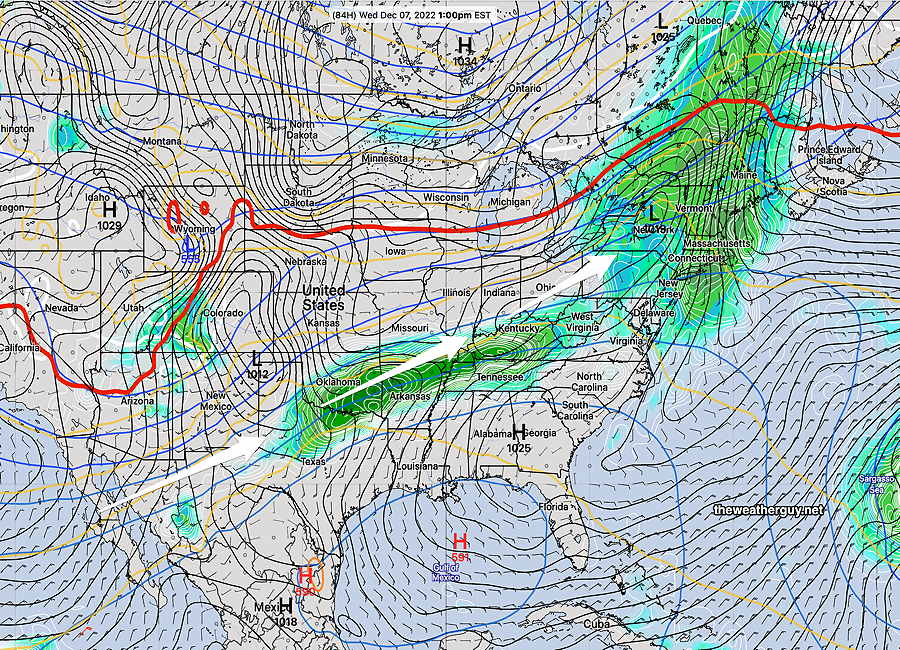 By Saturday, the jet flow is flatter and further to our south, meaning colder air will move in——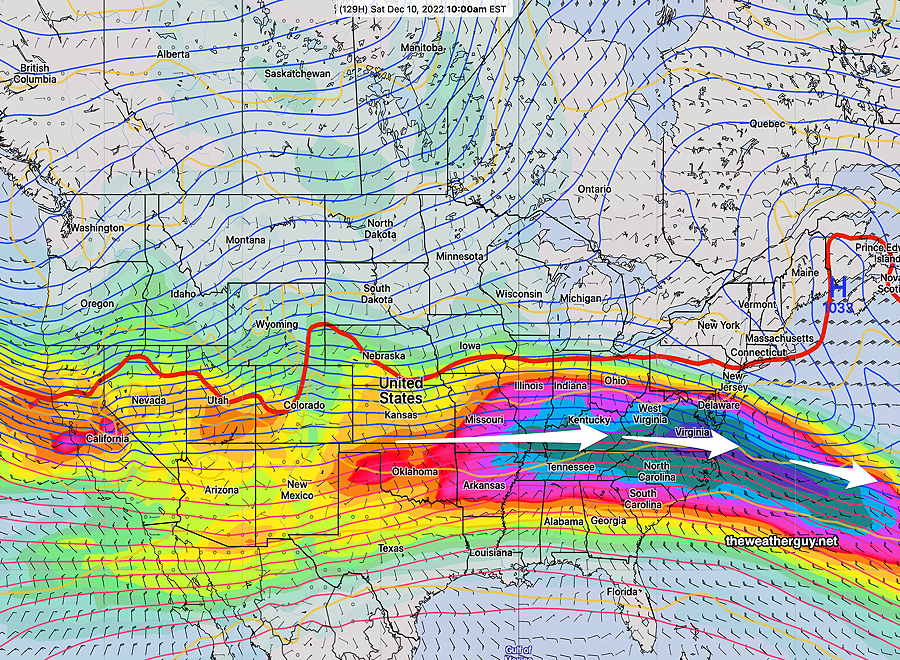 From the above map, we can see that some waves (note the wavy red 540 thickness line) are beginning to develop in Wyoming and Utah. This is the early stage of a large storm that will develop and affect us and much of the country next week.