Updated Sun 9/25 11:02 PM — Monday looks mostly sunny and windy. A few instability showers may move through during the afternoon hours.
Tropical storm Ian looks like a forecasting challenge, with several models keeping a track close to the western coast of Florida and some maintaining an eastern turn into north central Florida. Weakening still forecast if it moves northward as it encounters large high pressure. Some models have the storm slowing as it encounters this high.
Stay tuned.
---
Update Sun 09/25 @ 5:38 PM — The rain came in pretty much on schedule, about 2-3 PM. Some areas, with thundershowers, had a bit more rain than had been predicted.
CAPE values weren't all that high but there was enough vertical shear to create a few storms. Frankly, I was a little surprised by that. That said, I had no idea why they were predicting possible severe storms.
Here's the total rainfall based on the MRMS—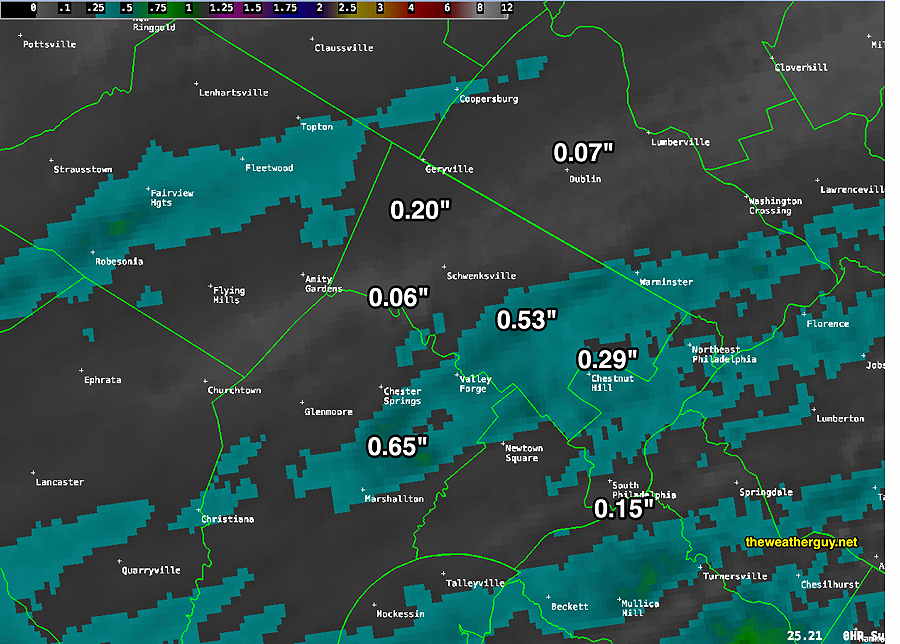 As for Tropical storm Ian, uncertainty exists whether it will turn eastward into western Florida or whether it will move more northward into the Gulf coast. Most models still have it sheared off as it moves northward into strong high pressure, so as it approaches the Gulf coast, it may weaken.
Unless it moves more westward, much of the moisture with Ian will likely move off to our south before getting here at the end of the week or weekend. Stay tuned.
---
Updated Sat 9/24 9:56 PM — Tonight's models have the showers moving into Philadelphia between 1-3 PM, earlier to our west. Precipitation will be light, about 0.1-0.2 inches of rain.
Regarding the new tropical storm/hurricane Ian, it appears that it's headed for Louisiana, not Florida. Many models show it being sheared apart and weakened as it plows into strong high pressure.
---
Updated Sat 9/24 12:32 PM — A quick mobile update. This morning's models have leaned toward an earlier onset of the showers on Sunday. Most likely 1-3 PM. The showers no longer stop at our doorstep until evening.
---
A cold front moved through Thursday and today, Friday, and it was noticeably colder than its been for a long time!
Current water vapor satellite image shows current jet stream level features—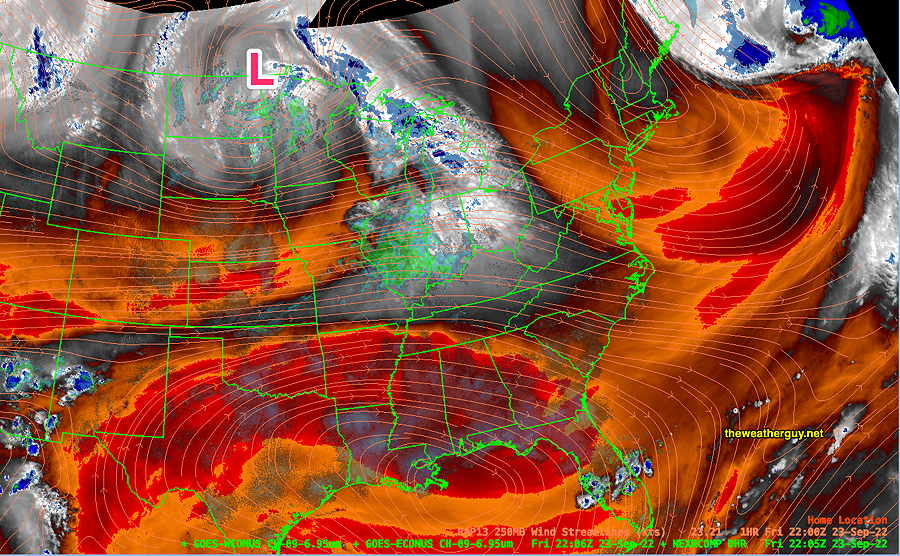 For Saturday — An interesting looking weather map for 2 PM Saturday, as high pressure builds in over us and an impressive, strong hurricane Fiona moves into Nova Scotia and Prince Edward Islands.
For Sunday, the low pressure system near Wisconsin will move towards us with a warm front late Saturday and some showers late Sunday. Incredibly, the models show most of the rain to our west, skipping over Philadelphia, and redeveloping to our east.
Saturday
Some cloudiness mid-morning as an upper air disturbance moves through, then mostly sunny. Winds much lighter.
High temperature 60.3º sd 1.2º NBM model Blue Bell, PA
Sunday
Increasing cloudiness in the morning. Cloudy by noontime. The latest GFS has showers moving into western suburbs early afternoon (2PM) but not advancing into Philadelphia until the evening. The heaviest rain looks like it skips over Philadelphia. Increasingly windy and gusty!
High temperature 75.0º sd 2.0º NBM model Blue Bell, PA