Update Tue @ 5:32 PM —Forecast Review— We have yet another situation this summer where some of the higher resolution models significantly over-predicted the chance and severity of thunderstorms.
Last night's NAM-NEST was one of the first to show the storms falling apart as they approach Philadelphia. Last night's ICON and ECMWF were in similar agreement. With the advanced HRRR and HIRESW models showing significant storms, I can understand the inclination to over-predict as a matter of public safety; Better to be safe than sorry.
That said, the RAP, ICON, NAM-NEST and ECMWF have been most reliable in recent failed storm forecasts. I first expressed my concern about a developing dry spell this past Sunday. Check out my earlier comment and graphic about potential drought or dry spell.
Update Tue @ 1:07 PM — The latest ECMWF, ICON, Canadian R-GEM and our RAP model have been consistent forecasting strong to severe storms to be mostly northwest of the city and they will significantly reduce in intensity as they approach Philadelphia and move eastward.
So there are large differences in the high resolution and global models. Considering the dry period we've been in, I'm leaning again towards the storms losing much of their punch (and moisture/rain) as they move into the immediate PHL area and into NJ.
Here's the latest Canadian R-GEM with it's accumulated rain forecast—
Update Tue @ 10:34 AM — The short range high resolution 12z models are becoming available. All models show the storms moving from northwest to southeast beginning 4-5 PM in far northwestern suburbs and 6-11 PM from Philadelphia and eastward. The models show:
Strongest storms, possibly severe, northwest of the city.
Storms may diminish in intensity after passing through Philadelphia into New Jersey.
Storms coming possibly in two waves, 5-8 PM and around 10-11 PM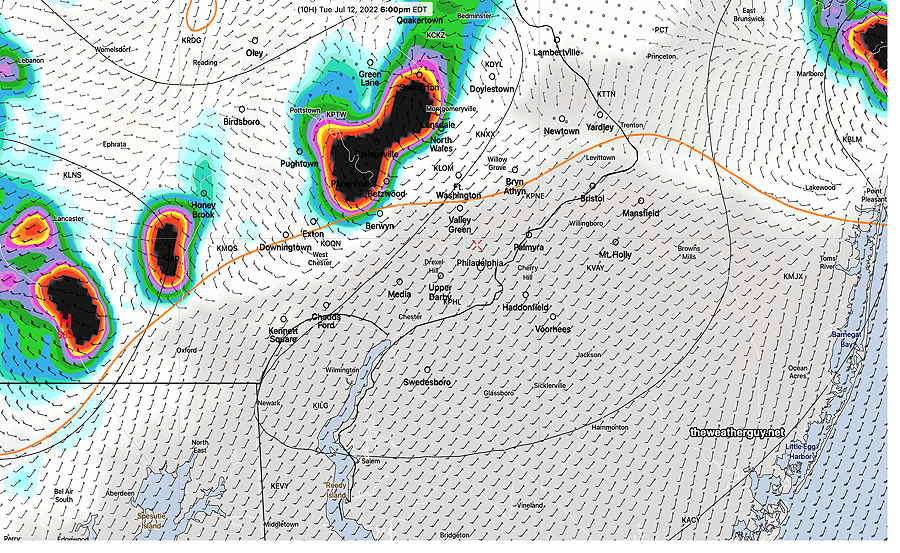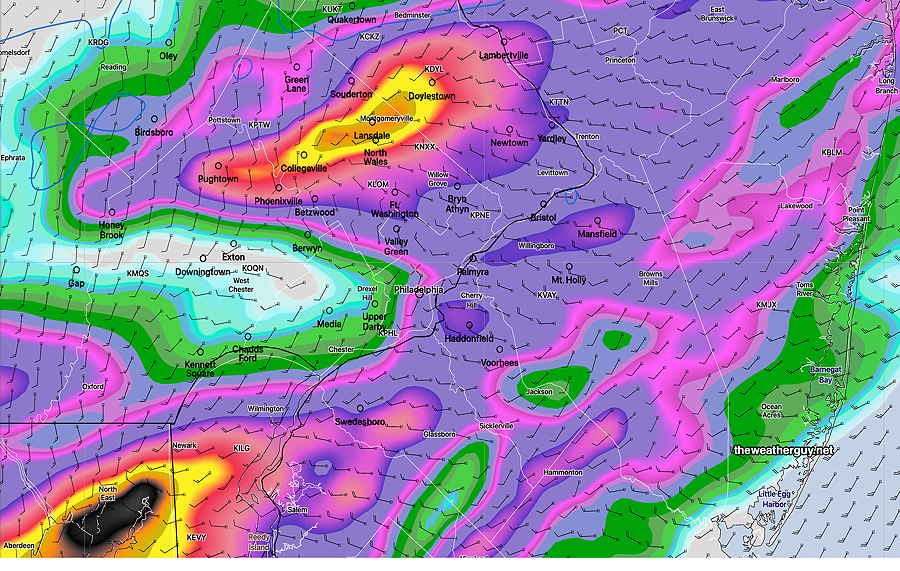 ---
Updated Mon 11:02 PM —Tonight's NAM-NEST has the storms falling apart before they make it into Philadelphia. Despite the NWS indicating strong storms tomorrow evening, I think Philadelphia and east will get only the weak remnants of any storms that affect our northwest suburbs. However, tonight's HIRES-W has a strong line of storms moving through between 5 and 7 PM. Much uncertainty.
Updated Mon 9:57 PM —Tonight's models show the storms, some strong, making it into Philadelphia tomorrow between 5 and 7 PM, but diminishing significantly as they enter into NJ.
Updated Mon 7:50 PM —Today's models continue to show a cold front will drop down through our area late tomorrow afternoon.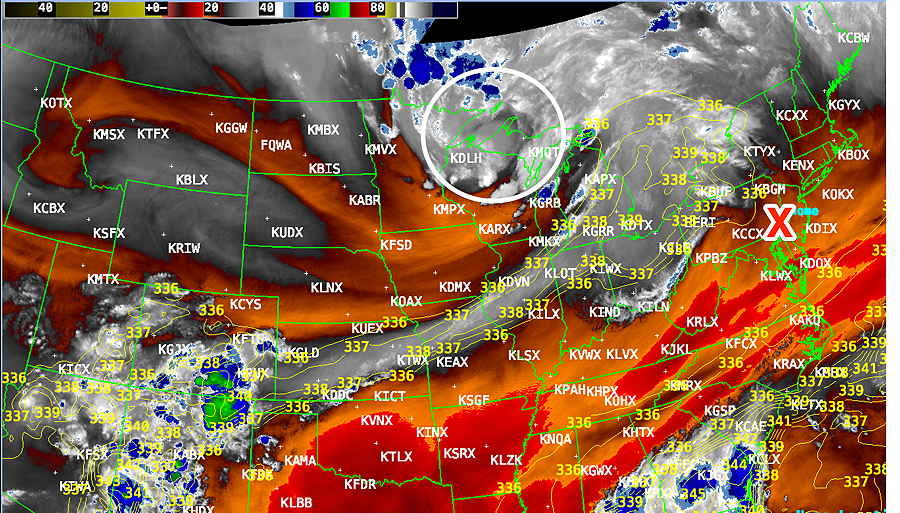 Today's models are not in agreement with the likelihood of thunderstorms in all areas Tuesday afternoon with the cold front passage.
As discussed with last night's graphic, the models continue to show a barrier of warm, stable air that any storms will have to overcome.
Most models have scattered, strong storms in the northwest suburbs between 4 and 8 PM.
But, several models show these storms pushing against this warm mound of air over Philadelphia and losing their punch as they try to move eastward. So areas, especially from Philadelphia and eastward may not have much more than 0.2-0.3 inches of rain. (We need the rain.)
The 18z HRRR and HIREF models from this afternoon are the most aggressive with the rain here. But the 21z RAP, the Canadian GEM, Canadian HRDPS, the ECMWF, and the ICON don't show much rain for the immediate PHL area and areas eastward.
As has been the case many times this summer, these storms blossom again near Baltimore MD and southern Delaware.
Our relatively dry spell of weather may not broken with only a few tenths of an inch of rain tomorrow.
I'll update Tuesday morning after 10:15 AM with the new models.
---
Previously Posted Sun 9:20 PM —
Perhaps you've noticed that we haven't been getting all that much rain this season (especially compared to the last two year's endless barrage of severe thunderstorms.)
I've been noticing that storms have been falling apart as they approached. (Areas to our south in Delaware and Maryland have been getting much more rain.)
Frankly, the way things have been unfolding reminds me of the drought that developed here in 2000-2001. I haven't heard anybody use the "d" word and I'm probably jumping the gun on this, but things are getting awfully dry in some areas.
Speaking of lack of rain, this week may continue this trend.
A disturbance is moving through the upper Midwest tonight, will intensify as it's joined by other energy in Canada—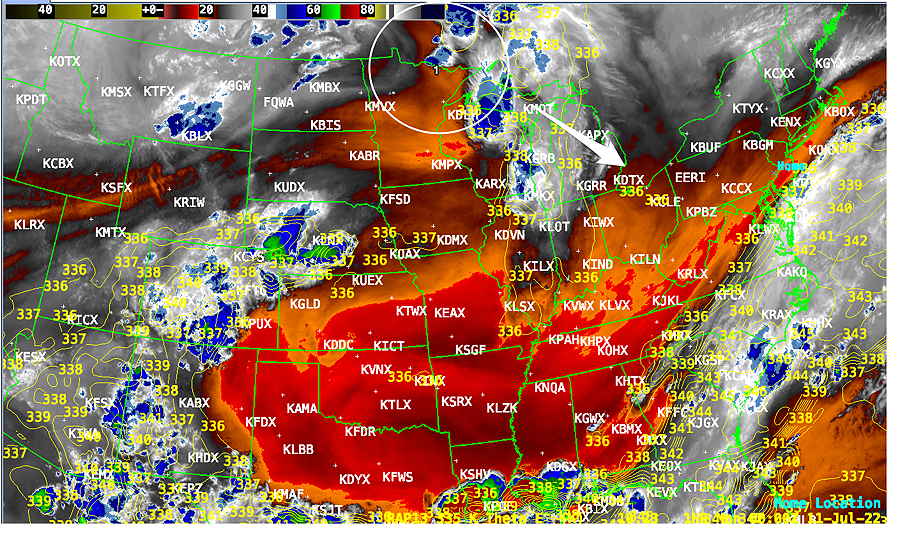 The GEFS model shows that disturbance—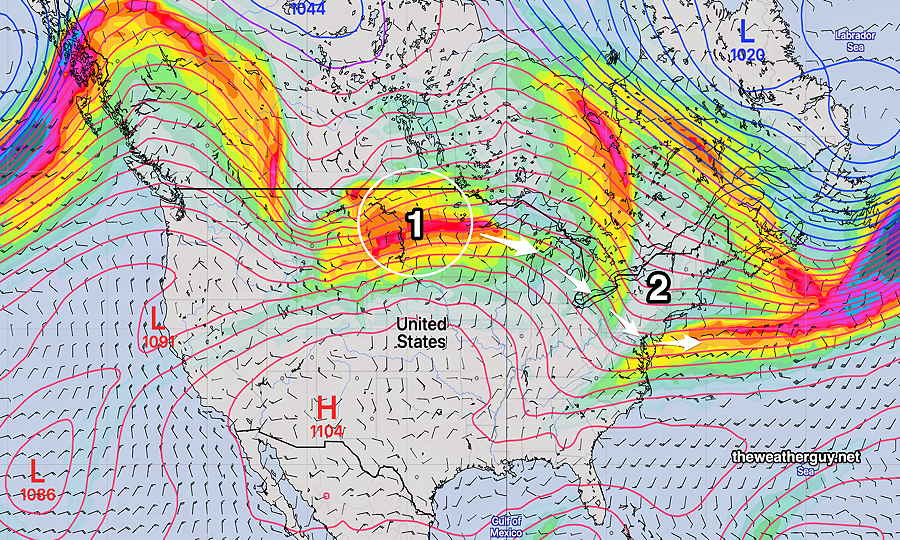 We'll see increasing heat and humidity Monday and especially Tuesday. Dew points may reach 70+º Tuesday with temperatures over 90º
Despite the setup for significant thunderstorms late Tuesday afternoon and night, some current models suggest that the heaviest rain will develop south of our area. (The GFS shows over an inch of rain for the city (but very little just north and west) and it had over-predicted the rain Friday night into Saturday throughout our area.)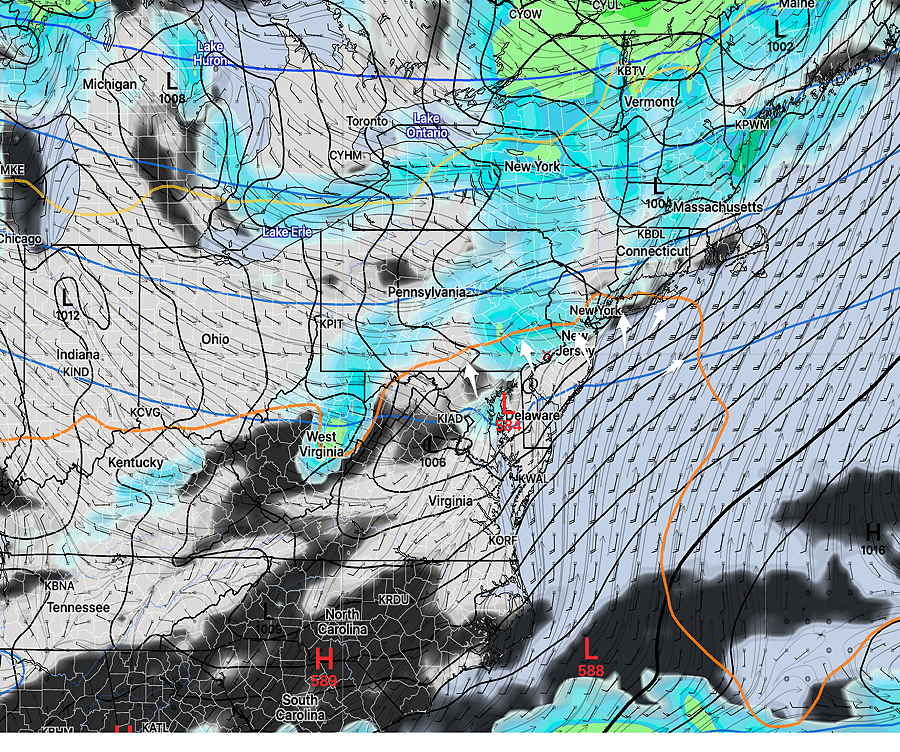 Will the dry spell continue? Updates during the week.
---
---