Last Updated
Another beautiful weekend  will be with us, once the current mess of clouds and showers exits with  a cold front moving through late Friday night.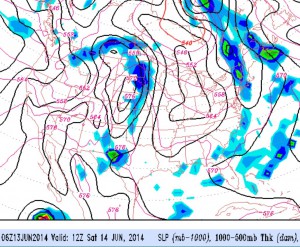 High pressure builds in for Saturday and Sunday, with pleasant temperatures and low humidity.   Dewpoints again in the comfortable 50s.
Saturday 6/14:  Sunny and pleasant.  High 77.
Sunday 6/15:  Sunny and pleasantly warm.  High 84.