Last Updated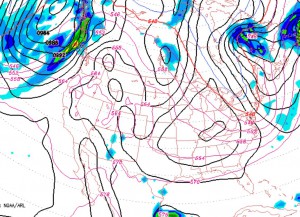 An interesting weather scenario. The features on today's GFS forecast model are totally different than what was predicted last week.
Saturday features a developing upper air trough moving over our area with a dry frontal passage late Saturday afternoon accompanied by clouds and some windy conditions. Temperatures on Saturday still mild with a high of 68.
The trough will be over us on Sunday with fair skies and much cooler temps. High in the 50s. An upper air disturbance approaches late Sunday with clouds moving in late in the day.
While the long range forecasts haven't been consistent over the past week, the GFS suggests an unsettled period of weather next week as a closed low cuts off over us.