#weather #philadelphia #phillyweather
Sunday Forecast Update
Updated Sun 09/24 @ 5:20 PM — The main area of rain is exiting our area, but continued light drizzle and showers are still forecast through the night.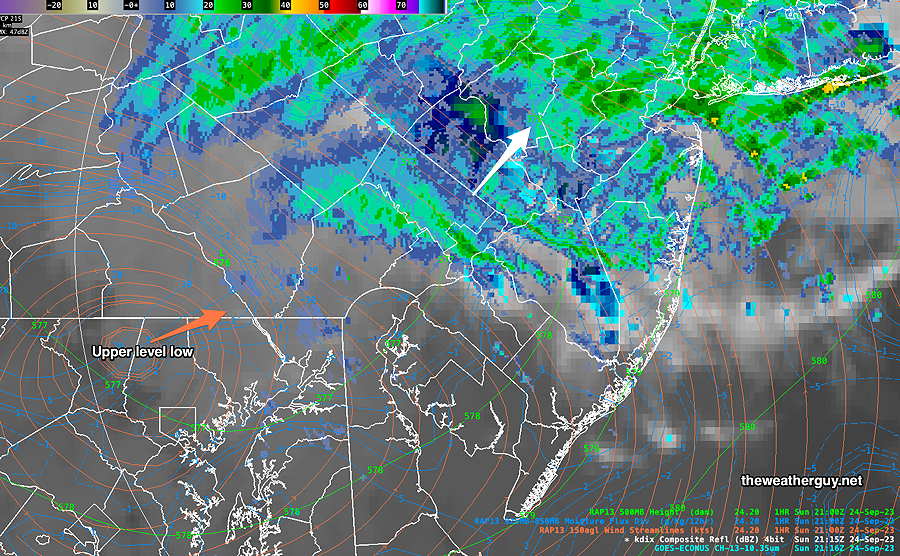 The NBM has the [heavy] rain exiting in time for the Phillies game at 6 PM—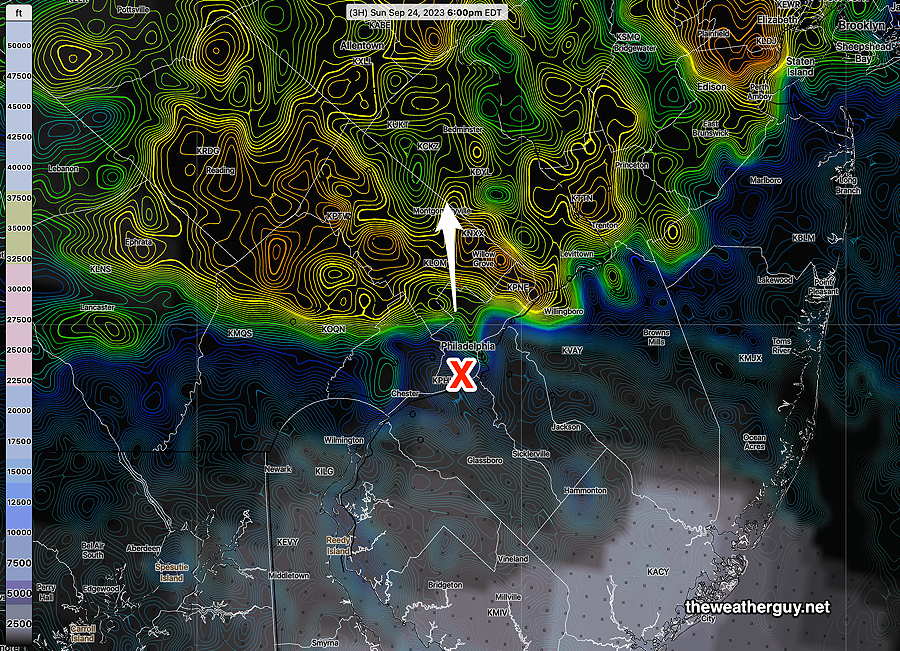 Sunday Forecast Update
Updated Sun 09/24 @ 11:40 AM — Rain will continue through this afternoon and tonight. There may be some periods where the rain lets up, but expect it to return.
It looks like the mastodon wxcloud.social server is offline
Current water vapor image with superimposed RAP model parameters shows an area of vorticity and instability approaching. Showers and even some thunderstorm activity is possible this afternoon —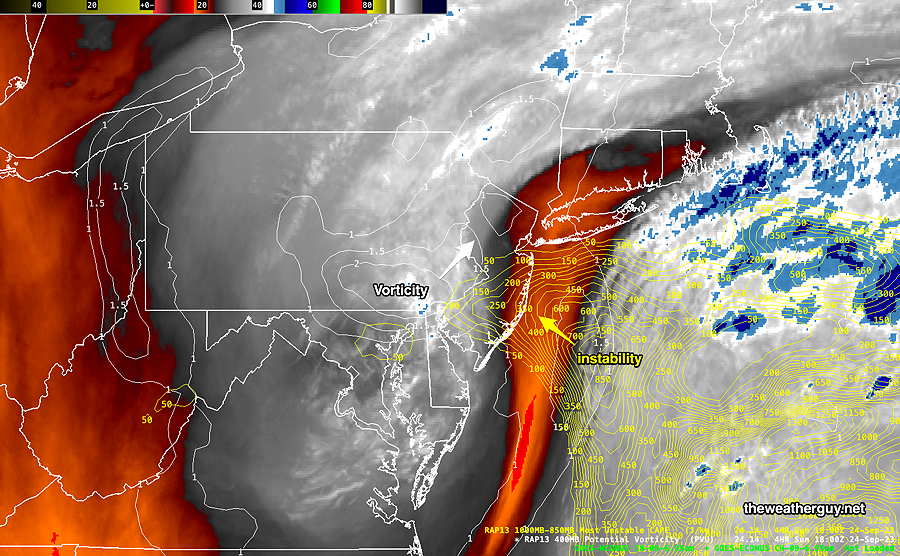 The latest HREF model shows considerable additional rainfall for our area for the next 24 hours—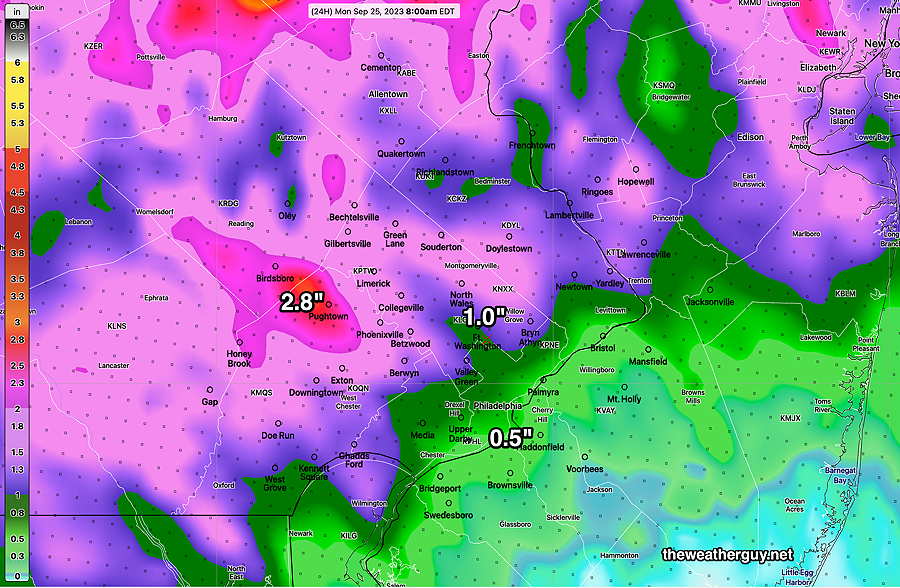 Latest MRMS (10AM) total estimated rainfall over this weekend so far—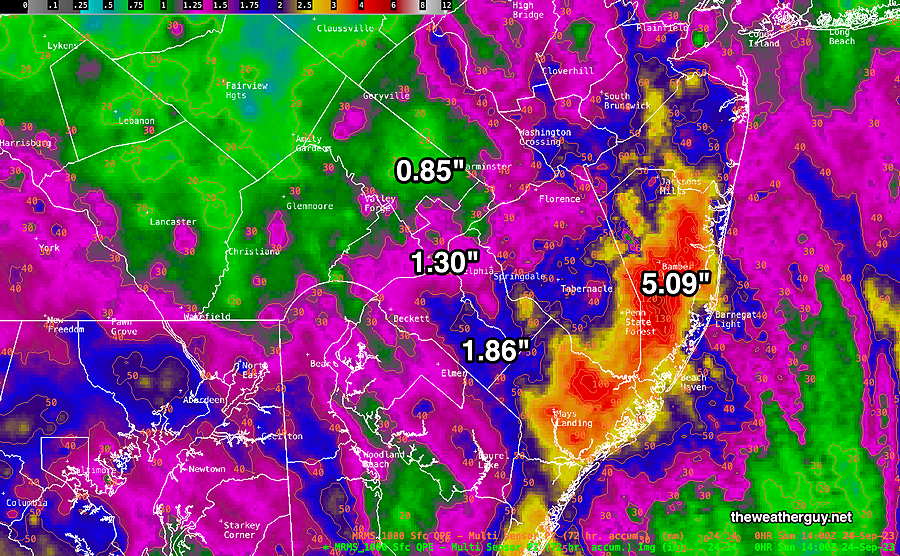 Sunday Forecast Update
Updated Sat 09/23 @ 9:46 PM — This afternoon's and this evening's early models have periods of rain continuing through the night and much of Sunday into Monday morning!
There may be a break in the showers in some areas around 9 AM Sunday, but showers will return by late morning.
Tonight's NBM just available shows an additional 1.5 inches of rain through 7 AM Monday morning—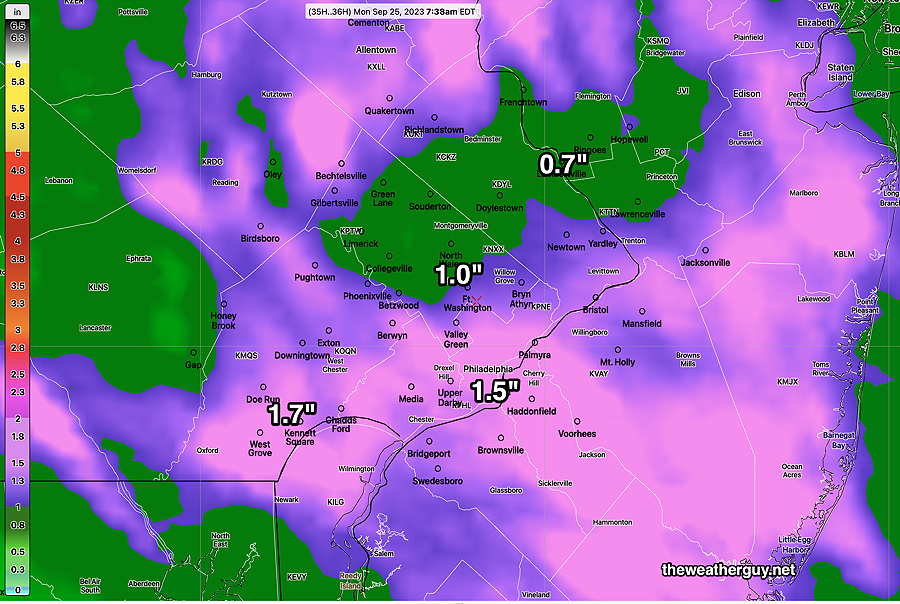 Incredibly, the remnants of Ophelia may keep showers with us much of Monday and there's even a chance of showers on Tuesday.
---
Are the Phillies going to play today?
Updated Sat 09/23 @ 3:52 PM — Despite the weather, the MLB app says the Phillies will play this afternoon. Here's the current radar at 3:41 PM—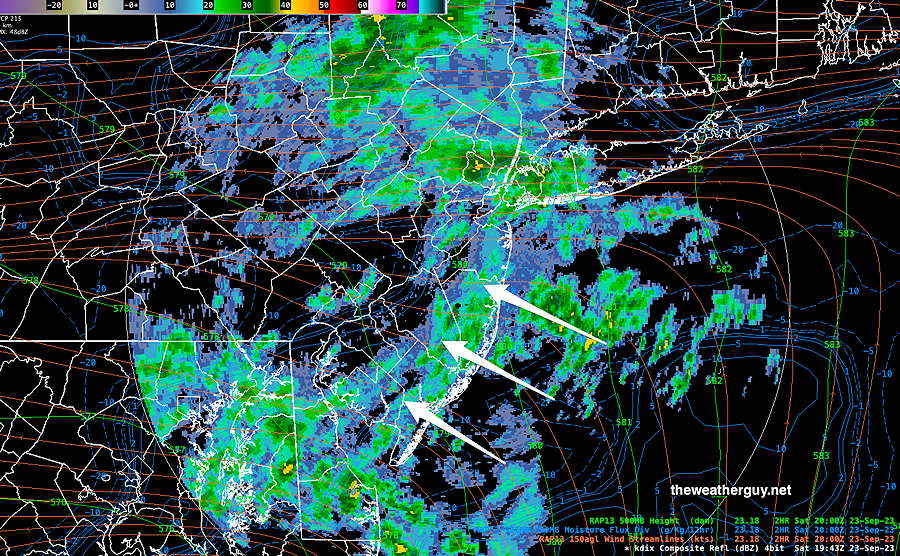 Saturday Storm Update
Updated Sat 09/23 @ 12:12 PM — Don't be fooled by the breaks of sun we're seeing now due to 'dry slotting'. There's plenty of rain and wind on the way.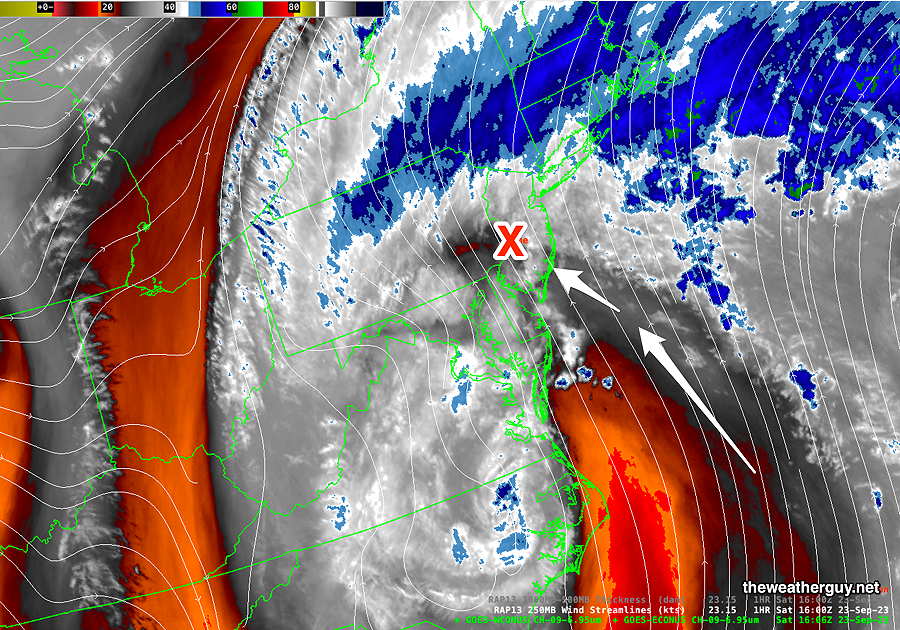 ---
Updated Sat 09/23 @ 11:56 AM — As promised here is the latest GFS model, just available.
The GFS forecast position of the surface and upper low pressure at 8 AM Sunday—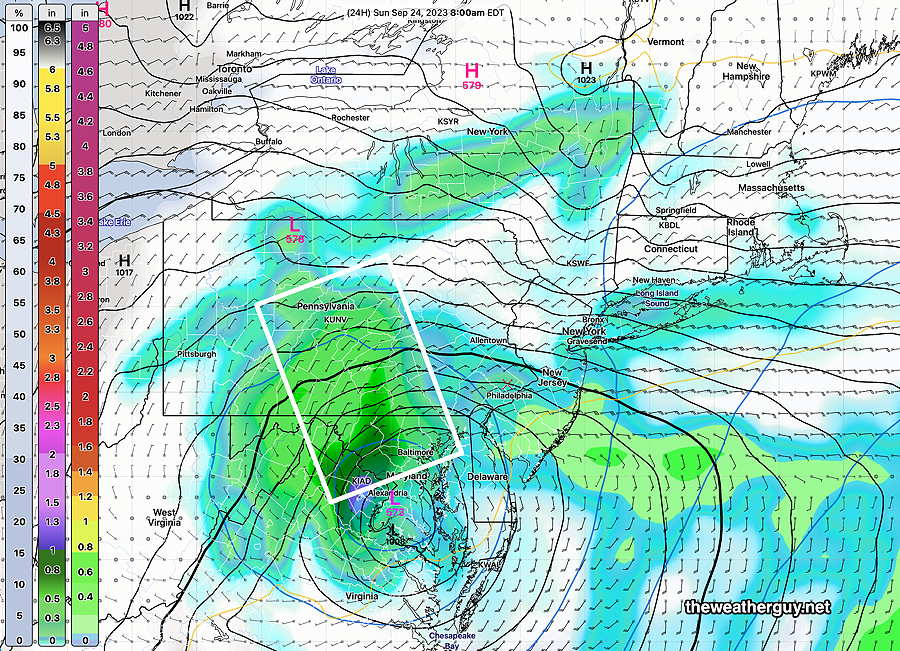 This morning's models continue with a similar forecast as those posted earlier with some differences—
Similarities:
Rain continues through Sunday.
Highest wind gusts to occur this afternoon and evening.
Model Position of upper low on Sunday is fairly similar.
Differences:
Axis of highest rainfall is further west with the GFS
I'm sticking with the HRDPS and NBM location of heaviest rain posted below.
---
Updated Sat 09/23 @ 10:11 AM — Latest (12z) NBM shows the expected additional rainfall forecast from 8 AM today through 8 PM Sunday evening—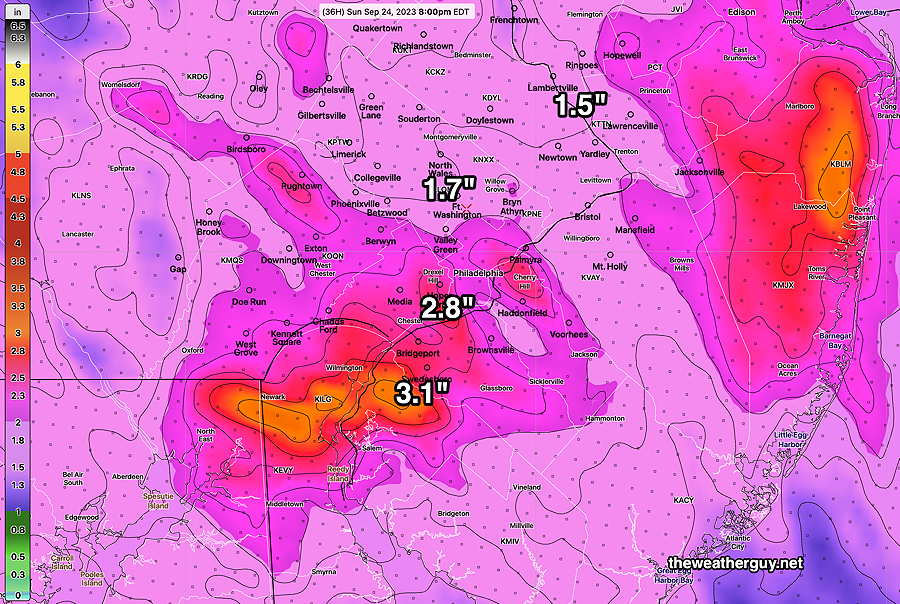 Updated Sat 09/23 @ 10:00 AM — Through 9 AM today, here's the estimated rainfall received, based on the MRMS—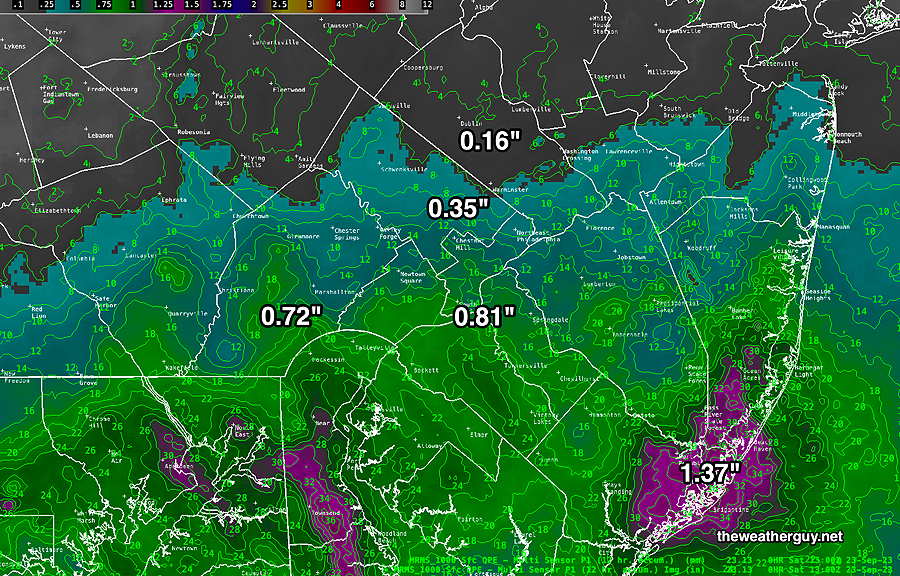 Updated Sat 09/23 @ 9:17 AM — I failed to mention with this update that at least half the rain from this storm will fall on Sunday, the other half today, Saturday.
Updated Sat 09/23 @ 8:54 AM — Ophelia has made landfall and is now a strong low pressure system. Here's the current MRMS radar image with RAP model jet level windstream contours—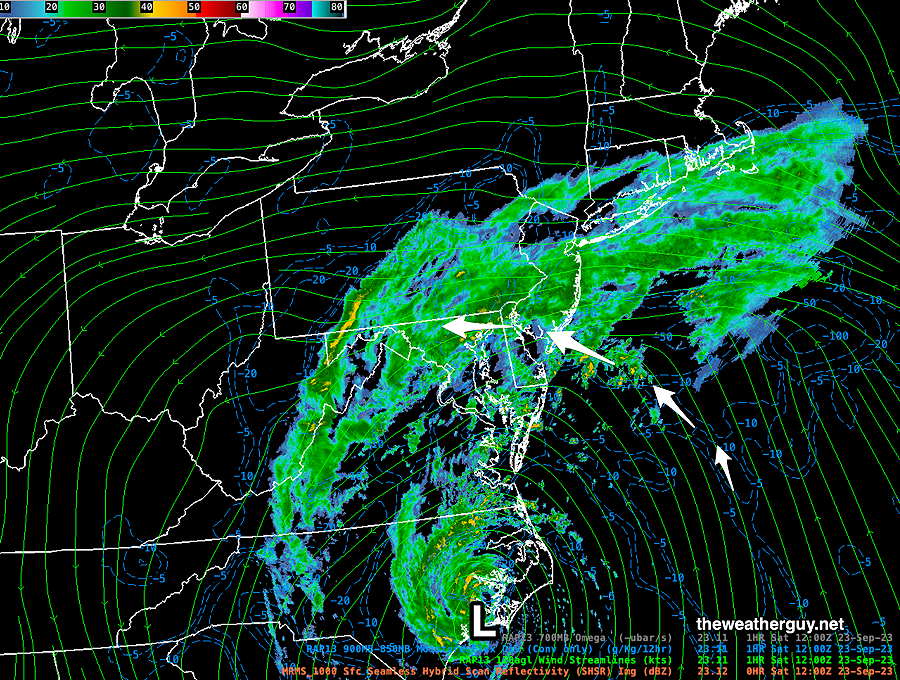 The remnants of Ophelia are expected to curve back towards northern Delaware, as its circulation throws more moisture over our region.
No model will exactly predict the total amounts of rainfall in all locations, but I'm going to hang my hat on the HRDPS as a reasonable forecast—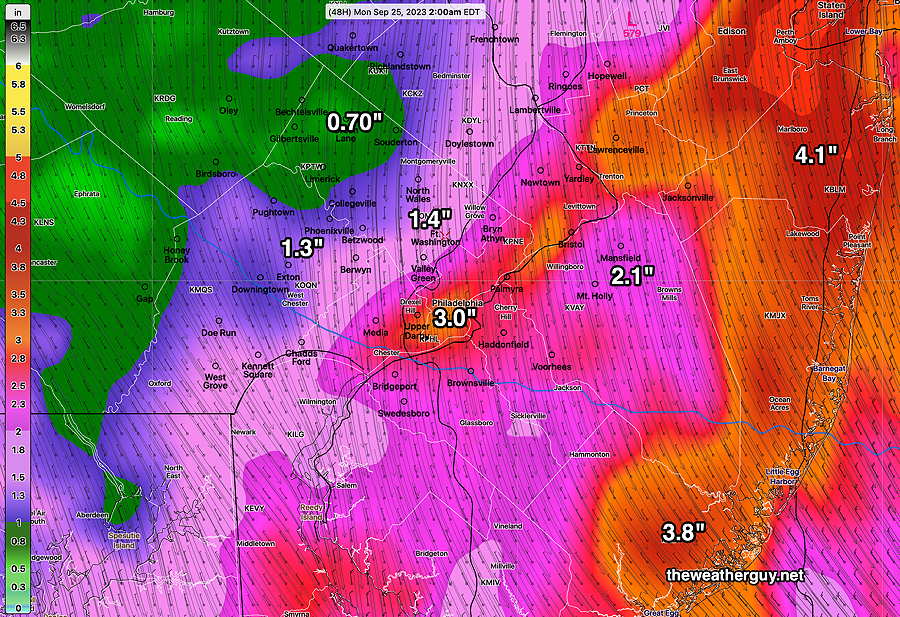 Current NBM wind forecast meteogram for KLOM (Wings Field, Blue Bell PA

Here's the NBM wind gust forecast for our region at the time of the scheduled Phillies game—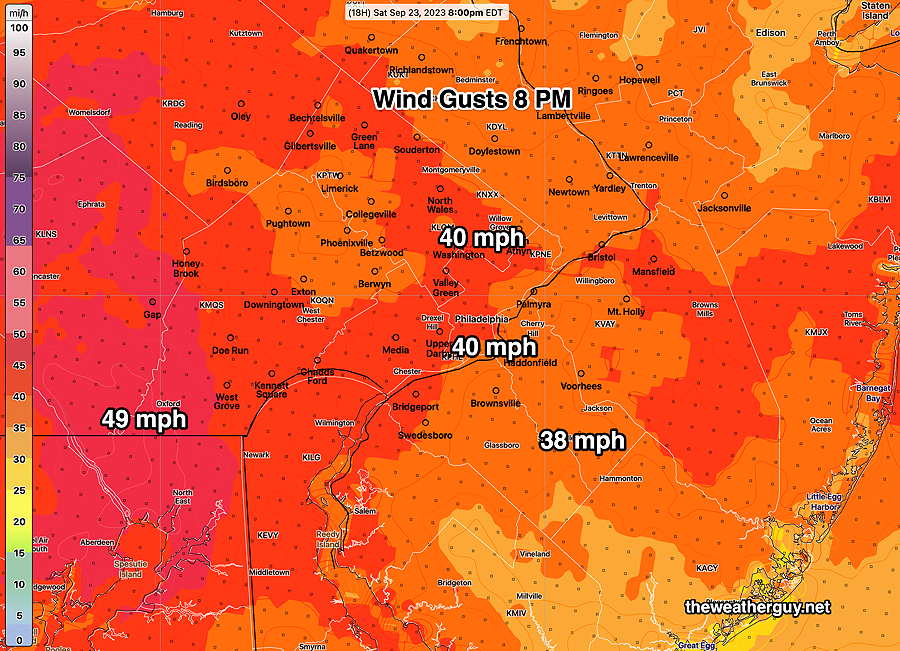 The next models, particularly the GFS, will become available about noon. I'll update shortly thereafter.
---
Updated Fri 09/22 @ 10:32 PM — Tonight's HRRR, RAP and the first 30 hours of the NAM. NAM-NEST and HIRESW models are in. The general trend is unchanged from my earlier 9:56 PM update.
The heaviest rains will be at the shore on Saturday, but significant heavy rain is forecast for the immediate Philadelphia area on Sunday. Totals for the two days remain a general 1.75-3″ in our area with 3-5+" possible as the shore.
Winds highest on Saturday. Here's the latest NBM wind forecast for Blue Bell, PA—

---
Update Fri 9/22 9:56 PM — The latest ECMWF and this afternoon's NAM are forecasting the heaviest rain to occur on Sunday with the highest wind gusts Saturday afternoon and evening.
---
Updated Fri 09/22 @ 8:06 PM — The latest Canadian high resolution model (HRDPS) gives a very different forecast. This model only forecasts out 48 hours—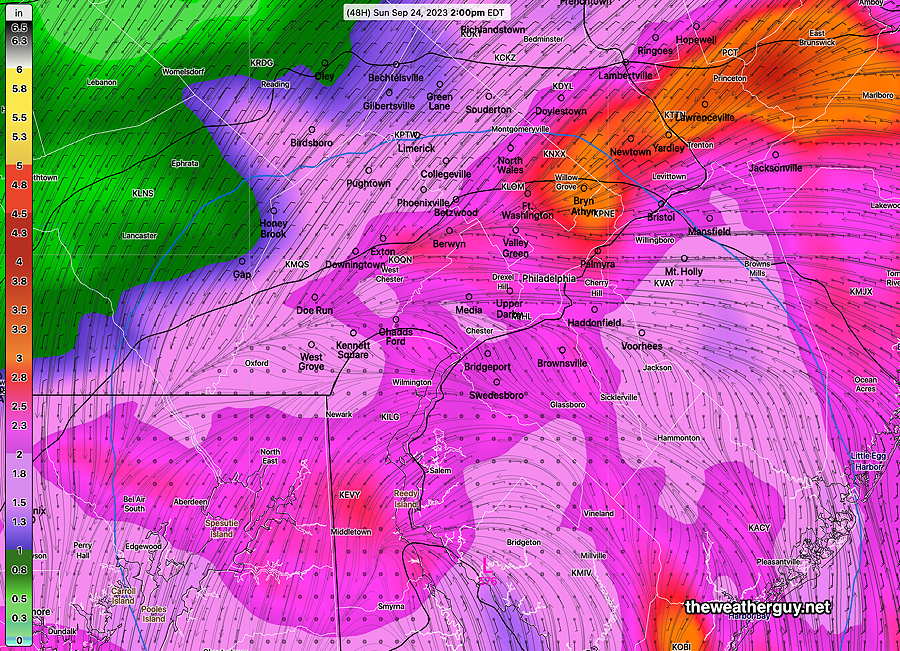 The HRDPS shows the highest winds about 9 PM Saturday evening.
---
Updated Fri 09/22 @ 7:54 PM — This afternoon's GFS model has become available. It's distribution of the heaviest rain is quite different than the earlier posted NBM model—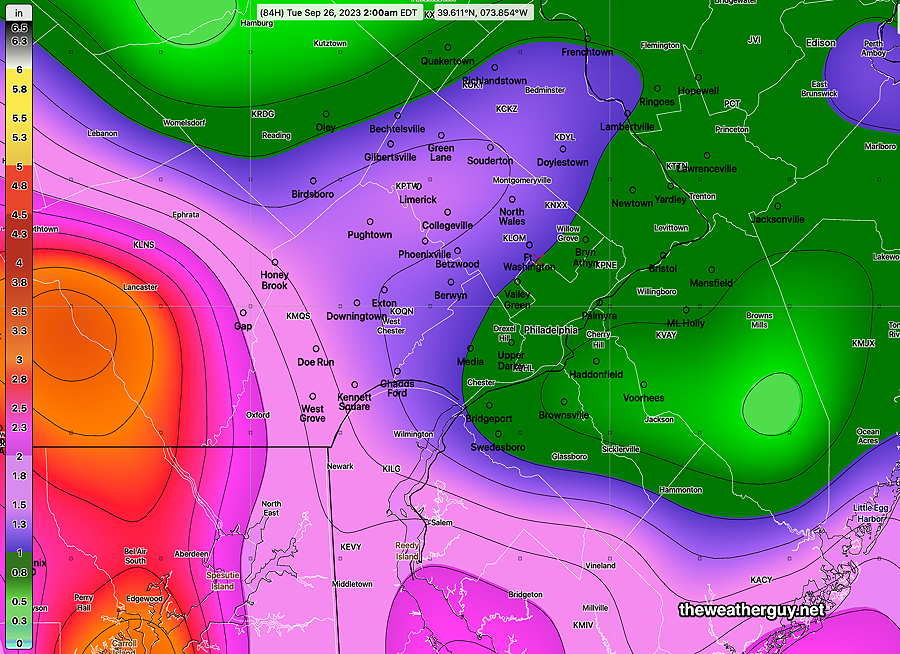 It should be noted that most models have reduced the peak wind gusts in our region to 35-40 mph on Saturday.
---
Previously Posted Fri 5:31 PM —
The model guidance was showing the development of this storm last weekend, which is impressive. At that time, I was saying that it looked like it would have "tropical characteristics" which meant that it had a warm core center.
Here's the latest 12z NAEFS forecast for the current hour (4 PM Friday) showing the storm. The dull orange contour at its center is the 576 dm 500-1000 mb thickness line, indicating the storm's warm core.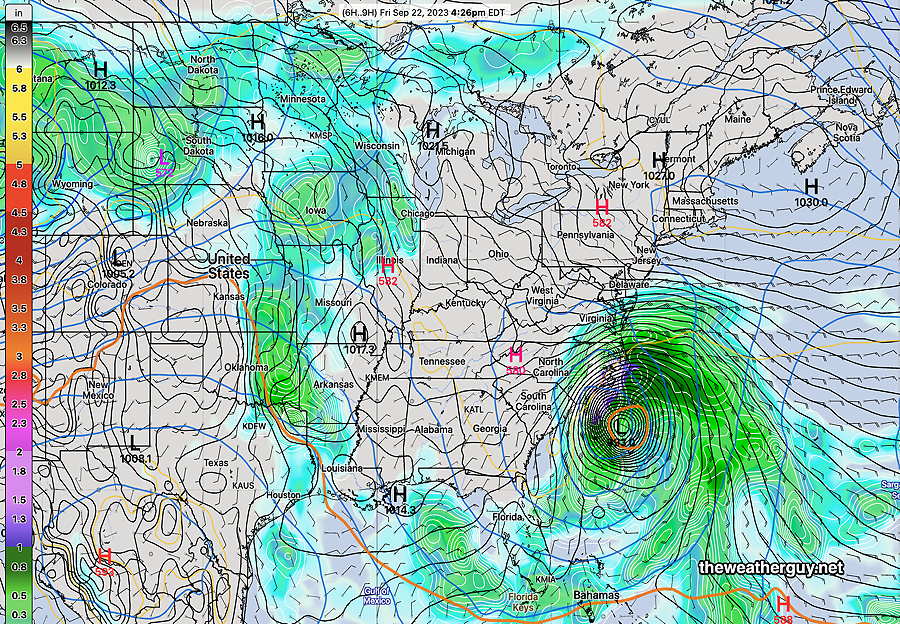 Here's the current water vapor image of the storm—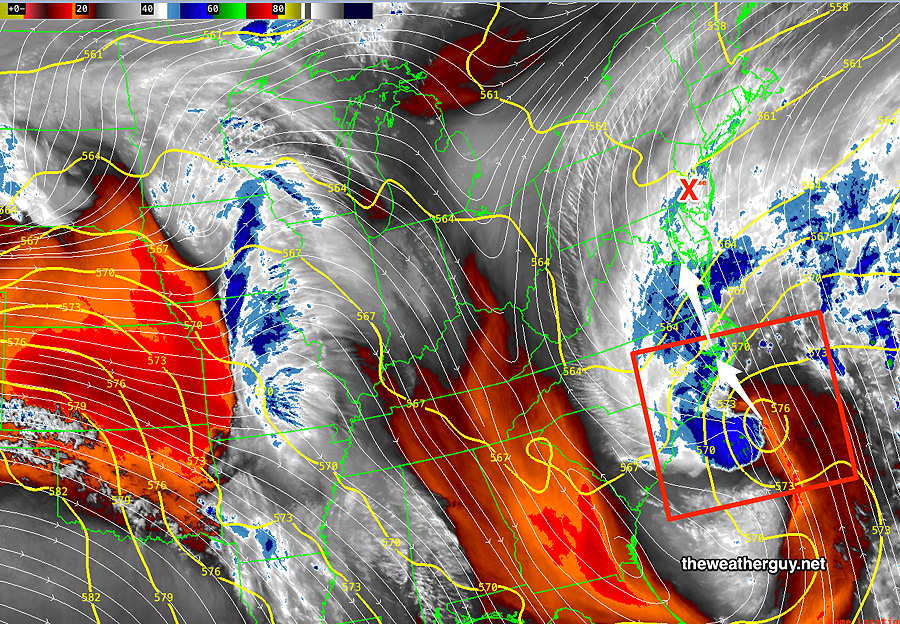 Ophelia is expected to move into North Carolina and become non-tropical ("extra-tropical") this evening upon landfall. Due to blocking high pressure to our north, the movement of this system will be slow and it will affect our region with rain and high wind gusts for much of this weekend.
Rain should begin here between 1AM and 3 AM Saturday morning and will continue on and off through at least Sunday.
The latest (12) ECMWF is not all that impressive with rainfall here —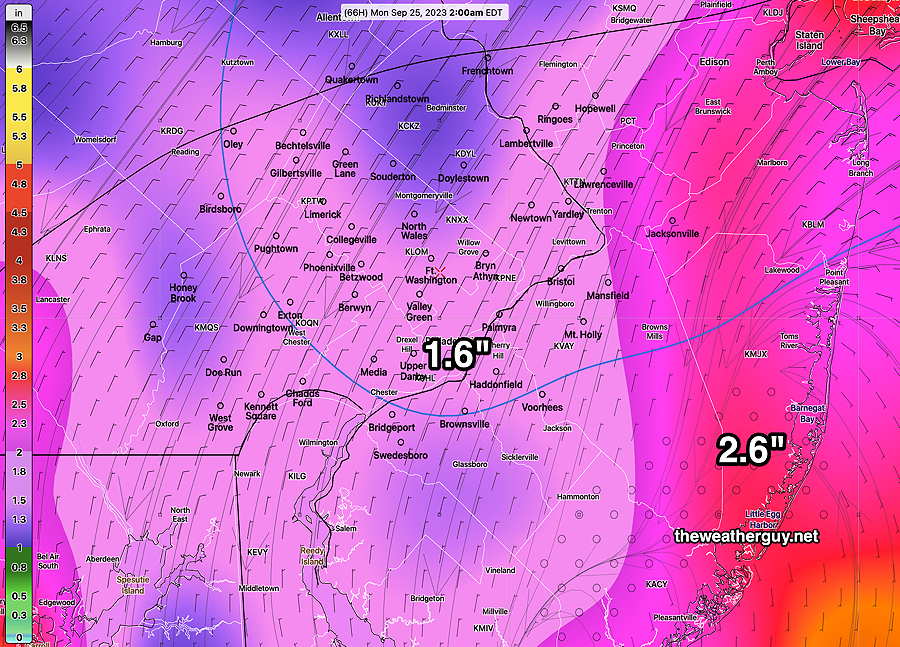 The NBM rainfall for just for Saturday (from now through 2AM Sunday) is below—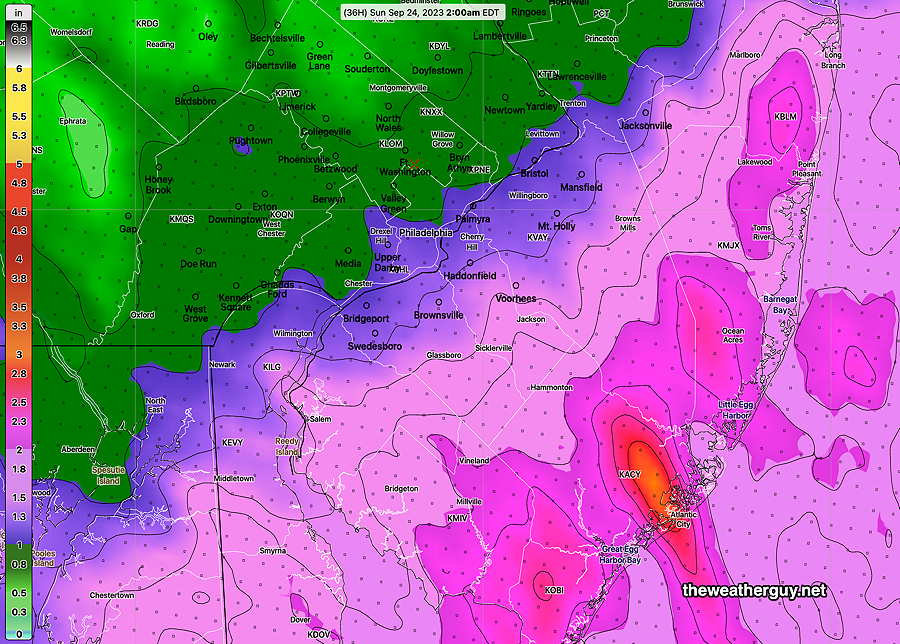 ---